Another season, another transfer rumors involving Atlanta Hawks winger John Collins. The 25-year-old, in his sixth season in the NBA, is averaging 13.1 points (49.7% from the field, 23% from behind the arc, 79.6% from the line), 7.9 rebounds, 1.2 assists, and 1.4 blocks which is an excellent result.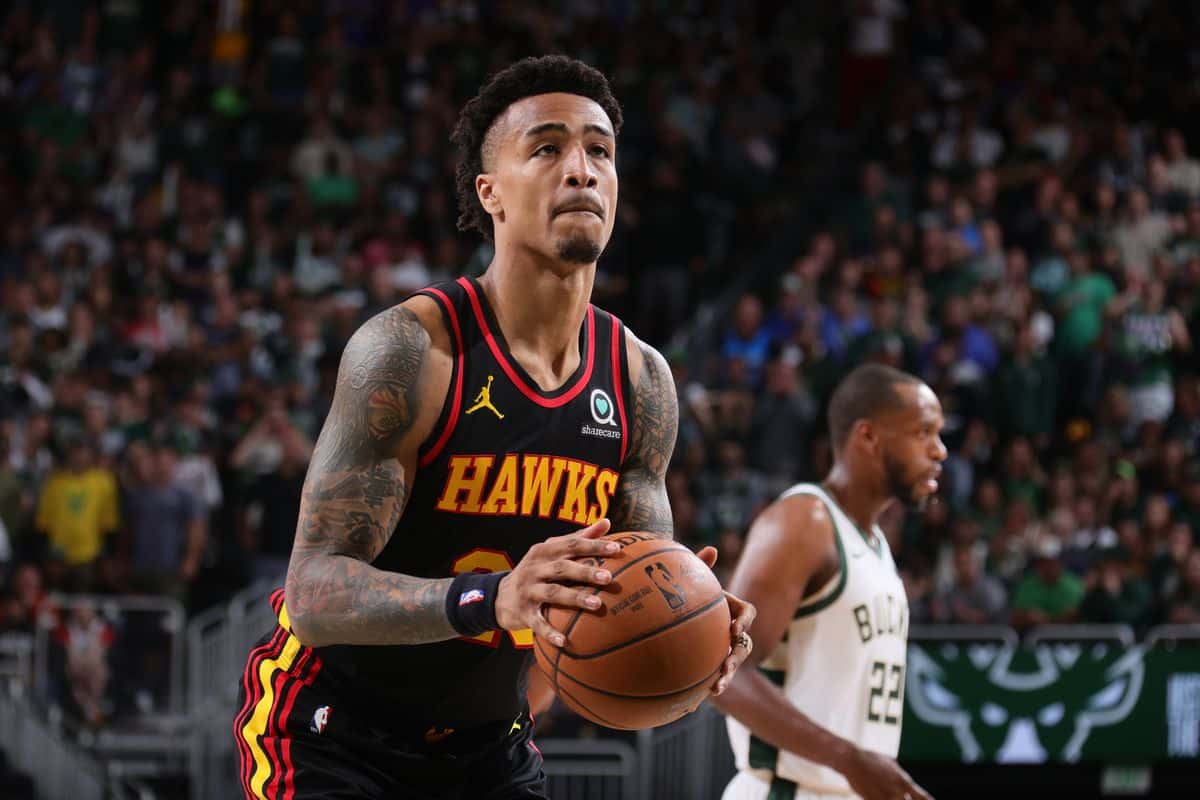 What does John Collins think about the NBA trade rumors?
We asked John Collins what he thinks about all rumors. Here is what he said :
"I have no influence on that, so the only thing I can do is to be as professional as possible, and all the possible thoughts that swirl in my head, turn into energy to play in matches, to become a better player in training. At the end of the day, no matter how many rumors there are, I have to fulfill my duties, which is to go out on the dance floor and produce."
As we can see, a player doesn't care about the rumors. He knows he still needs to perform on the pitch to help his team.
😤John Collins was killing the Mavs so badly that the Mavs bench yelled, "He's with us" John: "No I'm not."😂 #TrueToAtlanta pic.twitter.com/DEhYiuyk4Y

— Roy Harris 💨 (@Brotha2ThaNite) January 19, 2023
How many teams are interested in trading for a John Collins Hawks player?
According to the latest information in the league corridors, Malik Beasley from the Utah Jazz would go to the Cleveland Cavaliers. In exchange for him, the team from Salt Lake City would receive John Collins from the Atlanta Hawks. Popular Hawks, in a deal for their player, would get a package of players from the Cavaliers and Jazz, but there is no specific information about who it could be. Probably one of those players who would go to Utah would be Caris LeVert, but in this case, too, it's just media speculation.
The only problem in finalizing this big deal is John Collins' big contract, which runs until 2026. The Utah Jazz is willing to accept this high deal, but they have yet to receive compensation from the Hawks. We could witness this fascinating exchange if both teams agree on this issue very soon.
I'm a big John collins fan and have wanted him on the Jazz for years. I'd do the proposed trade but wish there was an alternative trade with alt where we keep Beasley. I think Beasley is a winning piece and will become more valuable.

— Laird (@lairddoman) January 12, 2023
Malik Beasley would become the missing link of the Cleveland Cavaliers and help them fight for the NBA championship. The small forward is averaging 13.8 points, 3.5 rebounds, and 1.7 assists per game this season with the Utah Jazz and makes three 3-pointers per game with a 35.5% shooting percentage. He is also considered a good defender, which the Ohio team cares about the most.