In a world where music, fashion, and wrestling collide, emerges a duo that encapsulates the essence of stardom and romance—Bad Bunny and Kendall Jenner. Known for his rhythmic tunes, Bad Bunny is revered in the music industry, and his stint as a WWE Superstar has only amplified his global appeal. Meanwhile, Kendall Jenner, a name synonymous with fashion and the famed Kardashian/Jenner clan, has her own share of the spotlight. When these two worlds intertwine, it's a symphony of passion, collaboration, and intrigue.
A Public Confirmation
After much speculation and whispers, the duo officially confirmed their relationship on Instagram, sharing glimpses of their togetherness during Gucci's new campaign, Gucci Valigeria. The campaign, themed around the intimacy of traveling together, showcased photos of Bad Bunny embracing Kendall, lifting her onto a stack of Gucci luggage, symbolizing not just a romantic union but also a blossoming professional collaboration.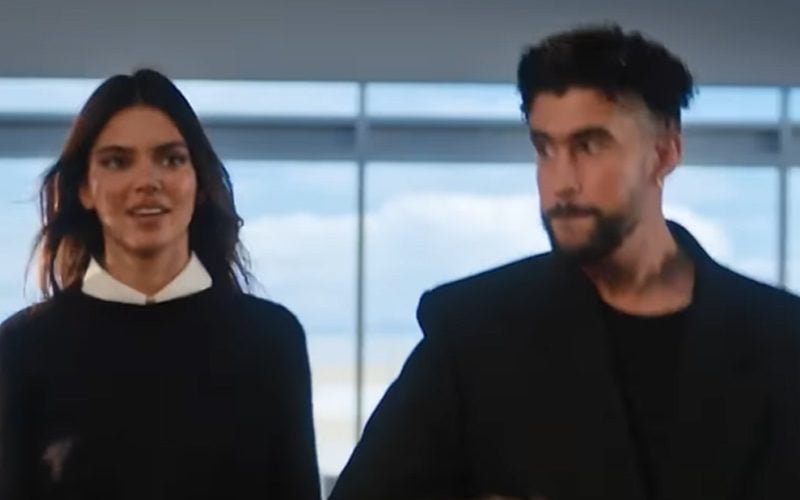 Intimacy and Business: A Dual Collaboration
The shared photos and their participation in the campaign raised eyebrows and sparked conversations, not just about their romantic involvement but also about their professional alliance. It's a partnership that blends intimacy with business, leading to speculations about whether Kris Jenner had a hand in orchestrating this multifaceted collaboration.
From Speculations to Certainty
The whispers about their relationship started heating up months ago, marked by their double date with Justin and Hailey Bieber in February and Kendall's prominent presence during Bad Bunny's headline act at Coachella. TMZ's published photos of the duo riding the same horse seemed to dissolve any remaining shadows of doubt, signaling that they are delving deep into relationship territory.
Influences and Future Endeavors
Kendall's passion for horses seems to have inspired Bad Bunny's latest music video for his song "Un Preview," a melody about falling in love with a cowgirl. It remains to be seen whether more equestrian adventures are on the horizon for the couple. Moreover, with Bad Bunny's unfinished business in WWE, fans are curious whether Kendall's presence will bring a member of the Kardashian/Jenner clan to a future WWE event.
View this post on Instagram
The union of Bad Bunny and Kendall Jenner is a fascinating tapestry of love, collaboration, and mutual influence, painting a picture of two stars navigating the realms of romance and professionalism. Their journey is a captivating blend of music, fashion, and possibly, wrestling, leaving fans and spectators eager to see how this multifaceted relationship unfolds and evolves. Whether it's a shared horse ride or a collaborative campaign, the duo is setting the stage for a myriad of possibilities in both their personal and professional lives.
A Symphony Continues…
Bad Bunny and Kendall Jenner's relationship is a harmonious convergence of different worlds, creating a melody of possibilities and speculations. As they continue to explore this journey together, the world watches, anticipates, and perhaps, gets ready to witness more intersections between music, fashion, and wrestling in the times to come.