Olly Alexander said he was leaving Savage X Fenty after hearing that Johnny Depp would be in Rihanna's upcoming brand showcase.
The 32-year-old Years and Years singer is an ambassador for Rihanna's fashion brand and will appear in her Valentine lingerie campaign in 2022.
But on November 3, Alexander took to social media to say he didn't like the news that the Pirates of the Caribbean actor might be in the brand's upcoming fashion show, which will air on Amazon Prime Video on November 9.
He first tweeted an exaggerated sad face in response to the news. Following that, a fan replied to his tweet, writing, "But, 'Savage X Fenty' is you baby……. you wear it so well," so he wrote back, "thank you but after this news, I won't be wearing it anymore."
The fourth volume of the show is called "fashion experience." Musicians Anitta and Burna Boy will perform, and models Irina Shayk, Cara Delevingne, and Precious Lee will also be there.
After TMZ first reported it, a source confirmed to People that the 59-year-old actor would be making a guest appearance in the fashion show. While Depp will not be modeling or singing, he will have a "star moment" during the show, according to reports.
This comes after a Virginia jury decided that his ex-wife, Amber Heard, lied about him in a 2018 Washington Post opinion piece about domestic violence.
At the end of the trial, the actor who played Edward Scissorhands got more than $10 million in damages, and Heard, who is 36, got $2 million because she won one of her three defamation countersuits.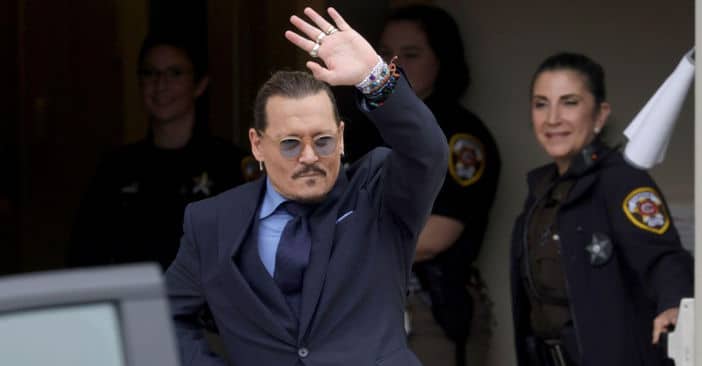 Many public figures have defended the Rum Diary actress months after the verdict was issued. Last month, singer Phoebe Bridgers spoke out about Heard's "disgusting" social media treatment during and after the trial.
"If Amber Heard exhibited any neurotic behavior, it was held against her. Then Johnny Depp, out of his mouth, admitted some of the most violent, crazy s**t in court, and it's somehow like, people aren't surprised?" Bridgers said in Teen Vogue.
"It was treated like a fandom war," she said of the online commentary surrounding the trial. "Laughing at someone crying in court? It was disgusting."
In a September interview with The Times, Succession actor Brian Cox also said that he felt sorry for Heard. "I think she got the rough end of it."
During the interview, Cox mentioned that the public adores Depp, and when the interviewer mentioned that the jury in the trial also adored the actor, Cox responded: "Well, they did."