Growing up in the '70s and '80s was different for kids. Betsie never misses a chance to tell the story of her 10-year-old self walking 5 km to school in the cold. She mumbles, "These days kids, they don't know!"
She must be right. The thread shared by Dan Wuori, the senior director of early learning at The Hunt Institute, shed light on what kids in the past experienced in their daily lives and most of it is hard to imagine.
"My high school had a smoking area. For the kids," Wuori tweeted before asking everyone to share "What's something you experienced as a kid that would blow your children's minds?" Some of the most interesting posts show how much times have changed.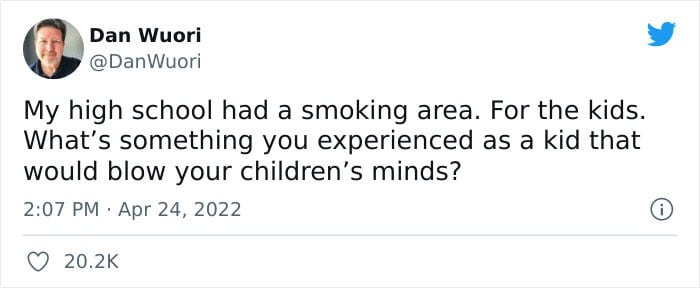 1.

2.

3.

Childhood memories are something most of us have. The Nostalgia Inventory Test is a tool developed by a scholar in the science of nostalgia and a licensed psychologist. The tool shows how nostalgic people are.
Our adult lives can be influenced by childhood memories, according to the professor. "They can contribute to our overall sense of happiness in life."
4.

5.

6.

When little is important to our development and adult lives, Batcho argues. "Positive childhood social events, such as family get-togethers during the holidays or parties to celebrate birthdays or achievements, help establish good self-esteem and healthy social skills in adulthood," she told.
Prof. Batcho's life-long research suggested that "positive childhood memories are associated with more adaptive coping skills in adulthood." People with happier memories of childhood were less likely to resort to counterproductive ways of dealing with stress.
7.

8.

9.

That means that healthy coping is not something we're born with, but rather "it is learned during childhood by role modeling trusted adults, and memories of how respected adults coped with adversity," the professor explained.
If you carry your childhood memories with you throughout your life, you are not the only one. The professor explained that rosy retrospection is a tendency to remember the past as better than it really was.
10.

11.

12.

"There might be an evolutionary reason for it because a favorable focus on the past helps most people remain healthy and happy despite the practical and emotional challenges of adult life," prof. Batcho explained. It is important to note that the way we feel about memory is influenced by a person's current mood and state of mind. When we are sad or depressed, we are more likely to remember negative events in our past.
13.

14.

15.

16.

17.

18.

19.

20.

21.

22.

23.

24.

25.

26.

27.

28.

29.

30.