Navigating Through the Sparkle
There's an undeniable sparkle about Kim Kardashian that seems to captivate millions around the globe. This time, however, the source of that shimmer is not just her signature charisma but also an extravagantly priced Gucci crystal bra, adorning her in her recent Instagram images. The reality star, businesswoman, and law student is known for consistently turning heads with her daring and adventurous fashion exploits. This new ensemble, however, takes her risk-taking aesthetic to a new dazzling height.
Unveiling the Crystal Ensemble
Kim presented her followers with a set of images where she's adorned in a Gucci crystal bra, crafted meticulously by Alessandro Michele, with a staggering price tag of approximately $18,000. The bra, while quite scant in material, compensates with an abundance of sparkle and unadulterated glamour. A piece that has gracefully sauntered down the 2019 runway campaign, it presents an audacious yet chic visual.
View this post on Instagram
"It's all Gucci," Kim succinctly captioned the images, a nod towards her complete Gucci outfit ensemble.
Paired with the extravagant bra, Kim opted for Gucci silk-satin wide-legged pants costing $1,650, and an opulent silk wrap with a $3,600 price tag, adding an elegant, layered effect to the entire look. Each image offers a different facet of the outfit and the star, from a powerful, direct gaze at the camera, showcasing the bra's gleaming crystals, to a side profile emphasizing her high braid, and a daring full-view shot as she elegantly lies near her bed.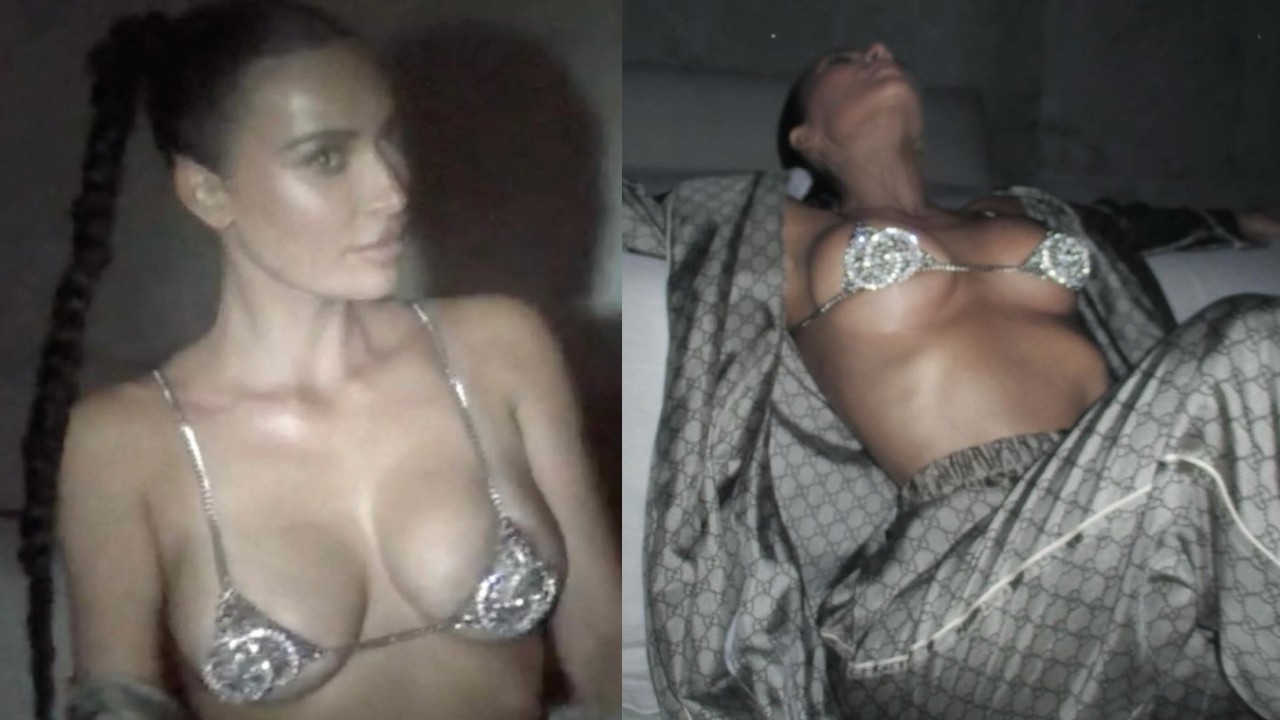 A Flood of Praise and Adoration
As to be expected, the ensemble evoked a cascade of reactions from fans and fellow celebrities alike. Various public figures showered Kim with admiration and commendation for her bold fashion choice.
Sheree Whitfield wrote, "Effortless [heart eyes emoji] [fire emoji]."
Noah Cyrus expressed her approval with a simple, "Purrrr."
And Lala shared her admiration with three heart eyes emojis.
From "stunning and sensational" to being described as "always [fire emoji]," the images have unquestionably made a sizzling impact across social media.
Kim in Paris 💕 pic.twitter.com/ysZQg6hqBp

— Kim Kardashian Updates (@AllForKimK) September 29, 2023
Kim Continues to Grace the Fashion World
Kim's striking appearance in the Gucci ensemble comes close on the heels of her presence at Paris Fashion Week. The founder of Skims was spotted at Victoria Beckham's fashion show, donning a bubblegum pink slip dress and was notably joined by family members, including her sister Kendall Jenner, who closed the show, and their mother, Kris Jenner.
Victoria's runway show was also graced by appearances from her own family, including husband David Beckham, daughter Harper, sons Cruz and Brooklyn, and daughter-in-law Nicola, showcasing a blending of the families who have consistently remained at the forefront of the public eye.
View this post on Instagram
Final Thoughts
From the daring exploits of wearing an 18K crystal bra to consistently being at the forefront of fashion discussions, Kim Kardashian perpetually creates ripples in the fashion world. Her bold and unabashed style choices, often marinating luxurious and daring, continue to shape and challenge the norms within the fashion industry, offering a glittering source of inspiration and conversation among fans and critics alike.
Whether it's adorning a barely-there, luminous piece of high-end fashion, or gracing the runways of prominent designers, Kim maintains a persistent presence in the fashion world, offering a continuous stream of bold, opulent, and occasionally, controversial style moments that keep her perennially in the spotlight.