Boruto episode 286 will be aired on TV Tokyo this Sunday, 5th February, at 5:30 pm Japan standard time. It will be available for a global audience on streaming services such as Funimation, Crunchyroll, Hulu, and VRV.
Boruto episode 286 release dates
Central Standard Time: 2.30 am, February 5, Sunday
Eastern Standard Time: 3.30 am, February 5, Sunday
Pacific Standard Time: 12.30 am, February 5, Sunday
Central European Time: 9.30 am, February 5, Sunday
British Standard Time: 8.30 am, February 5, Sunday
Philippine Standard Time: 4.30 pm, February 5, Sunday
Indian Standard Time: 2 pm, February 5, Sunday
Australia Central Standard Time: 6 pm, February 5, Sunday
Boruto episode 285 – Sasuke's Story: The Sky that Fell to the Earth recap
Let's take a quick overview of the previous episode and try to predict what will come next.
At the beginning of the episode, Sakura receives a letter from Kakashi. He writes that the Prime Minister of Redaku has declared war in the name of the Princess. Sakura goes to the canteen to inform Sasuke of this news. Not finding him there, she sits and chats with Ganno. He tells her that Sasuke used to sit in the canteen and stare at the almond flowers since they reminded him of sakura cherry blossom flowers. After he leaves, She starts to think about how to gain access to the Ultra Particles. She realizes that she must perform hand signs that are encoded in the map of the heavens to gain access to them. Specifically in the star signs of the Chinese Zodiac.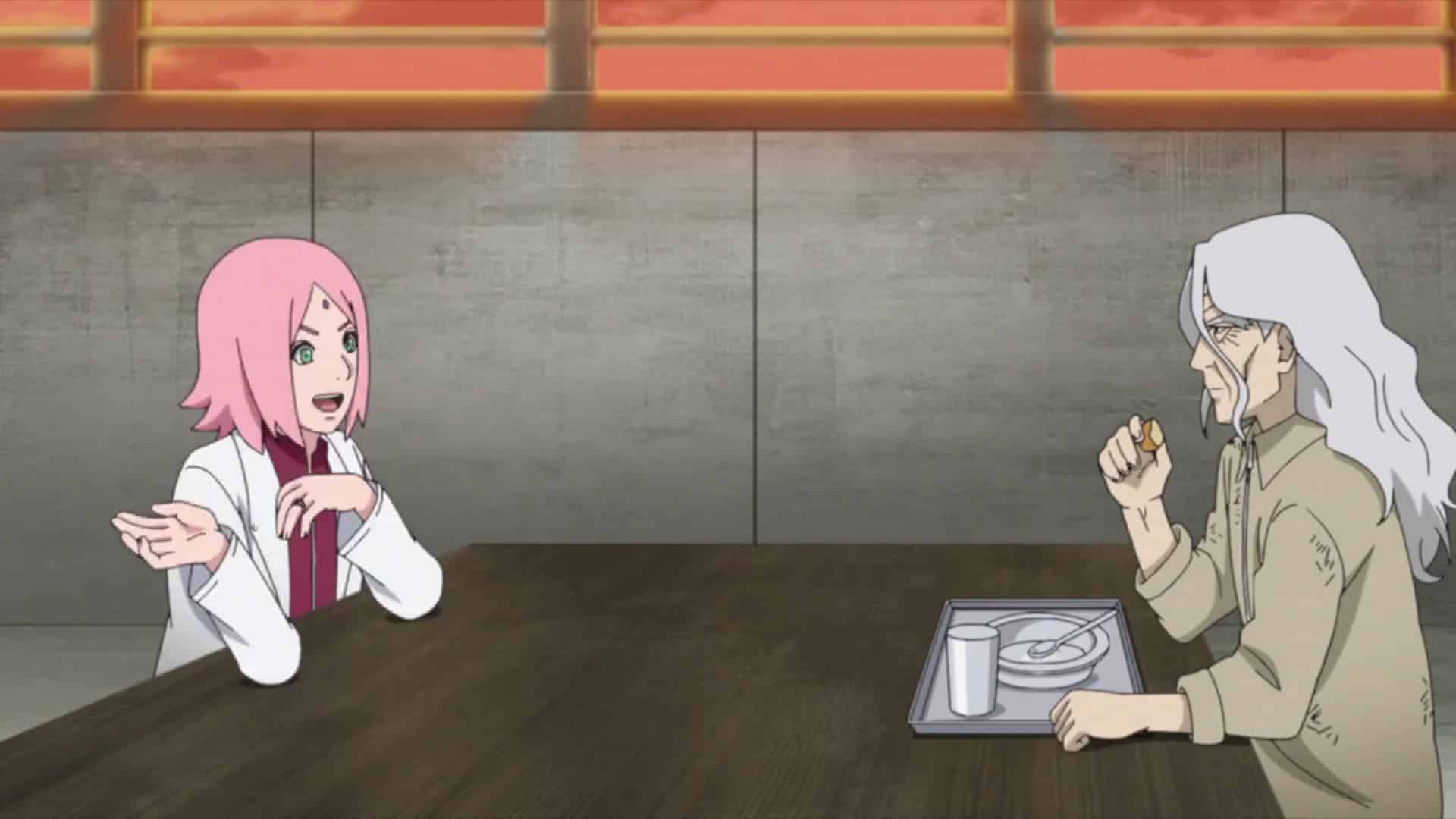 Sasuke is on kitchen duty with Jiji and notices a lake in the distance. Jiji informs him that it is a crater created by an asteroid impact and was filled with water after rain. He realizes this is where the Ultra Particles can be found and runs to find his wife. He runs into her on the way down, and they both share their revelations. Sakura also informs him of the war. They both head down to the lake at night and, appreciating its beauty, talk about their relationship. Sasuke asks Sakura if she needs a real ring, not one made of Chakra. She tells him it is unnecessary as it might not look good on her rough hands. They both hold hands and share a moment.
The Ultra particles 
Sakura does the hand signs and captures the Ultra Particles from a beam of light from the lake. They both decide to go back to the village immediately. Suddenly there is an explosion, and hundreds of Dragon beasts are unleashed. Sasuke leaves to capture one of them and tells Sakura to go and find Zansul. She might know what is happening. After running for a few seconds, Zansul finds Sasuke and informs him that he is the one who resurrected the dragons.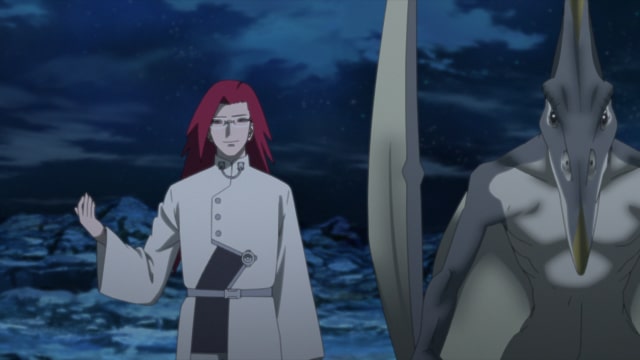 He tells Sasuke that it was only possible because he and Sakura unleashed the Ultra Particles. Zansul used to use apricots that absorbed the chakra of the Ultra Particles to change chickens into beasts. He can now unleash many simultaneously because of the Ultra Particles being unleashed. Zansul appears to be completely loyal to the Prime Minister. Sasuke soon realizes that someone else, not Zansul, is controlling the beast.
Sakura is poisoned
Sakura punches a hole in the wall to help the prisoners flee from the attack of the Dragons. Jiji appears and expresses happiness upon seeing her alive and well. Sakura tells him to find cover and runs to find Zansul. But Jiji holds her and stabs her with a poisonous dagger in the guise of a hug. He reveals he has been working with Zanusl the whole time and needs the Ultra Particles. Jiji steals it from Sakura's bag and runs away, leaving her to die.
Jiji removes the seal of the Ultra Particles to resurrect his deceased girlfriend, Margo. There is a huge exposition inside the Prison, and a huge dragon beast is resurrected. Sakura is crushed amid the rubble and breaths out Sasuke kun before being buried underneath the rubble. Meanwhile, Sasuke is getting ready to fight the beasts Zansul ordered to kill him.
Boruto Episode 286 – Sasuke's Story: The Ring
Boruto Episode 286 Screenshot! Sharingan Sasuke, he ain't playing around no more😤🔥. #boruto pic.twitter.com/w7C1h6wUpH

— Abdul Zoldyck (@Abdul_S17) February 3, 2023
Boruto episode 286 will probably be the last one of the Sasuke Retsuden arc. We might see Sasuke and his new Meno friend fight or escape the dragon beasts revived by Zansul and Jiji. In the preview, we can see Sakura struggling under the rubble and Sasuke in the background struggling to get her out. It seems like everything is in the hands of Sasuke now.
Tomorrow the episode 286.
The last episode before the Code Arc 🔥🔥🔥 pic.twitter.com/BJklJf76Ay

— Ryan (@Boruto_13000) February 4, 2023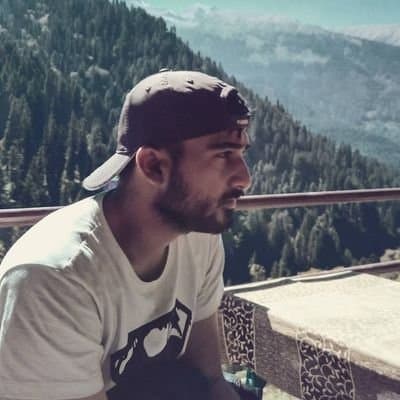 A journalist passionate about entertainment, pop culture, anime, gaming, and celebrity news: with years of experience in writing and reporting, I love to delve deep into the latest trends, information, and controversies surrounding entertainment and celebrity culture. Whether you're a die-hard gamer, an anime fanatic, or love to keep up with the latest celebrity news, I've got you covered.