It's interesting to see how places and landscapes change as the year passes by. Over the decades, endless photos have been snapped from around our world.
So, if you have ever thought about what your country looked like many years ago, you are in luck. A group of people who are also fascinated by a similar topic has shared 35 before and after images to show how the world has changed around us.
Honestly, there wasn't a central hub for this kind of art so we got to work and built re.photos. It's actually a website that enables people to browse hundreds of pictures or upload and align their own.
Today we would like to share our excitement with you and show you some of the best pictures (in our opinion) our users contributed. Hopefully, these comparisons are as exciting for you as they are for us!
From these photos, you can get a good idea of what features are left in our environment due to urbanization, globalization and global warming over time. Scroll down to see and vote for the best photo.
Rysstad, Norway, 1888 – 2013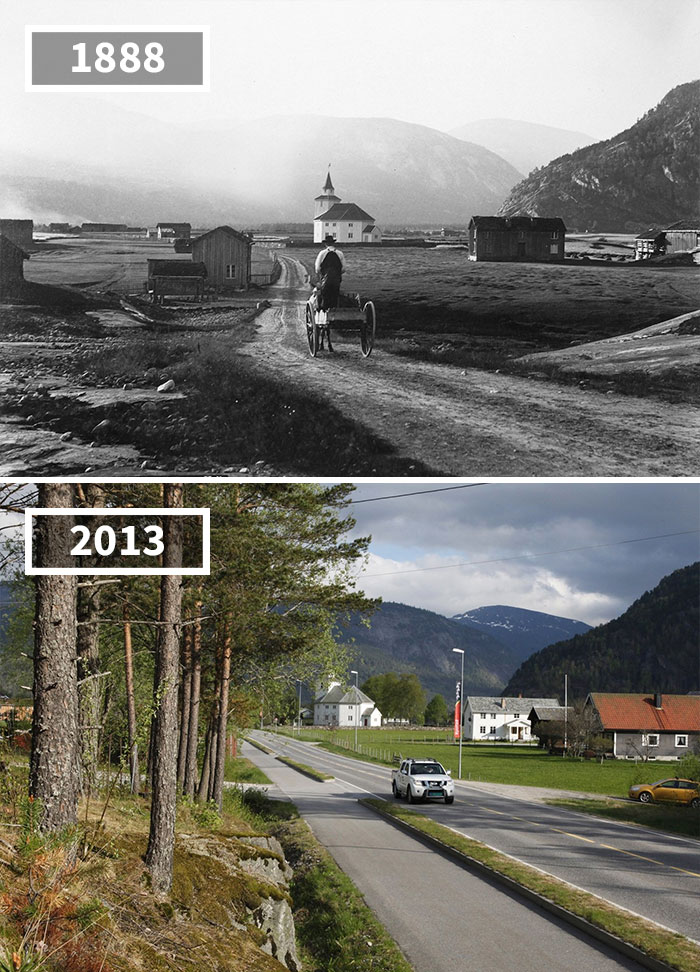 Seljestadjuvet, Odda, Norway, 1887 – 2014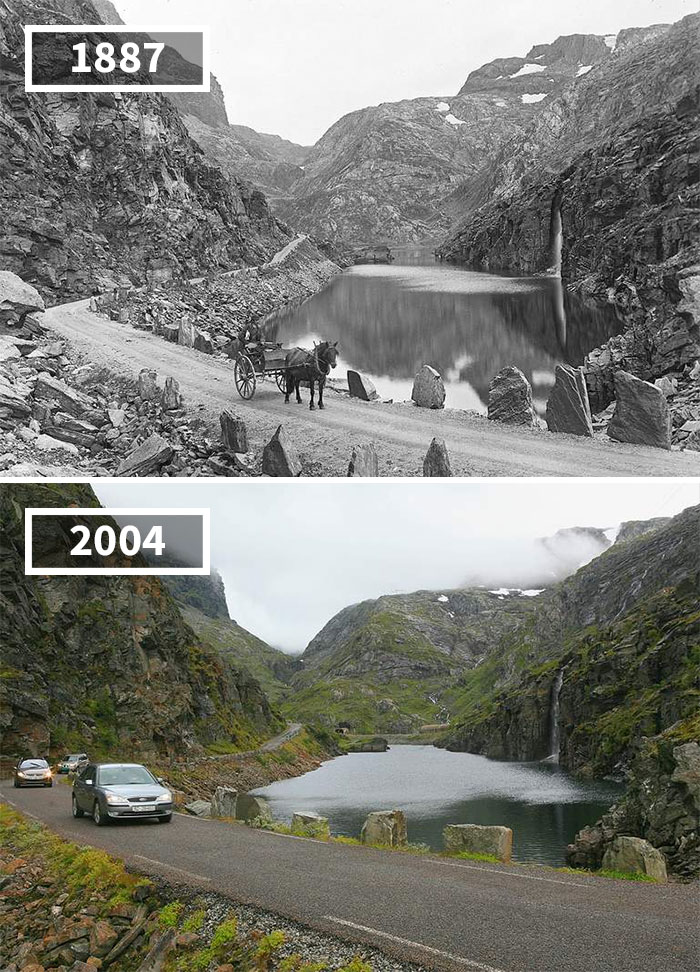 Martin Luther Statue, Dresden, Germany, 1958 – 2014
Hofbräuhaus München, Germany, 1910 – 2017

Quai Des Nations, Paris, France, 1900 – 2017

Corner Of Ratajczaka And Św. Marcin Streets, Poznań, Poland, 1945 – 2017

Pripyat, Ukraine, 1986 – 2016

Chaney Glacier, USA, 1911 – 2005

Engabreen Glacier, Norway, 1889 – 2010

Axel Lindahl's picture of Engabreen from 1889 shows the foot of the glacier, where there was only ice, glacial gravel, water and bare mountainsides in a seemingly cold and hostile landscape. Now, more than 120 years later, the valley has become far more fertile. Birch forest, shore meadows, willow thickets and marshland have established themselves, while the glacier arm has retreated far back up the mountainside.
Moulin Rouge, Paris, France, 1900 – 2016

Horse Cart And Steam Locomotive, Mont Saint-Michel, France, 1908 – 2016

Reichstag, Germany, 1945 – 2012

Hammerfest, Norway, 1889 – 2004
Frauenkirche Dresden, Dresden, Germany, 1897 – 2010
Tour Eiffel, Paris, France, 1910 – 2016

Marcin Street, Poznań, Poland, 1945 – 2017

Osnabrück, Germany, 1904 – 2016

The Karlstor, Munich, Germany, 1946 – 2017

Osnabrück Central Railway Station, Germany, 1965 – 2015

Nowomiejska Street, Łódź, Poland, 1874 – 2016

Paris, France, 1900 – 2017

Szyperska Street, Poznań, Poland, 2006 – 2017

Kjeåsen Railway Bridge, Kjeåsen, Norway, 1927 – 2008
The Eiffel Tower, Paris, France, 1900 – 2017
The Seine bank during the world's fair of 1900.
Next to the Eiffel Tower, the "Globe Céleste" was one of the main attractions. It was a monumental heavenly globe of 45 meters in diameter, in which visitors could sit in a chair, while panoramas of the solar system were passed over. The ball was carried by 4 pillars, between which stairs and elevators allowed the visitors the ascent.
In the "Marerama", the building with the four corner towers to the left, visitors were simulated to be on the deck of a ship with a panorama of the large Mediterranean ports.
The exhibition pavilions located directly on the shore on the left were dedicated to navigation, trade, and navigation.
Palais Im Großen Garten Dresden, Germany, 1900 – 2005

 St. Matthew Evangelical Church, Łódź, Poland, 1937 – 2017

Osnabrück, Germany, 1953 – 2015

St-Gervais-Et-St-Protais, France, 1918 – 2017

The Grinnell Glacier, Montana, USA, 1911 – 2008
The 1911 photo shows Grinnell Glacier poised at the top of the waterfalls in the foreground and joined with what is now called Salamander Glacier in the background. Grinnell described this wall of ice as being 1,000 feet high in 1887. As of 2008, that wall of ice is gone and Grinnell Glacier is not even visible in the contemporary photograph. Instead, it is behind the buff-colored ridge just above the waterfalls. Salamander Glacier lies along the Garden Wall below the ridgeline. This glacier is thinning in the middle so rapidly that it will probably be in two pieces within a few years. To the upper left is the small, rounded glacier, Gem Glacier, that until recently had not shown signs of retreat. It, too, is now becoming smaller.
Karlstor, Munich, Germany , 1910 – 2017

Köln Domplatte, Germany, 1945 – 2011

Gymnasium, Osnabrück, Germany, 1870 – 2015

Łódź, Poland, 1887 – 2015

Hôtel De Ville, France, 1871 – 2014

Notre Dame, Paris, France, 1850 – 2016