After a picture of a baby who bears an eerie likeness to him went viral on social media, Woody Harrelson composed a touching poem in response.
There are many people that resemble celebrities from the entertainment industry or from the music industry, but you are often around the same age before people start noticing the resemblance.
This is not the case with nine-month-old Cora, whose mother Danielle from Northern Ireland posted a side-by-side comparison of her child and the 61-year-old Zombieland actor on Twitter on Wednesday, August 3.
Danielle made the actually insightful analogy in a hilarious post and wrote: "Ok but how does our daughter look like Woody [Harrelson]."
The image gained a lot of attention on social media, with 492.4K likes and 27.5K retweets as of this writing, which undoubtedly caught the actor's eye.
The comparison is below.
Ok but how does our daughter look like Woody Harreslon pic.twitter.com/v3oZbXDrQM

— Dani Grier Mulvenna (@DanielleKGrier) August 3, 2022
The honorable actor responded by penning a poem for the momentous occasion and shared Danielle's tweet on his Instagram account.
He called it "Ode to Cora" and wrote the following in it: "You're an adorable child/ Flattered to be compared/ You have a wonderful smile/ I just wish I had your hair."
The Now You See Me actor and father of four received over 230k likes on the post, and Mulvenna added the following comment: "You've made our day. Can't wait to show her this when she's older, you have another fan for life xxx."
His poem is below.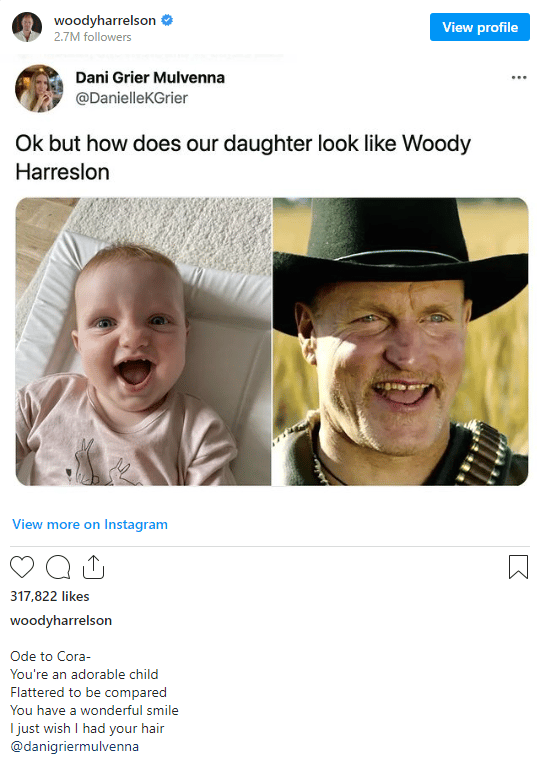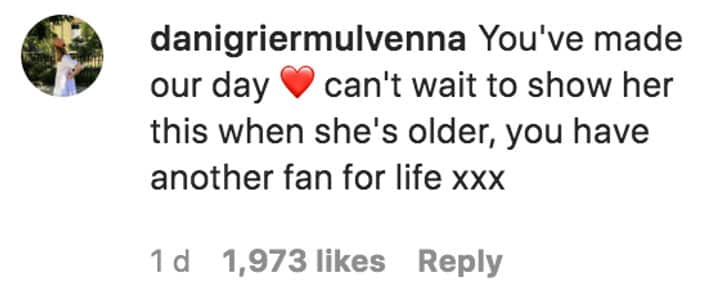 She made certain to share his poetry on Twitter and added the following: "It's not every day Woody Harrelson writes your daughter a poem."
The Northern Irish mother confessed to Today Parents that she only realized the similarity after a friend pointed it out to her during a conversation about her daughter's internet success.
"Basically we never saw the resemblance until our friend Chris pointed it out at a BBQ. Then once we took that photo of her laughing it was undeniable," she wrote.
Danielle continued by expressing how "moved" she and her partner were by Harrelson's response and how Woody was "a terrific lookalike to have" if you were going to have a celebrity double.
The mother of one further stated that she had only anticipated a few friends and family members like the tweet and that she had been "blown away" by the response online.