A lip filler that cost a woman $350 gave her a severe allergic reaction that made her lips swell up to three times their normal size.
Basia Query, who is 24 years old and from Las Vegas, Nevada, is thought to have gone into anaphylactic shock after getting a cheap procedure that didn't involve needles.
Her cosmetician used a hyaluronic pen, which injects the filler below the surface of the skin by forcing highly pressurized air through the tip of the pen.
On the other hand, it is thought that Ms. Query had an allergic reaction that made her lips swell so much that it was hard for her to eat, drink, or even talk.
When the immune system sends a flood of chemicals into the body, this is called an anaphylactic shock. These chemicals can make the blood pressure drop, which makes it more likely that the airways will narrow and close.
The horrifying pictures show that both of her lips swelled up to a "huge" size during what she called the "scariest thing ever" which made her worry that they might be "cut off."
As soon as she got to the hospital, doctors checked her out and gave her an adrenaline shot. This made the heart beat faster, which raised the blood pressure and kept the airways from getting narrow.
She said that after 24 hours, the swelling in her lips had gone down, but they were still "super bruised."
Ms. Query has decided she won't get lip fillers or any other kind of cosmetic surgery anymore. She said that her family was "terrified" and "really angry" because of what happened.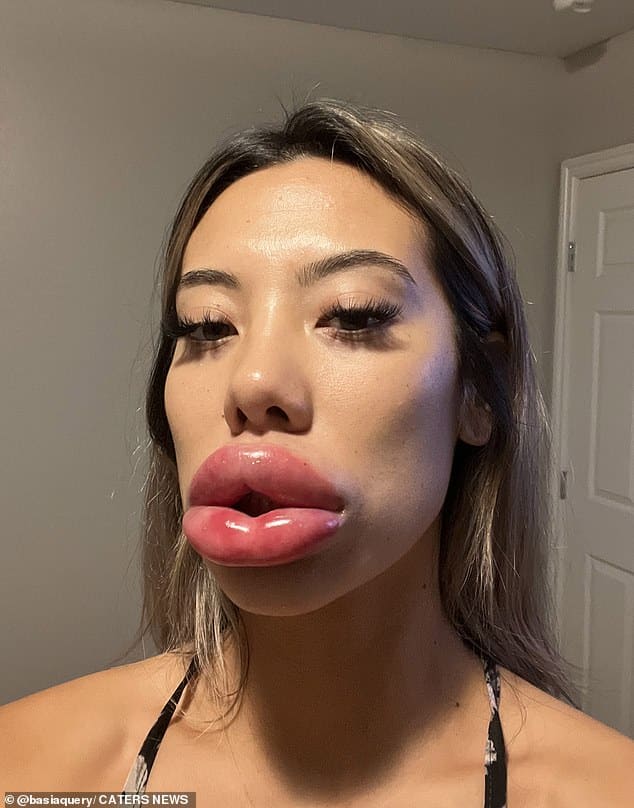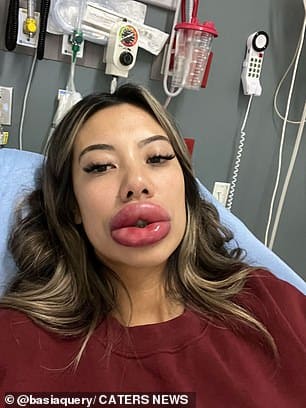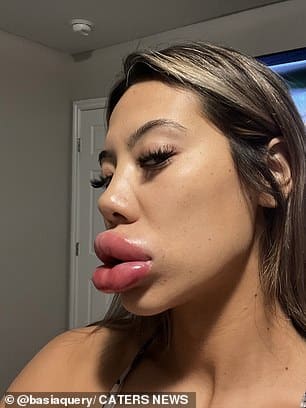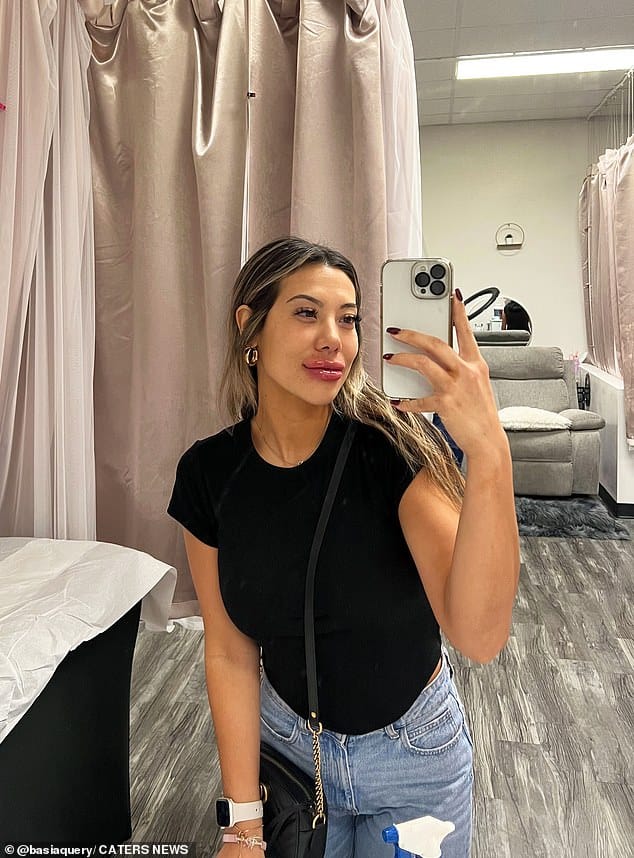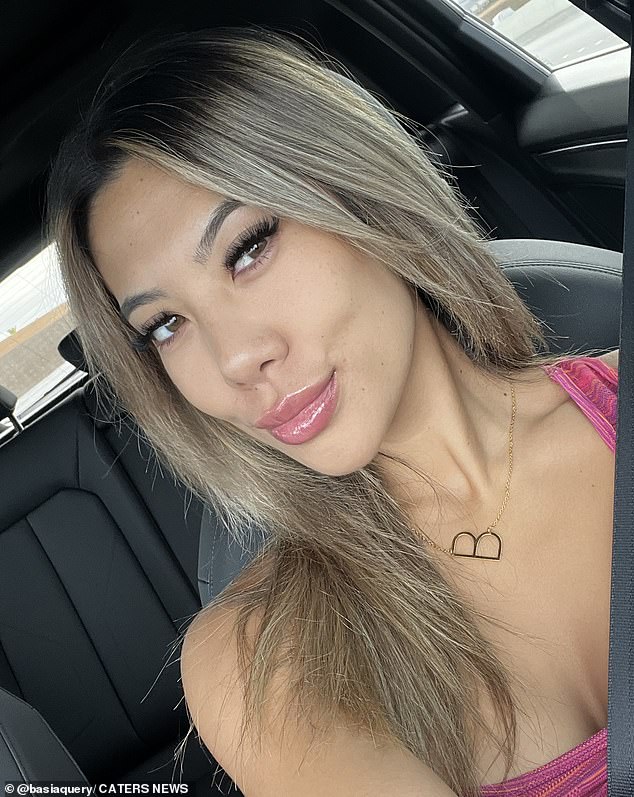 Ms. Query went to her usual clinic on October 21 to get her lip filler, just like she had done before.
She'd been there twice before without any trouble.
In contrast to other lip fillers, the hyaluronic pen doesn't need a needle.
Instead, it uses very highly pressurized air to get the chemicals into the skin.
Once hyaluronic acid gets into the skin, it does its job by attracting water molecules to the area where it is. Then, these water molecules stick to the acid, which makes the skin swell because there is more water in the skin.
The effect will last for about six months.
Ms. Query said that after her appointment, her lips "almost immediately blew up," and as a result, she felt "really uncomfortable."
In about two hours, they grew to be three times as big as they were when they first started.
Ms. Query ran to the pharmacy to get some antihistamines. On the way there, she put a mask over her mouth.
After that, her 24-year-old boyfriend, Gage Dodds, rushed her to a nearby hospital's emergency room (ER).
Within the first five minutes, a doctor checked on her and gave her some IV fluids and an Epi-Pen to stop the allergic reaction.
She was in the wards for three hours before she was allowed to leave the building.
Query says that the experience has made her lips "very bruised," even though the swelling has gone down a lot.
She said that the reaction was caused by a painkiller called Lidocaine, which she had never had before. Pain can be stopped with lidocaine.
In very rare cases, this has been known to cause an overly sensitive reaction.
She said the following about the reaction: 'I was terrified and thinking "what if they cut my lips off, or stay this way forever". I didn't know what to do.
'I had never seen lips this big, and the woman who did my lips said other people had had a reaction but never that big.'
She wrote about it on TikTok, where it quickly went viral. More than 17 million people have seen it.
'I was sharing it because friends said it was funny,' she said, 'but I didn't know it was going to go viral and now I am getting trolled.
'A lot of people are saying to me to just love yourself, and some are making fun of it, but I am making fun of myself and I don't even read the comments.
'I will not do it again, I am done with getting filler. I was also going to get botox next month but have cancelled it.'
Ms. Query has not yet asked to get her money back for the procedure.
She added: 'I have learnt to always do research into what I am putting into my lips, it's the same thing with botox or getting a boob job, it's different for everyone.'