Jessica Roberts found a heart-shaped paperweight at a yard sale for $1 and brought it home with her. She found out that the item might not be what she thought it was. The story took an unexpected turn when Roberts realized she might have accidentally bought an urn after seeing a similar item on Amazon. She went on a mission to find the rightful owners of an important item after learning that someone's cremated ashes had somehow ended up with her.
Roberts wanted to give the urn back to whoever it belonged to this Christmas season.
Roberts bought a $1 paperweight at a yard sale five years ago and recently discovered it was an urn without engravings.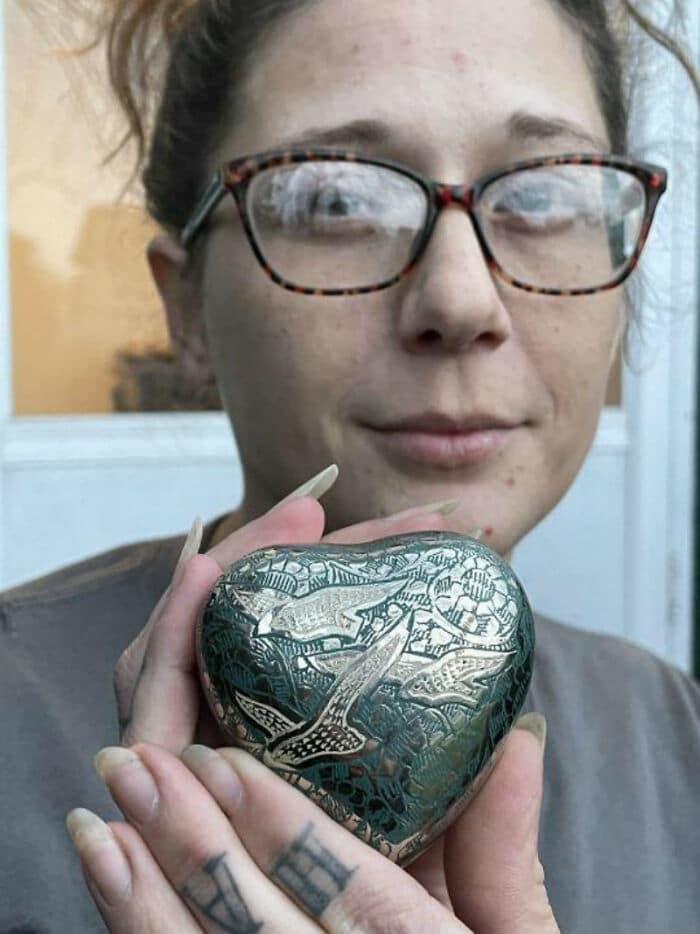 "About 5 years ago, I had come across this item at a yard sale while out with my son. He had wanted me to buy it so that he could give it to me as a gift. I had believed it was a paperweight and thought it was pretty so I bought it for $1. A few years went by and then last Monday, I was looking at random items on Amazon and saw an advertisement for this same item and became curious. When I clicked on the advertisement, I was shocked to find out that it was an urn and not a paperweight. I thought to myself that there was no way there were remains inside. I left it alone that evening but tossed and turned all night thinking about it," Roberts said.
Roberts wanted advice from her story on Facebook.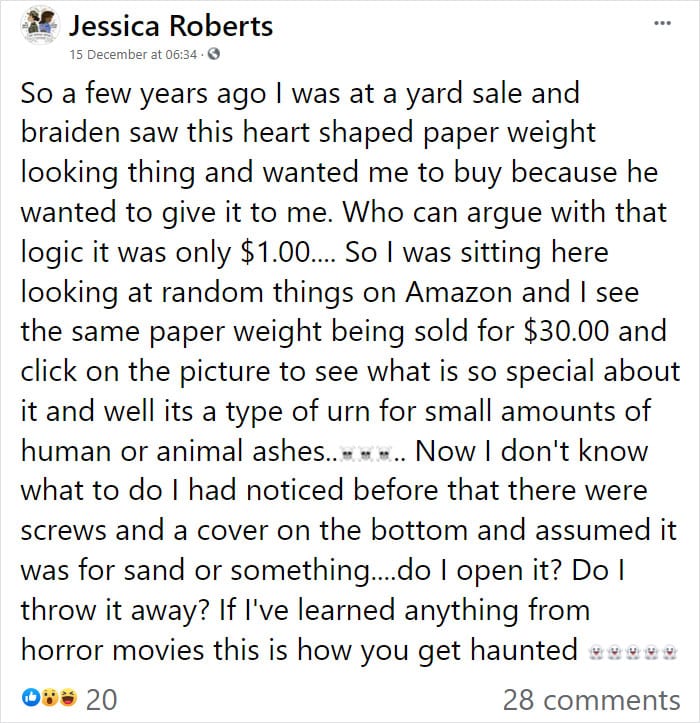 People had suggestions on what Roberts should do with the find.







Roberts joked by saying, "I'll probably just end up giving it a nickname and adopting it as part of the family and stop using her or him as a paperweight. Give it a nice spot on the mantle and call it Aunt Thomas since I don't know what gender they are."
Roberts decided to find the rightful owner of the urn after she opened it the next morning.
"So the next morning, when I woke up for work, I decided to peek inside to see if there was anything inside. Upon opening it, I discovered that there were, in fact, remains inside. I immediately decided to take pictures and turn to social media for help finding the rightful home for this urn. Within hours, screenshots had been shared on multiple pages and it was an amazing outpour of people who wanted to help. Later that evening, the local newspaper contacted me to run a story and help in my search. The next morning, I was contacted by the husband of the woman who had lost the urn."
Roberts found out that the woman who lost the urn had her father's ashes in it. Roberts gave the urn back to her husband, who will get a Christmas surprise.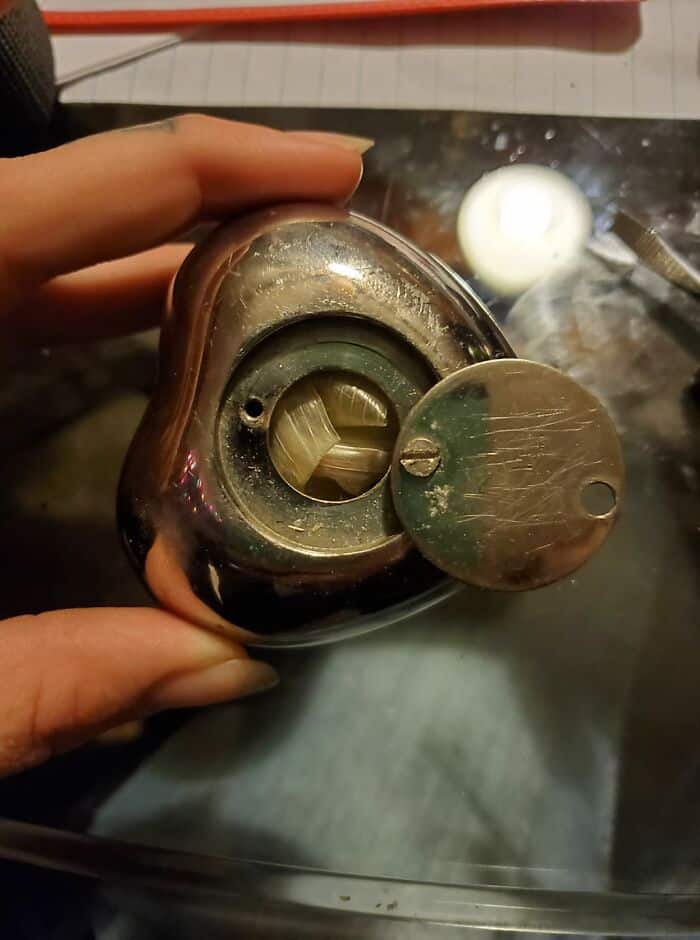 "His wife's family had seen the post and recognized it as the missing piece to a matching set of urns containing the remains of his wife's father. Years earlier, his wife had left an abusive partner who had kept her belongings out of spite. Somehow, this urn ended up in my hands and I had kept it safe for years without knowing how important it really was. The couple has recently had a child and the woman recently expressed the regret of losing her father's remains because it felt like he could not be there in spirit.
After speaking with the husband for some time to confirm it was, in fact, his father-in-law's remains, I was able to meet with him to return the urn. He plans to surprise her with the urn Christmas morning and her father's remains can finally rest where they belong—with her. After how miserable 2020 has been, I feel truly honored to be able to bring someone a little bit of joy for the Christmas season."