Sadly, Neena Pacholke, a news anchor from Wisconsin, passed away at the age of 27.
According to her sister Kaitlynn, Pacholke died on Saturday in an apparent suicide.
"Neena Pacholke, our beloved morning anchor passed away suddenly Saturday," news network 9WAOW said in a statement on Sunday (August 28).
"The entire team here at News 9 are absolutely devastated by the loss as we know so many others are as well. Neena loved this community and the people who lived here. She was a kind person with a big heart and a contagious smile and we will miss her greatly," the statement continued.
At the time of her passing, Florida native Pacholke, a standout basketball player for the University of South Florida, was engaged.
Signed, sealed, & its official, I'm here to stay 💗

It has been such a joy getting to be a part of this community by starting every weekday morning with you, interacting on social media & meeting you out in public! Let's keep the fun going‼️ @WAOW pic.twitter.com/5mm4e4dvNW

— Neena Pacholke (@neenapacholketv) April 9, 2021
Pacholke's death is being looked into by the Wausau, Wisconsin, police, according to Captain Ben Graham, who spoke to E! News: "Wausau Police Department Officers were dispatched to a home on Wausau's southeast side Saturday morning to check the welfare of a woman who reportedly made suicidal statements.
"After receiving no answer at the door, officers entered the home and found Pacholke deceased."
Police have not yet determined the cause of death, and no suspicion of foul play exists.
With a series of photos of the two, Pacholke's sister Kaitlynn paid moving homage to the accomplished anchor in an Instagram post, writing: "I love you and miss you so much baby sis. My life will never ever ever be the same without you [red heart emoji]."
Her heart was "shattered into a million pieces and I know it will never be whole again," she wrote in a screenshot of a message she had written about her deceased sister.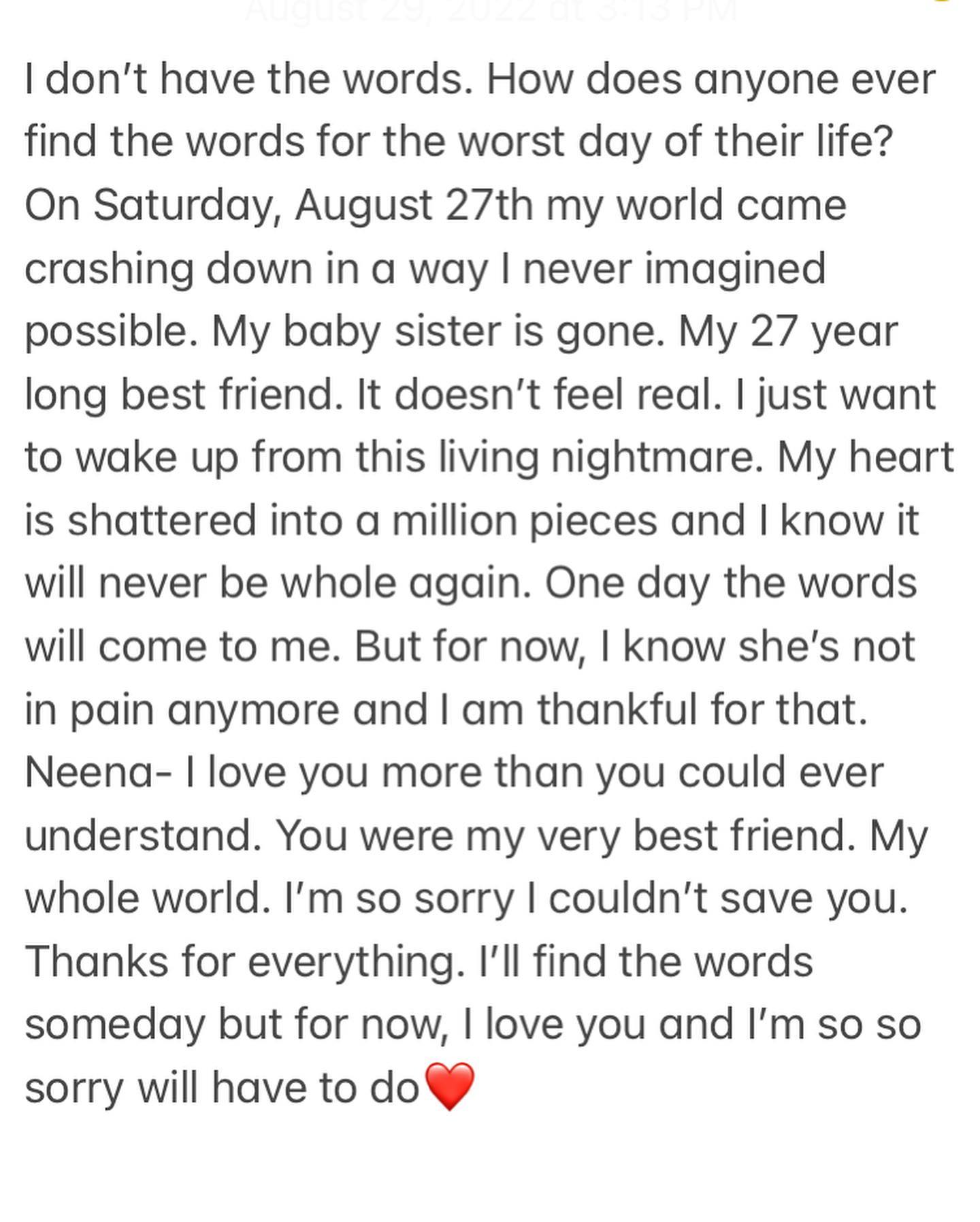 In an interview with the Tampa Bay Times, Kaitlynn also discussed her sibling. "My sister was by far the happiest person I thought I knew […] Sometimes you just don't know what people are going through, no matter how much you think you know someone… My sister had access to every resource you could imagine. She was loved by everybody. She was so good at her job."
"She just radiated love and positivity, and she just cared so much about pouring into other people, and always put other people first […] I think she did that at the expense of not caring about herself," Kaitlynn added.
The University of South Florida basketball squad that Pacholke played for a paid tribute to the deceased athlete by tweeting: "The Bulls are heartbroken to learn of the sudden loss of our beloved former teammate Neena Pacholke (2013-16). Our thoughts and prayers are with Neena and her family during this extremely difficult time."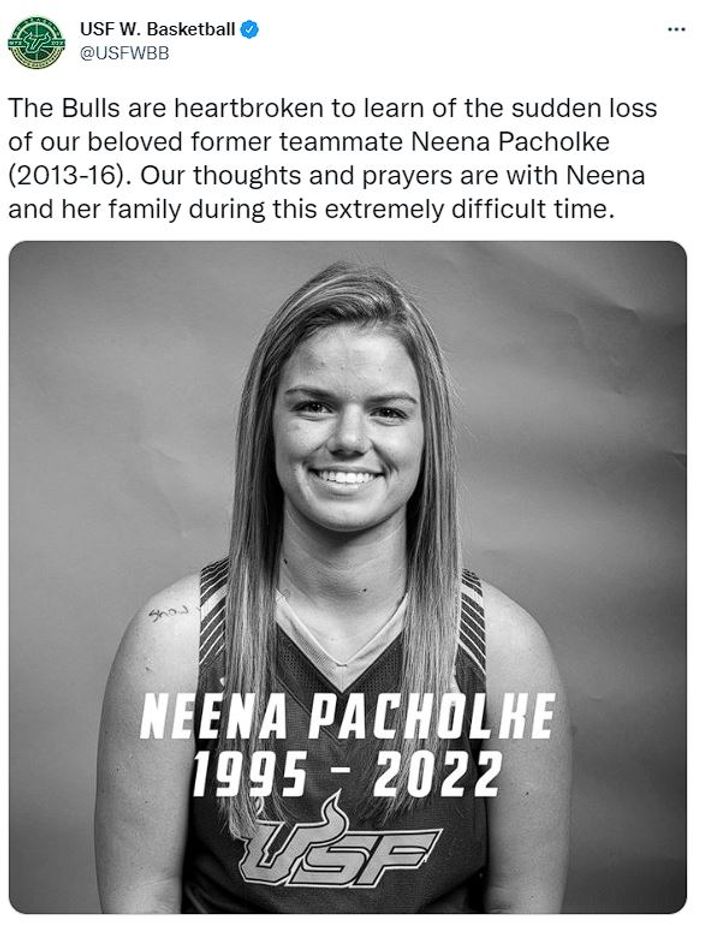 Regarding Pacholke, Up North News Wisconsin tweeted the following: "Over the weekend, Wisconsin news anchor Neena Pacholke died by suicide. She didn't 'look' like someone who was struggling. That's the point AND the problem. Keep Neena's family in your prayers. And save the Suicide and Crisis Lifeline number in your phone. It's a simple 9-8-8."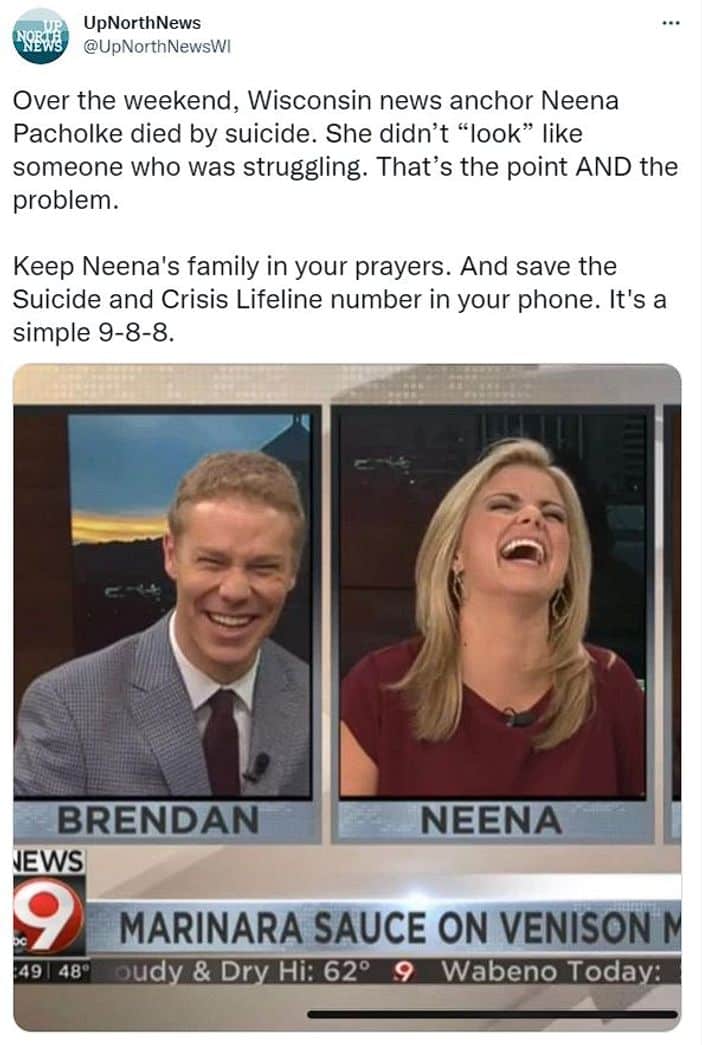 At this time, our sympathies are with Neena Pacholke's family, friends, coworkers, and supporters.