It looks like Will Smith just slapped Chris Rock in the face in defense of his wife, Jada Pinkett Smith.
Chris Rock made a joke about Jada Pinkett- Smith being in G.I. Jane has a shaved head and a green dress. Alopecia is an autoimmune disorder that causes bald spots and hair loss.
Pinkett Smith shook her head and Will Smith laughed. Smith ran on stage, hit Rock, and then left the stage. Rock said "oh wow, wow" after being hit in the uncensored exchange on Japanese television.
VIA JAPANESE TELEVISION: The uncensored exchange between Will Smith and Chris Rock pic.twitter.com/j0Z184ZyXa

— Timothy Burke (@bubbaprog) March 28, 2022
"Will Smith just smacked the shit out of me," Rock said.
"Keep my wife's name out your fucking mouth," Smith yelled.
"Wow, dude," Rock said.
"Yes," Smith responded.
"It was a G.I. Jane joke," Rock said.
"Keep my wife's name out your fucking mouth," Smith repeated.
"I'm going to, OK?" Rock said. "That was the greatest night in the history of television."
#Oscars2022 will smith GI Jane 2 jada Pickett smith Chris rock not staged joke pic.twitter.com/DkmqHpQ977

— Telcoin Bull (@TelcoinBull) March 28, 2022
Questlove won the Oscar for Best Original Documentary.
Smith and his publicist had a discussion during the commercial break, according to Variety. During the commercial break, Washington pulled Smith aside to talk to him. During Smith's acceptance speech for winning the Oscar for his performance as Richard Williams in King Richard, Smith said Washington told him, "At your highest moment, be careful, that's when the devil comes for you."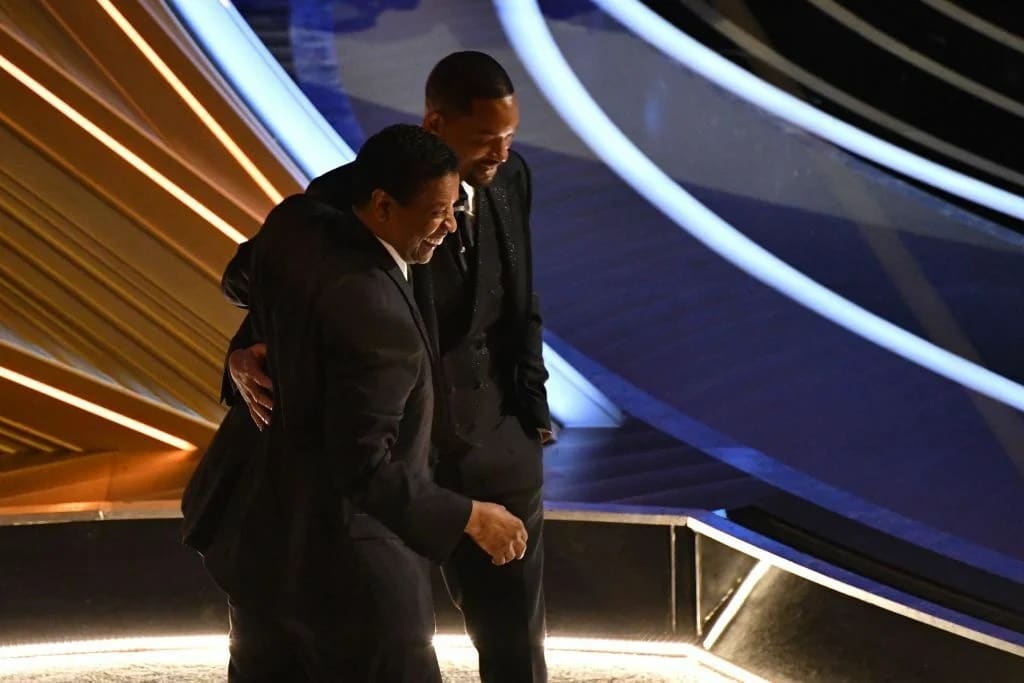 Smith also said Williams was "a fierce defender of his family. In this time in my life, at this moment, I am overwhelmed by what God is calling on me to do and be in this world." He apologized to his fellow nominees, but not to Chris Rock.
"I want to apologize to the Academy, I want to apologize to all my fellow nominees," Will Smith says in intense and lengthy remarks that occurred after he hit Chris Rock on the #Oscars stage.https://t.co/1H1Y9jC9bl#oscars pic.twitter.com/IlpBjx8lgD

— ABC News (@ABC) March 28, 2022
"Art imitates life. I look like the crazy father," Smith says, adding. "Love will make you do crazy things."
At the end of his speech, he said: "Thank you. I hope the Academy invites me back."
During this break, Denzel pulled Will aside to talk to him and they walk away from their seats together. Denzel now has his arm around Jada and is kneeling next to her even though the show has started. #Oscars

— Rebecca Ford (@Beccamford) March 28, 2022
What a very west Philly Oscars.

— quinta brunson (@quintabrunson) March 28, 2022
What a very west Philly Oscars.

— quinta brunson (@quintabrunson) March 28, 2022
This is the only time you can actually write a "comedians are under attack" op-ed.

— The Jay Agenda (@JayJurden) March 28, 2022
BREAKING: Will Smith Being Sent to Live with Aunt and Uncle in Bel-Air

— Zack Bornstein (@ZackBornstein) March 28, 2022
https://twitter.com/janellejcomedy/status/1508281825277321216?s=20&t=ugtINp7vGBpmukgKY4tAFw
This is the subsequent time Rock has made a joke at Pinkett Smith's cost – the first being the point at which he facilitated the show in 2016 and taunted Pinkett Smith's decision not to go to the show.
"Jada boycotting the Oscars is like me boycotting Rihanna's panties. I wasn't invited," he said. In response, at the time, she said: "It comes with the territory, sweetheart."
As numerous online brought up, however, assuming genuine viciousness broke out, for what reason weren't any security activities taken?
If anyone else in that audience got up there and slapped someone on stage?

They're booted from that theater in 10 seconds. https://t.co/XIee59TA4P

— Josh Horowitz (@joshuahorowitz) March 28, 2022