A shocking video has been trending all over the internet where a father is allegedly hanging his son over the edge of a cliff. The man dangles his young son just for a bid to get a perfect snap a scenic spot.
After the clip goes viral people have lashed out at the father. A father is always a role model for their children. When a father is around, he effectively provides a feeling of security, both physically and emotionally.
But the footage shows the helpless boy is looking around. The father is seen holding his both hands while another person is seen clicking pictures from behind. It seems they want to make use of their trip just by hanging his son over the steep slope.
BREAKING: Shocking moment father dangles his young son over the edge of a cliff to 'pose for a perfect souvenir photo'. Footage shows the boy helplessly looking around while being dangled by a man. A shocked onlooker can be heard in the clip crying: 'The kid's hands are shaking!' pic.twitter.com/VztSkF5peo

— Dave Vescio (@DaveVescio) July 14, 2020
The trending video angered many web users who slammed the father as 'undeserving of being a parent.'
According to the filmed footage,  the location is known as a local scenic spot in Beijing, Hongjing Road. It is a 19-kilometer (12-mile) winding road with sharp bends.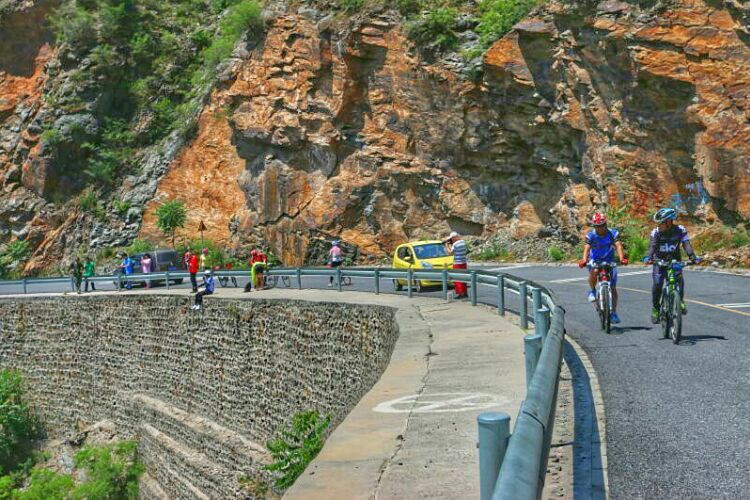 But the height of slope is not clear though but the twisting road is said to be coiling the mountain seven times. And Reaching a height of 905 meters (2,969 feet) above sea level.
While the parents were filming the dangerous act without giving it a second thought, few passersby can be heard crying –
'Look, look! The kid's hands are shaking!'
Thousands of Chinese web users felt horrified by the video. Many were criticizing the parent's thoughtless behaviour
One angry user wrote –
'He doesn't deserve to be a father! I feel so sorry for the child to have parents like this.'
While another user said on the reckless behaviour of the father  –
'Oh my god, taking your child's life as a joke just for some photos! A bunch of stupid and thoughtless idiots!'
Every person in this photo is culpable for not preventing or stopping this. As for the father, he will likely face some pretty hefty charges and the potential loss of his son if LE ever catches up to him.

— Marty Weiss 🏳️‍🌈 (@mwmtalent) July 14, 2020
https://www.youtube.com/watch?v=D6W62snDhJw