I think we all want to feel safe. We want to live a peaceful life, get on with it, and come home to our families or pets. For many, survival takes precedent after wars upheave these dreams. When choices are limited and solutions come at a price, mothers will do everything they can to protect their children.
The conflict in Ukraine is steadily rising, with worries developing for the Ukrainian public. Fortunately, some have had the option to get away from expected risk by advancing toward adjoining nations, like Poland, Slovakia, and Moldova. This is an account of an 11-year-old fearless kid who, taught by his mom, went more than 600 miles from southeastern Ukraine to the Slovakian boundary, just conveying an identification and phone numbers jotted on his hand.
The 11-year-old boy was able to escape the war in Ukraine and reach Slovakia by himself.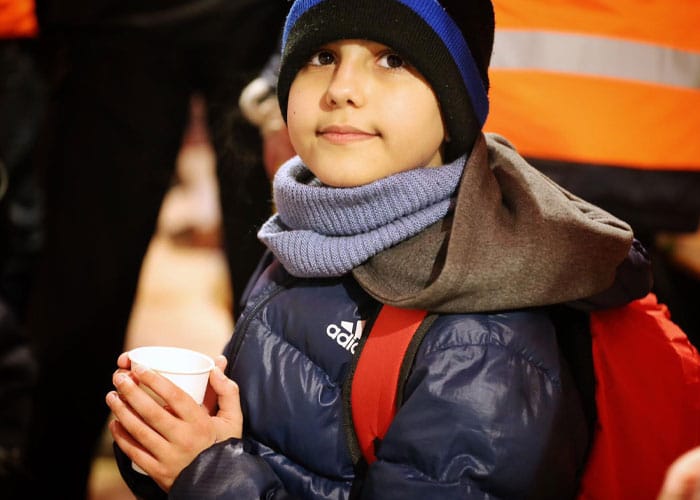 The Ministry of Interior of the Slovak Republic posted an account of an 11-year-old kid who conquered an excursion of more than 600 miles from southeastern Ukraine to the Slovakian line, taking a plastic sack, his visa, and phone numbers written on his hand as his main associates. The group of the kid lived in Zaporizhzhia, which is near the atomic plant that as of late went under assault from Russian powers.
The boy was put on a train to Slovakia by his mother out of desperation. She had to stay back because she was unwell and had to look after her disabled mother, so it was the only way to give the child hope.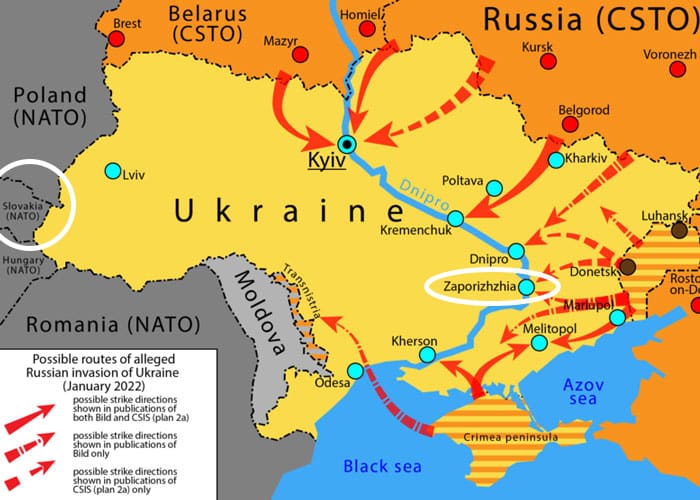 We reached out to Zuzana Vatralova, the Head of the Office of the International Organization for Migration in Slovakia. She explained that "people coming from Ukraine as a consequence of the conflict did not have a chance to prepare for the trip, many of whom never planned any trip to the west. People have fled their homes at the toughest time of year, the winter is still quite severe in many places. Many left with only the clothes on their backs and a handful of prized possessions. For some of them, finding safety in an unknown place with warm drinks, food, and a temporary shelter where they can sleep after days of fear and flight is a priority".
Zuzana continued to say that, according to media news, "dozens of unaccompanied migrant minors without parent(s) or adult guardian fled Ukraine to Slovakia; about 70 were admitted to the centers for children and families, stated Central Office of Labor, Social Affairs and Family".
The volunteers at the Slovakian border gave the boy food and helped him contact his relatives.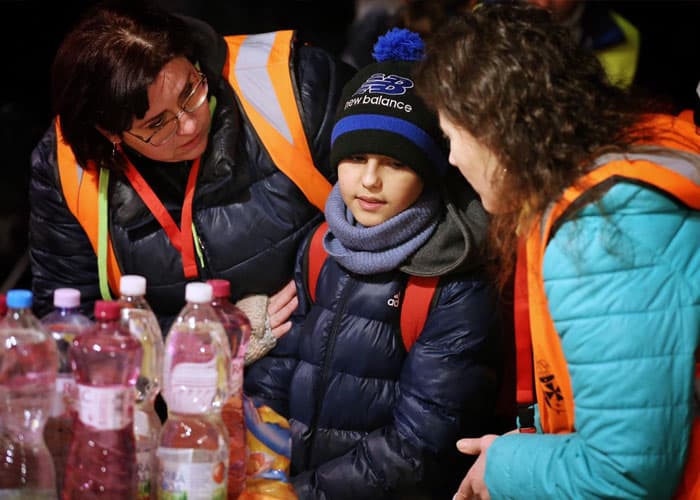 Volunteers at the Slovakian line met the kid, furnished him with food, warmth, and had the option to contact his friends and family in Slovakia, because of the composed note and telephone number on his little hand. The Slovakian Interior Ministry said on Facebook that the kid "prevailed upon everyone with his grin, courage, and assurance, deserving of a genuine legend." His friends and family came for him not long after getting the call. Neighborhood reports recommend the 11-year-old's kin have additionally come to Slovakia.
At the Slovak-Ukrainians border, people arriving from Ukraine are calm and waiting for the administration of their entry into Slovakia. Zuzana said that some of them are waiting for someone to help them on their next journey, "the next part remains in reception centers in eastern Slovakia, where they are provided with humanitarian aid – water, food, temporary accommodation and processing their applications for temporary refuge or international protection in Slovakia".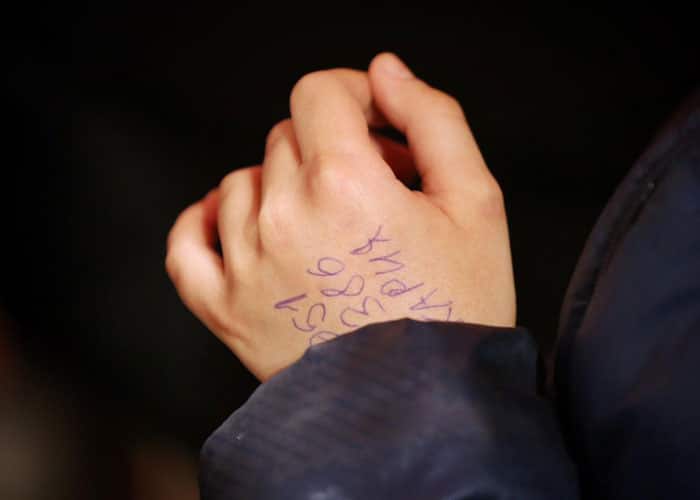 The mother stated that she couldn't leave her mother and was grateful to everyone who helped her son.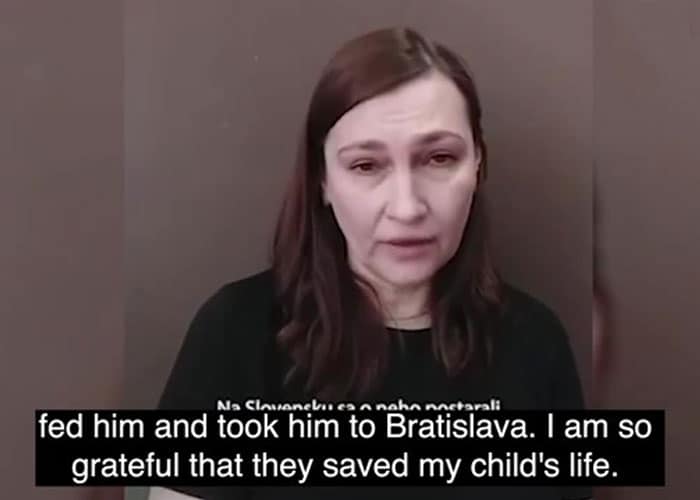 The boy's mother stated in a video shared by The Interior Ministry and translated by The Daily Mail: "I am a widow and I have more children. I want to thank the Slovak customs and volunteers who took care of my son and helped him cross the border. I am grateful you have saved my child's life. Next to my town is a nuclear power plant that the Russians are shooting at. I couldn't leave my mother – she can't move on her own. People with a big heart live in your small country."
The amount of trust and faith she must have had in the boy to send him on such a difficult journey shows the strong bond they hold as a family.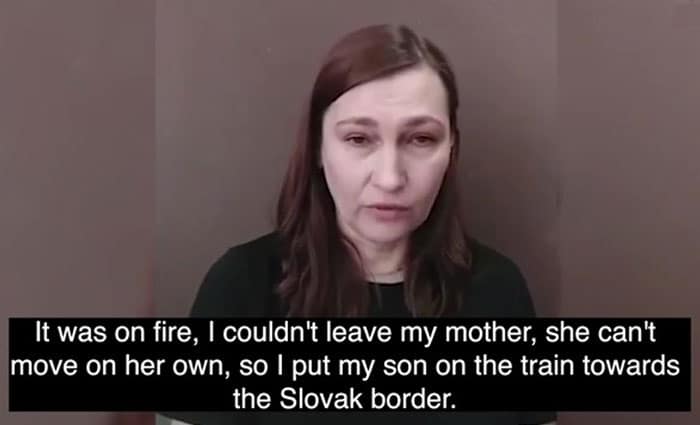 Many hearts have been touched by the story. It is hard to imagine what this mother is going through. The war has cost many lives and has impacted many more. According to Zuzana, it is obvious that people leave in a rush: "they are generally very sad and even when they meet with relatives waiting for them, they burst into tears. One can sense the relief of getting into safety but fear prevails. According to those that we asked, they do hope to return home soon but do not dare to predict how long it would take".
She ends her message with a plea: "Please save our Ukrainian children"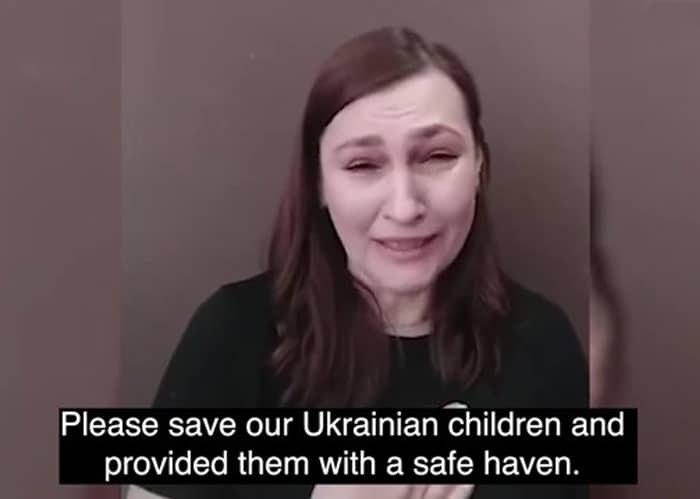 The Slovakian Interior Ministry urged those who want to help the boy's mother and grandmother to contact the Association of Christian Youth Fellowships at eduard@zksm.
When asked what would be the most effective ways to help Ukrainian people, Zuzana replied: "If you want to help people in Ukraine make a donation to a reputable organization that can deliver needed assistance to the people. You can also donate money or needed items, volunteer at the border, reception centers, or institutions (like foreign policy), or offer accommodation and personal assistance to Ukrainians, e.g. helping them with administration, finding jobs, teaching local languages, and generally helping them settle down in the new country. The longer the conflict lasts, the more helping hands will be needed".
The story has touched people all over the world and they are sending their love and prayers to them.




He and his mother are being praised for their bravery.




"Stay brave and safe": A message for every single one affected by the war