The departure of Trevor Noah as host of The Daily Show, which he has held for the past seven years, was announced recently.
The comedian, who is 38 years old, broke the unexpected news in a video statement that was posted on Twitter on September 29. In the statement, he reflected on the fact that it was his seventh anniversary as the host of the show.
Noah stated that after a significant number of years as the host of the satirical news program on Comedy Central, his "time is up," and he explained that he will be concluding his time on the show "in the most beautiful way." Noah's announcement came after a substantial amount of years.
Even though neither the television host nor Comedy Central has provided a timetable for his departure, the network has stated in a statement that it is "grateful to Trevor for our amazing partnership" and that it is excited "for the next chapter" of the show. This statement was shared with Variety.
Watch the announcement of Noah's departure down below:
A special message from Trevor Noah pic.twitter.com/lMM8ll51fu

— The Daily Show (@TheDailyShow) September 30, 2022
Noah was born in South Africa, and in 2011, he made the move to the United States. When he took over in 2015, following the departure of longtime host Jon Stewart, many people thought that he was an audacious choice. On the other hand, he rose to prominence rapidly and amassed a devoted following.
"So many people didn't believe in us," he said, adding, "It was a crazy bet to make. I still think it was a crazy choice – this random African."
During his tenure as host of The Daily Show, he was given the opportunity to talk about some of the most significant events in American history, such as the election of Donald Trump as president, the Black Lives Matter movement, the Covid-19 pandemic, and the attacks on the United States Capitol in 2021.
Noah has stated that hosting the show has been one of the most difficult and rewarding experiences of his life. "I wanted to say thank you to the audience for an amazing seven years. It's been wild. It's been truly wild."
"I never dreamed that I would be here. I sort of feel like 'Charlie and the Chocolate Factory.' I came here for a tour of what the previous show was and then the next thing you know I was handed the keys," he added.
Noah revealed that he had recently come to an understanding and stated that there was more that he desired to do in the recent past when he was able to travel once more. He also gave the impression that he would like to perform stand-up comedy more frequently.
"I spent two years in my apartment, not on the road, and when I got back out there, I realized there's another part of my life out there that I want to carry on exploring. I miss learning other languages. I miss going to other countries and putting on shows," he said.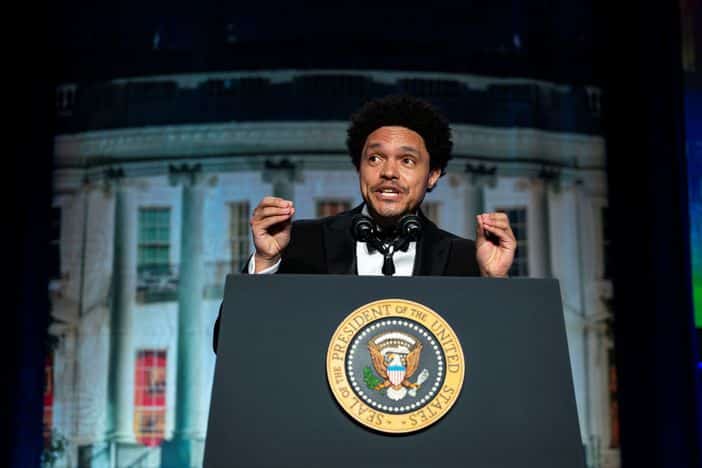 Because of his stint as a host on "The Daily Show," Noah's stardom has skyrocketed in recent years. Madeleine Smithberg and Lizz Winstead, the show's co-creators, first introduced it to the public in 1996 with Craig Kilborn in that role.
In April, he presided over the White House Correspondents Dinner, and in the following month, he returned for his second year in a row to serve in the capacity of host for the Grammy Awards. In addition to this, the TV personality is also an author whose books have been extremely successful.
Noah brought his announcement of his retirement to a close to cheers from the audience, but he did not reveal when his last show would be. However, he indicated that he would still be available for quite some time. "I'm not disappearing – don't worry. If I owe you money, I'll still pay you," he joked.