With her captivating performances in shows like "Stranger Things", Millie Bobby Brown has won over audiences globally. But off the screen, she's just a regular girl enjoying her downtime—though, with a furry twist.
A Day in the Life of the Actress
It was an ordinary day at home for Millie. Clad in a cozy pink terrycloth robe, she sat back, PlayStation 5 controller in hand, diving into the virtual world of "Hogwarts Legacy". "knee deep in hogwarts legacy," she shared with her fans, nodding at the game that's recently stirred the pot in the gaming community.
But it wasn't just the game that grabbed attention—it was her sweet white and gray cat, cuddled closely, head nestled under her chin. While the world sees Millie Bobby Brown, the talented actress, on this day, it was Millie, the cat-loving gamer, who shone.
View this post on Instagram
Meet Millie's Many Four-Legged Friends
For those who've been keeping tabs, this isn't the first time Millie's pets have made an appearance. The actress boasts of her very own animal kingdom at home. Dogs, a rabbit, and another cat are among the beloved creatures that Millie showers with affection. While she's always been open about her canine companions, little has been disclosed about her cats' identities.
Whether she's stepping out in a "DOG MOM" trucker cap or pushing her pups in a stroller, Millie wears her pet-love on her sleeve—or in this case, on her hat, which she recently deemed her "favorite hat <3."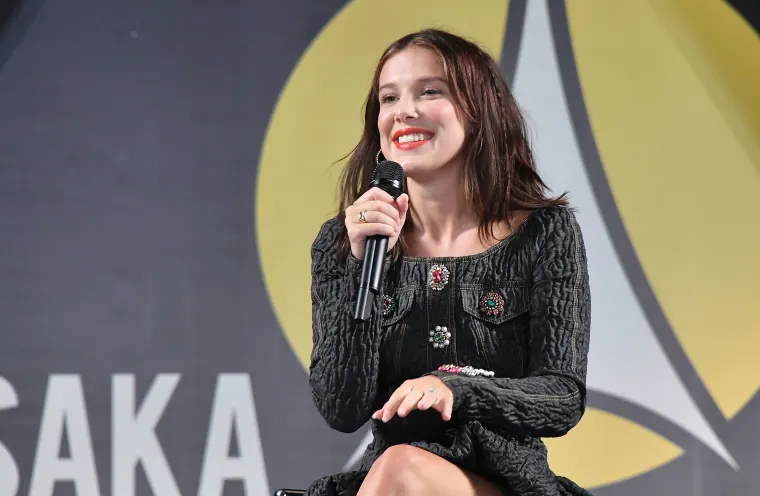 Blending Passion and Profession
Her adoration for animals isn't just a personal pastime; it's evolved into a professional pursuit too. Building on her beauty empire, Millie has expanded "florence by mills" to welcome a line dedicated to pet apparel. Speaking about this passion project, she expressed, "I wanted to extend all that florence by mills stands for to a very important part of my life, my beloved pets." She continued, "My brand is about encouraging young women to positively embrace their individuality… this dedication… should also extend to my passion for pets."
In Conclusion
Beyond the screen, Millie Bobby Brown is crafting a life filled with simplicity, love, and devotion—both for her craft and her pets. While we eagerly await her next blockbuster, we're equally thrilled to see snippets of her day-to-day adventures with her furry friends.
Source: Parade