After receiving a significant amount of backlash, a professor who wished the Queen "excruciating" pain during her passing defended her remarks.
When word of the Queen's condition spread on social media, Dr. Uju Anya, an associate professor of second language acquisition at Carnegie Mellon University, caused a stir.
On September 8, Queen Elizabeth II passed away at the age of 96. Her passing was announced in the evening, but earlier updates had indicated that doctors were "concerned" for her health.
Many people started to realize that they might be seeing the last moments of a monarch who had ruled for 70 years as members of the Royal Family rushed to Balmoral Castle to be by her side.

The Queen received many tributes from all over the world, but not everyone was sending their best wishes her way. Dr. Anya was one of those who criticized the Queen in her final moments, wishing her "excruciating" pain as she passed away.
She tweeted: "I heard the chief monarch of a thieving raping genocidal empire is finally dying. May her pain be excruciating."
Professor Anya has faced a lot of backlash since making her remarks, including some criticism from well-known people.
Before Twitter removed her tweet for breaking their community guidelines, Amazon CEO Jeff Bezos criticized her for her remarks, writing in response to her tweet: "This is someone supposedly working to make the world better? I don't think so. Wow."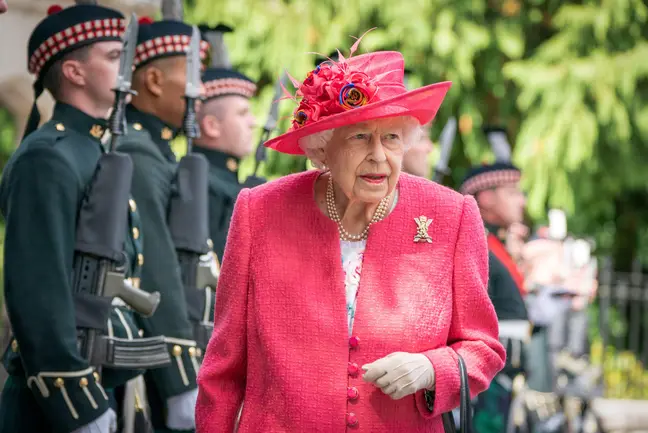 Dr. Anya's employer, Carnegie Mellon University, issued a statement saying that they "do not condone the offensive and objectionable messages."
They said: "Free expression is core to the mission of higher education, however, the views she shared absolutely do not represent the values of the institution, nor the standards of discourse we seek to foster."
Nobody should expect Dr. Anya to apologize or take back her statements after she told The Cut that her experience with the British state, of which the Queen was the head, was "very painful" and "shaped my entire life."
She said: "There's not going to be any apology from me. I stand by what I said."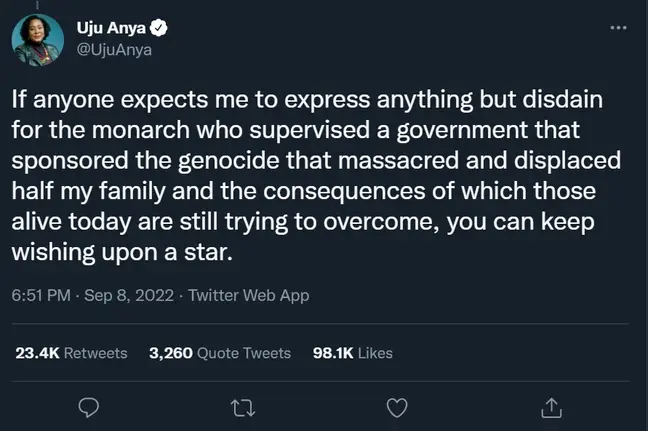 Dr. Anya claimed that because she spent the first ten years of her life in Nigeria after being born there in 1976 and because she is a descendant of colonial subjects, she has the right to share her opinions about the British monarchy and what it means to her.
She claimed that while she expressed her desire for the Queen to suffer some of the "excruciating" pain that "she caused for millions of people" in her tweets, she did not wish for the Queen's demise or for anyone to murder her.