Bradley Beal is not a player that the Washington Wizards wish to trade. He is a star player for the team, and is still young at 26 years. In fact, if the Wizards had their way, they would like to keep Beal with them for his entire career.
https://twitter.com/WaIIStar/status/1150935666278182912
But still, there is no denying the fact that Beal has had some intense interest from teams around the league. And the Wizards are still viewed as just a stepping stone- a building team, not a winning one. Beal may think that if he wishes to win something, he must leave the Wizards. He may request a trade.
@RealDealBeal23 Don't sign that extension young boul, i met with Pat & everything will fall in place, the East is open, with you we can shift our focus to beating the Bucks-76ers-Celtics in the postseason, we are not rebuilding, we are trying to win NOW‼️

— Chad Johnson (@ochocinco) July 18, 2019
The first thing that the Wizards must do when such a day arises is to ensure that Beal does not walk in free agency. There is nothing worse than losing a star player and getting absolutely nothing. Beale is still on contract till 2021, so he has two years till he becomes a free agent.
As of now, Beal's trade value is very high. If the Wizards decide to trade Beal right now, they could ask for a plethora of talent in return.
#1. Beal to the Celtics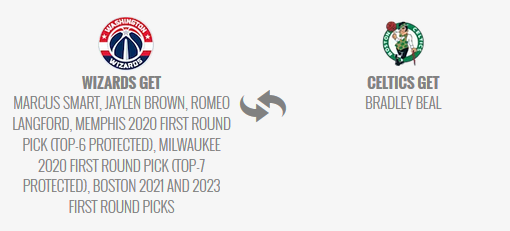 A win-win. Celtics get Beal in a superteam- Walker, Tatum, Beal, and Hayward all together.
The Wizards get a huge haul of young assets and future picks. The pick of this trade from the Wizards POV is undoubtedly Jaylen Brown. The 22-year-old could be a massive player for the Wizards in the coming years.
#2. Pistons get Beal

Again, a mix of future picks and young players is what the Wizards get.
As for the Pistons, this is their shot to escape mediocrity and finally compete with a star player like Beal in their ranks.
#3. Beal goes to the Nuggets in a three-team deal with the Suns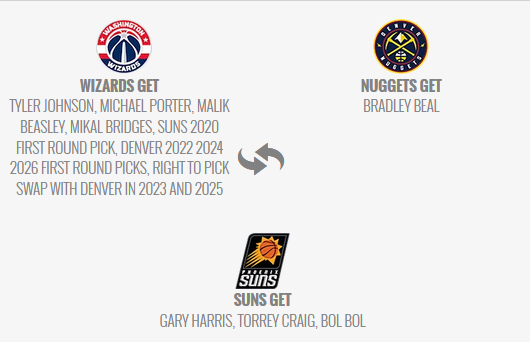 Definitely the most complex deal, but this three-team deal leaves all the players better off.
The Nuggets, of course, get Beal. The Suns get rid of Tyler Johnson and get in a youngster in Gary Harris.
As for the Wizards, they get four total first-round picks. They get two pick swaps as well. And a few decent players as well.