A Glimpse into Millie Bobby Brown's Life Beyond the Silver Screen
It's hard to imagine that someone who started in Hollywood as a child would emerge to be one of the brightest stars of the generation. But that's exactly what Millie Bobby Brown has done. From the mysterious streets of Hawkins in "Stranger Things" to the bustling lanes of Victorian London as "Enola Holmes", she's showcased her range as an actress. And now, as a budding author with her debut novel, "Nineteen Steps", Brown has proved that her talents aren't just confined to the screen.
But perhaps what's most captivating about Millie isn't just her professional accolades. It's the personal anecdotes she shares, like her recent Instagram story which shed light on her life off-camera, giving fans a rare glimpse into a quiet night in with her beloved pets.
An Evening with Her Four-Legged Companions
Millie's advocacy for women's empowerment is commendable, but her adoration for animals paints a heartwarming picture of the star's softer side. While her schedule has been packed with promoting her novel, which poignantly revolves around her grandmother's experiences during World War II, she still found time for a movie night.
Millie Bobby Brown & Dogs…❤️🐶📸 #StrangerThings pic.twitter.com/VevgVGfLtu

— Stranger News (@StrangerNews11) February 29, 2020
Not just any movie night, though! A date night featuring the adventures of Scooby-Doo with her furry entourage. Amidst the dim lighting, surrounded by toys and her dogs cozily settled on her bed, Brown's enthusiasm was palpable. Her caption, "Movie night", resonated with the kind of simple joy that comes from the company of pets.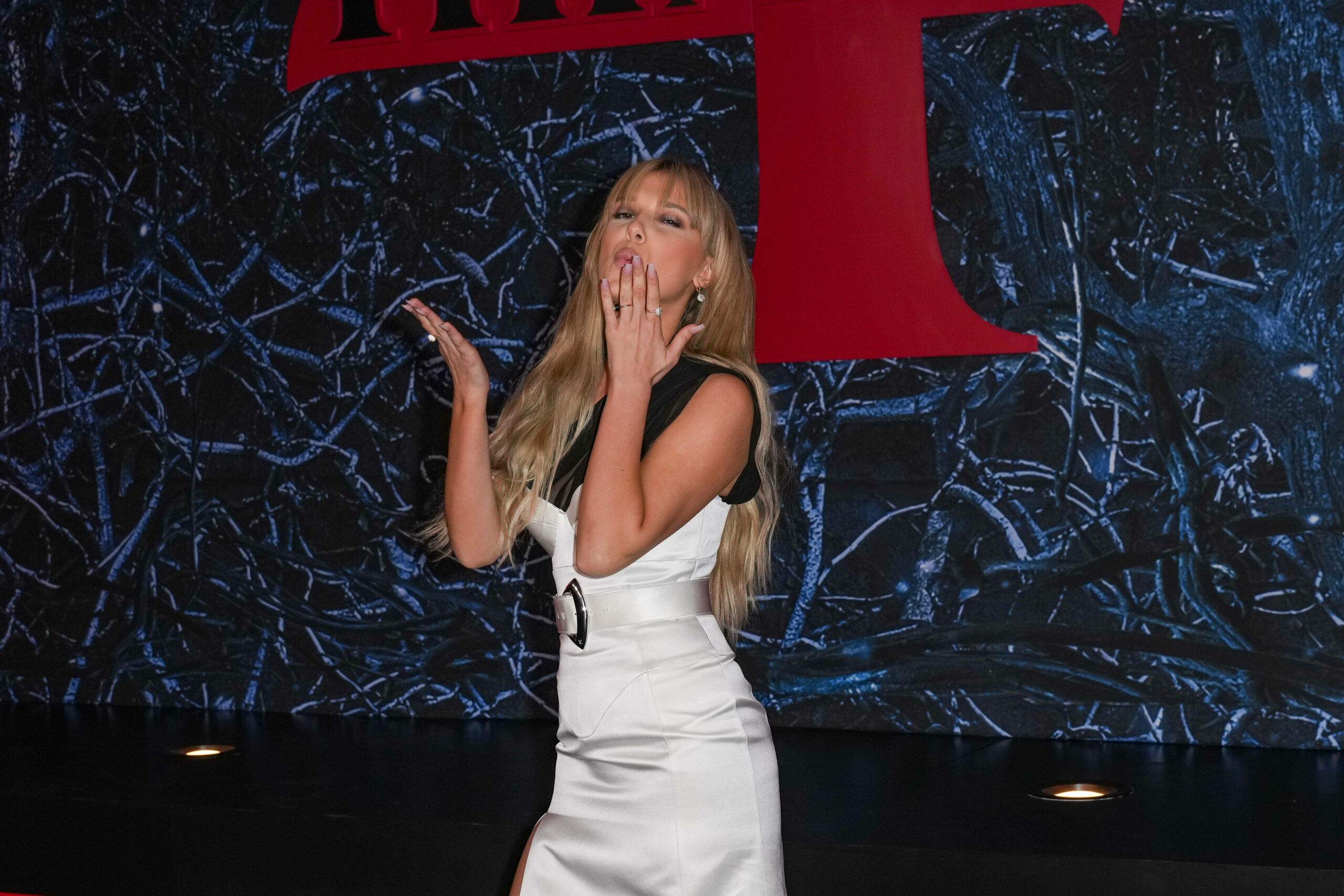 Blending Passion with Pet Love in Promotions
Amid her bustling professional life, which also includes expanding her beauty business "Florence by Mills", Millie has an uncanny knack for seamlessly blending her love for pets with her brand promotions. The "Stranger Things" star's Instagram feed features moments with her 14 pets, including shots of her reading her book with a newly adopted cat and showcasing her latest fragrance with a furry friend by her side. These candid snapshots not only accentuate the authenticity of her brand but also make her more relatable to her vast fanbase.
Conclusion
View this post on Instagram
From her upcoming nuptials with fiancé Jake Bongiovi to her impressive business ventures, Millie Bobby Brown's journey from a child star to an influential figure in Hollywood is nothing short of inspiring. But it's these intimate moments, like a simple movie night with her dogs, that truly resonate with fans and make them adore her even more. And as they say, the real character of a person is observed in how they treat their pets, and by that measure, Millie's heart is as golden as her Hollywood star.