After his nephew Takeoff was shot in the "head or neck" in a fight over "a game of dice," the Migos rapper Quavo desperately tried to help him in his last moments, as horrifying footage shows. Takeoff was hit in the "head or neck."
The 28-year-old member of the hip-hop group called Migos was shot at a so-called "private party" at 2:30 in the morning as a group gathered outside of the 810 Billiards & Bowling Houston location in the state of Texas.
Friends and fans of the rapper are speaking out against the "senseless violence" that caused his death and against the killing itself.
Takeoff's uncle, Quavo, a member of the same rap group, looked upset as he kneeled over his nephew right after the shooting. In the background, someone yelling for help can be heard.
The Houston Police Department did not say who was found dead at 1200 Polk, but they did say that one person was found dead at the scene.
When the police arrived, they found a man who had been shot in the head or neck. They also found out that between 40 and 50 people were at the scene.
The police say that security guards in the area heard the shooting but did not see who did it.
TMZ says that the dispatchers heard five gunshots, and witnesses told the police that they heard more than five gunshots and screams.
During the fight, the rapper is said to have been "shot in the head," and photos supposedly taken at the scene show him lying lifeless in a pool of blood.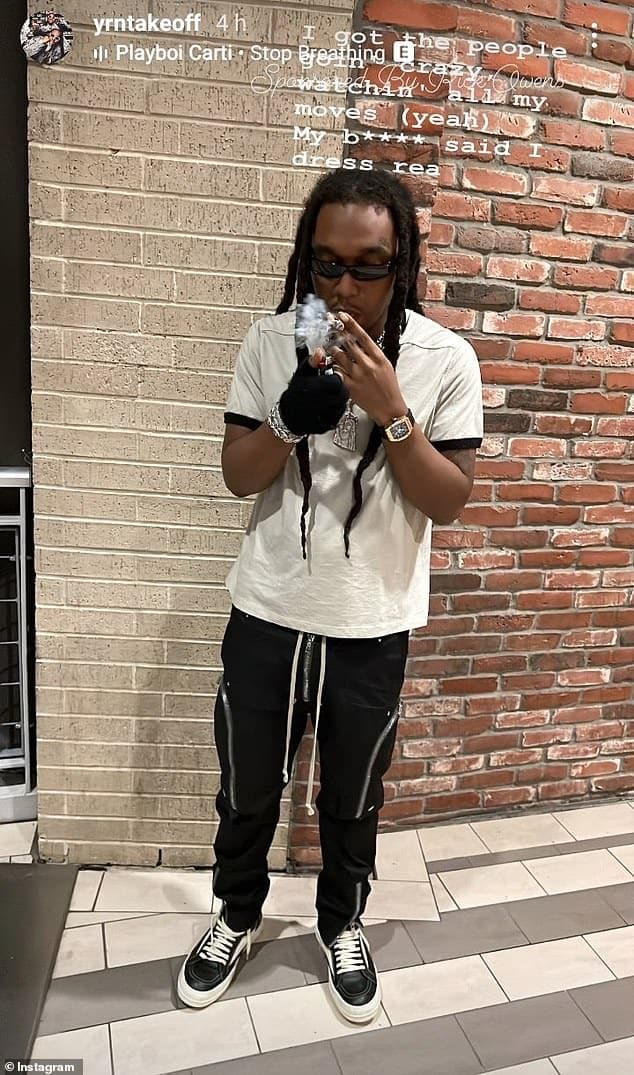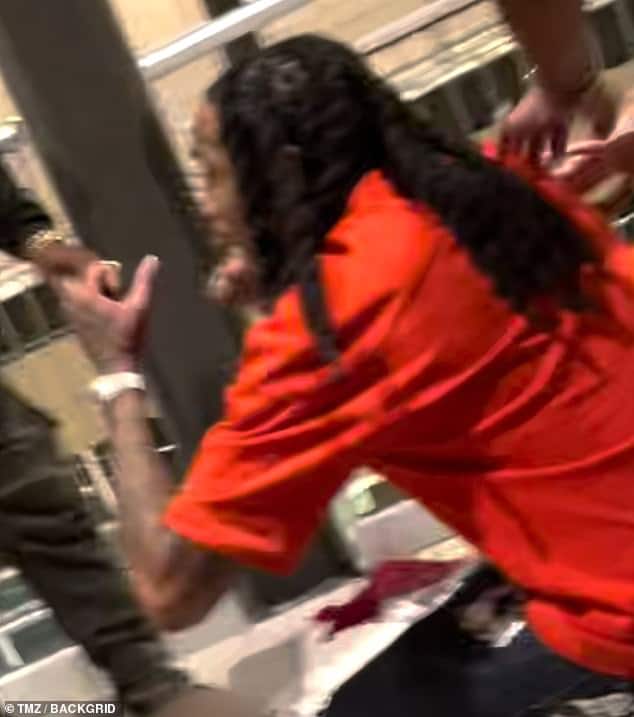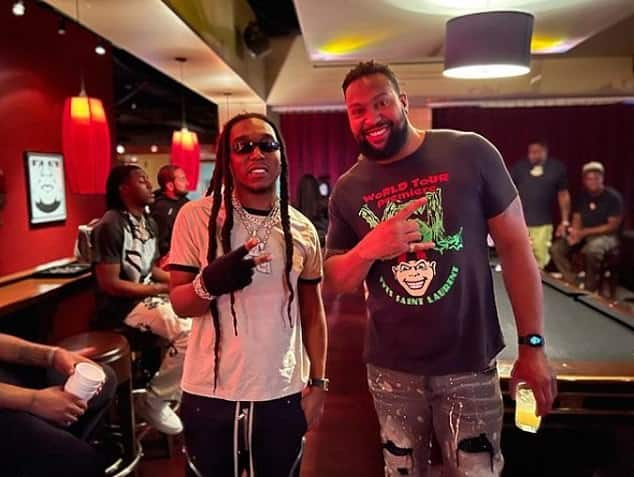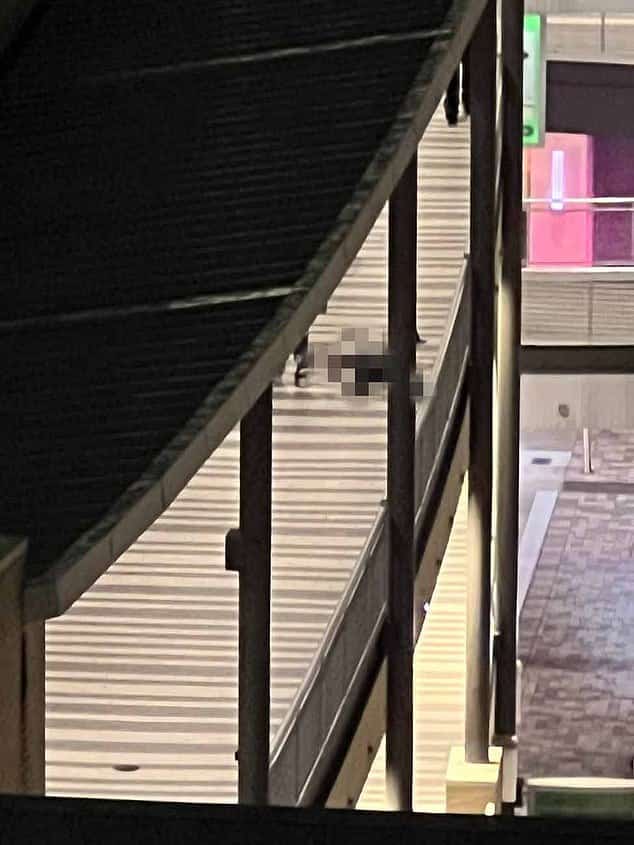 A few hours before the shooting, he posted an Instagram story in which he was wearing the same outfit. "Stop Breathing," a song by Playboi Carti, went along with the story.
Two more people were hurt, and they were rushed to the hospital in a private car. Their conditions are unknown at this time.
Witnesses and people in the police department say that Takeoff, whose real name is Kirshnik Khari Ball, was playing dice with his uncle Quavo right before the shooting.
In the footage from the scene, Takeoff can be seen lying on the ground, and Quavo can be seen running to help him.
As Quavo yelled for help, a group of people gathered around the hurt rapper and tried to move him. But when they realized their mistake, they quickly put him back on the ground.
In the video of the event, several women can be seen and heard yelling at another man and telling him to "get inside," while another man can be heard saying, "I'm scared for you, bro."
Migos was formed in 2008 by Takeoff, his uncle Quavo, and his cousin Offset, who is now married to Cardi B.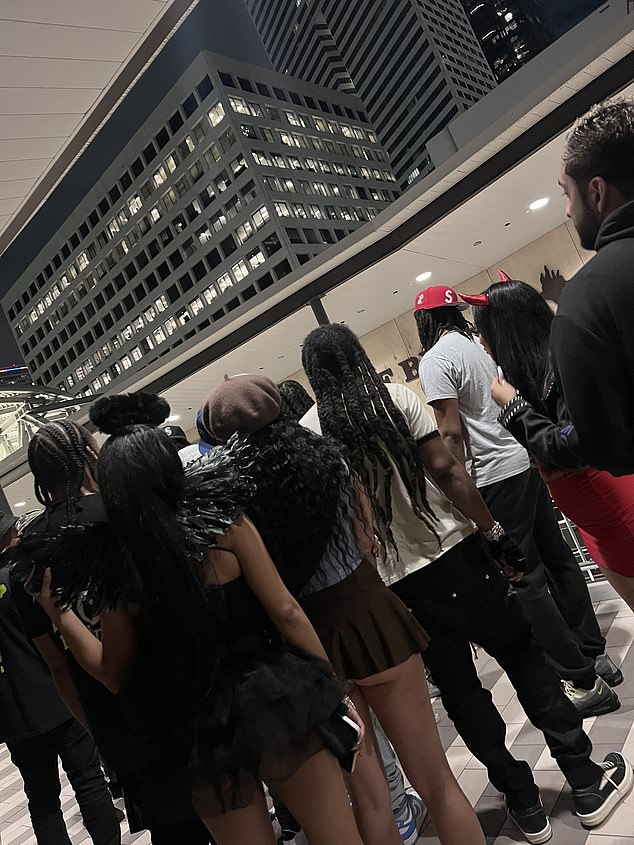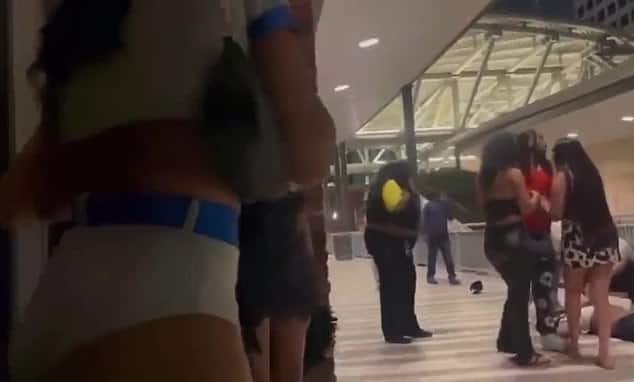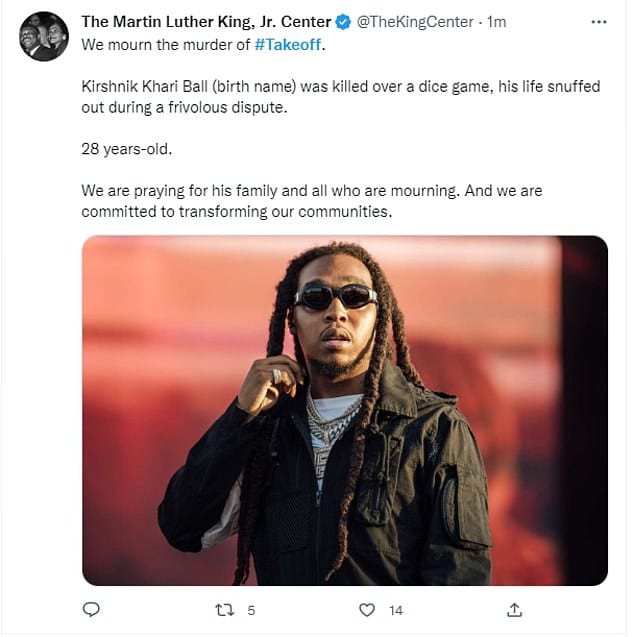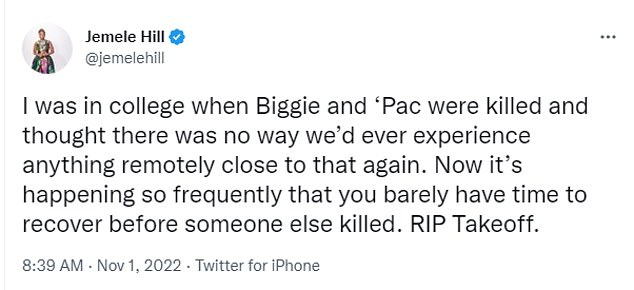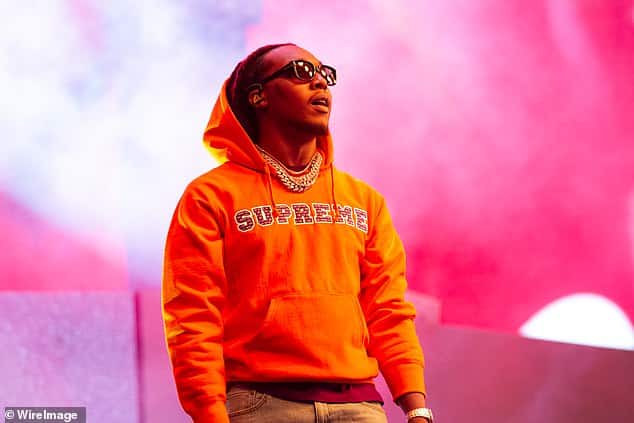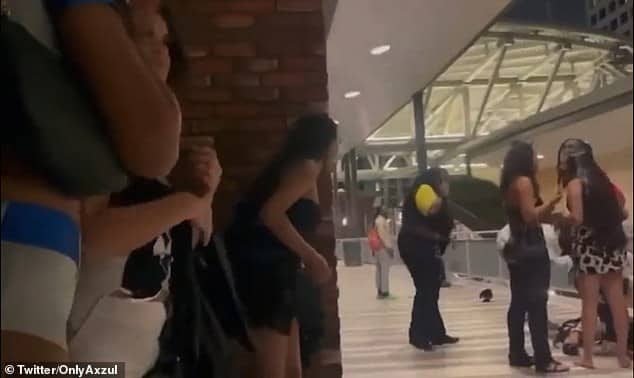 Offset didn't spend Halloween in Houston with his father and cousin. Instead, he was in New York City with Cardi B and their kids, celebrating the holiday.
About four hours before the shooting, Takeoff posted a picture of himself smoking at the bowling alley on Instagram.
Jas Prince also posted a picture of himself and Quavo driving around Houston while Quavo celebrated his birthday on his Instagram story.
Even though no one knows if the "private party" in question was a celebration for Prince or not, witnesses say that at least forty to fifty people were there.
A member of the hip-hop group Migos named Takeoff was found dead early Tuesday morning, a band representative said.
There have been many tributes to Takeoff, including ones from the American rapper Russ Diemon and the British rapper AJ Tracey.
Jake Paul asked that "senseless killings" stop and Jemele Hill warned that there is "barely time to recover" before someone else is killed.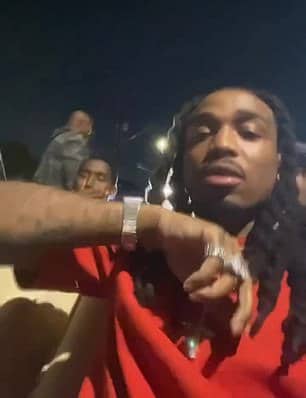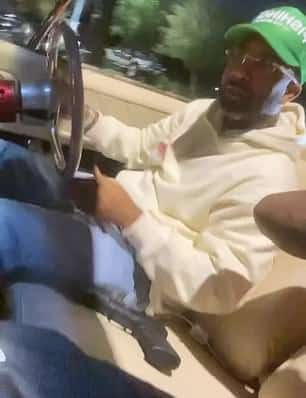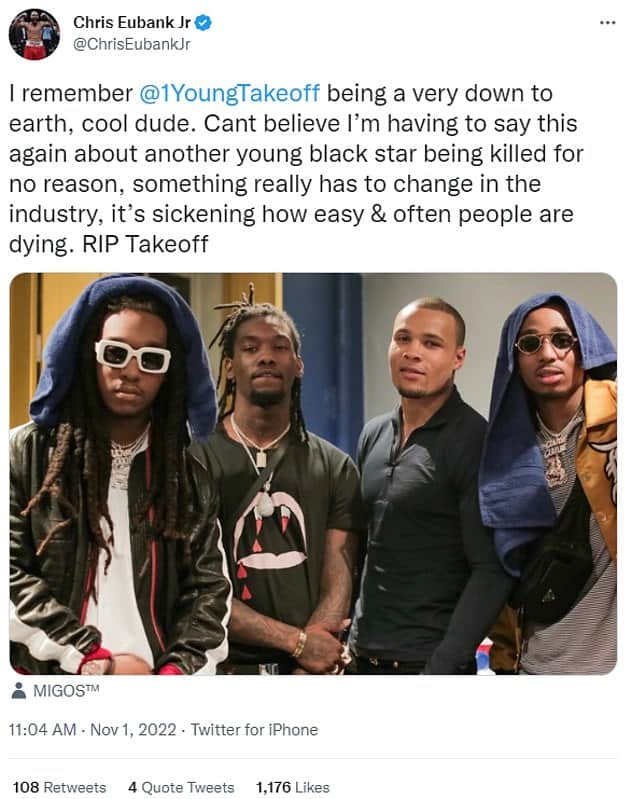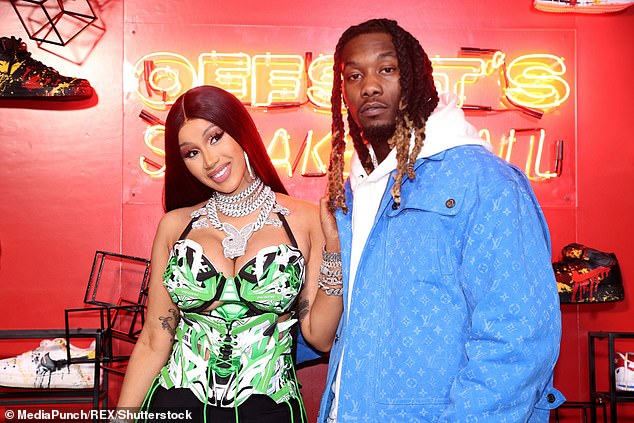 Actress and singer Keri Hilson has written: 'Rest In Peace, @1YoungTakeoff. Healing love to your brothers, family, & friends. #gonetoosoon'.
Takeoff and Quavo's album "Only Built for Infinity Links," which came out earlier this month, was their first time working together on music.
There have been rumors that the Atlanta-based rap group Migos is breaking up for good, but this has not been confirmed by the group itself.
Instead, Takeoff and Quavo released an album called "Only Built for Infinity Links" without Offset.
Quavo and Takeoff just put out a project together called "Unc & Phew," and the music video for their latest single, "Messy," came out on Monday, hours before the shooting.
Some fans think that the hitmakers are at odds with each other, even though all three of them have released albums as solo artists while they were in the group.
The new album by the group Migos, Culture II, came out in 2018 and went straight to number one on the US Billboard 200 albums chart.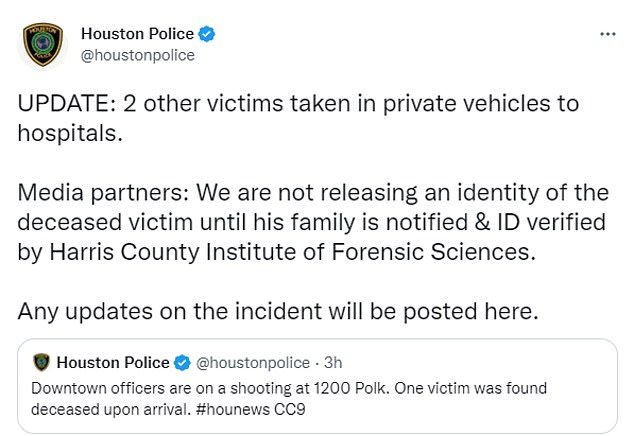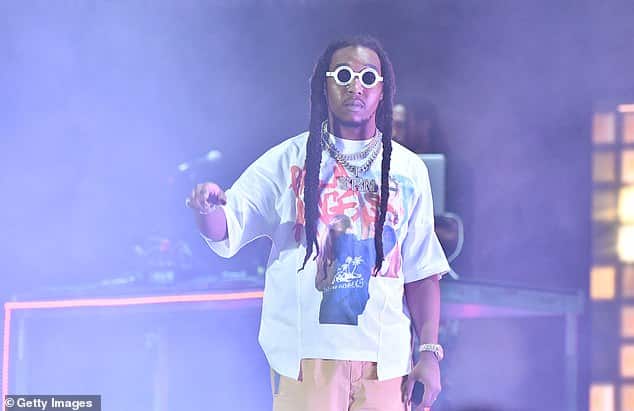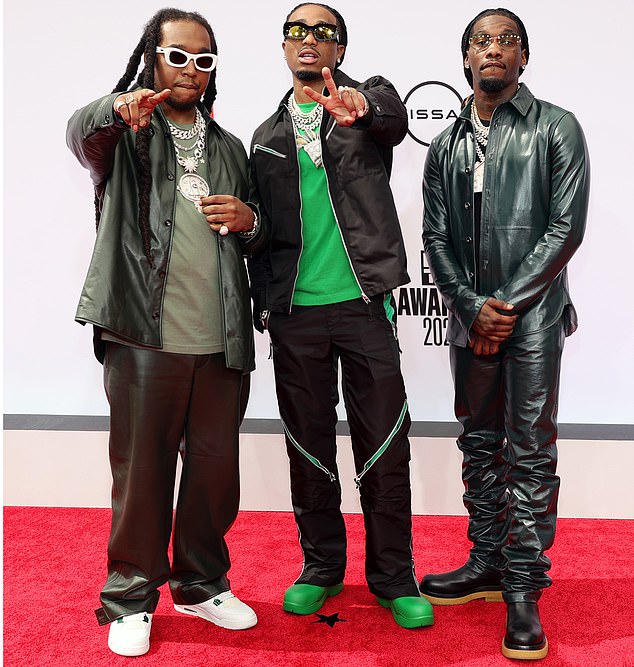 After the success of their last album, Culture, which had the number one single "Bad and Boujee," this was their second album to come out at the top of the US album charts.
Quavo, Offset, and Takeoff are all a family, and Quavo is Takeoff's uncle. Because of this, the members of Migos are very close.
The group's first mixtape came out in 2011 and was called Juug Season. In 2012, they came out with their second mixtape, which was called No Label.
The group's first single, "Versace," came out in 2013. Drake gave the song a new lease on life by remixing it and adding a verse of his own. He even performed it at the iHeartRadio Music Festival that same year, even though the single peaked at number 99 on the Billboard Hot 100 singles chart.
Migos said in June of that year that their Y.R.N mixtape, on which Versace was featured, would be coming out soon. After putting out a mixtape called "No Label," the band put out another project called "No Label II" the following year.
The mixtape was a huge success, as shown by the fact that it has been downloaded almost a million times and has been given double platinum status by DatPiff.
The group has been nominated for two Grammys, and its first studio album, Yung Rich Nation, came out in June 2015. The album peaked at number three on Billboard's Top Rap Albums chart.