There's no such thing as a bad advertisement, right? McDonald's was trying to do an honest day's work but ended up doing something highly controversial. The food chain giant had put up an advertising billboard for their 'McCrispy' burger. However, it was RIGHT next to a crematorium located in the United Kingdom. The questionable sign was placed next to a publicly-owned Penmount Crematorium in Cornwall, England. The sign read, "New McCrispy; A new favorite, here to stay." Of course, the coincidence sparked mixed reactions as some found it funny and some found it tasteless.
One person said, "Anyone who doesn't find this funny are the same people that were taken into consideration when the Penmount Hotel in Newquay became Penberthy Care Home. It was thought some wouldn't see the funny side of a building full of older folk sharing the same name as the corporation body furnace." One woman, whose mother-in-law was cremated at the same place doesn't find it hilarious. She says, "Although I can see the funny side, it is tasteless. And I'm sure some grieving family members won't like to see it when visiting Penmount for the funeral and cremation of a loved one."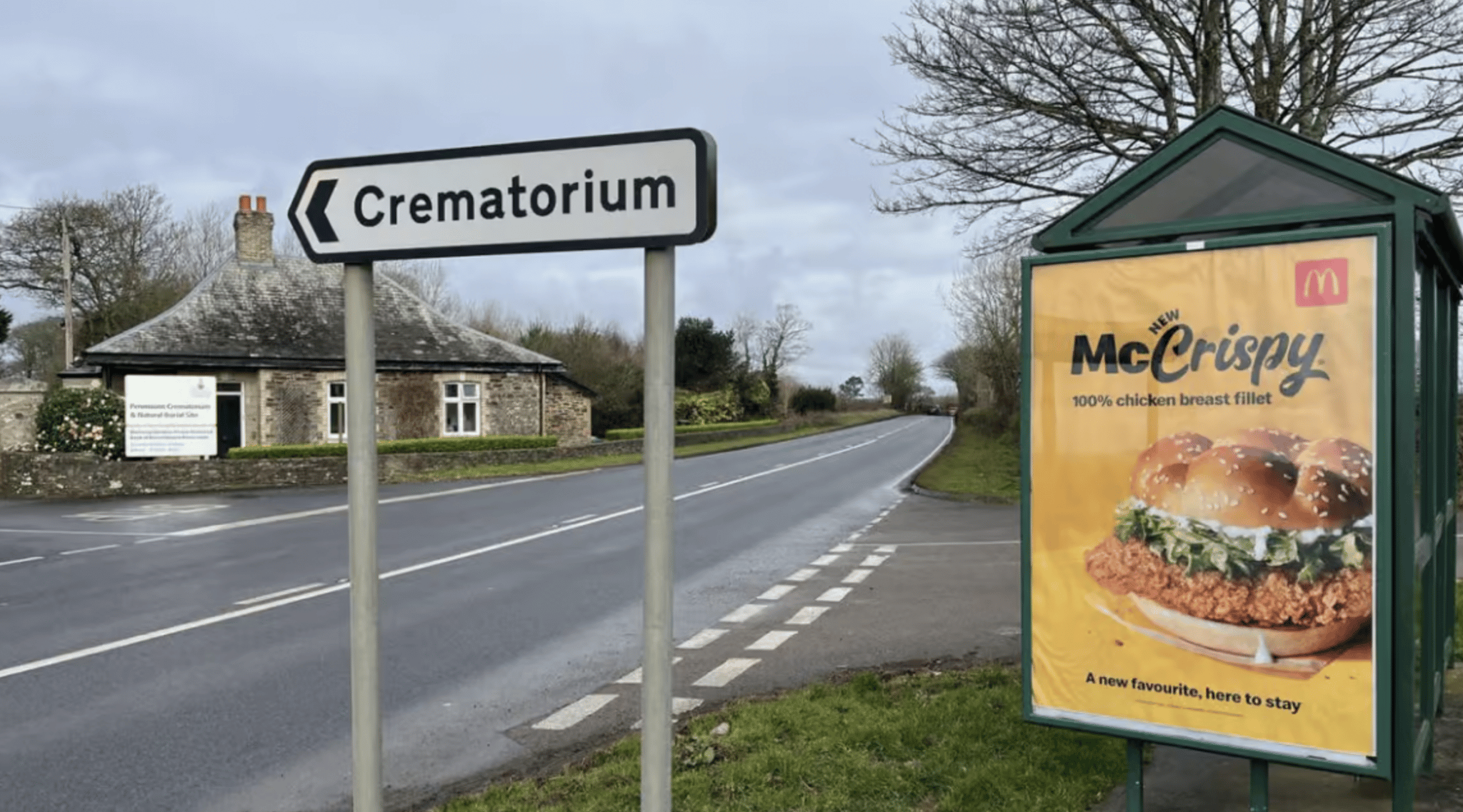 McDonald's sparks controversy with a billboard sign
One more person said, "I think how funny it is will probably depend on how long ago you followed the crematorium sign wearing a black tie." A company spokesperson came forth to address the development. They said, "We were unaware of the road sign in the vicinity of this bus stop. However, in light of the concerns raised by CornwallLive, we have asked for our advertisement to be removed."
Let's see what the people on the Internet are saying about this. One user said:
Dang… that's cold
Another user wrote:
I'm lucky I didn't spit my coffee out laughing! A sign for BBQ would have been even funnier. Yep that's my sense of humor folks
One user said:
Actually chuckled that's funny. Wonder how many complaints that will get now lol
Another person wrote:
Ah leave it up, might give the mourners a giggle on their way in
One user quipped:
Think some types of people are only ever happy moaning complaining having no sense of humour and just being pathetic whiners. Don't think the people heading to the cream are really going to give a toss about the adverts. Wonder what they would put there tho something sad
Another user commented:
If a business can call itself Burgatory, complete with angels above and flames below, just south of Fawkner cemetery, anything's possible.