You know that feeling you get when you walk into a Target? Petco is a store that offers generosity for all leashed pets. Their policy welcomes all the pets without any restrictions. And thus a man decided to test the limits of Petco's policy.
A man in Texas leashed his 1,600-pound steer and taking him into the store for a visit. According to the store's policy, any and all creatures can enjoy its endless selection of toys and sprays and water bowls. And thus, enormous bulls can also visit the store.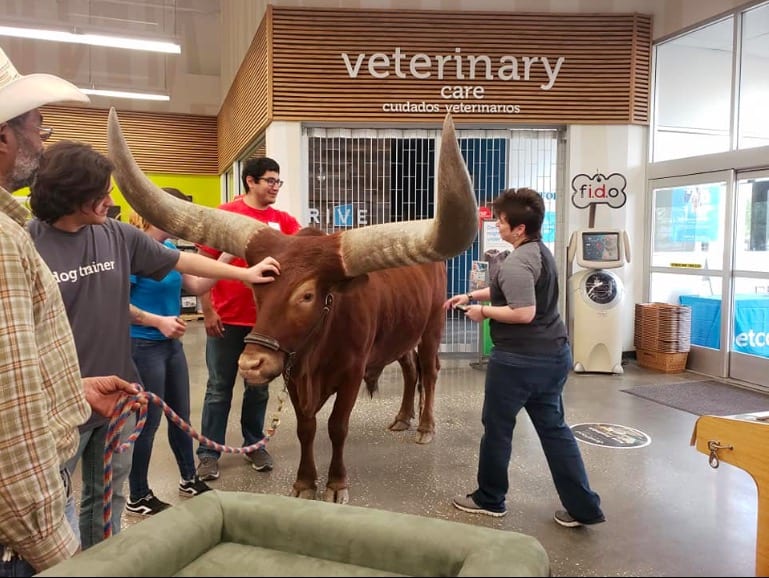 Texas Man brings his enormous bull to test the limit of the Petco store's policy
Vincent Browning said that he believed that the policy of Petco was just a bluff. but, when he tried it, he agreed to the fact that it was not a bluff! He brought his enormous African Watusi steer, Oliver, into the store who had a warm welcome.
He wrote in his Facebook Post that the people at the store couldn't believe that Oliver was a visitor at the store. And the whole staff was quite happy and excited about having the enormous animal at the Petco store.
https://www.facebook.com/photo.php?fbid=828087837528187&set=a.785189778484660&type=3&theater
The whole encounter was captured on a video that has gained much attention on social media platforms. The video gathered massive views and believe us, it was quite stunning. The Petco employees were so calm and happy to see this giant creature. And on the other hand, Oliver, too happy with the adventure.
We know that this incident would have definitely brought a smile on your face. If you also have such stories to share, do let us know in the comments section. Watch the viral video from the Petco store below.