A video showing how things can go from bad to worse if you're not careful has people calling for restrictions on fireworks sales in America.
A totally ludicrous firecrackers blast in the US was gotten on camera by a SimpliSafe surveillance camera.
Some kids decided to light some patriotic explosives while the family was sitting in their front yard celebrating the Fourth of July.
There is a lot of safety questions because this happened just meters away from the family gathering.
The people were gathered on the front lawn when the firework went off.
You'd be wrong if you thought it was just one firework that was causing uproar on social media.
The collection of fireworks that were sitting next to the family car started going off as soon as the smoke cleared.
Everyone ran for cover as the explosives went up.
The video has gone crazy on social media and prompted calls for fireworks to be restricted in the United States.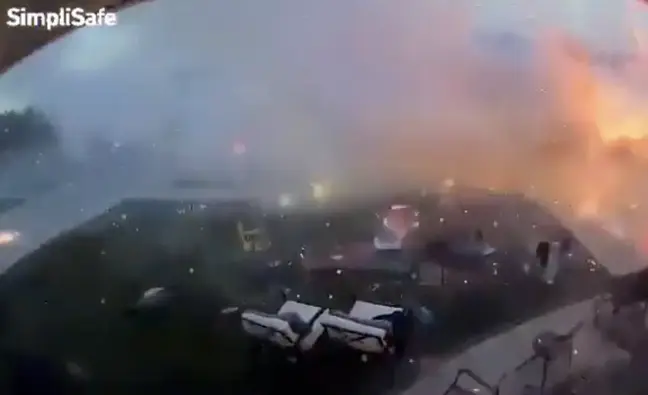 One person wrote, "This is next level stupid. Oh, and absolutely typical. Ban firework sales to the public."
A second said, "Fireworks should be banned from general sale to the public. Organized displays only."
A third commented that fireworks are getting more dangerous over the years, "I agree [to ban] 100 percent.
"They are nothing like they were, certainly when I was a kid, where the worst you got was a burnt hand. They are nothing more than legalized bombs these days, that could quite easily kill."
SimpliSafe denied that the incident was a publicity stunt for their brand.
"We've received many comments and inquiries today about whether this was a planned event. We exist to protect our customers and don't make light of events that put their safety at risk," the company said.
They called the family to confirm that they are all okay.
"If you are or know someone in this video please let us know if everyone involved is safe," they said.