Just a few weeks after Alicia Silverstone was criticized for admitting that she "co-sleeps" with her son, Kourtney Kardashian has come forward to say that her ten-year-old daughter Penelope still spends every night sleeping in the same bed as she does.
Penelope has reportedly spent nearly every night in Kim Kardashian West's bed since she was born, according to the Kardashians star, who is 43 years old.
Although many children quickly outgrow the practice, the reality star's ten-year-old daughter continues to sleep in the same bed as her mother even though she has previously spoken openly about her co-sleeping habits.
On the podcast titled "Not Skinny But Not Fat," hosted by Dear Media, Kourtney Kardashian revealed to her close friend Amanda Hirsch the following: 'She's slept with me every day since she was born and pretty much still does.
'Unless she has a friend sleep over or unless she leaves me to go sleep at Travis' or Auntie Coco's [Khloé] or Auntie Kiki's [Kim]. But besides that, we are so close.'
Kourtney and her ex-boyfriend Scott Disick have joint custody of their daughter Penelope and their two sons, Mason, 12, and Reign, 7.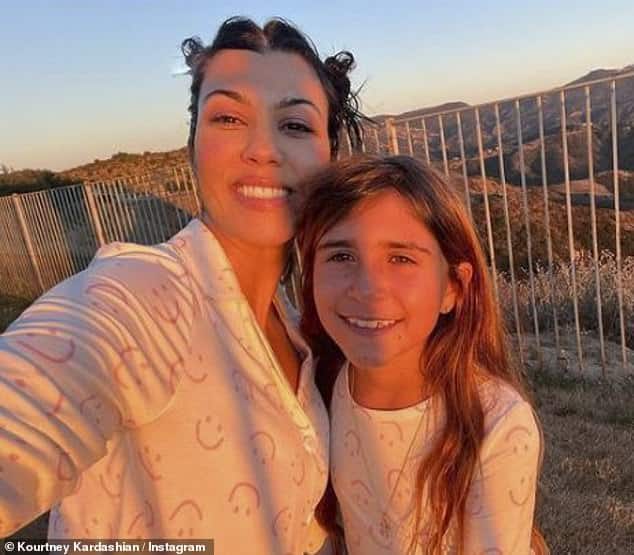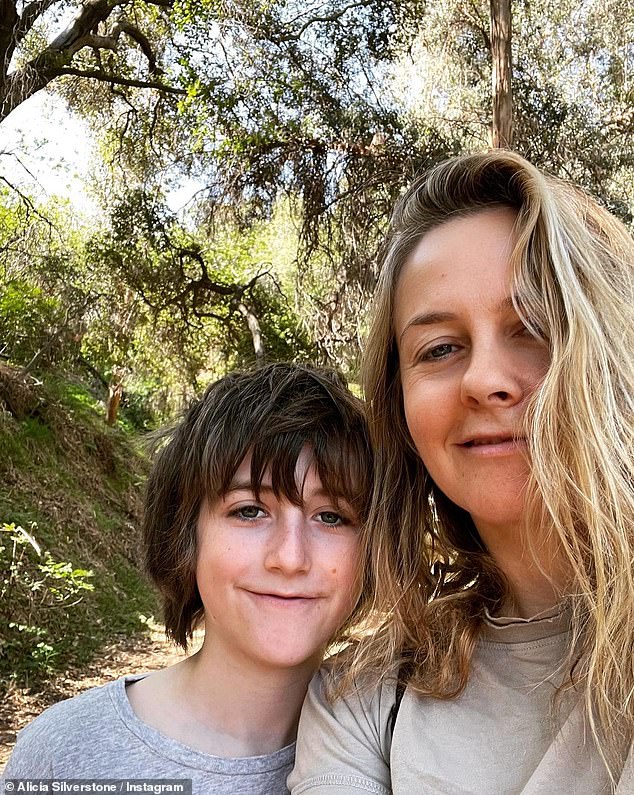 She has previously referred to her daughter as her "mini-me," but she has now shared with fans how similar the two of them really are when it comes to their peculiar sleeping patterns.
Mason also shared a bed with Kourtney until he was seven years old, after which he moved on to sleeping in his own bed.
Since he was a young boy, Reign, who is her only child, has always slept in his own bed, which is located in his own room.
Previously, Kourtney wrote: 'Some of the advantages of shared sleep for my family included a better and longer night's sleep and more time together as a family.
'As a working mom, if I didn't have much time with my babies during the day, at least I knew we'd have our nights together.'
The actress Alicia Silverstone admitted earlier this year that she still shares a bed with her son Bear Blu, who is 11 years old. She insisted that the fact that they continue to co-sleep is a more 'natural' way of conducting themselves in their relationship.
During a wide-ranging interview on The Ellen Fisher Podcast, the 46-year-old actress discussed the unique relationship she has with her only child. She claimed that she is simply 'following nature' by sleeping alongside her tween son, whom she shares with her ex-husband Christopher Jarecki, from whom she divorced in 2018.
'Bear and I still sleep together,' the actress explained during the July 19 episode, comparing her co-sleeping arrangement to humans trying to survive in any kind of 'wild setting'.
'If you were in any kind of wild setting where there are wild animals, if you put you baby over there your baby is going to get eaten,' she said while pointing away from herself. 'So it's not ideal for the baby to be over there.'
Ten years after it was revealed that she fed her son by pre-chewing his food and passing it from her mouth to his, the Clueless star, who is a follower of the attachment style of parenting, spoke out about how she rarely used diapers while potty-training her son from the age of six months and also mentioned that she has never raised her voice with him. These revelations caused a furious controversy that lasted for ten years.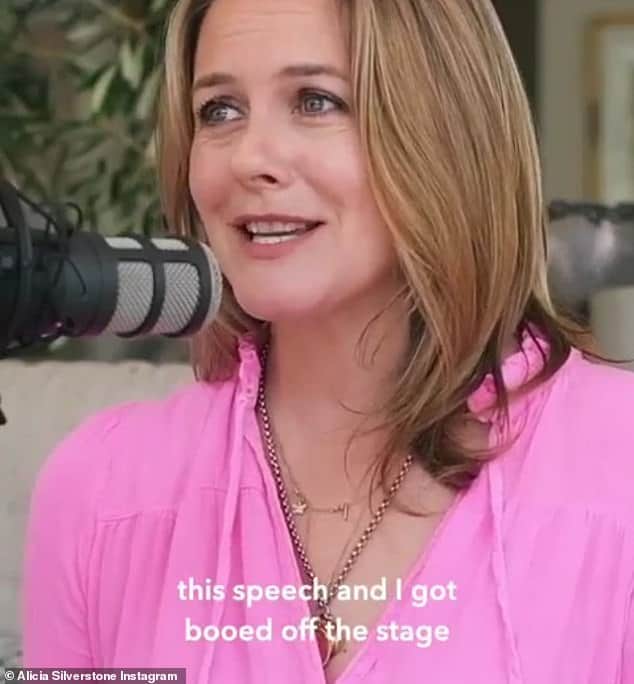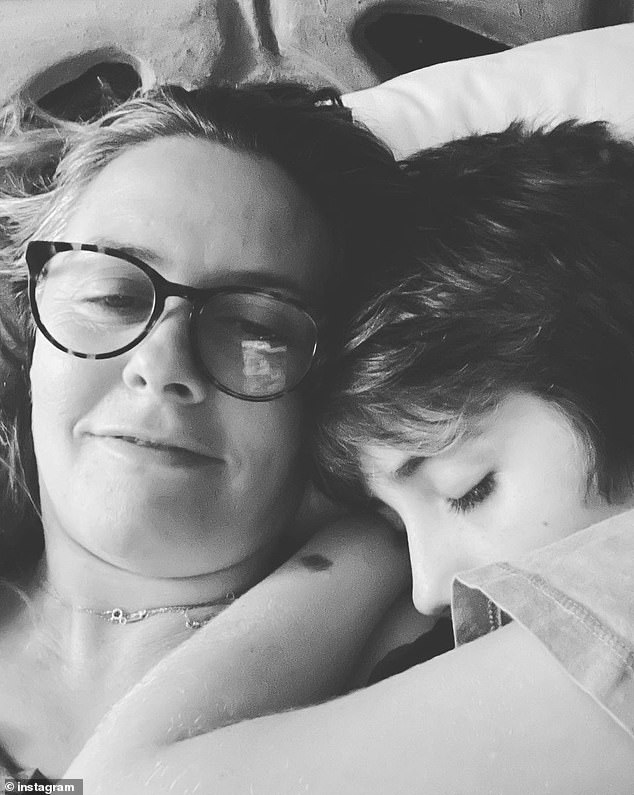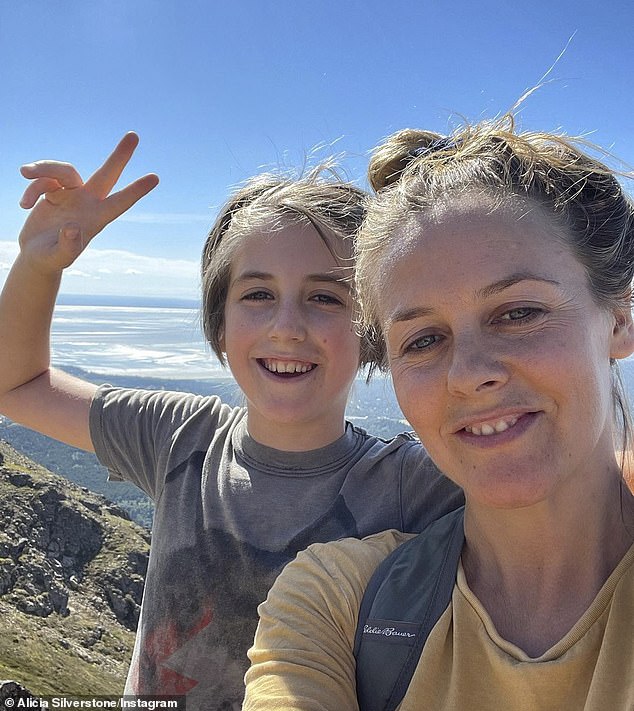 After that, the woman who was born and raised in San Francisco made a joke about how she would probably "be in trouble" with mom-shamers, but she added that at this point in her life, "I don't really care."
She then proceeded to summarize her approach to parenting by referring to herself as "a natural mama" and "a loving mama," putting an emphasis on gentle communication and removing things from the family home such as a television.
'I believe in love, I believe in nature and our society is scared of nature and scared of love,' she said in response to any criticism.
'The things I'm doing I'm not inventing, I didn't invent any of it. I would love to take credit for all of it but it's not me unfortunately, it's just me following nature.'
'I'm just wanted to do what was healthiest for him at every turn so every choice I make is either built on instinct or deep research.'
Bear was a newborn and a toddler when Alicia revealed that she rarely used diapers during the potty-training phase. Instead, she 'watched his cues' to determine when it was time to take him to the bathroom. Alicia is now remembering the time when Bear was a newborn and a toddler.
'It's so awesome. It's so easy,' she said in reference to his bodily cues, adding, 'When I was done feeding him, he would go to the bathroom in the toilet. When he woke up from a nap, he went to the bathroom.'
The author and actress admitted that there was a time when she watched him while he was naked in order to look for those cues. She did this in order to get information from him.
'The cues part for me was really fun because I thought that he was flirting with me because he would do this little smile. That's when he had to pee,' she explained.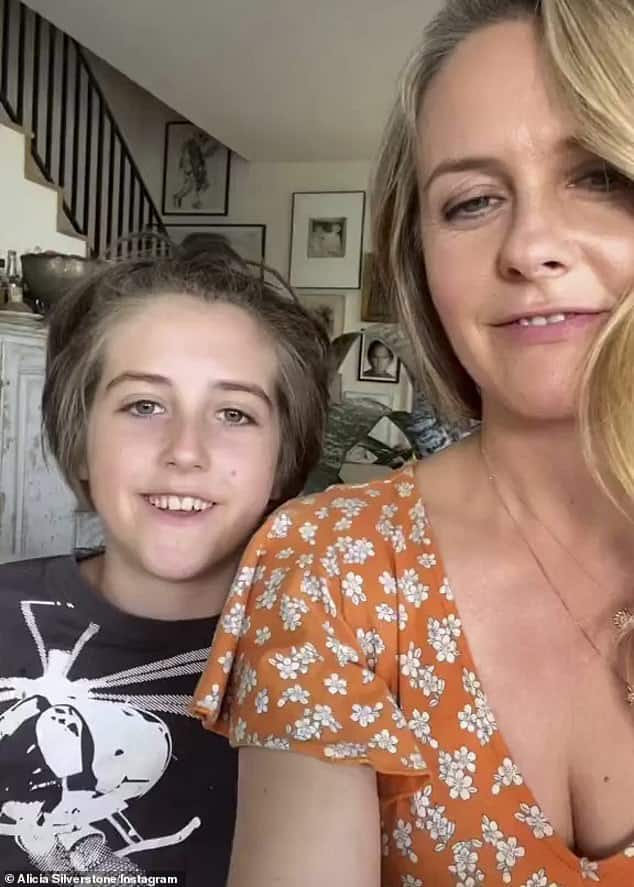 It turns out that even her ex-husband dismissed some of her mother's attachment parenting practices as "hippie s**t," but in the end, he came around and came to appreciate her attachment parenting method.
'He loved it. He was like 'this works!' she said of Jarecki's change of heart on those natural cues.
The doting mother also mentioned that she has never yelled at her son as part of her gentle approach to parenting, instead making an effort to respect him whenever they have conversations together.
'I've never had a need to raise my voice. I never yell at him and I say sorry a lot,' she explained, adding that if she is busy and feeling overwhelmed she will ask Bear to write down everything he wants to speak about to come back to at a later date.
The celebrity further disclosed that she had always desired to have more than one child, but the timing was never right for her to do so.
'Being a mom is the most precious, most unbelievable experience in this world and it's not for everyone and anybody who doesn't want to do it shouldn't do it, but for me it's so divine,' she said.
'That's why I want to savor every moment of his life. I wanted to have more but then my relationship got messed up and it wasn't a great time to bring one in but I didn't want to have another one right away because I was so in love with my Bear that I wanted to squeeze every moment out of him.
'It wasn't until he was like three that I was ready to make another baby but I didn't have partners so that's why I don't have four babies.'