The lawyer who defended Johnny Depp and the top talent agency, CAA, have both stopped working with Kanye West.
The 45-year-old rapper was also the subject of a documentary made by the production studio MRC. On Monday, the studio's leaders said they were putting the film on hold.
They are the latest group to cut ties with the Gold Digger singer after he said in a tweet earlier this month that he wanted to go to war with Jews.
Several Jewish executives have since called West out for his hateful comments. According to sources, Hollywood super-agent Ari Emanuel wrote an opinion piece asking all major brands to stop working with West.
He wrote that: 'Those who continue to do business with West are giving his misguided hate an audience.'
Even Kanye's ex-wife Kim Kardashian has broken her silence and tweeted on Monday that she stands with the Jews.
But so far, sneaker company Adidas is still doing business with West, even though they said before that their relationship was "under review."
Its shares have lost nearly 17 percent over the past month, and as of Monday's close, they were only worth $51.36.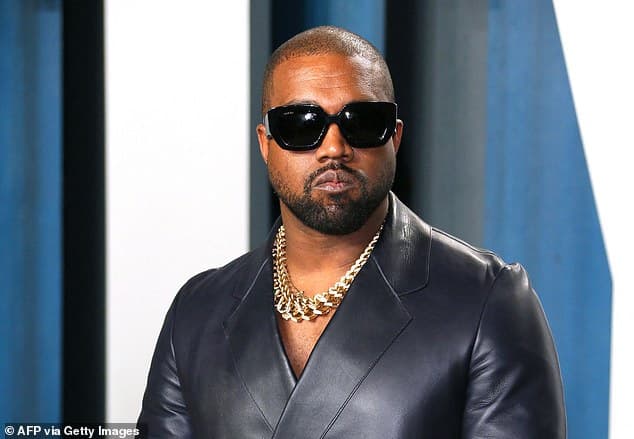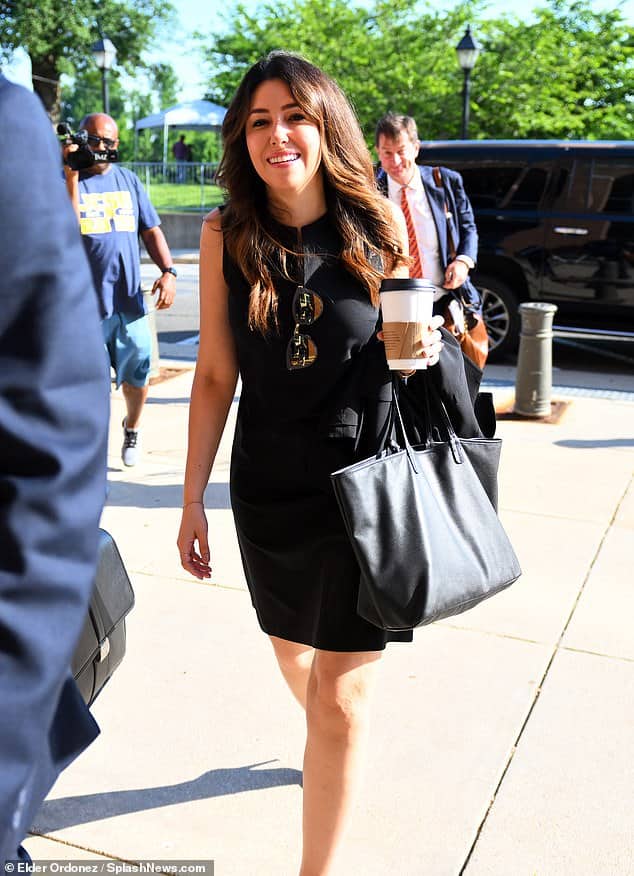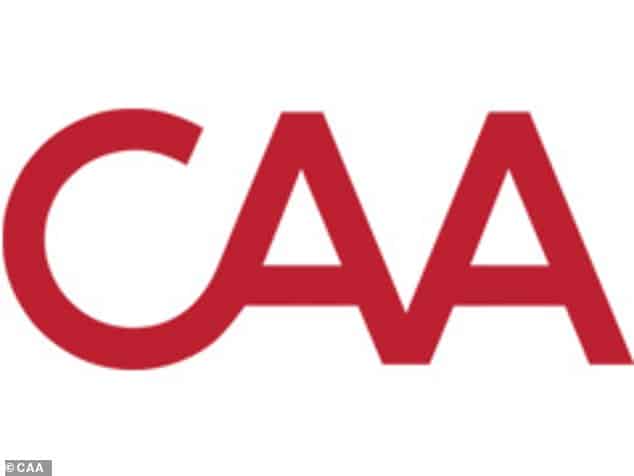 West hired Vasquez, who became well-known all over the country when she defended Johnny Depp in his heated defamation trial with ex-wife Amber Heard, to look out for his business interests while he was having problems with Adidas.
But TMZ sources said on Monday that Camille told her company, Brown Rudnick, that she would no longer work with Kanye after he made more anti-Semitic comments.
The company reportedly tried to work with Kanye anyway, but he wouldn't take back what he said in public.
As reported by The New York Post, a source said: 'After Ye doubled down this weekend, Camille dropped him. The firm still wanted to make it work but on the condition he retract, he wouldn't – so he fired them.'
Before, the law firm wouldn't say whether or not it had West as a client when DailyMail.com asked.
The top talent agency, CAA, has also cut ties with Kanye, the LA Times reported on Monday.
At some point in the last month, the company said it would no longer work with him after he said the anti-Semitic things.
West has been represented by the company since 2016. Before that, he was with UTA for a year.
Also on Monday, MRC studio executives said that they are putting the rapper's finished documentary on hold.
In a memo to employees, Modi Wiczyk, Asif Satchu, and Scott Tenley wrote a memo to employees, "We cannot support any content that amplifies his platform."
They then talked about the history of anti-Semitism and how Kanye's comments have affected people.
'Kanye is a producer and sampler of music. Last week he sampled and remixed a classic tune that has charted for over 3000 years — the lie that Jews are evil and conspire to control the world for their own gain.
'This song was performed acapella in the time of the Pharaohs, Babylon and Rome, went acoustic with The Spanish Inquisition and Russia's Pale of Settlement, and Hitler took the song electric,' they wrote. 'Kanye has now helped mainstream it in the modern era.'
The cuts come just days after Balenciaga said it would no longer work with the troubled rapper. He has been on a rant, calling for the death of Jewish people who have hurt him and also using the "r" word to describe Vice President Joe Biden.
The rapper and fashion designer, who has legally changed his name to Ye, will no longer be working on projects with the French fashion house, which is owned by his parent company, Kering. Kim Kardashian, however, is still modeling for the company even though they are no longer together.
'Balenciaga has no longer any relationship nor any plans for future projects related to this artist,' Kering told WWD.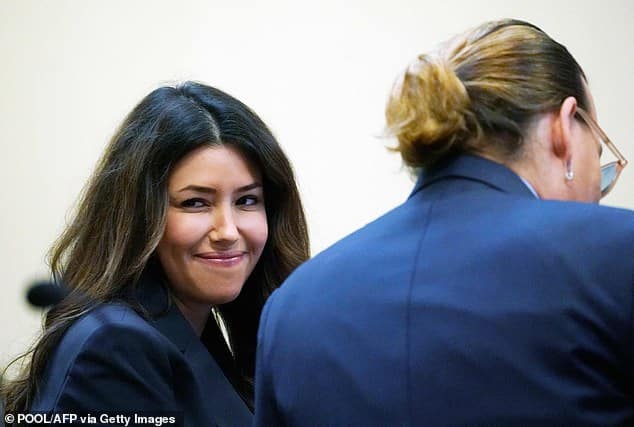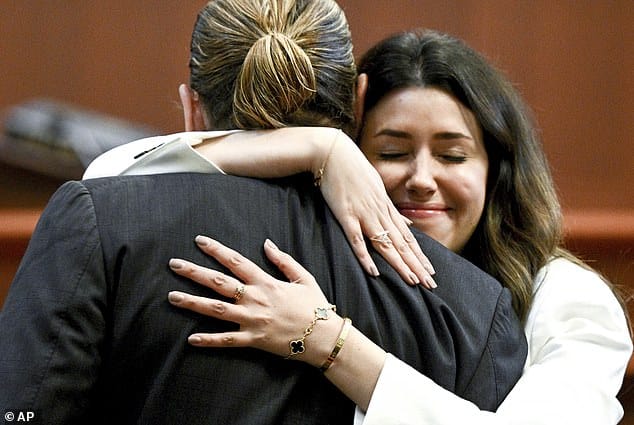 But Adidas has kept working with West even though they said before that their relationship was "under review."
Adidas, a German company whose founders were Nazis, started working with West's brand Yeezy for the first time in 2015.
Forbes says that the deal West has with Adidas is worth $220 million a year and $1.5 billion in total.
The Anti-Defamation League and Friends star David Schwimmer are putting more pressure on the sports brand company to drop West.
Recently, Schwimmer, who is 55, posted a video of West, who is 45, saying: 'The thing I can say about Adidas is, I can literally say anti-Semitic s**t and they can't drop me, I can say anti-Semitic things and Adidas can't drop me. Now what? Now what?
Schwimmer posted a picture of the word "bye" and wrote: 'Now what, Adidas?' before posting 'Join me and the Anti-Defamation League in demanding Adidas #RunAwayFromHate and sharing a link to a petition from Campaign Against Antisemitism calling for West to be dropped.
Sharing an image of the word 'bYE', Schwimmer wrote: 'Jews make up only 2.4 percent of the population of the US but are the victims of more than 60 percent of all religious hate crimes.
'Whether or not Kanye West is mentally ill, there's no question he is a bigot.
'His hate speech calls for violence against Jews. If you interpret his words any other way and defend him, guess what? You are racist.
'If we don't call someone as influential as Kanye out for his divisive, ignorant and anti-Semitic words then we are complicit. Silence is complicity.'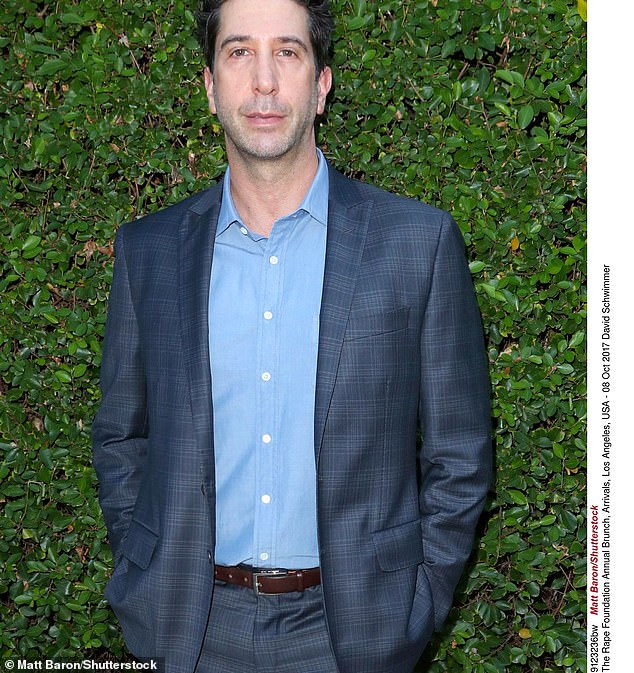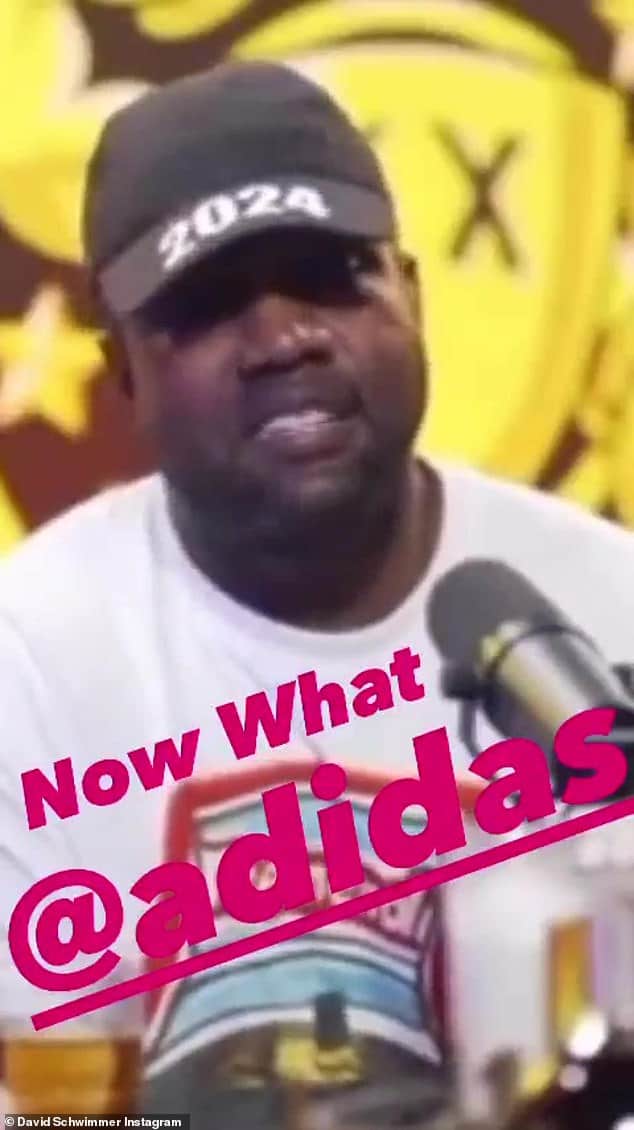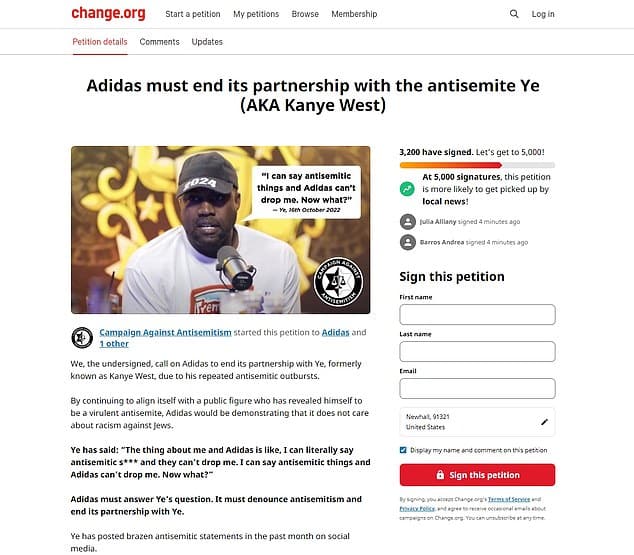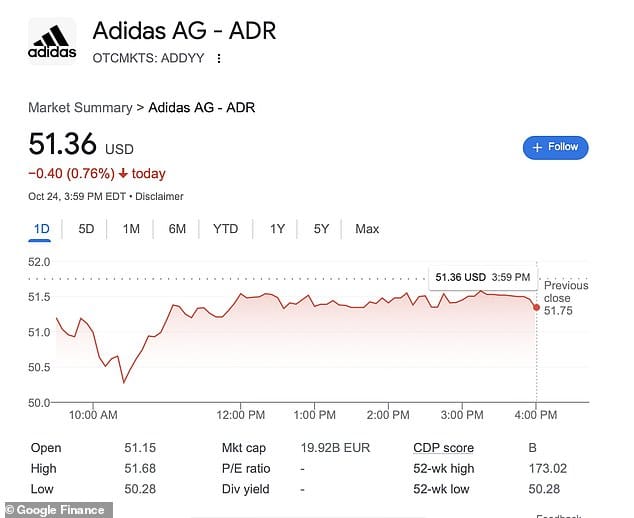 The Anti-Defamation League has also written an open letter to Adidas CEO Kasper Rorsted and Chair Thomas Rabe asking them to drop West.
They wrote 'In light of Kanye West's increasingly strident anti-Semitic remarks over the past few weeks, we were disturbed to learn that Adidas plans to continue to release new products from his Yeezy brand without any seeming acknowledgement of the controversy surrounding his most recent remarks.
'We urge Adidas to reconsider supporting the Ye product line and to issue a statement making clear that the Adidas company and community has no tolerance whatsoever for antisemitism.'
And actress Valerie Bertinelli tweeted on Monday: 'Hey @Adidas, you up?'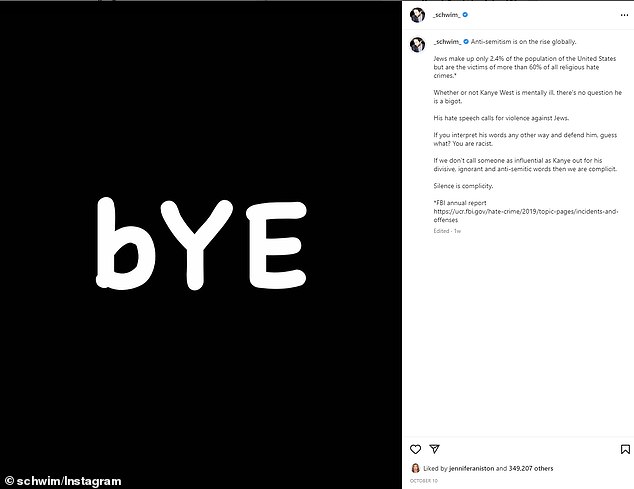 After Kanye tweeted earlier this month that he was going to "go death con 3 on the Jewish people," a number of important Jewish Hollywood executives have also asked companies to stop working with him.
The CEO of UTA, Jeremy Zimmer, sent an email to the whole company on Sunday called "Rise of Anti-Semitism and Hate" in which he spoke out against the rise of anti-Semitism.
In his email, Zimmer talked about a widely shared photo of a group of people giving the Nazi salute on the 405 freeway overpass in Los Angeles while holding a sign that said "Kanye is right about the Jews."
'We can't support hate speech, bigotry or anti-Semitism,' Zimmer wrote. 'Please support the boycott of Kanye West.'
Ari Emanuel, who runs Endeavor and WME, wrote a column for The Financial Times in which he said that the West's anti-Semitism should not be tolerated anywhere.
As Emanuel explained: 'Those who continue to do business with West are giving his misguided hate an audience.'
'West is not just any person — he is a pop culture icon with millions of fans around the world. And among them are young people whose views are still being formed. '
And Bob Gersh, the head of the Gersh agency, told Variety: 'People really need to hammer these companies in business with him to impress upon them how wrong it is to support somebody like this.'
At the time, sources asked Adidas and West's representatives for their thoughts.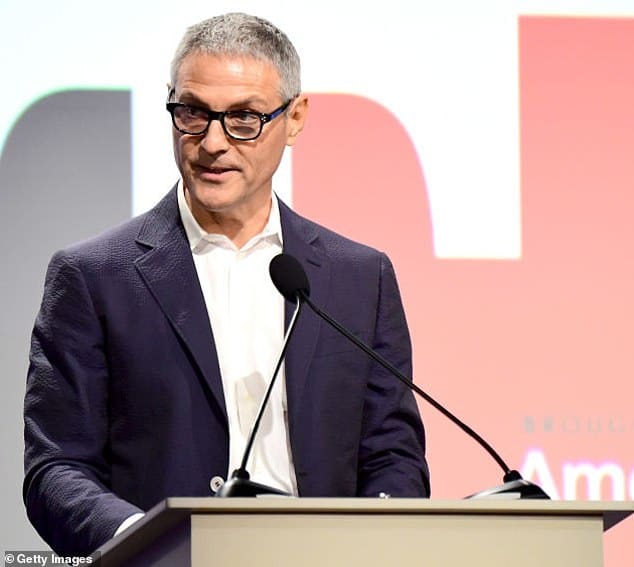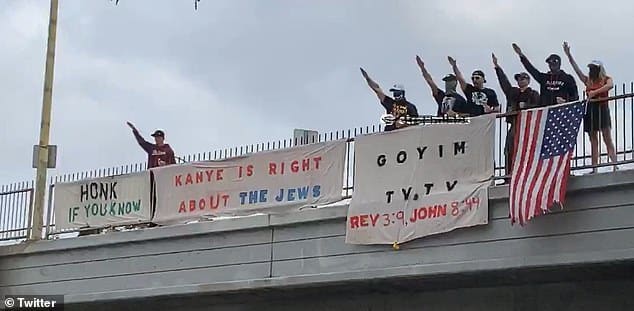 But West's relationship with Adidas was already rocky before Kanye tweeted that he was going to "go death con 3 on the Jewish people."
The outspoken musician has been very critical of the company and its CEO. At the beginning of this month, the German company that makes sports equipment said they were reviewing their business with the musician.
It also came after Ye shocked fans by wearing a "White Lives Matter" T-shirt design at his surprise Yeezy fashion show in Paris. He then doubled down on the issue in an Instagram post, saying that when people ask him why he made the shirt, he says, "Because they do."
'After repeated efforts to privately resolve the situation, we have taken the decision to place the partnership under review. We will continue to co-manage the current product during this period,' Adidas announced.
'Adidas has always been about creativity, innovation and supporting athletes and artists to achieve their vision. The adidas Yeezy partnership is one of the most successful collaborations in our industry's history,' the company said.
'We also recognize that all successful partnerships are rooted in mutual respect and shared values.'
CNBC was the first to report the news. They said that West had criticized Adidas and its CEO in public and told them that the German company was copying his ideas. CNBC said that Adidas has worked with West since 2013.
Bloomberg said that Ye has $122 million in cash and stocks and is a billionaire because of his business deals.
USB Group AG says that the Adidas deal gave the Yeezy brand $191 billion in royalties in 2020.
After Adidas said what would happen with their partnership, West went to Instagram and wrote: 'F**K ADIDAS I AM ADIDAS ADIDAS RAPED AND STOLE MY DESIGNS.'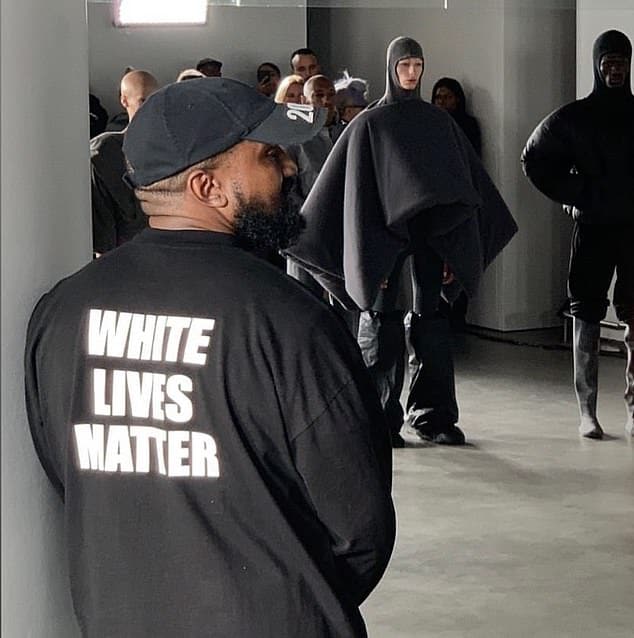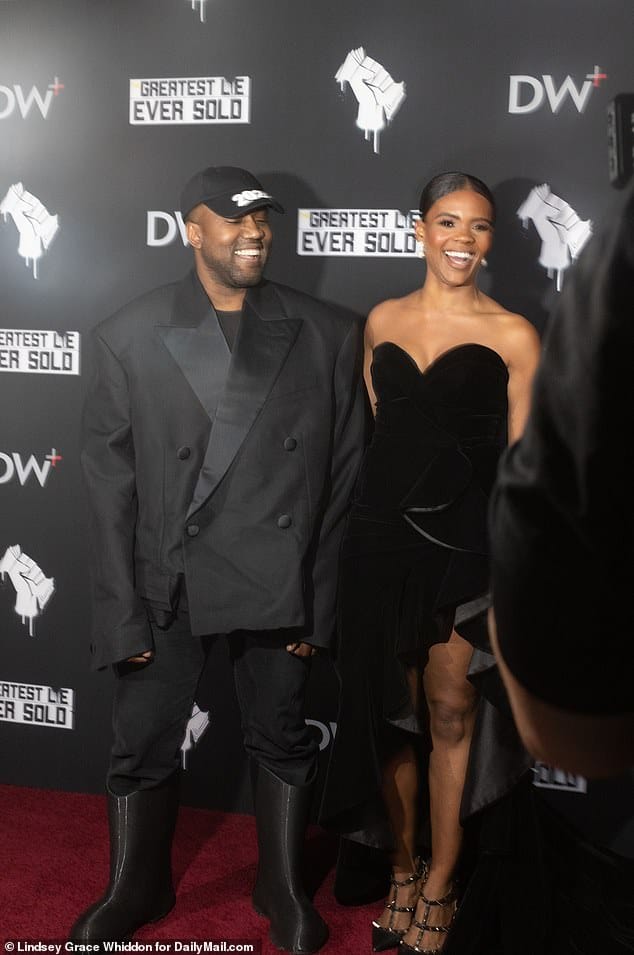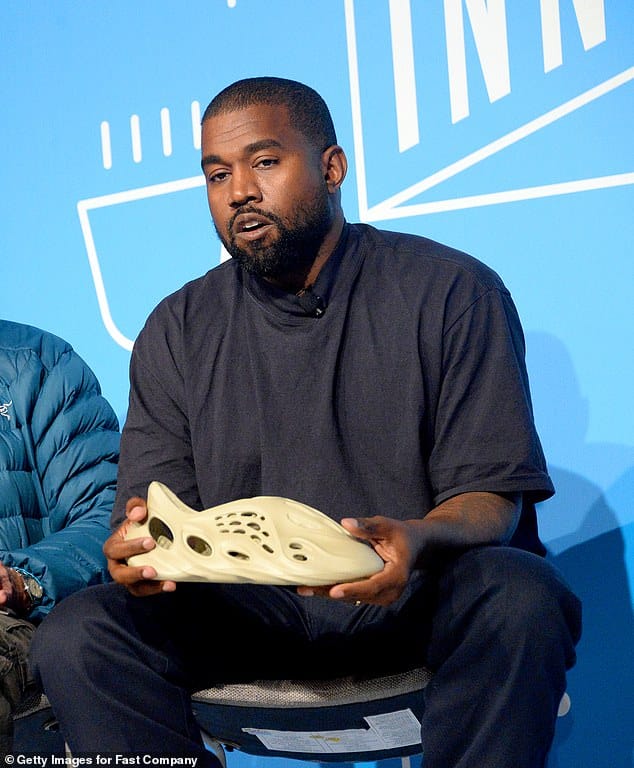 The news that Adidas is looking into the partnership came less than a month after West's lawyers told Gap Inc. that he was ending his partnership with the clothing store.