The National Ice Hockey team, Philadelphia Flyers, have issued an apology for online misconduct by a social media staff. During a virtual news conference, a member of the NHL Flyers' social media team voiced some "disrespectful remarks" in response to a reporter's question.
Philadelphia Flyers Address 'Disrespectful Remarks'
During a Zoom call interview with Philadelphia Flyers' forward Garnet Hathaway, a reporter was asking the forward about his NHL career when the call was interrupted by a man's voice who seemed to pass a rude comment on her question. He was heard saying,
"How many times is she gonna ask this f***** question?"
Hathway ignored the remarks by the man and continued to answer the reporter's question. However, the Flyers employees' comments were caught on the hot mic, and it is known to be someone from the Flyers' PR Team. The clip soon started going viral on Twitter, and the Flyers' PR Team was bashed by several people online. Mollie Walker, a reporter from New York Post, tweeted,
"Got to love when the @NHLFlyers PR department gets caught on a hot mic ripping a reporter's perfectly valid question during a press conference, tweets it out and then deletes it.

What a joke. The lack of respect is mind-boggling. Be better."
However, the Philadelphia Flyers publicly issued an apology on behalf of their team member. Flyers president of hockey operations Keith Jones said that such disrespect is "completely unacceptable." The apology also mentioned that the Flyers had reached out to the reporter and the outlet "personally to express" their "regret." They wish to promote a healthy environment of "mutual respect" when working with media.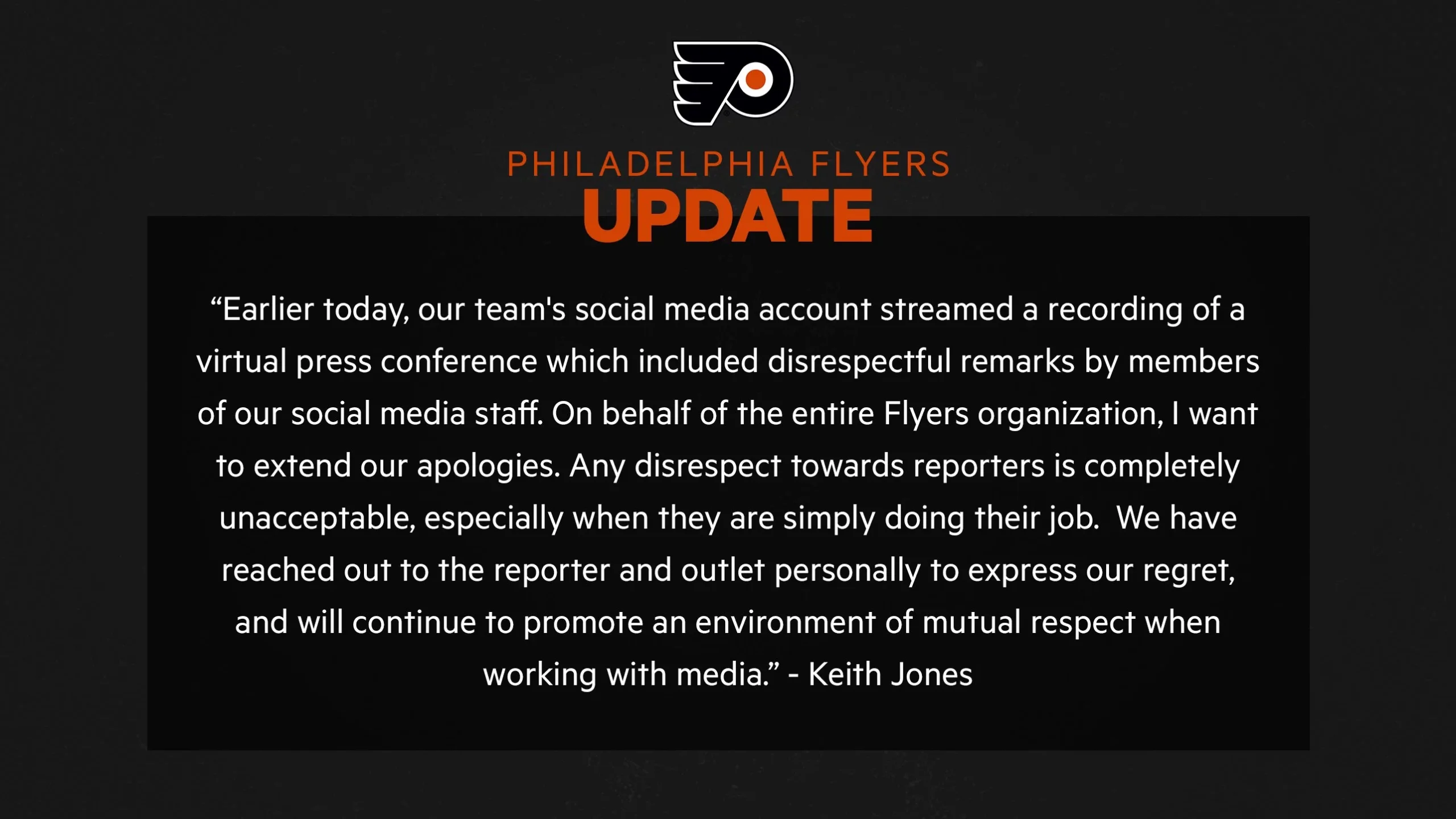 It is unclear whether the social media team member will face any consequences. The statement issued by the Philadelphia Flyers' president, Keith Jones says nothing about any action that would be or has been taken against the culprit. Although Twitter does seem to think that the man will certainly be fired for his comments. Listen to the disrespectful remark by the PR team member below-
Someone from the Philadelphia Flyers organization is getting fired 😬 pic.twitter.com/gSCy6SodpC

— LIGHTS OUT HOCKEY (@Lightsouthky) July 11, 2023