Hilary Swank revealed on Wednesday (October 5) that she is expecting not one, but two new members of her family. The actress is currently seven weeks along in her pregnancy.
During a recent appearance on Good Morning America for the purpose of promoting her newest television series, Swank, who is 48 years old, thrillingly informed the hosts that she was expecting twins, saying: "This is something that I've been wanting for a long time and my next thing is I'm gonna be a mom. And not just of one, but of two. I can't believe it."
The actress from Million Dollar Baby continued by saying: "It's so nice to be able to talk about it and share it."
.@HilarySwank is going to be a mom of TWO!

Congratulations! ❤️ https://t.co/kWY5S6eOU4 pic.twitter.com/kzuG8NkpdF

— Good Morning America (@GMA) October 5, 2022
Not long after her appearance on television, Swank shared the following with Live With Kelly and Ryan: "I'm feeling great right now, even with the time – you know, I'm on Pacific time, so I'm a little cross-eyed with that. But I'm feeling good right now."
The acclaimed actress, who is currently filming the drama series Alaska Daily, which is about a disgraced former reporter who takes up a position at a small Alaskan newspaper, recalled that her co-stars and crew weren't aware that she was pregnant until the announcement was made. The series follows a disgraced former reporter who takes up a position at the newspaper.
"But my clothes started not to fit so I had to, the other day … cut [my jeans] open. And then I put a jacket on that wasn't in continuity. And [they] came and said, 'That's not in continuity.' I said, 'Oh, I think it works.' 'It doesn't.' 'No, it does. I'm going to make it work.' She's like, 'If you're an executive producer, you can do it, but this is weird,'" the Nebraskan native said, via People.
It seems that her side of the family as well as Schneider's side of the family has a history of having twins, and Swank says that she is "so excited" for what the future holds for her as a new mother.
In 2018, Swank and Schneider tied the knot. Prior to their wedding, Schneider, a social venture entrepreneur, proposed to Swank while they were overlooking the breathtaking scenery of Colorado.
"We stumbled upon a beautiful sanctuary deep in the mountains. It had a stunning waterfall that cascades down to rustic cabins built in the 1800s surrounded by beautiful pines and big skies," Swank recounted to Vogue, "One evening, Philip dropped to his knee in front of the waterfall and proposed—he sweetly made sure my dogs were nearby so they could bear witness!"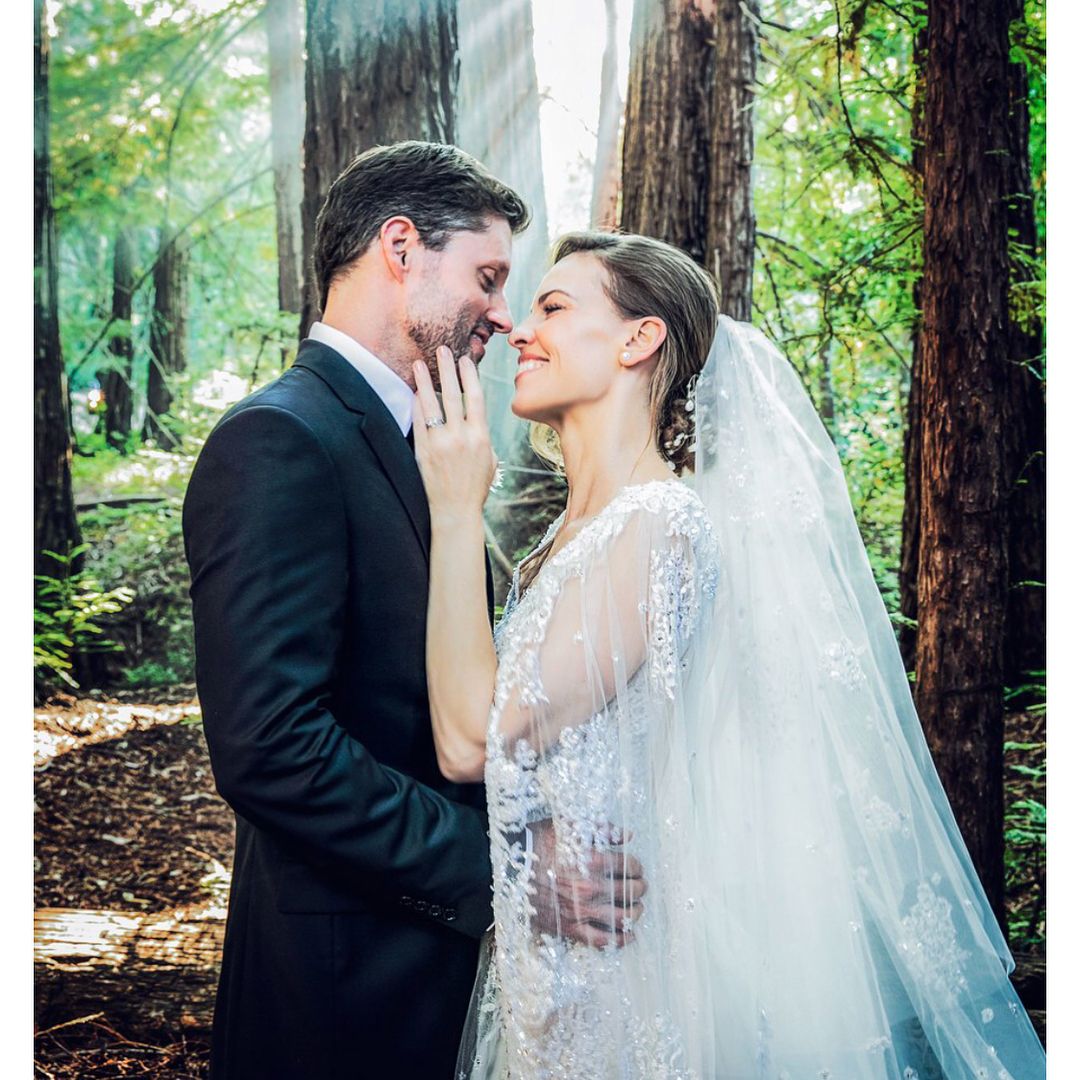 The actress best known for her role in Boys Don't Cry has never been shy about expressing her wish to start a family, telling People in 2006: "I definitely would like kids someday. That's definitely something that I've always thought about as a very, very young girl."
"I just love kids and that would be an important thing to happen for me someday whenever the time is right," the then-32-year-old added.