Two children and three teenagers were saved from a fire by a pizza delivery man.
Nicholas Bostic put his food delivery on hold when he saw a house on fire.
The brave 25-year-old ran into the burning building and pulled the five inhabitants out.
Bostic told ABC7 Chicago that he couldn't call for help because he didn't have his phone. He ran upstairs after entering the house through the back door.
There were five people at the house, four of which were his siblings and a friend. Bostic rushed them all outside. He didn't realize that another six-year-old girl was still inside when he left the property.
Heroic civilian Nicholas Bostic saw a burning home with no emergency vehicles on the scene. He ran inside and rescued four sleeping children. Amazing body cam footage captured the moment he emerged from the inferno with the last child. pic.twitter.com/A8urEatV3I

— NewsNation (@NewsNation) July 16, 2022
Even though there was a lot of smoke, the delivery man ran back into the house to find the child and then punched a window to get out.
Bostic was taken to the hospital with a cut on his arm after emergency services arrived. He was discharged after his injuries were not as bad.
Reflecting on his brave actions, Bostic said: "I'm glad I was there at the right time, the right place. If [the] opportunity came again and I had to do it, I would do it."
"I knew what I was risking. I knew the next second it could be my life. But every second counted," he added.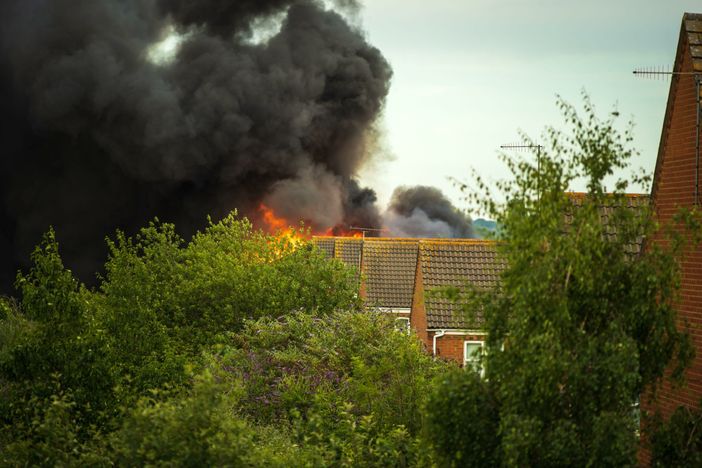 The father of the kids offered to reward the delivery man for his heroism.
"The dad said he'd love to take me out for dinner. They have wide-open arms welcoming me as a part of their family," he told the outlet.
The children who were rescued from the fire are doing well according to Lt. Randy Sherer. The police department confirmed his heroic actions in a statement.
"Nicholas happened to be driving by the block of Union street when he noticed a house on fire. He immediately stopped in the roadway, threw his car into reverse, turned around, and pulled into the driveway," the statement described.
Heroic actions of a Lafayette Citizen saves the lives of several children! #hero #inspiring #courage #awesome @City_Lafayette pic.twitter.com/s5eLfNs21Q

— LafayetteINPolice (@LafayetteINPD) July 14, 2022
"He knew he had to act. He ran around to the back of the home and was able to open the back door. He began yelling inside [but] didn't receive an answer. He walked through the house, calling out the danger, and eventually made his way up the stairs. He found four kids and helped them escape from the house," it added.