Henry Cavill was just fired from his role as Superman, but if screenwriter C. Robert Cargill has his way, Superman might get a whole new role.
Cavill was going to put on his red cape again, but not long ago, the actor said that the plans would not go through.
Henry Cavill wrote in an Instagram post:
I have just had a meeting with James Gunn and Peter Safran and it's sad news, everyone. I will, after all, not be returning as Superman.

After being told by the studio to announce my return back in October, prior to their hire, this news isn't the easiest, but that's life.

The changing of the guard is something that happens. I respect that.

James and Peter have a universe to build. I wish them and all involved with the new universe the best of luck, and the happiest of fortunes.

For those who have been by my side through the years…we can mourn for a bit, but then we must remember…. Superman is still around.

Everything he stands for still exists, and the examples he sets for us are still there!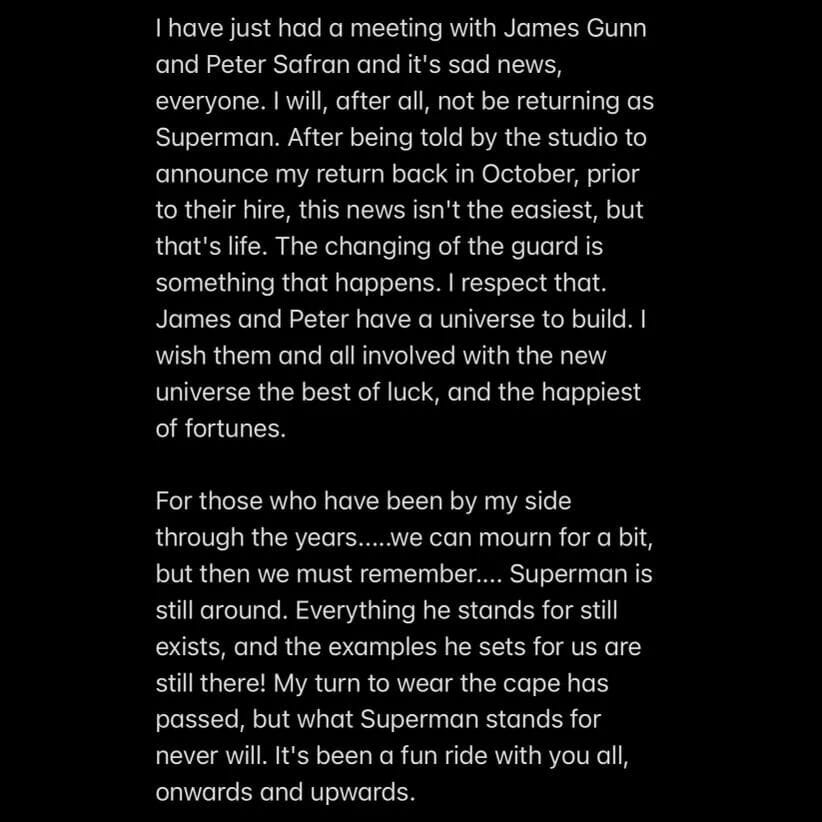 My turn to wear the cape has passed, but what Superman stands for never will. It's been a fun ride with you all, onwards and upwards.
But it looks like C. Robert Cargill, who wrote Sinister and Doctor Strange, might be willing to help Cavill find a new role.
Rahul Kohli, who has been in shows like iZombie and Midnight Mass on Netflix, tweeted:
Hey Henry, f**k it, let's make a Warhammer movie/limited series. Kind regards, Rahul.
To which Cargill replied:
Look, guys. I might know a writer who would be into that. Maybe y'all should brainstorm in his garage. Best, Cargill.
Kohli's tweet has gotten more than 33,000 "likes" since it was posted a few hours ago, which shows that fans are interested.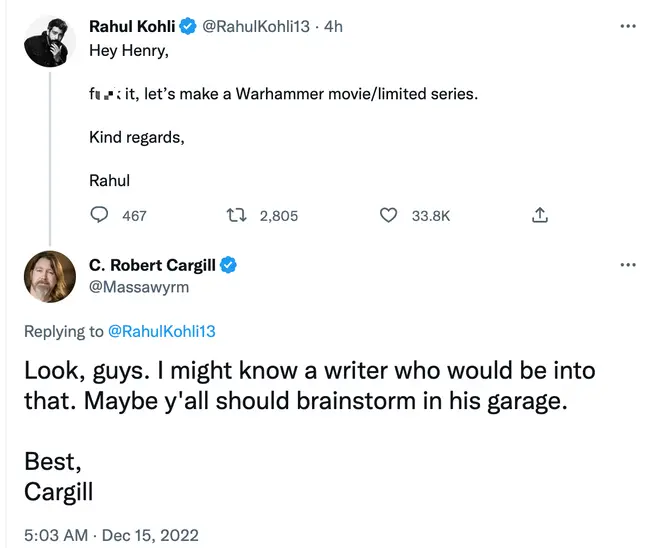 Someone replied to the post by writing:
Hey Henry, Yes, yes you should very much take up Rahul's offer and do this. Very much so!
Another said,
As a writer of Warhammer stuff, I approve this suggestion wholeheartedly.
A third person said,
Oh god yes please. Someday in a distant future we'll actually get a live action Warhammer movie.
Warhammer would be a good fit for the actor, who has said before that he loves the miniature wargame, so this could be something to keep an eye on.