Gwyneth Paltrow and serial killer Jeffrey Dahmer are two names you'd never expect to hear in the same sentence.
That all changed on Tuesday… Gwyneth Paltrow was sitting in a Utah courtroom on the first day of her civil trial for a hit-and-run ski accident in 2016 when her large aviator-style glasses became the center of attention.
Trolls on social media immediately noticed the amusing—and possibly even chilling—resemblance between Gwyneth Paltrow's spectacles and those famously worn by Dahmer.
During his monstrous 1978–1991 rampage in Milwaukee, Wisconsin, Dahmer killed and dismembered 17 young men and ate some of their body parts.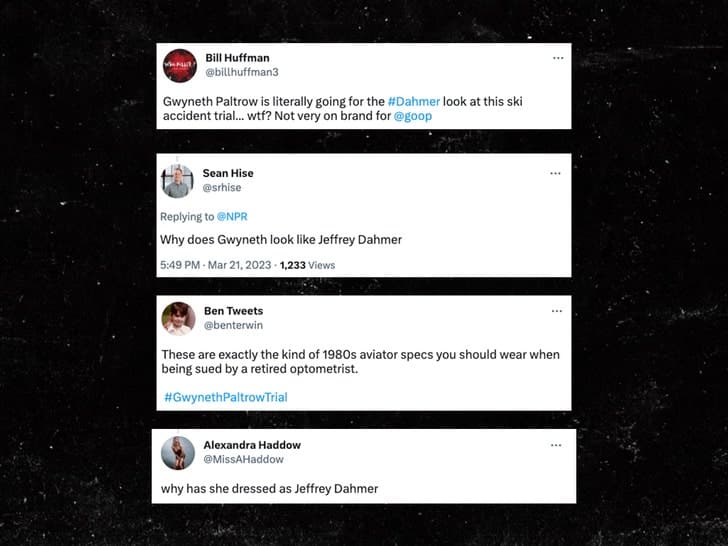 Several people commented on an Instagram post by Good Morning America about the Gwyneth Paltrow trial.
They wrote,
I like her serial-killer vibe.
Gwyneth Paltrow meets Jeffrey Dahmer.
Photos make her look like a serial killer. Geez.
And,
Dahmer Effect.
Trolls took to Twitter to mock Gwyneth. One person said,
Gwyneth Paltrow is literally going for the #Dahmer look at this ski accident trial… wtf? Not very on brand for @goop.
Goop is Gwyneth's company that promotes a high-end wellness and lifestyle brand.
Another person wrote,
Why does Gwyneth look like Jeffrey Dahmer?
A third person said,
Not a good look for her.
As previously reported, Gwyneth was sued in 2019 by Terry Sanderson, who claimed Paltrow collided with him three years earlier while skiing down a mountain at Deer Valley Resort in Park City, Utah. Sanderson said the collision left him with a concussion and broken ribs.
Furthermore, Sanderson claimed Gwyneth simply vanished, leaving him badly injured on the mountain to fend for himself.