Gwyneth Paltrow's bizarre testimony from her ongoing ski accident trial has drawn reactions from social media users.
The 50-year-old Iron Man actress is embroiled in a lawsuit filed against her by a guy who accused her of harming him on a ski hill in 2016.
76-year-old retired ophthalmologist Terry Sanderson was on vacation at the Deer Valley resort in Utah when Gwyneth Paltrow allegedly "bolted" down the slope and struck him.
The GOOP founder allegedly flew down the ski hill, "knocking [Sanderson] down hard, knocking him out, and causing a brain injury, four broken ribs, and other serious injuries […]" according to the lawsuit acquired by Sky News. Sanderson lay motionless on the snow as Paltrow stood up, turned, and skied away.
Watch Gwyneth Paltrow's testimony below:
"well I lost half a day of skiing…" pic.twitter.com/SxX4MamNEv

— alex (@alex_abads) March 24, 2023
According to Metro, Sanderson first requested $3 million in damages but is now asking for $300,000 because the judge disregarded his earlier request.
Paltrow is countersuing Sanderson for $1, alleging that the incident was "categorically" his fault despite Sanderson's denials of any wrongdoing.
The Shakespeare in Love actress testified in the civil action on Friday, March 24. She was questioned about the "losses" she had sustained as a result of the ski mishap throughout her testimony.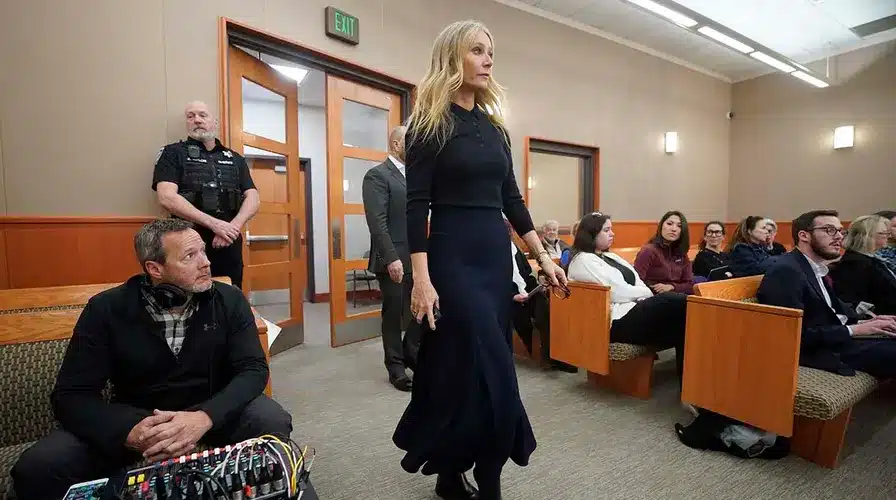 In response to a query regarding Paltrow's remarks that Sanderson had "prevented [Paltrow] from enjoying the remainder of what was an extremely expensive vacation," the actor said curtly, "Well… we lost half a day of skiing."
Since then, the actress has received comical responses to the statement.
https://twitter.com/inihelene/status/1639687547264593920
texting all my friends "well … I lost half a day of skiing" next time any minor inconvenience befalls me

— Clara (@colormeloverly) March 25, 2023
Gwyneth didn't get an Oscar for Shakespeare In Love, she got it for "well, I lost half a day of skiing" https://t.co/OoIg8wT8tA

— Emma Kelly (@TooManyEmmas) March 24, 2023
I need to find a way of making "well, I lost half a day of skiing" into a Halloween costume this year. https://t.co/NdIFPUdBNU

— Daniel Summers (@WFKARS) March 24, 2023
Paltrow is countersuing for just $1 and for Sanderson to pay her legal costs, alleging that Sanderson was the one who struck her. Her defense team accused the optometrist of attempting to manipulate her fame and money.
The Shallow Hal actress testified in court on Friday that she briefly believed she was the victim of a sexual assault during the ski accident when she felt Sanderson collide with the back of her.
She described how his skis "forced my legs apart" and she "froze," adding that "there was a body pressing against me, and there was a bizarre, grunting noise."
"My brain was trying to make sense of what was happening. I thought, is this a practical joke? Is someone doing something perverted? This is very strange," the Oscar winner added.
Paltrow said she was merely "trying to reconcile what was happening" at the time and had not in any way accused the man of sexual assault.
According to The Independent, Sanderson is scheduled to testify in the case on Monday morning, March 27, before his counsel rests the case.