Jeff Beck, who was a pioneer of blues rock and was inducted into the Rock and Roll Hall of Fame twice, died on Tuesday. He was 78 years old.
Wednesday, Beck's family said that the former Yardbirds guitarist had died.
On behalf of his family, it is with deep and profound sadness that we share the news of Jeff Beck's passing,
Beck's family said in a statement.
After suddenly contracting bacterial meningitis, he peacefully passed away yesterday. His family asks for privacy while they process this tremendous loss.
Beck has won eight Grammys and has been inducted into the Rock and Roll Hall of Fame twice, once with the Yardbirds and once with his own band, the Jeff Beck Group.
Jimmy Page of Led Zeppelin, who played with Beck in the band Yardbirds and helped him get into the Rock Hall of Fame in 2009, wrote on social media Wednesday,
The six stringed Warrior is no longer here for us to admire the spell he could weave around our mortal emotions. Jeff could channel music from the ethereal. His technique unique. His imaginations apparently limitless. Jeff I will miss you along with your millions of fans. Jeff Beck Rest in Peace.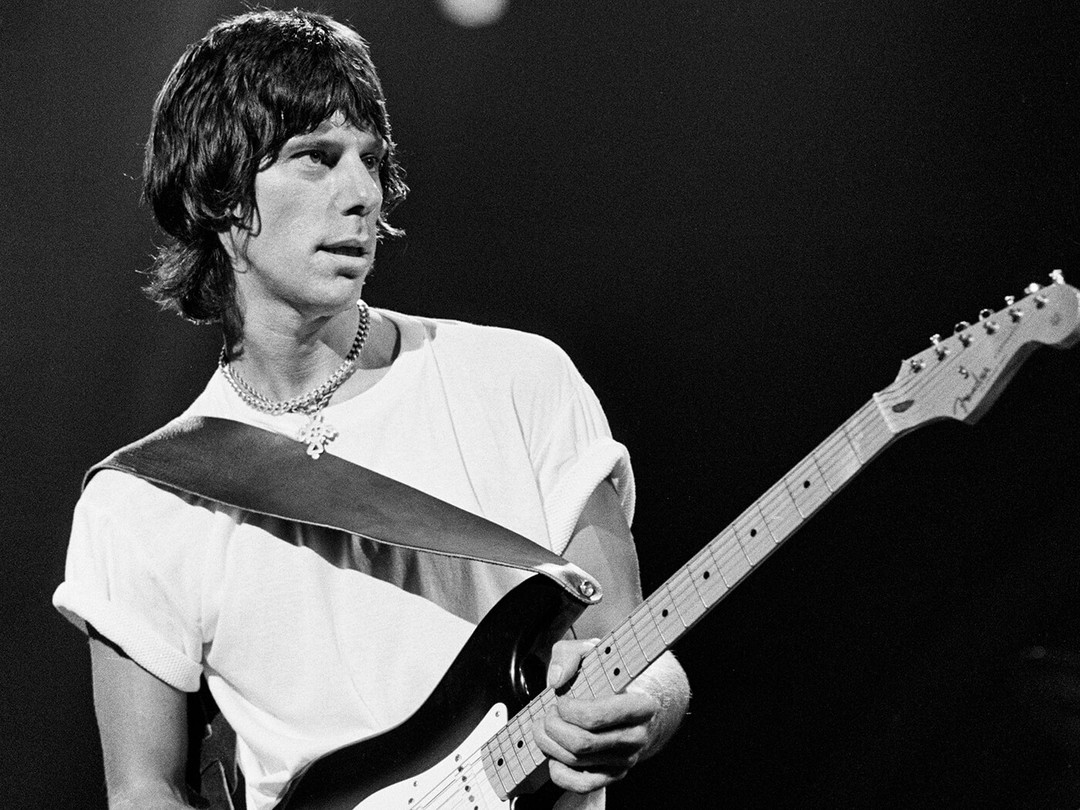 Jeff Beck has the combination of brilliant technique with personality,
Heartbreakers' Mike Campbell wrote when Rolling Stone's list of the 100 Greatest Guitarists put Beck at number five.
It's like he's saying, 'I'm Jeff Beck. I'm right here. And you can't ignore me.' Even in the Yardbirds, he had a tone that was melodic but in-your-face — bright, urgent, and edgy, but sweet at the same time. You could tell he was a serious player, and he was going for it. He was not holding back.
Beck's mother wanted him to play the piano before he found the guitar. Beck was born in Surrey, England, on June 24, 1944. His parents told him he couldn't play the guitar until they saw how much he liked it.
My parents] complained [about the guitar], but they didn't stop me,
he told Rolling Stone in 2018.
I suppose they thought, 'If he's got the guitar, he's not going out stealing.' The only friends I had were pretty low-life; most of them were one step away from jail.
Beck became friends with Jimmy Page, a boy in his neighborhood who was also learning to play guitar. Beck said that his older sister bought him the records that made him like rockabilly music, and the two musicians would try to outdo each other with their skills.
He went to the Wimbledon Art College in London, where he played music with the British musician Lord Sutch. Eric Clapton left the Yardbirds in 1965 because they were getting too pop. Page, who had become a successful session guitarist, encouraged him to try out for the band. Still, Beck remembered that the band's lead singer, Keith Relf, was kind of a blues purist.
I thought, 'You can be a purist and you can be poor; I'm gonna do what I think is best,'
he said.
Beck was naturally drawn to psychedelia, experimentalism, and jazz. In the 1960s, Eric Dolphy and Roland Kirk were two of his favorite musicians, and his avant-garde side fit right in with the pop scene of the time. Soon after, the Yardbirds recorded "Heart Full of Soul" and "Evil Hearted You," which both became hits in the U.K. After that, they released "Shapes of Things" and "Over Under Sideways Down," which became their first chart hits in the U.S.
In 1966, Page joined the band. At first, he played bass, and then he became a co-lead guitarist. The Yardbirds played "Stroll On," a version of Jimmy Burnette's "Train Kept a-Rollin'," for a scene in Michelangelo Antonioni's film Blow-Up, in which Beck smashed a guitar like Pete Townshend.
Well, clearly the Who was asked to do it and they said no,
Beck recalled.
I wasn't in the position to argue when they paid us a lot of money. … [Antonioni] just said, 'You'll smash your guitar.' And I said, 'No, I won't.' It was a sunburst Les Paul. He said, 'We'll buy you another one.' He didn't grasp that you don't do that to most guitars. So they rented six beginner guitars, and they were so cheap they came in a clear plastic bag.
But by the time the movie came out, Beck would no longer be in the band. In November 1966, he quit because he was sick and had a nervous breakdown. In 1967, he sang lead vocals on the pop single "Hi Ho Silver Lining," which became a hit. Its B-side, "Beck's Bolero," was a precursor to Led Zeppelin because Page, bassist John Paul Jones, Keith Moon, and pianist Nicky Hopkins played with Beck. In the same year, he started the heavy blues Jeff Beck Group with singer Rod Stewart and bassist Ron Wood, who later joined the Rolling Stones. Before Beck broke up the group, they released two albums: Truth in 1968 and Beck-Ola in 1969. They also turned down an offer to play at Woodstock. Stewart and Wood then joined Faces.
Jeff Beck was on another planet. He took me and Ronnie Wood to the USA in the late 60s in his band the Jeff Beck Group and we haven't looked back since,
Stewart tweeted Wednesday.
He was one of the few guitarists that when playing live would actually listen to me sing and respond. Jeff, you were the greatest, my man. Thank you for everything. RIP.
1/2
Jeff Beck was on another planet . He took me and Ronnie Wood to the USA in the late 60s in his band the Jeff Beck Group
and we haven't looked back since . pic.twitter.com/uS7bbWsHgW

— Sir Rod Stewart (@rodstewart) January 11, 2023
Beck then wanted to start a band with Vanilla Fudge's Tim Bogert and Carmine Appice, but he broke his skull in a car accident, which put the group's formation off for a year and a half. Beck was interested in Motown at the time, so he went to some of Stevie Wonder's sessions for Talking Book. At one point, Beck started playing the drums. When Wonder walked in, he liked the groove and wrote "Superstition" around it. At the time, Bogert and Appice were in a different band, so Beck put together the Jeff Beck Group. They put out two more albums with a funkier sound before Beck, Bogert, and Appice came together in 1972. They were together for about two years, but Beck remembered that BBA's version of "Superstition" was "a great heavy metal song."
Beck had moved on from blues rock to instrumental jazz fusion by the time he came back. His album Blow by Blow, which came out in 1975, was a big surprise. It went platinum and reached number four in the U.S. The Beatles producer George Martin was in charge of the album, and Beck later said that he saved his career because of Martin.
I thought, 'This sounds like we're playing in the room — it's clear and fabulous,'
Beck later said of the sound of Blow by Blow.
That first album was a joy.
In 1975, he went on tour with the Mahavishnu Orchestra to promote the record. The next year, he released Wired, a collaboration with the keyboardist for the Mahavishnu Orchestra. He took a break for a few years and then worked with Hammer again in the 1980s There and Back.
Jeff Beck with Stewart again on 1985's Flash album for a cover of "People Get Ready" which became a hit. He may have been afraid of becoming a guitar nerd and being forgotten. The instrumental song "Escape" from that album won him a Grammy the next year for Best Rock Instrumental Performance. He won another Grammy for Jeff Beck's Guitar Shop With Terry Bozzio and Tony Hymas, which came out four years after the first one.
I was glad on the one hand that guitar was still king,
Beck once said of the Eighties.
[Guitarists] were flying a great flag for the guitar. … I had every respect for Vai and Eddie Van Halen. Great. Let them have that. As long as it doesn't encroach on my style — and it didn't — I was happy.
He worked as a guest musician for the rest of the 1980s, putting solos on albums by Tina Turner, Mick Jagger, and Jon Bon Jovi. But as a solo artist, he had trouble getting the same kind of success for decades. During the 1990s, he went from rockabilly to techno. On 1993's Crazy Legs and 1999's Who Else!
With the death of Jeff Beck we have lost a wonderful man and one of the greatest guitar players in the world. We will all miss him so much. pic.twitter.com/u8DYQrLNB7

— Mick Jagger (@MickJagger) January 11, 2023
Beck was first inducted into the Rock and Roll Hall of Fame in 1993 as a member of the Yardbirds. When he was re-inducted in 2009 for his solo work, he gave one of the best acceptance speeches ever.
Beck made his name during the British Invasion and as a pioneer of blues-rock, but the virtuosic guitarist kept exploring other styles, from jazz fusion to trance ("Rollin' and Tumblin'" with Imogen Heap) to orchestral rock (2010's Emotion and Commotion) to heavy metal (he played on the title track of Ozzy Osbourne's Patient Number 9 in 2022).
Beck has also worked with all-star artists like Seal, Kate Bush, Roger Waters, Morrissey, and ZZ Top over the past 30 years.
Beck's last album, 18, was made with actor and longtime friend Johnny Depp. It was mostly covers of songs by the Beach Boys, the Velvet Underground, Marvin Gaye, and John Lennon.
Beck was also very productive and active as a solo artist. He won seven of his eight Grammy Awards after 1989, including a string of wins and nominations in the Best Rock Instrumental Performance category that lasted the first ten years of the 2000s.