A guard dog was criticized for failing to shield a gang from a raid. Look at this:
Yesterday (28 July), police raided a drug den in Hortolandia, Sao Paulo state, Brazil, and seized 1.1 tonnes of marijuana.
Three dealers were also taken into custody during the operation, in addition to losing their cache.
The gang of thieves can be seen handcuffed behind their backs, face down on the ground in a video that has been circulated online.
They were unfortunate since their security investment did not pay off.
That's because, in addition to them, their guard dog is seen curled up on the floor next to them and making no fuss.
It was probably not the response they were hoping for.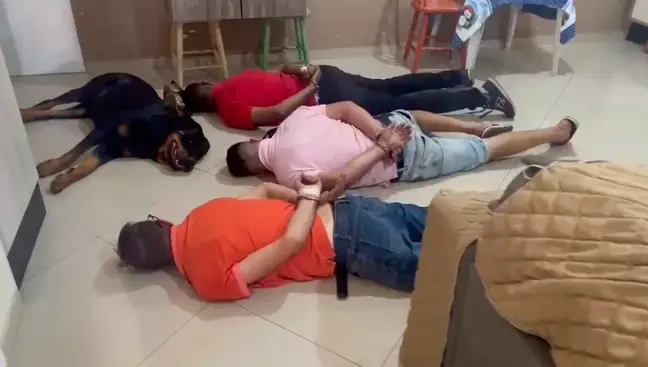 The drugs had arrived at the residence via shipping from Campo Grande, in the state of Mato Grosso do Sul, according to the authorities.
Officers were waiting to seize the opportunity when the delivery was made after long-term surveillance of the property.
The pills, according to the authorities, were intended for sale in and around Campinas, Sao Paulo state.
After the raid, the men—one of whom was the home's owner—were driven to the local Americana police station.
But it's good to know that the dog wasn't arrested for those of you who love animals. Phew.
According to the police, the canine stayed on the property with the female landowner who owned the area around the house.
Residents of a village in Colombia were surrounded by a massive marijuana cloud earlier this month when a controlled burning became, well, uncontrolled.
Bello, Medellin, was initially thought to be on fire, but soon it became clear that something wasn't quite right about the stench.
It turned out that cops had attempted to conduct a controlled burning of seized marijuana, but it had failed miserably as the wind kicked up.
Una vez más demostramos que somos #ImplacablesContraElDelito, esta vez contra la delincuencia en #Bello. @AlcaldiadeBello @osanperez pic.twitter.com/gBI7s4JWlA

— BG. Javier Josué Martín Gámez (@PoliciaMedellin) July 11, 2022
Edilberto Castao, a local, said to Caracol TV: "We felt a very horrible smoke coming out of the battalion, a tremendous smell of marijuana that stopped everyone."
The recent seizure of 1.5 tonnes of marijuana by authorities was heralded as a victory over drug traffickers.
Bello's secretary of security, Daniela Ortega, stated: "This is one more blow that we can give in the municipality of Bello in coordination with the National Police.
"We invite citizens to continue denouncing and to continue believing in the institutions."
However, in the wake of the fire, which reportedly necessitated the evacuation of multiple tower blocks, this faith in the institutions may have been diminished.
One local was quoted by the Colombian daily El Espectador as saying: "Complete negligence. So-called controlled burning.
"Several apartment towers had to be evacuated because of this little joke. Someone needs to answer for this bad decision."