Rapper Flo Rida is asking for prayers for his son, who fell from his mother's New Jersey apartment window and "miraculously" lived.
Zohar Dillard, age 6, is still in the intensive care unit of a hospital. He was hurt on March 4 and has multiple broken bones, a cut liver, internal bleeding, and collapsed lungs.
Flo Rida thanked people for their "concerns and prayers" for his son in an update he posted to his Instagram stories on Thursday night.
Great day, thank you for everyone who reached out with their concerns and prayers for my son,
the post read.
He is getting the best medical care and miraculously survived a tragic fall. I ask for your continued prayers as he undergoes rehabilitation but I would appreciate that this remain a private matter.
Zohar's mom, Alexis Adams, filed a lawsuit about the fall. She is suing the complex's owners, managers, a construction company, and a window installer, saying the windows were dangerous.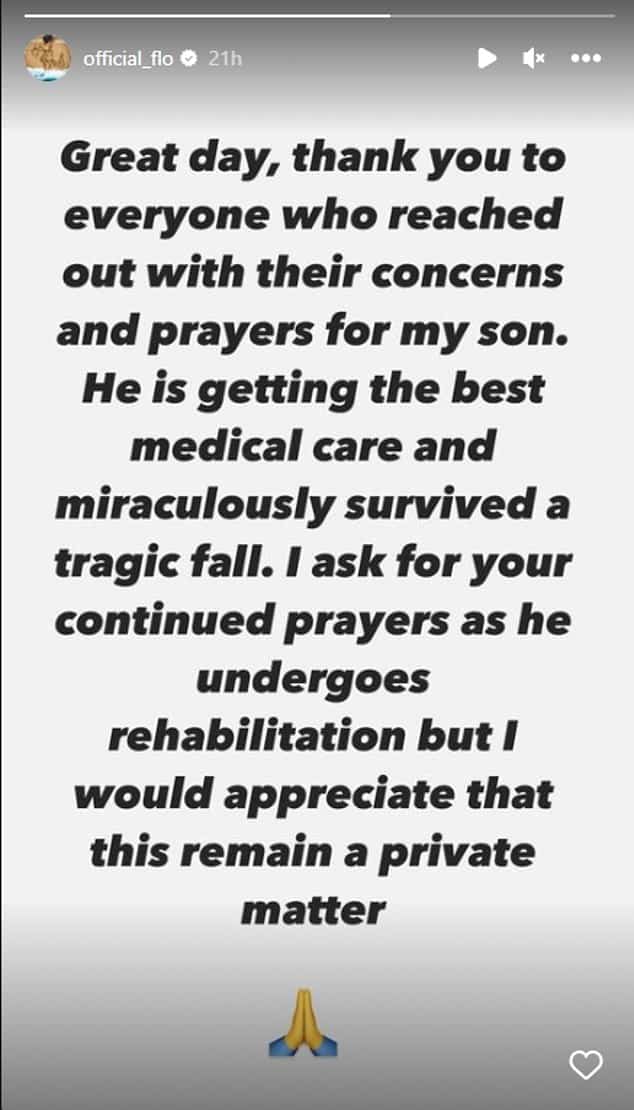 When the neighbors heard that the child had lived through a terrible accident, they were shocked.
James Lucas, who lives on the sixth floor of the apartment building, told DailyMail.com that he was getting Chinese food downstairs when the attack happened.
Ambulances and emergency crews were all around the side of the building, where the father of three said he saw Zohar lying on the ground and looking "lifeless."
He was just on the ground, not moving, I thought he wasn't going to live,
said, Lucas.
I was just downstairs getting Chinese food and there were ambulance everywhere and I had no idea what had happened I just saw the kid, he looked lifeless.

I didn't even realize it was from the 5th floor until later.
Lucas lives in the same building as Adams and said that the building's windows have sills that a child could "definitely stand on."
You can definitely, if you're a kid, stand on that sill, but my kids haven't been here I think they should look into window guards for sure,
he said.
I couldn't believe he survived that, I mean the 5th floor, that's a drop.

I was only down there for a few minutes, he was down there when I got there.
A woman who didn't disclose her name and whose daughter lives a few doors down from Adams said she was shocked to hear the news.
I'm just visiting my daughter but I remember her mentioning it, I didn't realize it was the fifth floor,
she said.
The woman said she was only there to see her daughter and that the layout of the apartment was the same as other apartments on the floor.
The woman let DailyMail.com into the apartment and said that the one-bedroom unit had two sets of three windows.
Each window has a glass panel that slides in and out, a screen, and a window sill. It's still not clear which window in their apartment Zohar fell out of.
The woman said that it was "quite hard" for her to open and close her daughter's windows. She also said that she couldn't speak for other units on the floor.
I'm so surprised that these windows could have been opened by a child if that is what happened,
she said.
These have screens on them as well. What an awful accident.
Adams said in a statement:
As a single mom to a special needs child, this feels like a nightmare. My heart is broken into a million pieces.'

I am devastated, angry and struggling to come to terms with the fact that my only child has suffered severe injuries due to willful negligence of our landlord and others involved in failing to take necessary safety measures.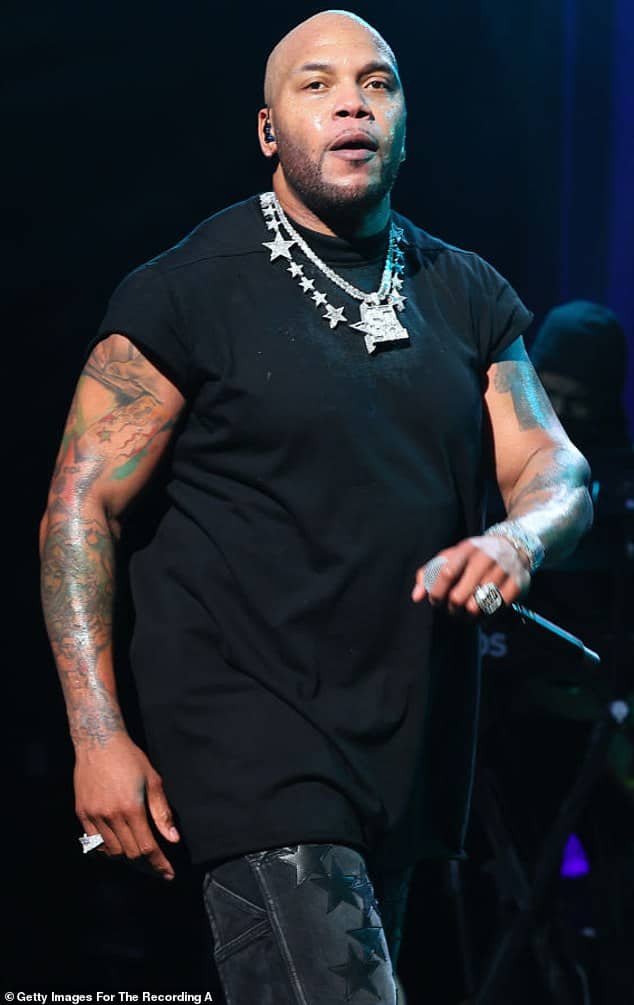 The lawsuit asks for damages, money for Zohar's medical bills, and money to pay the lawyer's fees. It says that the owners, managers, and maintenance companies of the building didn't put the right guards on the apartment's windows.
It says Zohar was "seriously injured" and will have to pay for his care. It also says Zohar "has been disabled and will be disabled in the future and will not be able to do his usual functions."
Zohar
has been and in the future will be caused great pain and suffering, to his great loss and damage and will in the future suffer great physical and mental pain and suffering,
the suit claims.
Adams told DailyMail.com in 2018 that the rapper wouldn't meet his toddler, who has a rare brain disorder, and called him an "evil f**king child."
He also said that Zohar wasn't his son, but a DNA test proved that Flo Rida was the child's father with a 99.9% chance.
Zohar's last name is listed as Dillard in the new lawsuit. This is the same last name as his father's, but Zohar is also known as Zohar Paxton.
Flo Rida has only seen his son once during the paternity test but kept his shades on and his back turned,
she said at the time.
They were in the same room. He didn't try to hug Zohar, nothing. It was very cold.
Even though the rapper paid for his son's medical insurance and gave him a monthly amount of child support that was not made public, Alexis was still in court with Flo Rida in 2018 because, according to her lawyer, "she does not feel the support is enough for a special needs child."
Zohar has hydrocephalus, a neurological condition in which cerebrospinal fluid builds up in the brain in places where it shouldn't.
Even though the symptoms vary, they can include a baby's head getting bigger than it should, feeling sick, throwing up, having a headache, or having trouble seeing.
Zohar has had many doctor visits, tests, and ultrasounds since birth for a condition that can't be cured.