If there is anything that new parents love more than their kid, it's uploading their infinite pictures onto social media sites. OMG! Sometimes it really gets on our nerves and we end up thinking "how many pictures do they exactly click each day?'. But anyway, we should not blame them because they want to show the world the innocent face of their cute kid. C'mon even we like to show off when we do something amazing. So how can new parents resist themselves when they have brought a new life to this world? 
Although parents usually keep on posting their kid's pictures everywhere, Nate Anderson thought of doing the same with a twist. A twist that is really cute and we guarantee, you won't be irritated even after seeing 30 pictures. That's right!
After the birth of Andreson's first child Rowan, he thought of introducing his kid to the world but in a funny way. What he did that he started making webcomics of his kid with Golden Retriever. And the results are pretty adorable. This webcomic is called "Boy & Dog" and it is very cute. Scroll down to see the amazing friendship between the toddler and the dog.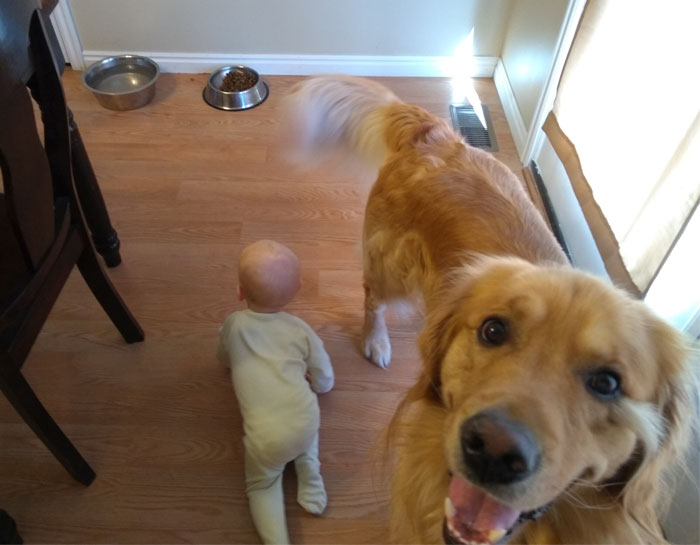 #1 You're Only In Trouble If You Get Caught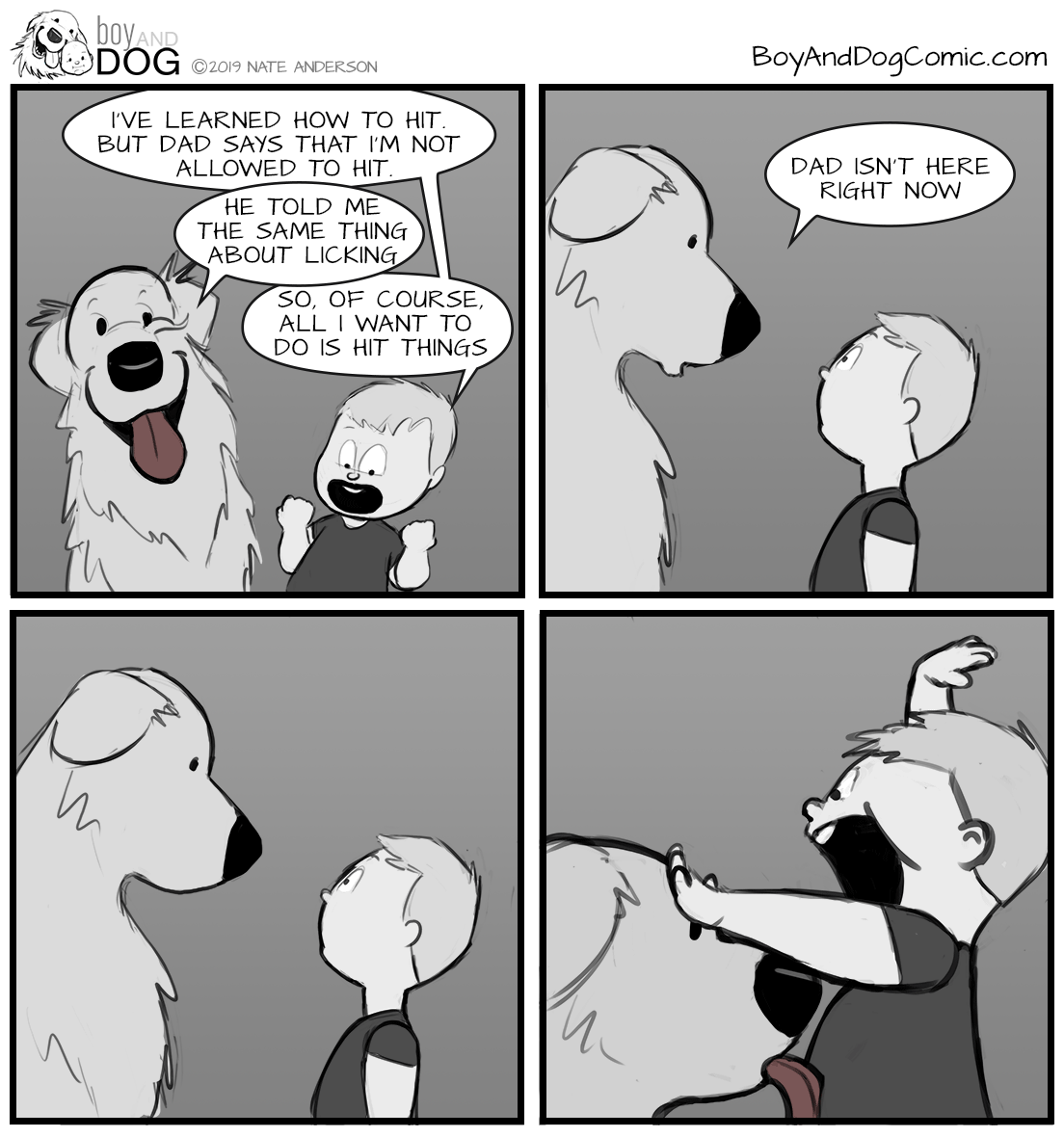 Andreson told us that he thought about starting this amazing webcomic strip after the birth of his child. "My life was changed by this wiggly, squishy boy that filled my home with laughter and poop. The animals didn't know what to think of him at first, but my Golden Retriever, Murphy, decided that he was pretty cool," he said, "Rowan loves the dog and would squeal with delight whenever Murphy was around him. I started to draw the comics to show what I imagined in my head was transpiring between them."
#2 Bum. Bumbum Bumbumbumbumbum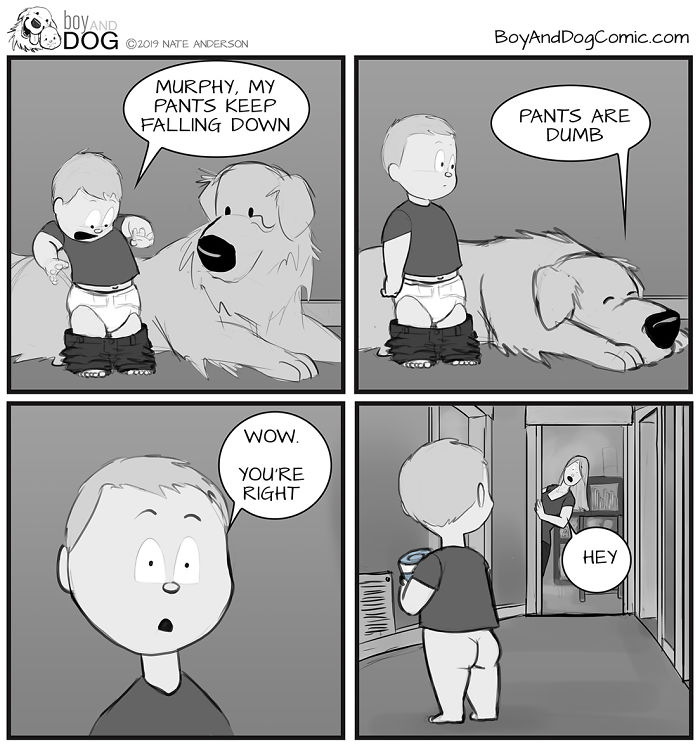 #3 When Rowan Goes To Sleep, Murphy Thinks It's Crazy Play Time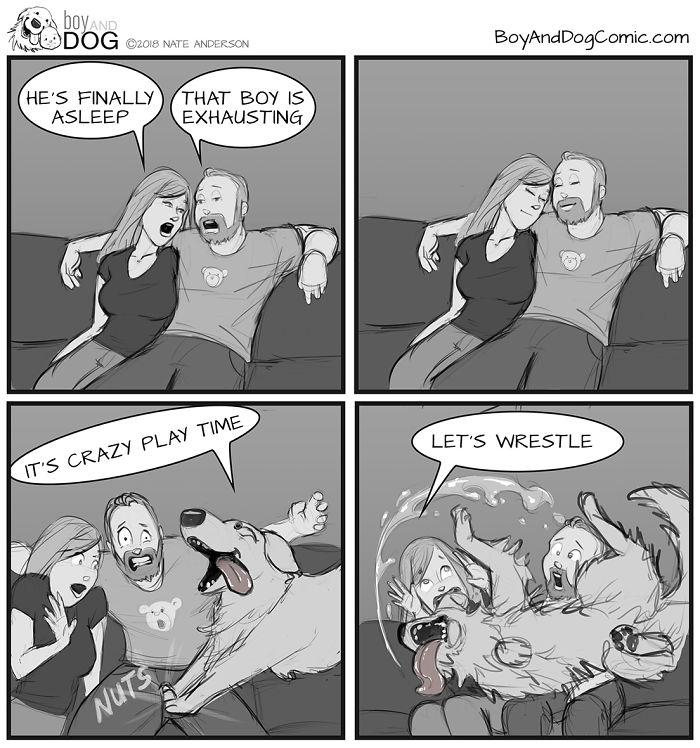 When we asked Andreson about how he gets the idea, he said, it is based on the conversation and some funny situations between his dog and baby. "Everything is new for the boy, and I imagined that it was the dog's duty to teach him all about the world from a dog's point of view," Anderson explained.
#4 Rowan Has Decided That Food Is Not For Him. Murphy Is Happy About This Decision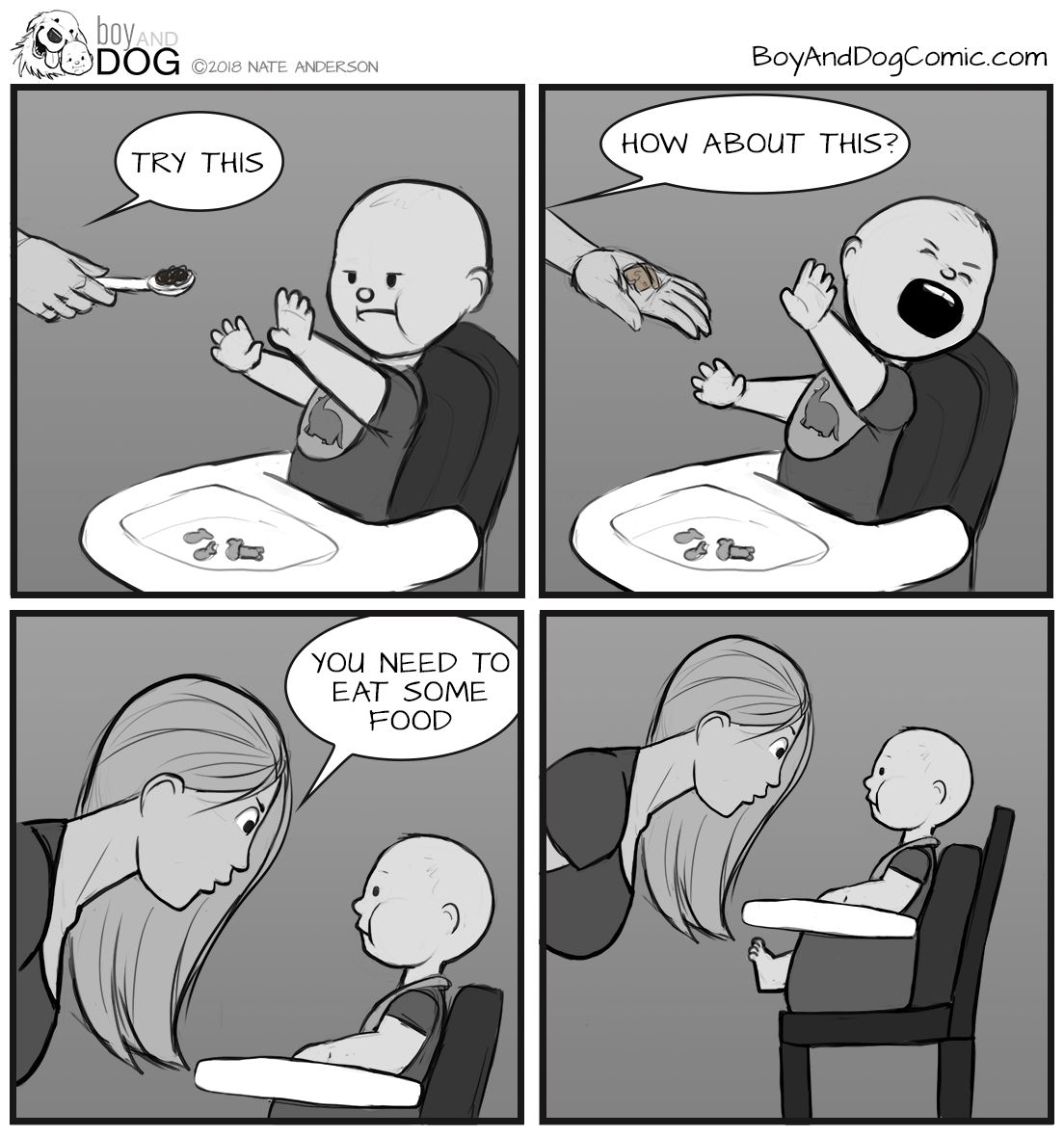 #5 Standing Is Hard When You Are A Wobbley Little Squishy Boy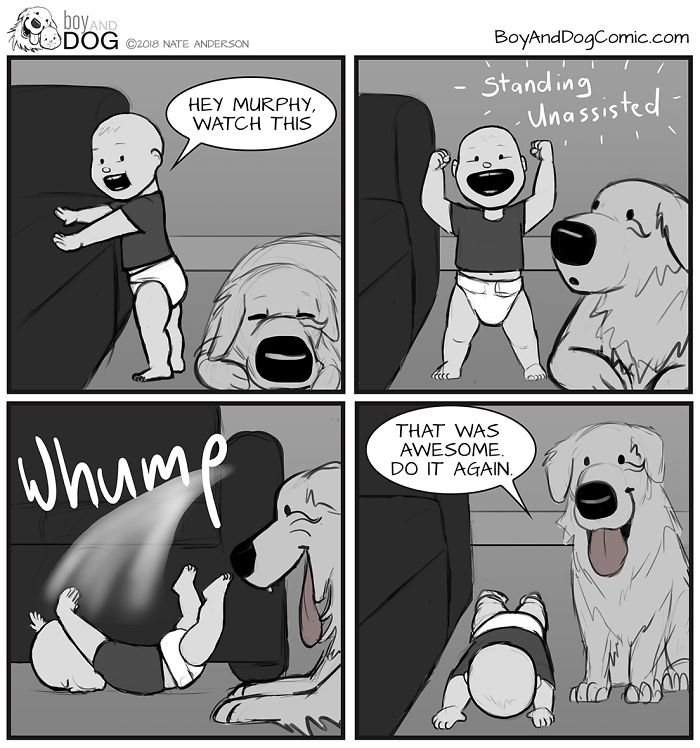 This is not the first time that Andreson is making funny and hilarious webcomics. His first series was called "Quackyboys". This comic featured him and his college roommates having "wacky adventures." However, Anderson stopped making it after they both moved on. He further said that "I was already working as a professional Illustrator/Designer at the time, and I feel that I learned more working in the industry than I ever did in school with very uninspiring instructors."
#6 My Sandals Exploded Too. And My Slippers. And My Backpack. And The Footstool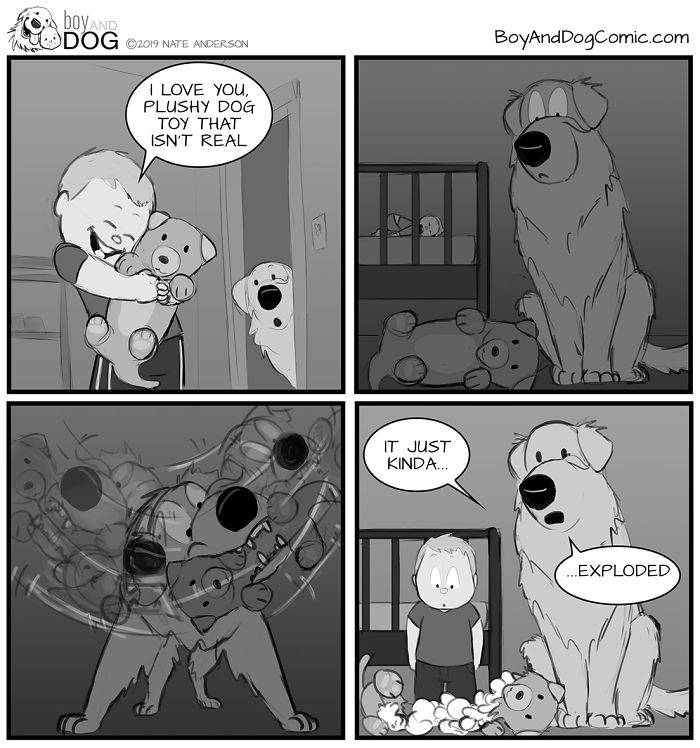 #7 Everyone Knows That Kissing It Makes It All Better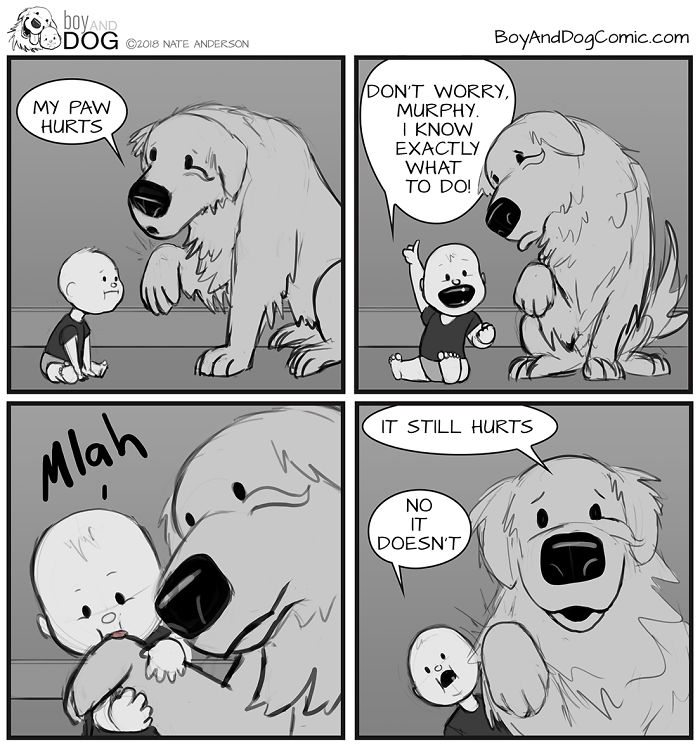 Even though Andreson's comics are quite eccentric, he has admitted that he is not very fond of talking to people. He said that "My comics give me the ability to tell funny stories and make people laugh with silly gags. I like making people happy. I like making people laugh. Unfortunately, I'm a little socially awkward so this is a better platform for my jokes."
#8 All The Things Go Down The Stairs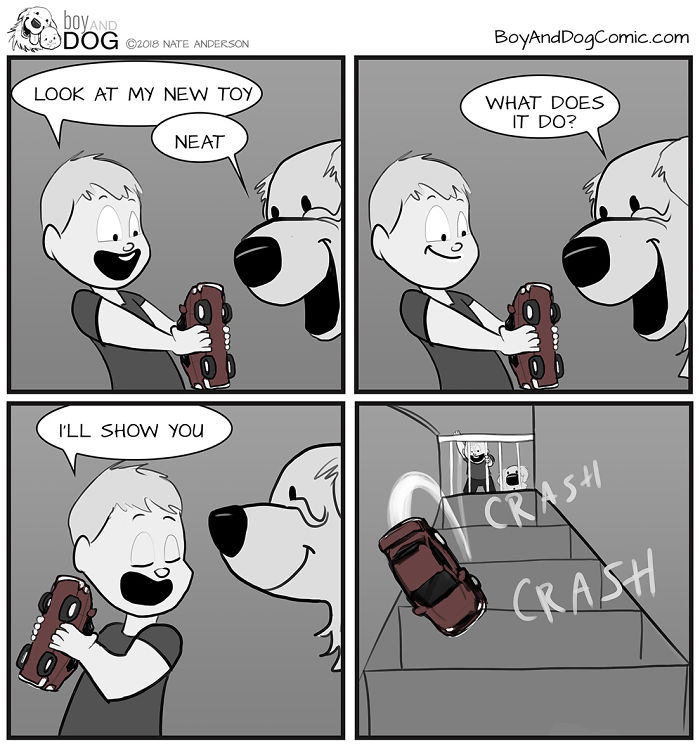 #9 I Miss My Legos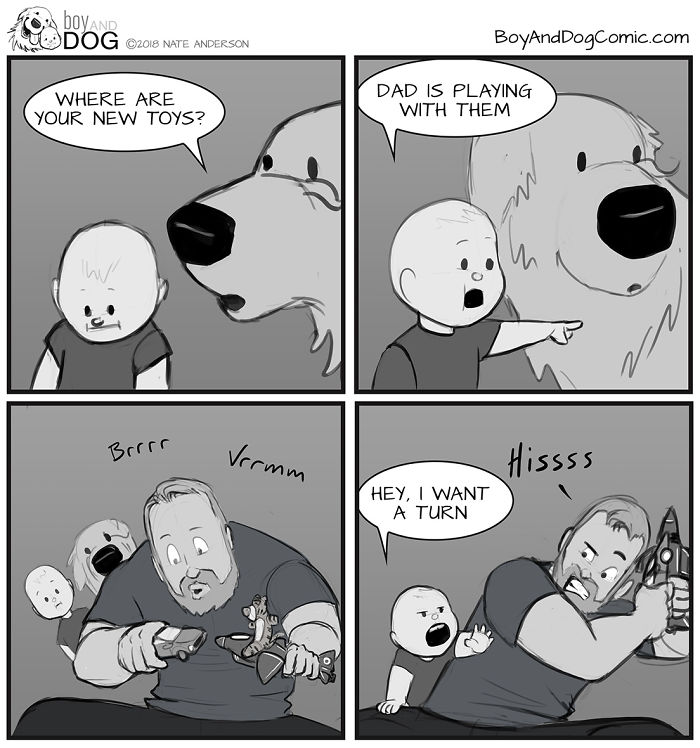 Andreson told us that he gets inspiration from artist Glen Keane "I am a huge Disney nerd and when I get into a slump, watching one of the movies he worked on gets me drawing again. Disney's Tarzan has been a huge influence on my desire to animate." About his comic, he told us that he uses photoshop to create these comics. 
#10 Baby Prison. It's A Wonderful Thing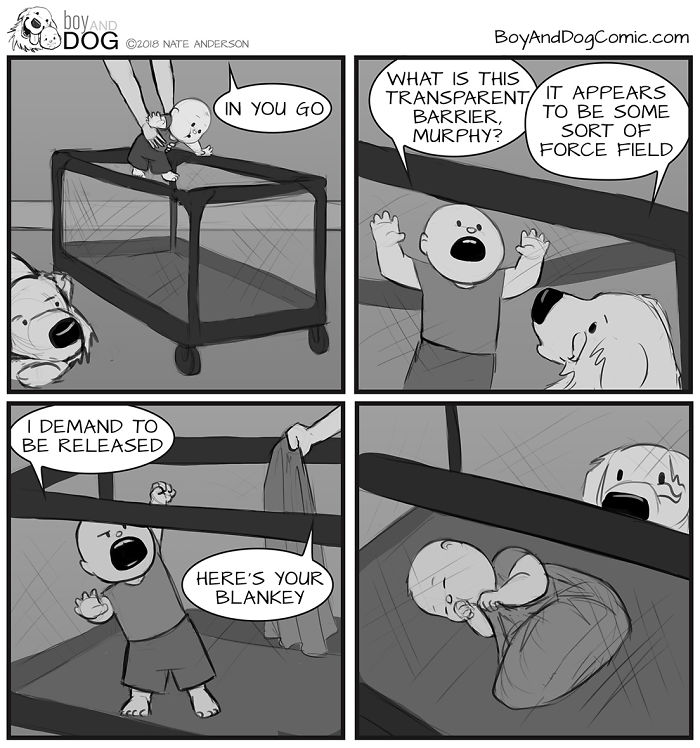 #11 Aw, He's Got His Mothers Eyes… And His Dads Beard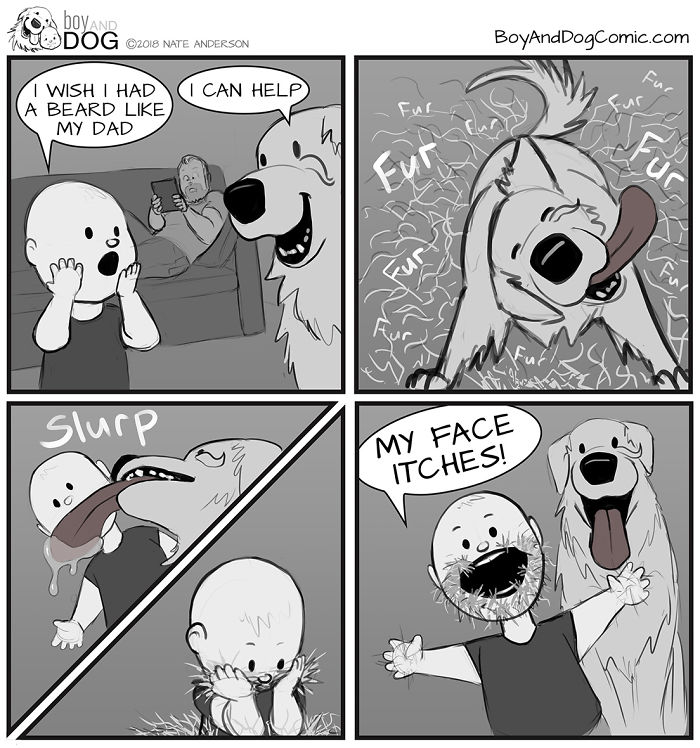 He further told us that "I know I'm not the only one who deals with baby problems and dog problems, so if I can get people to relate to my goofy drawings and have a chuckle then I will consider myself successful."
#12 Everyone Loves Going To The Vet. That's What I Told Murphy Anyway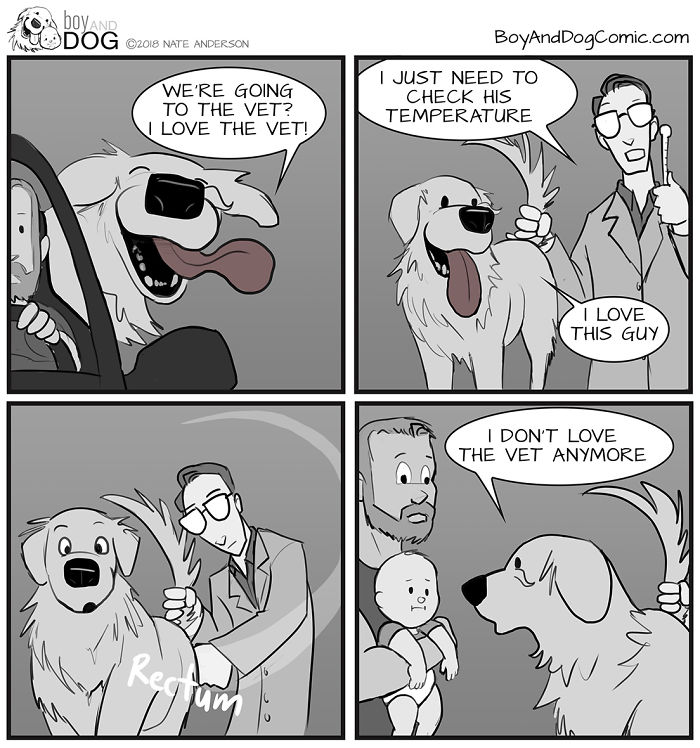 #13 This Little Guy Kicks Like A Squishy Mule
#14 So Much More Volume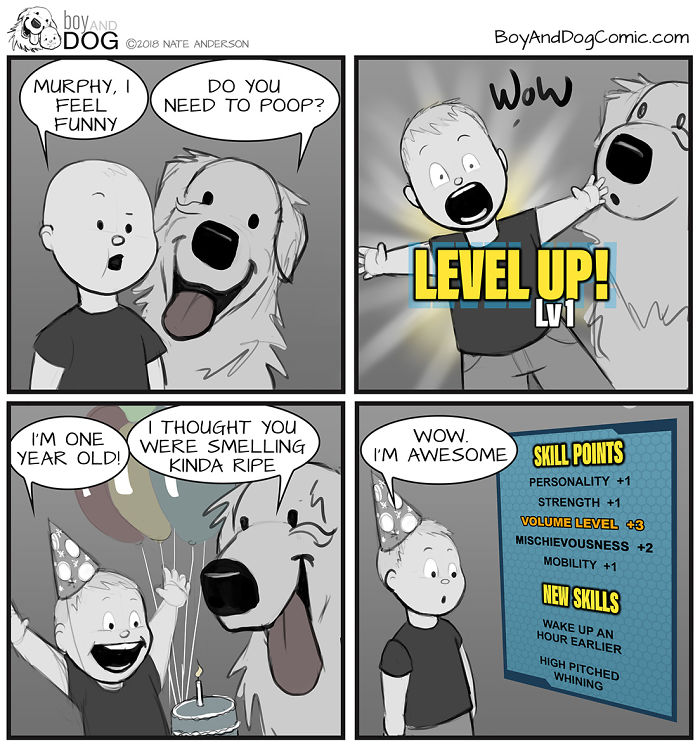 #15 Murphy Loves Rooing While Rowan Is Asleep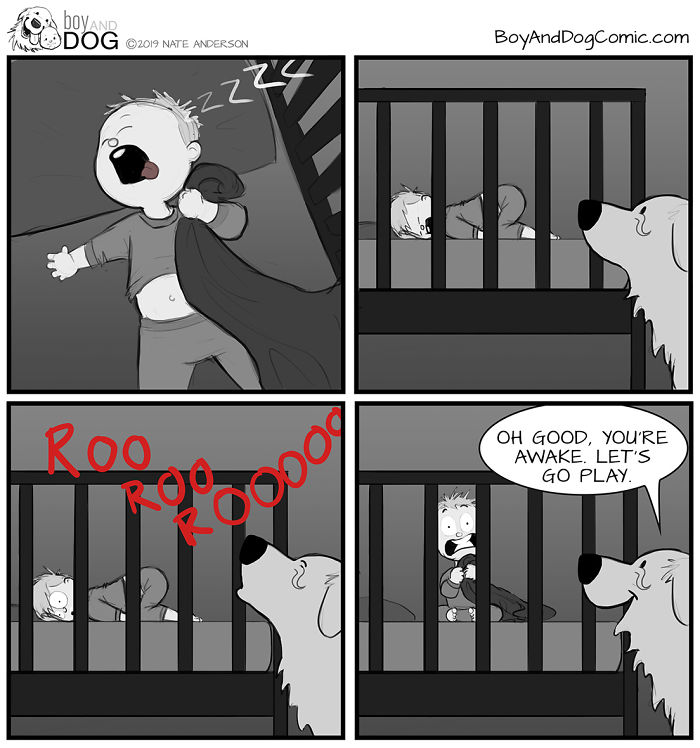 #16 Why Wouldn't You Want A Monkey On Your Head?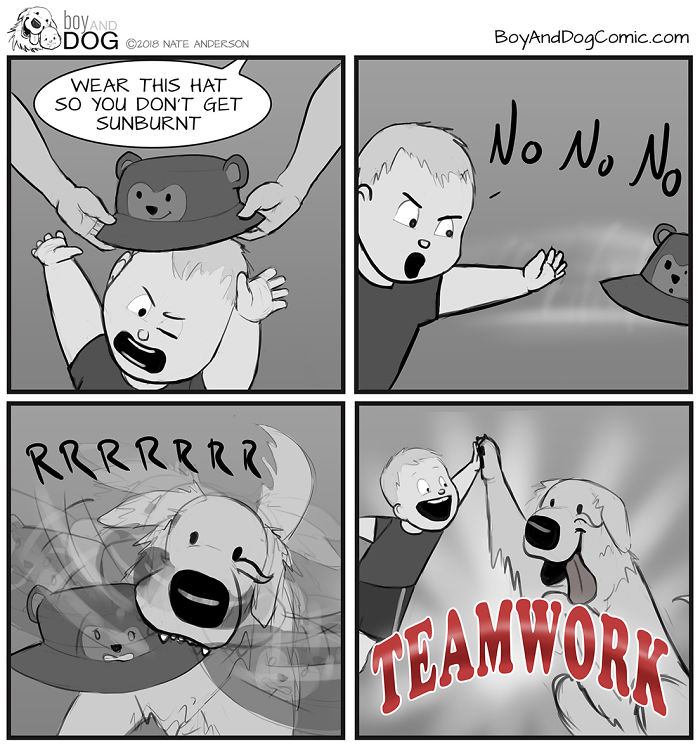 #17 Murphy Tail Is Basically A Fluffy Catapult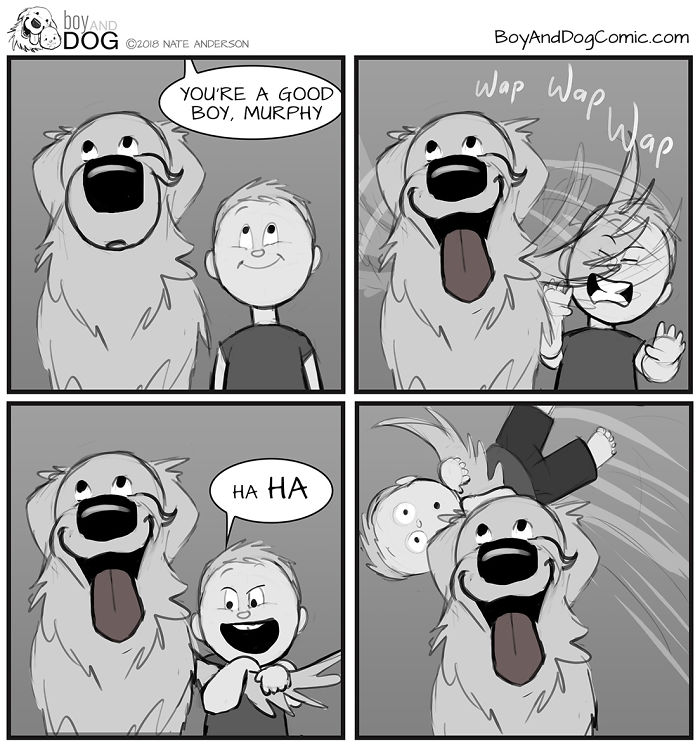 #18 Everything Is A Car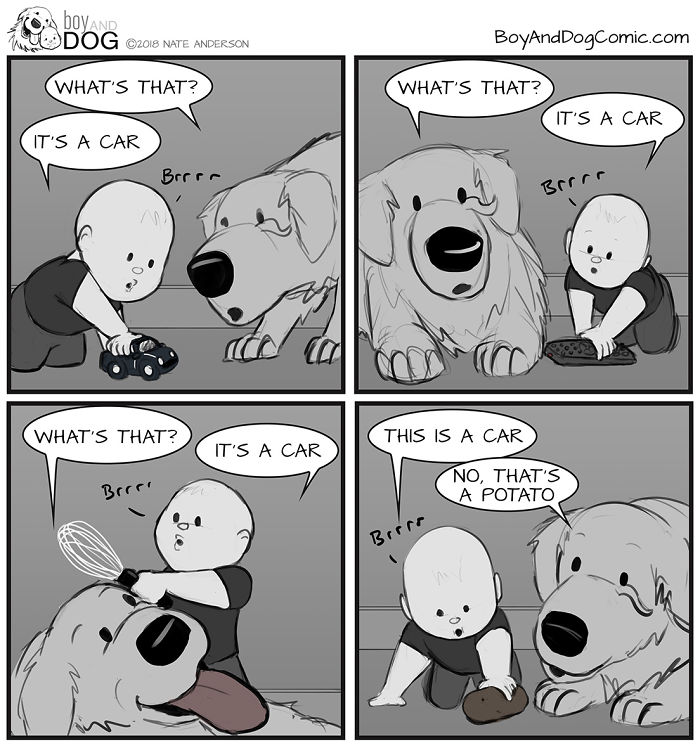 #19 The Only Way To Make This Dog Hold Still Is To Administer Tranquilizers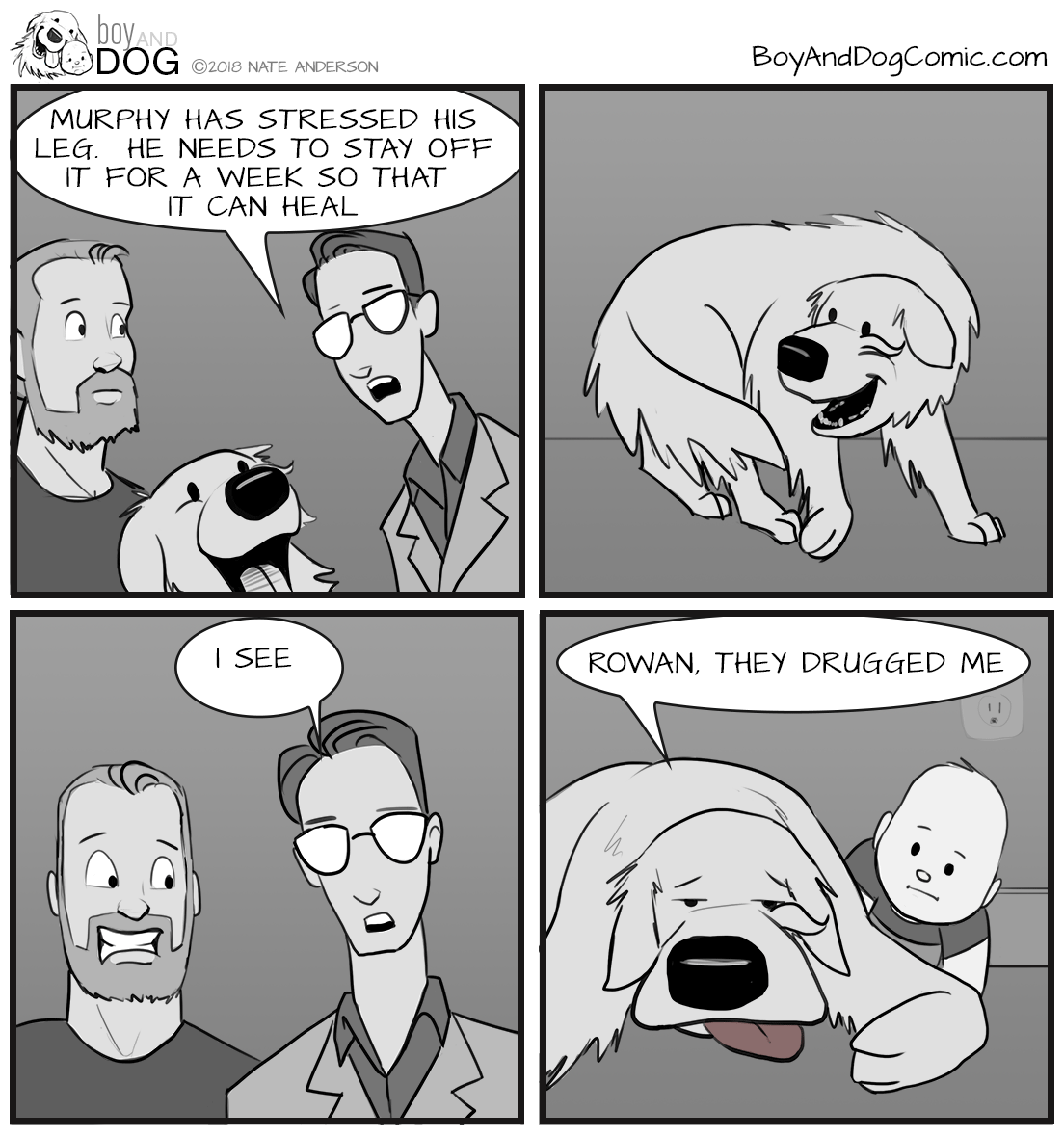 #20 The Funny Words Go Here.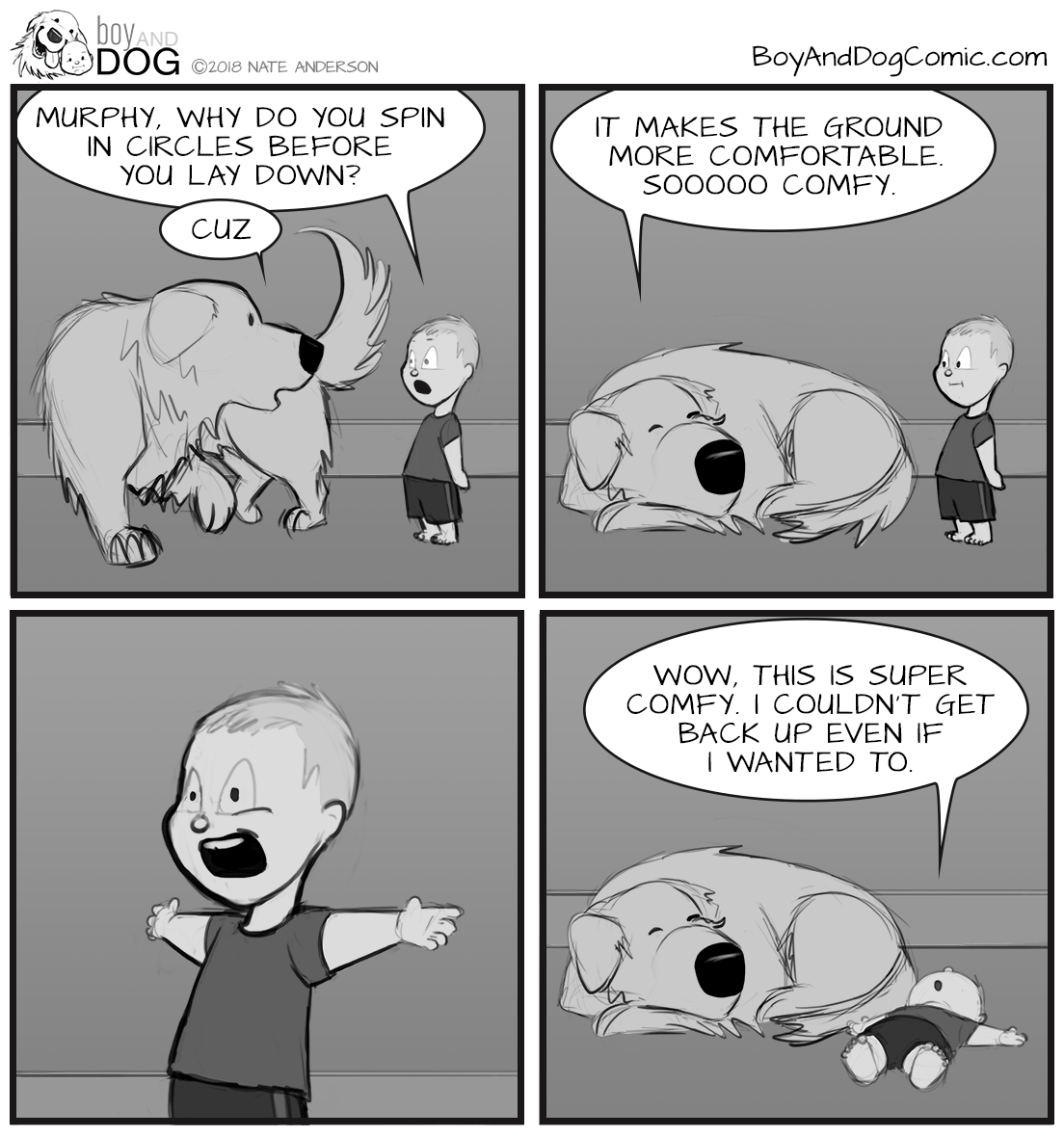 #21 He's Growing Up So Fast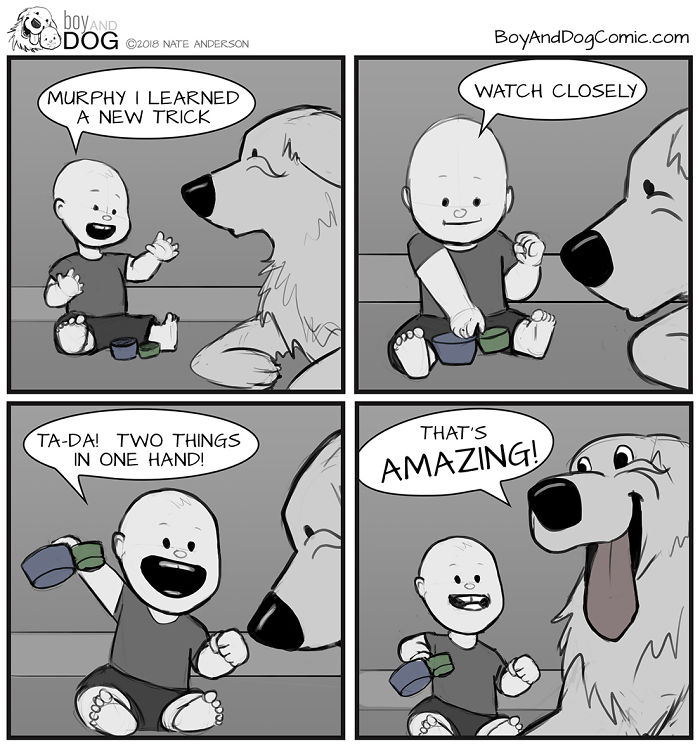 #22 The Floor Is Where All The Things Belong Anyway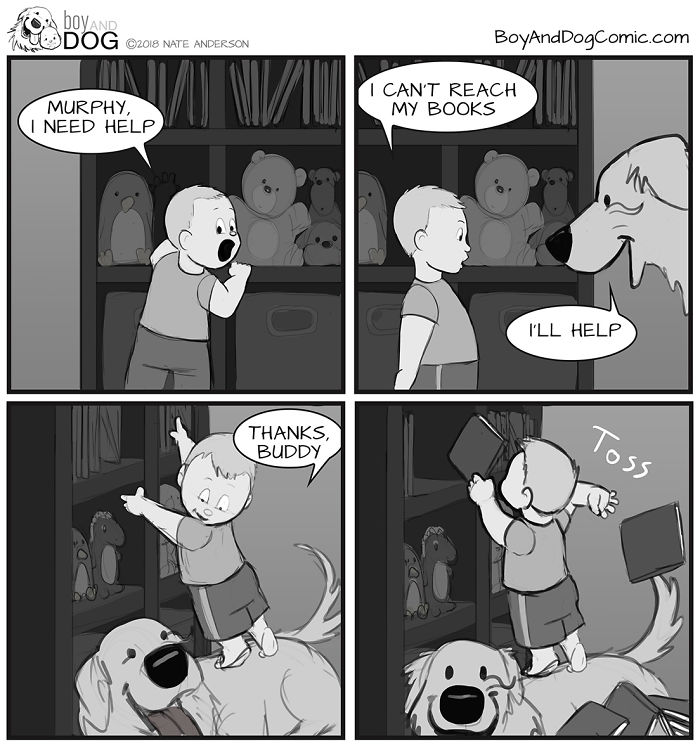 #23 Rowans Next Tutorial Will Be About Dressing Yourself.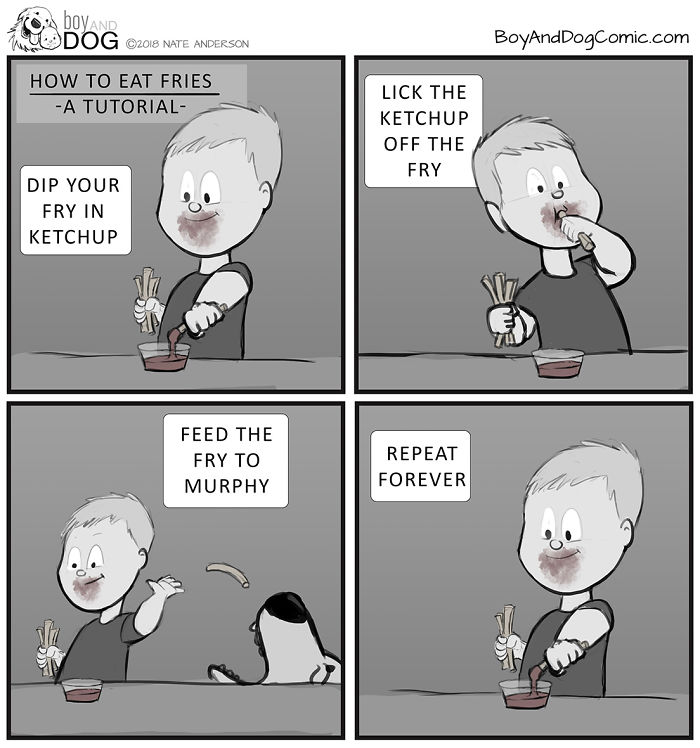 #24 Now That's A Smile To Be Proud Of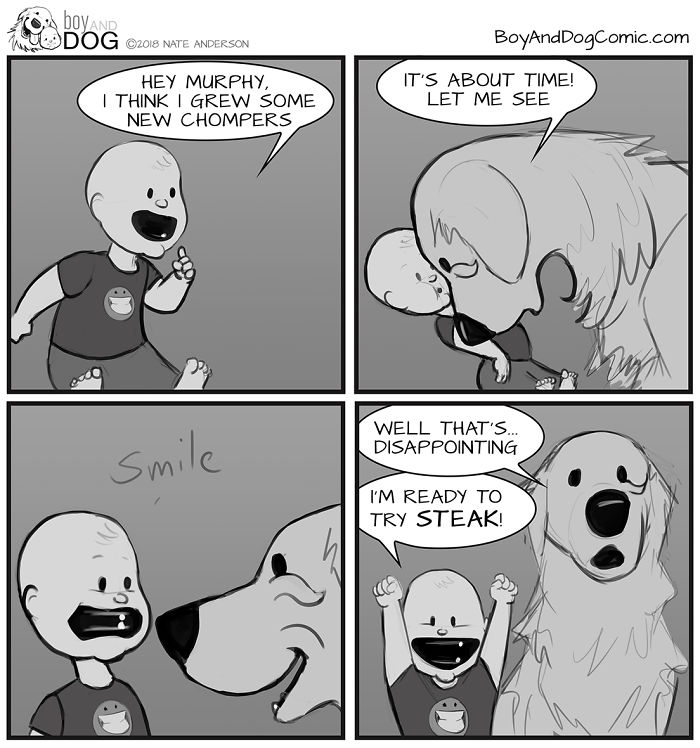 #25 Murphy Is Always Helpful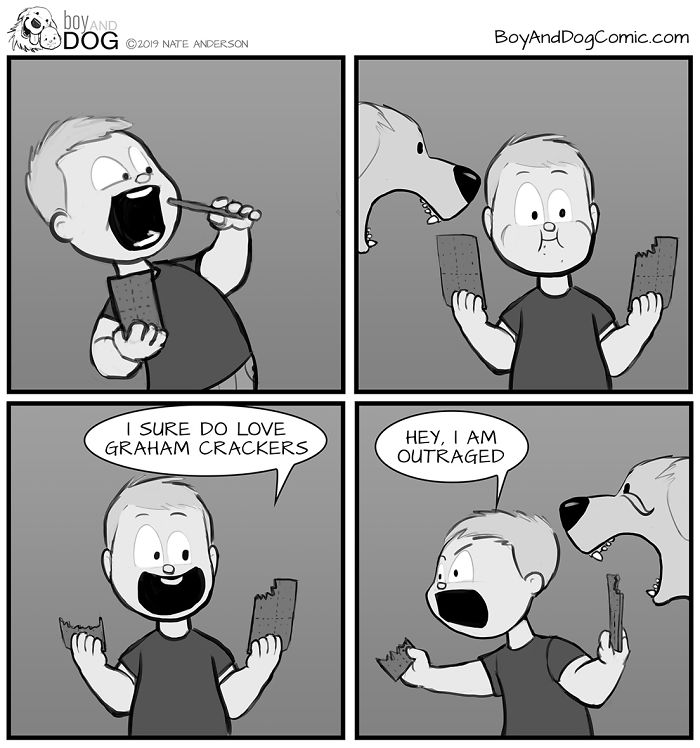 #26 He Got Murphed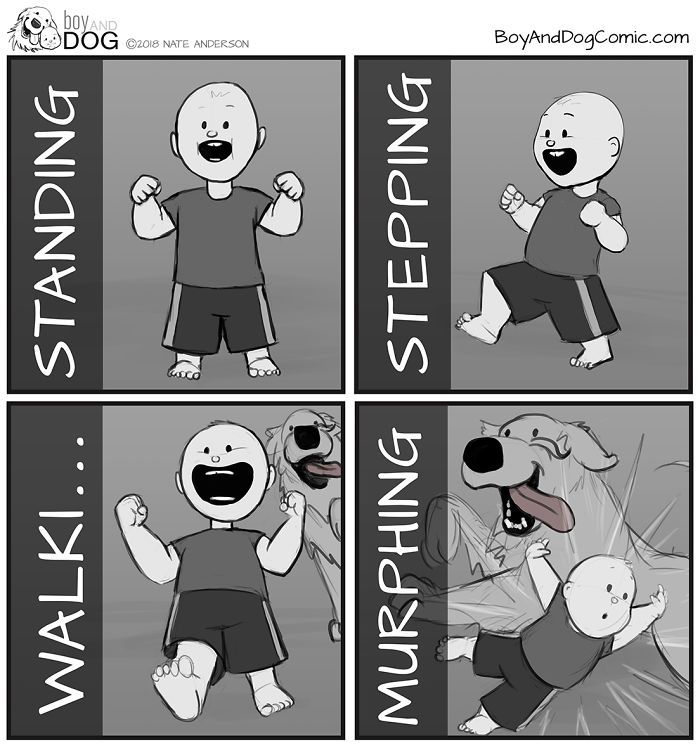 #27 It's The Simple Things. For Me The Simple Things Are Brownies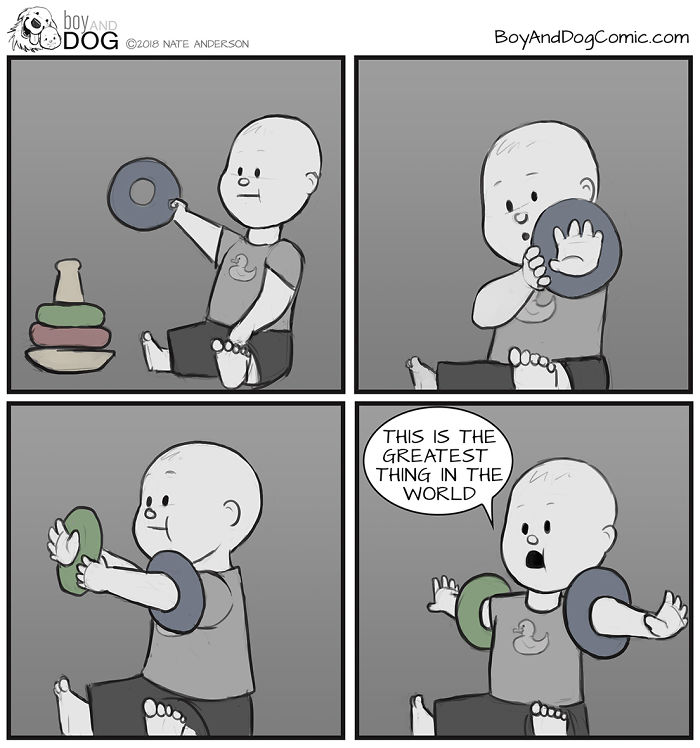 #28 That Sounds Like A Job For Someone Else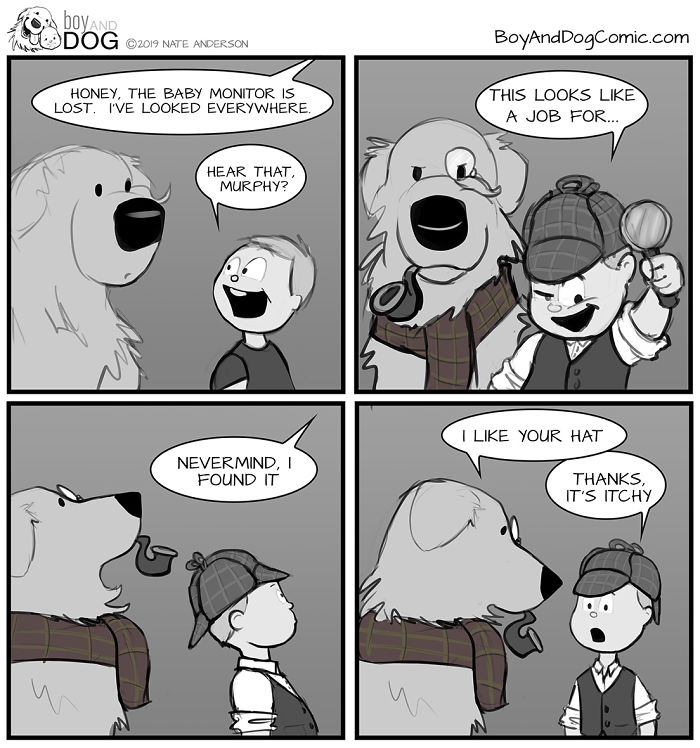 #29 Maintain Eye Contact To Assert Dominance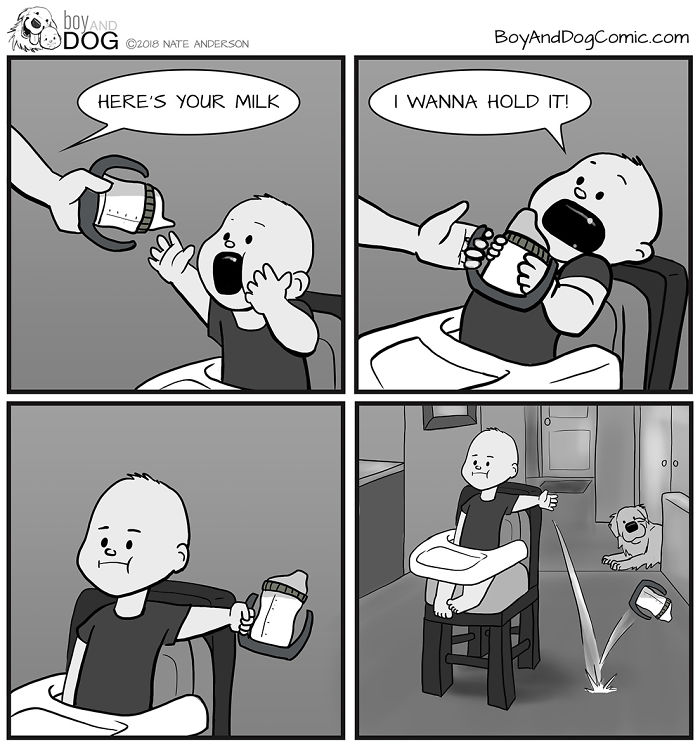 #30 But Maybe It Won't Hurt Next Time