According to an expert, the way Anheuser-Busch handled the backlash to its Bud Light brand partnership with transgender influencer Dylan Mulvaney was the worst marketing mistake in history.
In a Bloomberg Opinion column on Saturday, advertising and brand expert Ben Schott called the Bud Light mess "a marketing case study for the ages" that shows "how not to handle brand collaborations in a dangerously polarized space."
Schott put the incident in the same category as other famous brand "gaffes," like when the chairman of Barilla pasta said in 2013 that he "would never do a commercial with a homos*xual family."
And in 2006, the CEO of Abercrombie and Fitch famously said that the company only wanted "cool" and "attractive" customers, saying,
Are we exclusionary? Absolutely.
But Bud Light's action is worse than a gaffe, it's a betrayal,
Schott wrote that the brand's "cowardly" silence left Dylan Mulvaney out in the cold as the controversy blew up online and in bars all over the country.
Bud Light actively and eagerly sought out a controversial influencer in a dangerously polarized space, with neither the wisdom to plan for a backlash nor the bravery to stand by its partner,
he wrote.
Schott liked Dylan Mulvaney, but he criticized Bud Light for using the star in a campaign and then leaving her when things got hard.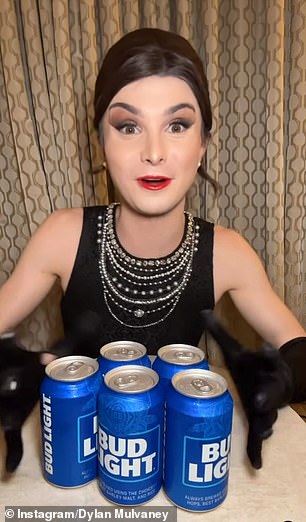 After the controversy started on April 1, Anheuser-Busch said nothing for two weeks except for a short statement. The brand's social media accounts also went silent as conservatives screamed about the Dylan Mulvaney partnership.
Kid Rock posted a video of himself shooting at Bud Light cases, country singers John Rich and Travis Tritt spoke out against the brand, and Ted Nugent said the partnership was a "middle finger to their core consumer demographic."
There was also backlash to the backlash. Howard Stern, a shock jock, said that the outrage over Bud Light was exaggerated, and podcaster Joe Rogan said that the outrage among conservatives over Dylan Mulvaney was "goofy."
As the polarization spread into bars and people insulted and blamed each other over the beers they were drinking, a few bar owners said they would stop selling Bud Light, at least temporarily, to stop fights.
Brendan Whitworth, the CEO of Anheuser-Busch, finally broke the company's silence on Friday afternoon with a public statement called "Our Responsibility to America."
We never intended to be part of a discussion that divides people. We are in the business of bringing people together over a beer,
said Whitworth in the statement, which did not directly address the Dylan Mulvaney partnership.
The first reactions to Whitworth's statement have been, to put it mildly, not very strong.
That statement is one of the worst statements I've ever seen,
Gerard Braud, a crisis communications expert, told DailyMail.com on Saturday.
It says absolutely nothing… and it took 15 days to formulate it.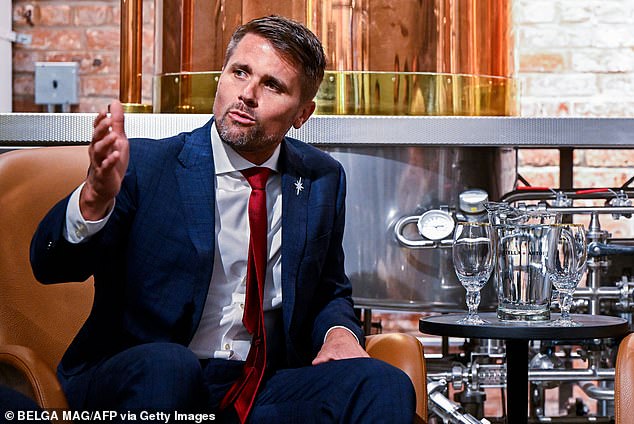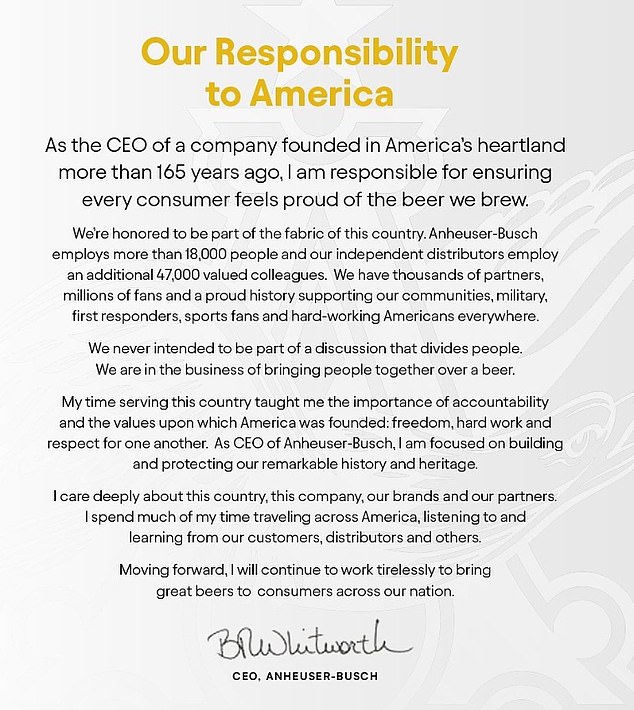 Schott, a columnist for Bloomberg, also said that the statement, which talked about "the values on which America was built," was "bizarrely complicated and inconsistently patriotic."
But this is not so much a story about trans rights, Dylan Mulvaney or internet outrage, as one about corporate bravery,
he wrote.
Even Mulvaney's harshest critics must acknowledge that she is standing tall in a hurricane of hate, taking the invective with remarkable poise. In cowardly contrast, Anheuser-Busch instantly retreated into the shadows,
he wrote.
Alissa Heinerscheid, vice president of Bud Light, said the day before Dylan Mulvaney announced the partnership that she wanted to make the brand less "fratty."
I had a really clear job to do when I took over Bud Light, and it was: 'This brand is in decline, it's been in a decline for a really long time, and if we do not attract young drinkers to come and drink this brand, there will be no future for Bud Light,
she told a podcast.
She also criticized the company's old logo, saying:
We had this hangover, I mean Bud Light had been kind of a brand of fratty, kind of out-of-touch humor, and it was really important that we had another approach.
Schott wrote that Bud Light tried to "evolve and elevate" its "fratty" image by riding on a trans-influencer's coattails, but gave up when things got hard.
Whitworth, who used to be a Marine lieutenant, a CIA officer, and a graduate of Harvard Business School, didn't talk about the Dylan Mulvaney partnership or apologize in his statement on Friday.
Instead, he showed that he didn't want to talk about anything that could cause division by saying:
I am responsible for ensuring every consumer feels proud of the beer we brew.
He continued:
My time serving this country taught me the importance of accountability and the values upon which America was founded: freedom, hard work and respect for one another. As CEO of Anheuser-Busch, I am focused on building and protecting our remarkable history and heritage.

I care deeply about this country, this company, our brands and our partners. I spend much of my time traveling across America, listening to and learning from our customers, distributors and others.

Moving forward, I will continue to work tirelessly to bring great beers to consumers across our nation.