Nike made a lot of people angry when it partnered with Dylan Mulvaney, a transgender influencer who posed for pictures wearing leggings and a sports br*.
Dylan Mulvaney, who is 26 years old, posted videos and photos on Tuesday to her Instagram page. She tagged Nike Women and linked to the product pages.
Feminists and some men were very angry about Nike's decision to give a transgender woman a sponsorship for a popular women's line.
Nike has used a trans star in their marketing before. In 2021, Mara Gomez, the first trans woman to play in Argentina's professional football league, was the face of their "Play New" campaign.
Dylan Mulvaney hasn't had surgery to change her gender yet, but she is taking hormones to help her become a woman. She has been keeping a record of her transition "into girlhood."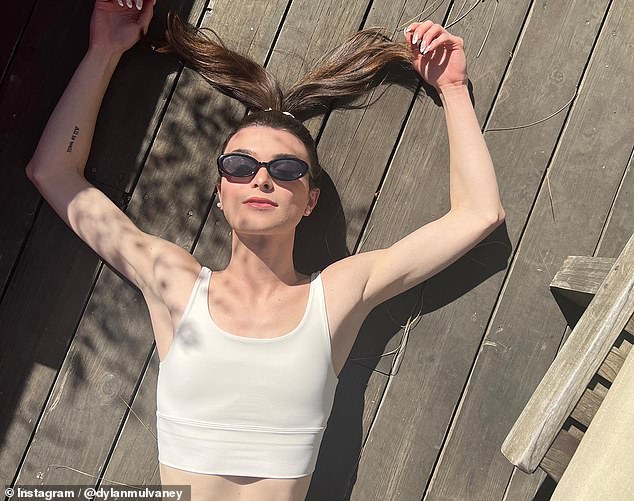 In her most recent Nike posts, Dylan Mulvaney was seen in a sunny backyard doing yoga poses while wearing black skin-tight leggings and a white sports br*.
In a video, she could be seen dancing around the yard with her bare feet while an upbeat song played in the background.
Many people took to social media to say that they were angry that Dylan Mulvaney got the sponsorship instead of a real woman and that they didn't understand who the brand was trying to sell its products to.
I really used to enjoy @Nike as a brand but I will never wear another shoe from them after they feature Dylan Mulvaney as their new ambassador for women's clothing,' one user wrote. 'When will these brands understand that women do not want men dressing up as them to advertise their products?
Dylan Mulvaney is making the biggest mockery out of women and I am officially outraged following his collaboration,
another wrote.
You chose him over all hardworking women who workout regularly in your activewear? What a damn damn shame. Absolutely disgusting.
Nike Women have hired Dylan Mulvaney to be the new face of their Women's Br* & Sports Br* Range,
wrote a third.
A brand would likely pay someone like Dylan, who has 1.7 million followers + huge media attention around $50,000-100,000 for this! Why doesn't Nike pay a real women to promote a product that is solely for women?
Others said that it seemed like Dylan Mulvaney was making fun of women by putting on a "minstrel show" of femininity in the video. This is something that has been said about her content in the past.
She has been writing about her journey, saying that she didn't have a childhood as a girl and was trying to imagine what that would be like before entering "womanhood," even though some people have criticized her for calling it "girlhood."
Not everyone was angry, though. Some people liked what Dylan Mulvaney wrote and said things like
How can someone be this majestic and gorgeous??' or 'Girl you have no business being so god damn perfect.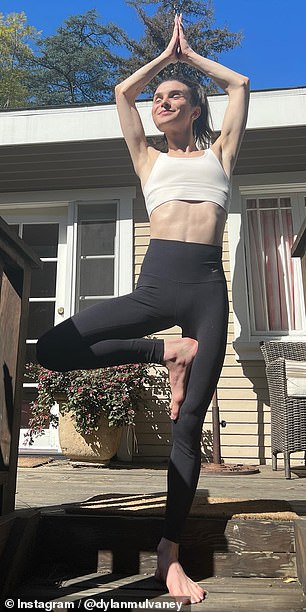 It's still not clear how much Dylan Mulvaney was paid for the posts, but people who work with social media sponsorships have told DailyMail.com that she could be making more than $50,000 per paid post. Neither Mulvaney nor Nike replied to requests for comment from DailyMail.com.
Mulvaney's sponsorship by Nike comes just a few days after she caused controversy by becoming a spokesperson for Bud Light. As part of that sponsorship, her face appeared on a limited-edition run of the company's beer cans.
She has upset a lot of feminists by writing about her "year of girlhood" since she became a woman. Mulvaney had painful facial feminization surgery earlier this year. In this surgery, facial bones are cut off and smoothed down to give trans women a softer, more feminine look.
Just a few days ago, conservatives were very angry that Bud Light worked with Mulvaney on a March Madness promotion.
People went on social media to say they didn't understand why Bud Light was sponsoring the game. Some even filmed themselves throwing Bud Light cases in the trash or pouring cans of beer down drains.
Kidd Rock even posted a video of himself shooting a stack of Bud Light cans with an assault rifle and saying,
F**k Bud Light and F**k Anheuser-Busch.
Dylan Mulvaney's sponsorship of Bud Light wasn't the first time that it made people look twice. In October, when she was on Ulta Beauty, it caused a lot of trouble, and there were calls to boycott the company. Critics said she was "misogynistic" because she "appropriated" women's roles.
In the same way, some people were shocked and confused by a post about Tampax products for women. Two replied:
Is this a joke?
She often gets in trouble for calling the vagina a "Barbie pouch."
She has a huge following on TikTok because she posts about her transition to a transgender woman. She used to say she was "nonbinary," but in March she told her followers she was a girl.
Dylan Mulvaney talked to Biden for NowThis News in October as part of a group of six progressive activists. In the interview, the Democrat promised to protect "gender-affirming care" and said that states shouldn't make it hard for transgender people to get the care they need.
After the most recent Nike posts, viewers were still shocked.
I've seen that #DylanMulvaney is the face of #Maybelline the face of #Budlight and now the face of #Nike,
a Twitter user wrote.
Women are losing sports, our own makeup, s****y beer and now clothes. We don't have rights over our own bodies but Trans people do?
Some feminists have accused Mulvaney of "womanface" in the past. They say she plays the parts of a woman she likes without having to deal with the misogyny that women face every day.
She became famous on TikTok for her "days of girlhood" series, which has 10.8 million followers, and in which she talks about things she thinks are "accessible" to her as a trans woman.
They include falling in love, being a performer, having a family, and being a mother.
She has made tens of thousands of dollars, made friends in the White House, and is now trying to get into the world of Hollywood stars.
Last month, Mulvaney's rise as a social media influencer was evident when Vice President Kamala Harris sent her a letter for her "365th day of living authentically."
President Joe Biden, the boss, had already met her at the White House in October.
The transgender poster girl recently said that her personal relationships have broken down and that it's hard for her to get a date. She also said that she hasn't been kissed "as a girl" yet.