People choosing to be kind doesn't mean you can take advantage of it. It sounds like it. Some people have so little shame that they flaunt their greed and beg for money. It is easy to do in the digital age.
There are tons of people trying to get money from naive altruists. That is where the aptly named 'Don'tFundMe' subreddit comes in. The most egregious and greedy GoFundMe campaigns are shamed by the online community.
Some of the projects are as blatant as they can be. Some of the tongue-in-cheek social commentaries attempt to have some fun and cheer people up. You can scroll down to see what the landscape is like. Tell us about the worst campaigns you have ever watched.
"I was inspired to create /r/DontFundMe after seeing a college friend post a GoFundMe for a Christian mission trip overseas that, at worst, looked suspiciously like a vacation and, at best, looked to not be especially beneficial to the community it was supposed to help. Her campaign was never posted to the subreddit and only served as the initial inspiration," they shared.
1. What even.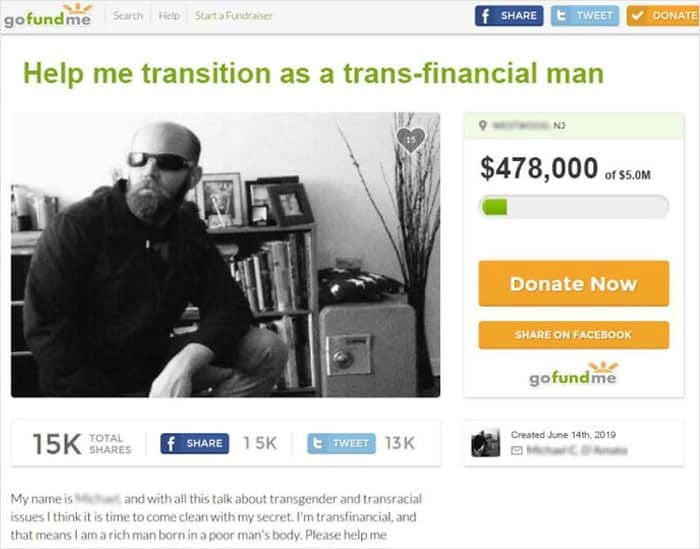 The founder of the online community told that they don't know why the people behind the most egregious campaigns aren't ashamed of themselves.
"Maybe part of the reason is that these donations are entirely voluntary, so they don't have the same level of guilt as, for example, a pharmaceutical company holding lifesaving medication hostage behind outrageous costs," the moderator mused why some folks have an easy time begging for money on GoFundMe.
2. I got this from my friend 2 months ago.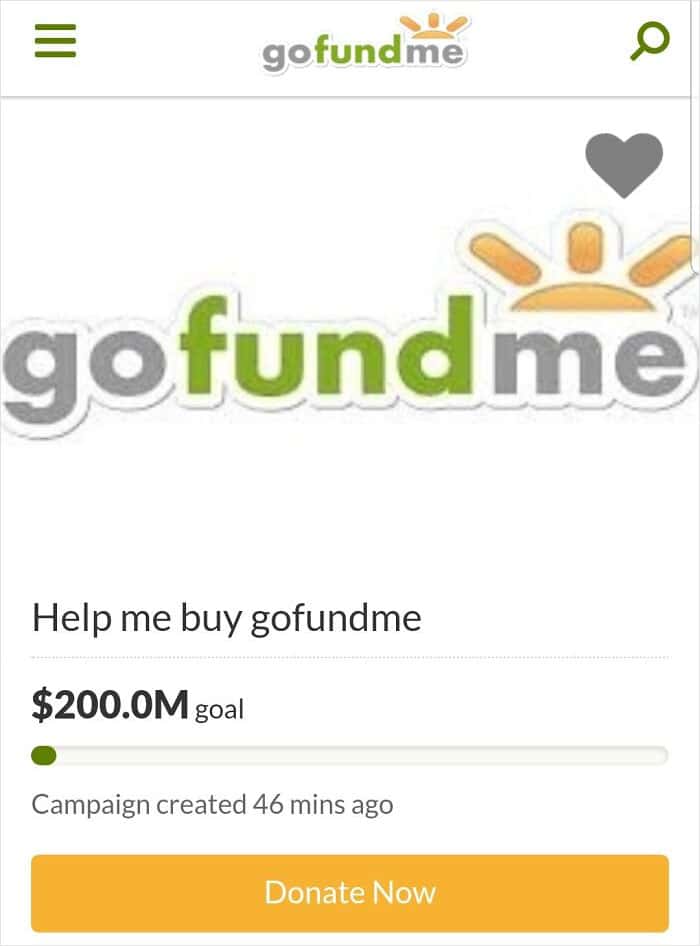 3. The Green Bean Man Has Raised $5.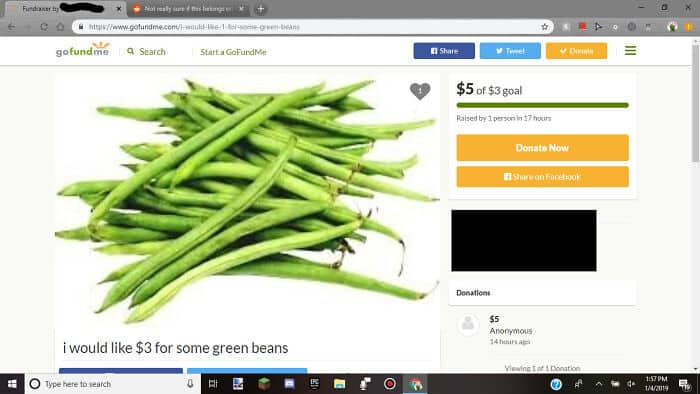 If they could do anything, we were curious about what the mod would do. They admitted that they haven't followed the platform's development over the years. They have a novel idea.
"We could take all of the healthcare-related campaigns and bundle them all into one single one-day campaign, say on April 18th. We could call it 'Tax Day' and ensure that the funding is used to cover all healthcare costs for every citizen of the United States. Maybe we could even have all of the billion-dollar corporations donate to this campaign," they said. The idea is great. Hopefully, someone will donate to the charity.
4. If it works, this will give more backstory to the actual GoFundMe.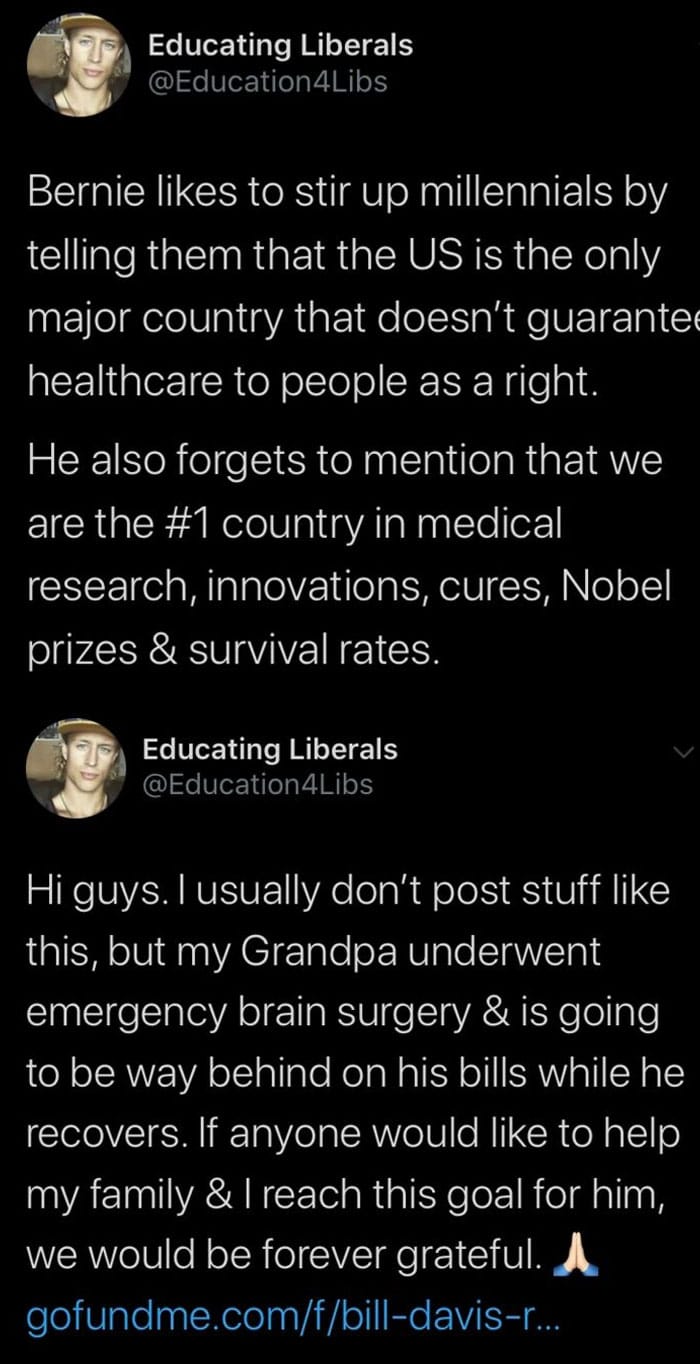 5. The Hat Fund That's Actually Pretty Good.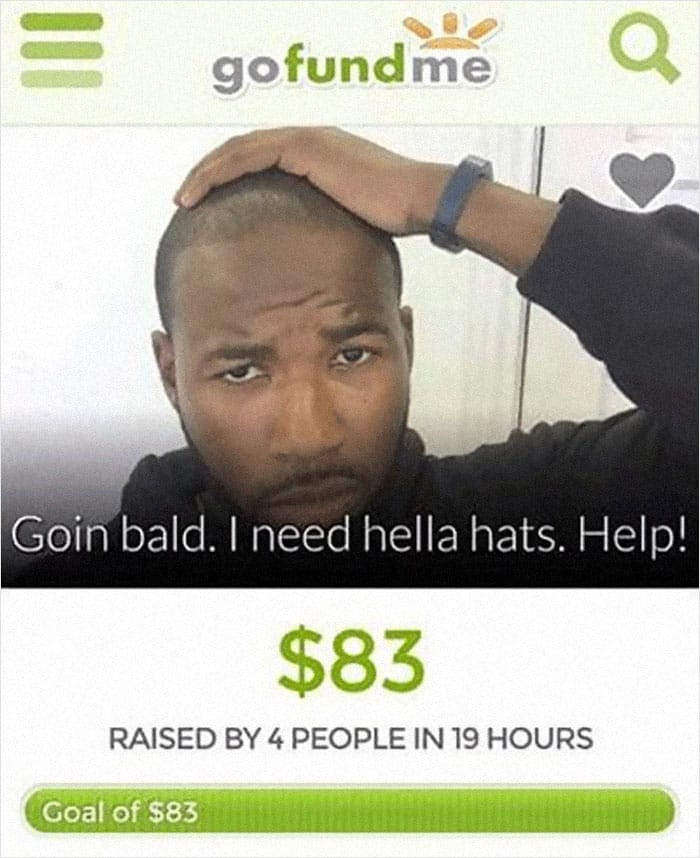 6. The Fund For This Lady's Midlife Crisis Tat.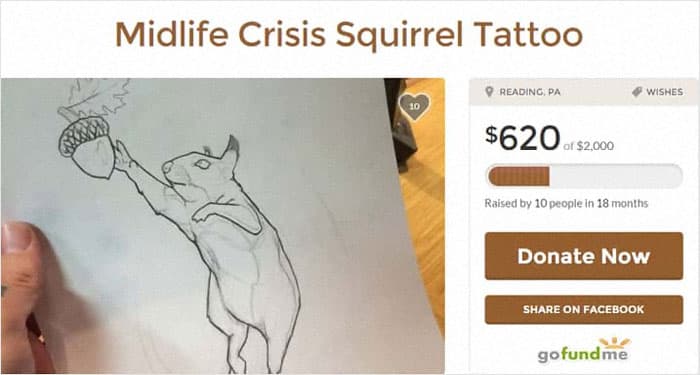 You can help a woman cross two items off of her bucket list. The first was to get a tattoo of a squirrel and the second was to raise money online. She decided to combine them.
The founder told us that the r/DontFundMe is dying. Over the past several years, there has been no growth or engagement.
"I'd like to believe that the majority of Redditors are moving away from 'outrage' subreddits like this one I created. I've come to realize that subreddits like this probably don't have a positive lasting effect on mental health," they said.
7. A Fund To Erase This Bad Decision.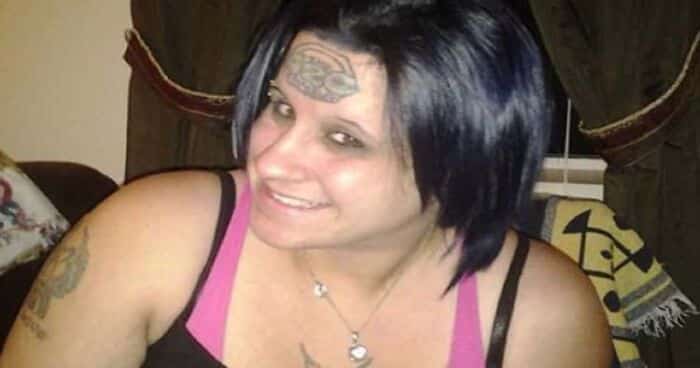 It was difficult for this tattooed New Yorker to get a job. She started a campaign to get the 420 tattoo removed from her forehead in order to improve her job prospects.
She raised more than $1,000 in a few days.
8. Don't Give This Guy Any More Money.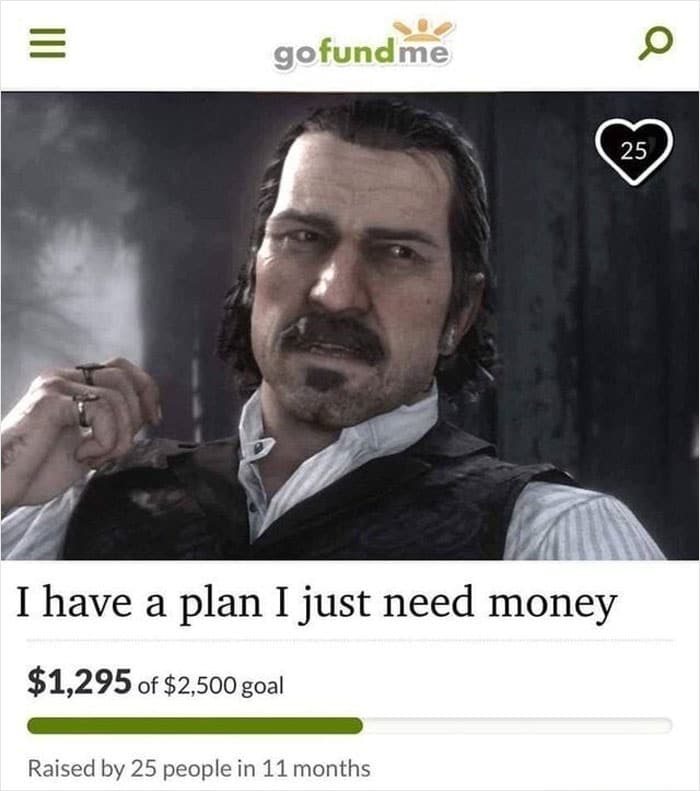 9. The former child star spent all his money.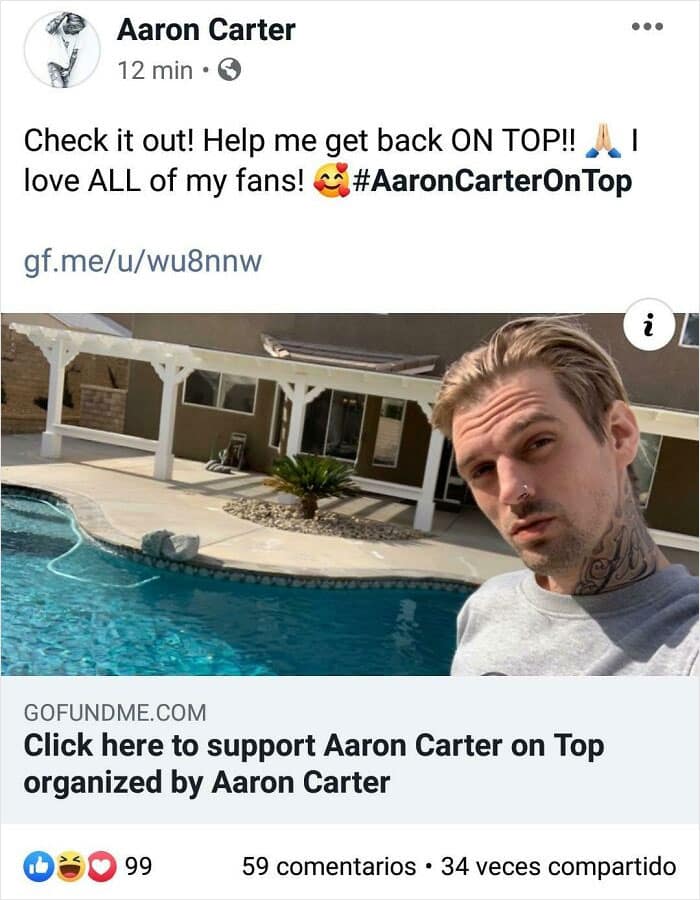 California-based GoFundMe allows people to raise money for pretty much anything and everything, as long as it fits the company's community standards. While you might see some fairly run-of-the-mill requests to help an animal shelter or a family who has lost their home, you will also find some Americans begging for help because they can't afford life-saving medication or healthcare.
Over 120 million donors contributed over 9 billion dollars to the site. Not every project is altruistic. Some people see the platform as a way to make a quick buck. They were called out by the 'Don'tFundMe' subreddit.
10. Kid At The School I Go To.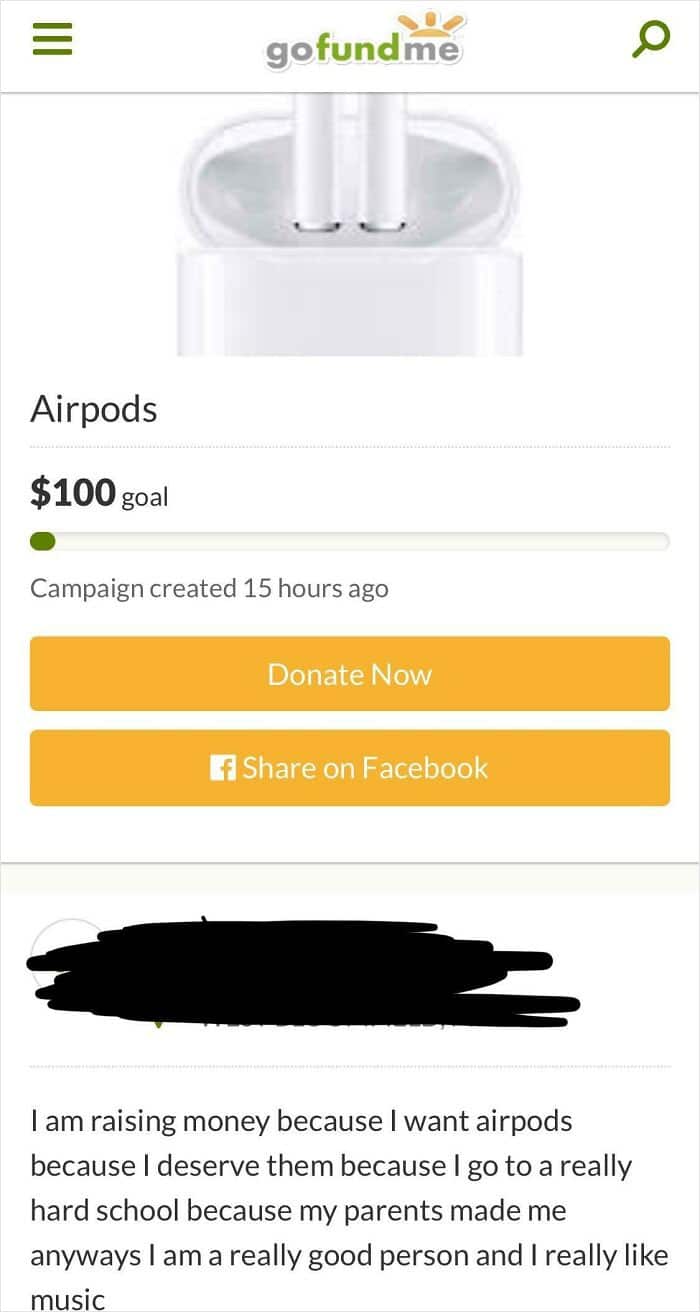 11. The Fund To Put A Tardis Into Space.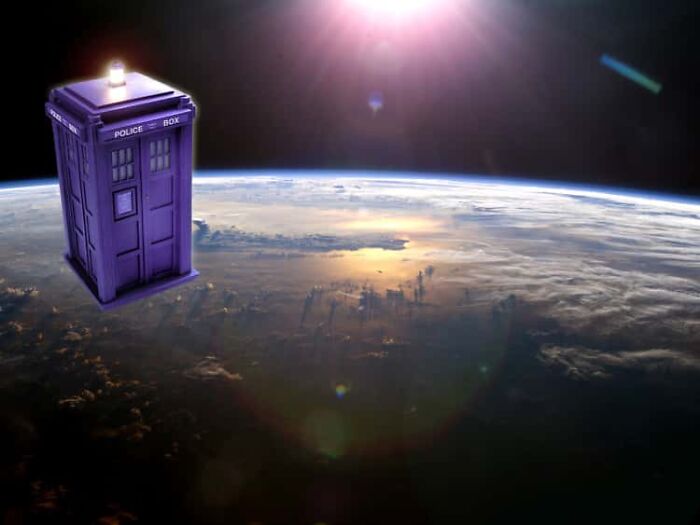 12. The fund to save his relationship.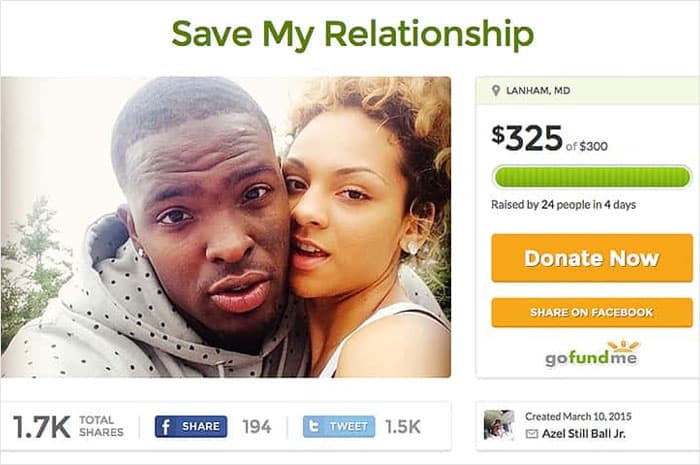 What's a guy to do when his entire relationship is dependent on a $325 plane ticket to Miami? His future is in the hands of the internet.
For the past 7.5 years since it was founded in October of 2014, it has grown to over 200k members. A single person runs the whole subreddit.
The online group presents itself as a place for those born without shame-glands, dedicated to showcasing particularly egregious GoFundMe projects.
13. A girl is trying to get people to give her $20,000 so she can use her dad's car.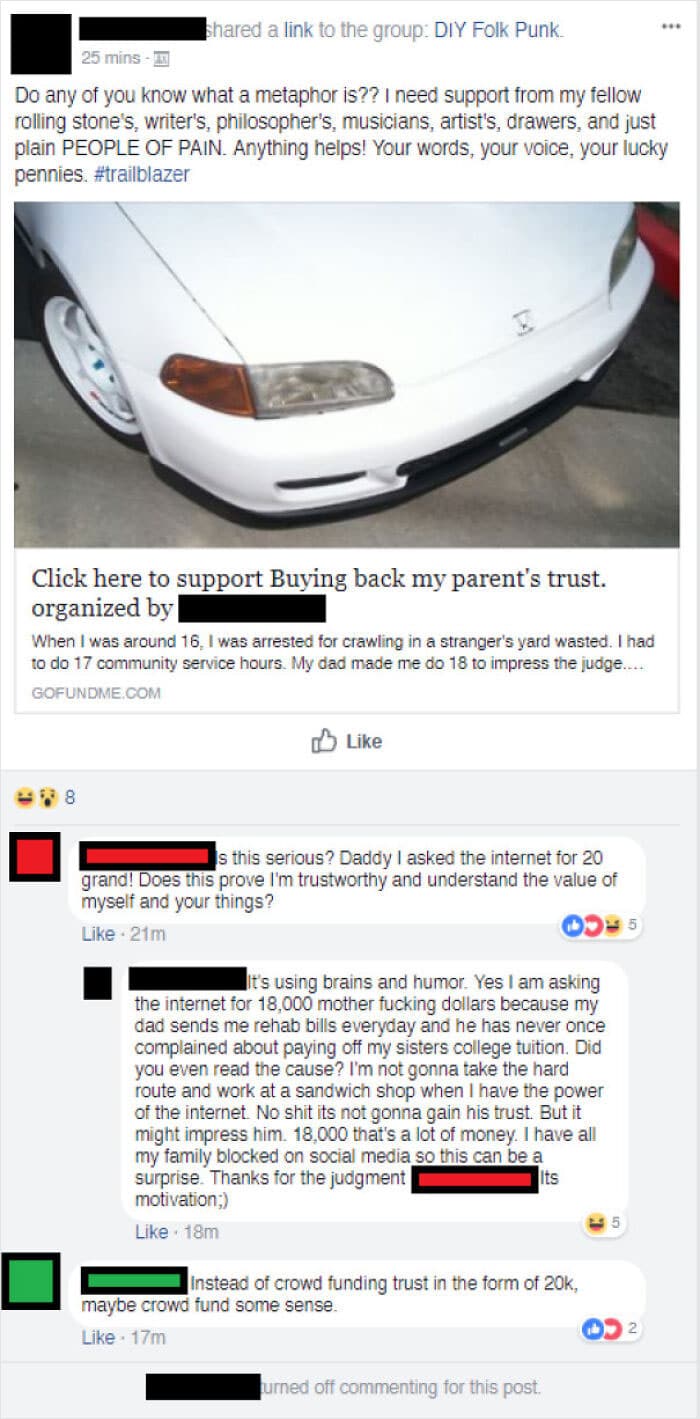 14. The Fund For Alabama.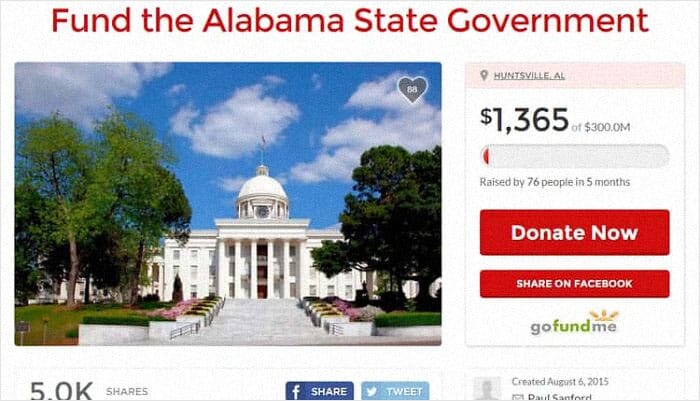 If you've had enough of donating to sickly children or homeless cats, why not mix it up and give it to other causes? The state of Alabama? You can help pay Alabama state taxes if you live there or not, thanks to the voluntary tax page set up by Alabama State Senator Paul Sanford.
15. Having Kids Is Expensive.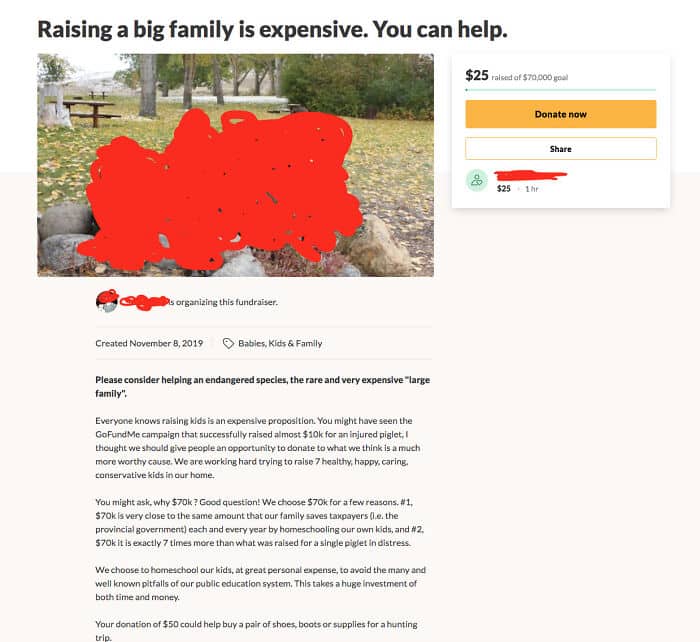 If you plan on joining r/DontFundMe, you have to be aware of a few rules. As much fun as it is to poke fun at people who deserve it, the members of the subreddit are asked to blur out all identifiable info. Posters should not add visible links to the projects themselves. That is to not promote any campaigns directly.
16. The Instagram Egg.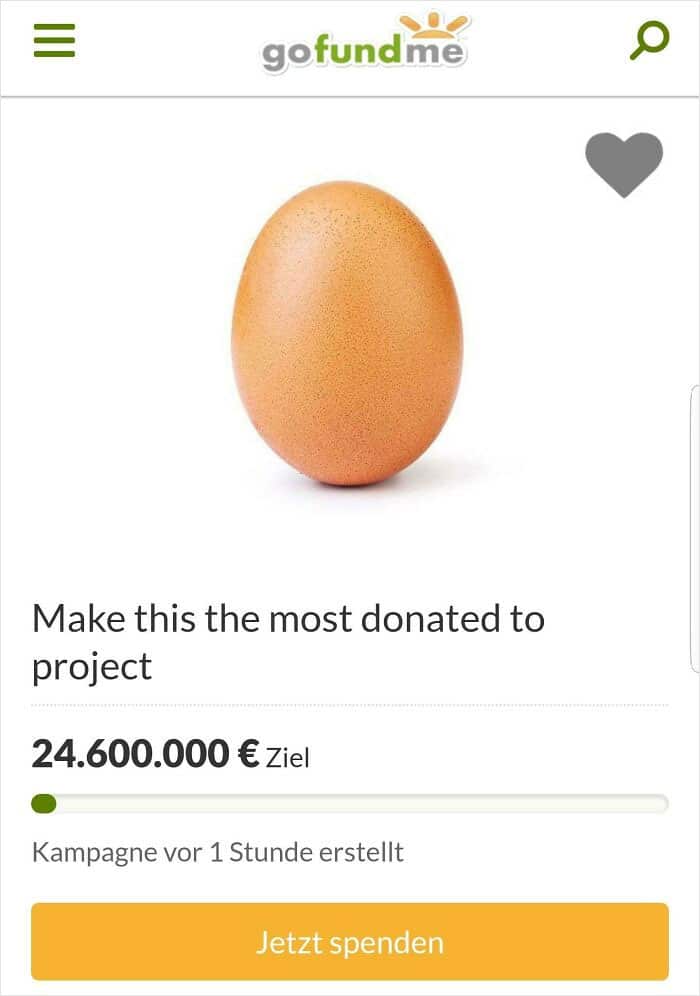 17. A woman who abused a Starbucks barista and refused to wear a mask is seeking $100,000. For Abusing Starbucks Barista and not wearing a mask.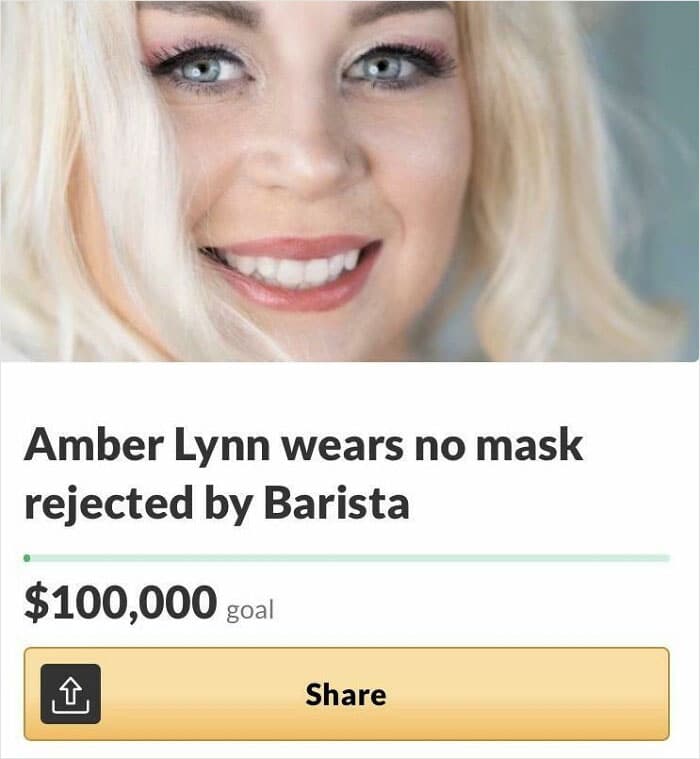 18. It's A Mood For Sure.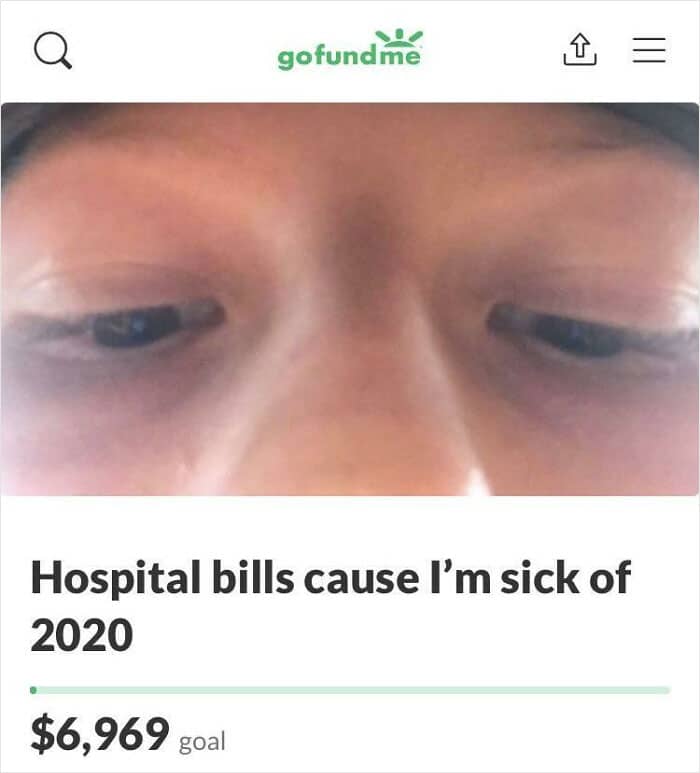 The content that you post on r/DontFundMe has to be related to egregious GoFundMe projects. There is a separate subreddit for bad projects. General begging posts go on the legendary r/ChoosingBeggars. The content needs to be focused on GoFundMe. Some non-GoFundMe posts are allowed by the 'Don'tFundMe' team.
19. This Is Appropriate Here.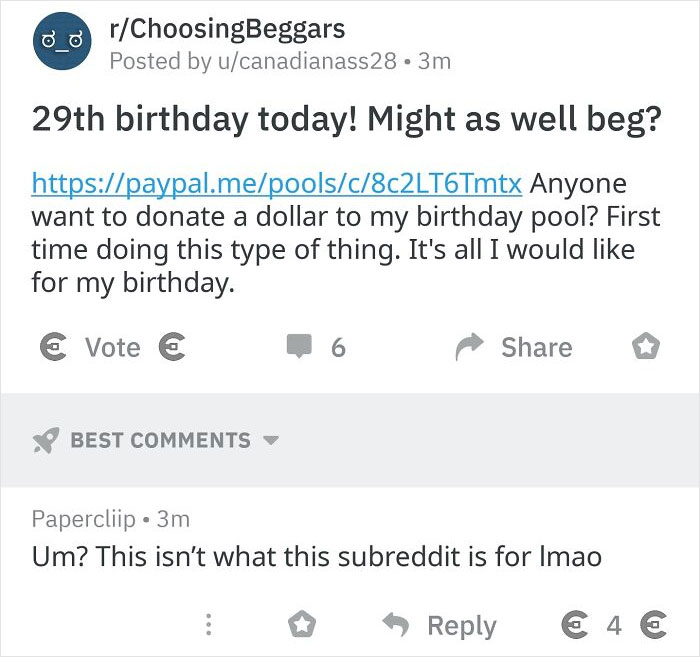 20. Look At Diss Dude.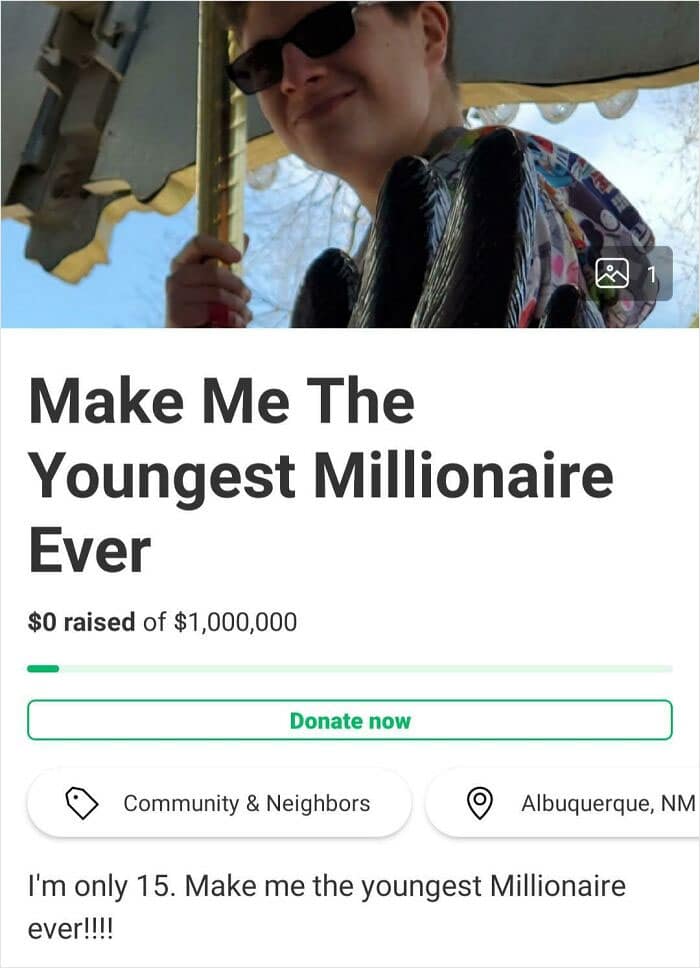 21. A fund to help someone adopt a dog.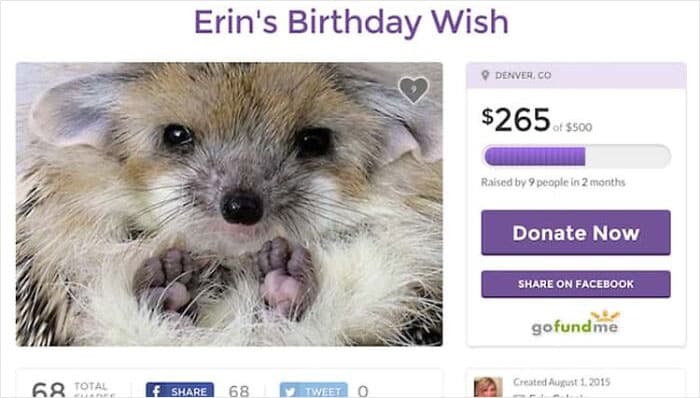 The sub is not the place for good campaigns. There needs to be an element of silliness present. "This subreddit is for bad GoFundMe projects that obviously beg for money or don't have a clear objective other than the ability to sponge money from your wallet," the mod writes.