Jeremy Kyle star, Deon "Mad Dog" Hulse died at the sad age of 40.
Deon "Mad Dog" Hulse, who is from Walsall, West Midlands, was on The Jeremy Kyle Show in 2011 with the woman he was dating at the time, Catherine.
He became famous when he went on a talk show with a skull tattooed on his face.
The tattoo fanatic was in an episode called "How Could My Boyfriend Destroy His Own Face?"
Watch the video below to see Deon "Mad Dog" Hulse on The Jeremy Kyle Show.
After Deon "Mad Dog" Hulse died, his family set up a GoFundMe page to help raise money for his funeral.
Its goal is £2,000, and as of this writing, only £375 has been raised.
The fundraiser bio says:
Deon Mad Dog Hulse touched a lot of people's hearts.

Many of us will always have a story to tell about him.

He was a one-off a one in a trillion.
It adds:
He has left a lot of people heartbroken.

Every little bit helps, thank you everyone.

Let's show the family how much he's loved and Deon, rest in pure paradise. We all love ya, kid.
On February 26, Hulse is said to have died peacefully in his sleep.
Many of the tattoo lover's fans have paid tribute to him on social media. One person wrote:
RIP, one of my good old mates.

Can't believe you're gone, sleep tight pal.
While another person has penned:
Aw no, that's sad to hear. RIP Mad Dog.
Somebody else has commented:
RIP, how sad.
Hulse said on Jeremy Kyle's TV show that he didn't care about how he looked.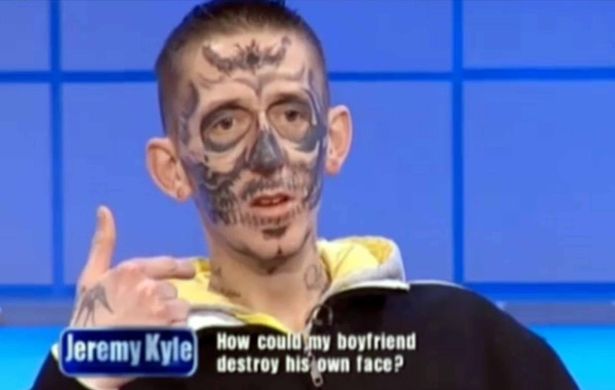 He told the presenter:
I don't care what I look like.

I am who I am, if people don't like me for who I am, they can do one.
Later in the show, Hulse failed a lie detector test about whether or not he had slept with other women while he was with his girlfriend.
These results led Kyle to say:
You are a liar and a cheat and you look ridiculous.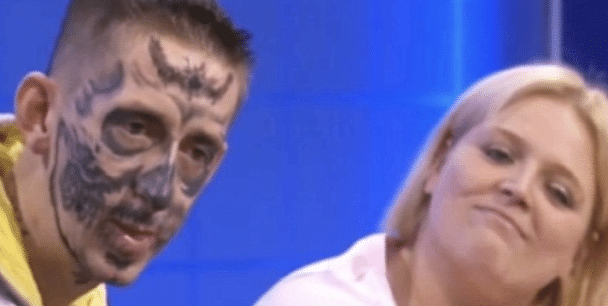 In another part of the episode, Hulse's ex-girlfriend says she thought he was joking when he first told her he was getting the tattoo.
Catherine explains:
Last week he told me he was going to have a skull tattoo on his face and I just thought he was joking.

Off he went and came back with that completely covering his face.
She adds:
It's a disgrace, he's got children to grow and he's got to take them to school and pick them up.
Kyle wades and comments:
I'm slightly struggling as to why anyone would have a skull tattooed on their face.