A new song from Demi Lovato's upcoming eighth studio album, Holy Fvck, appears to make fun of her ex-boyfriend Wilmer Valderrama.
On August 19, Lovato, who recently stated that she is content to use the pronouns she and her again, will release a new album.
The album's sixth song, 29, seems to be a caustic critique of her relationship with Valderrama, which began when she was just 17 and he was 29.
The song's excerpt has been making the rounds on social media, and Genius has already posted the lyrics.
"Too young to drink wine / Just 5 years of bleeders," Lovato is heard singing on the track. "What the f*** is consent / Numbers told you not to / But that didn't stop you. Finally 29, funny just like you were at the time."
"Thought it was just a teenage dream / Just a fantasy / But was it yours or mine?" the song goes on, before ending with their respective ages when they started dating: "17. 29."
The two first began dating in 2010, and they maintained an on-and-off relationship for six years before calling it quits in 2016.
In a 2015 interview with Complex, Lovato had previously said that the That 70s Show star showed no interest in dating her until she was 18.
"We shot a PSA together for the 2010 Census forms for Voto Latino," she told the outlet. "We shot them at his house, so we actually met there. Of course, I was like, 'Oh my god. You're so attractive.' And he was like, 'You are not 18. Get away from me.'"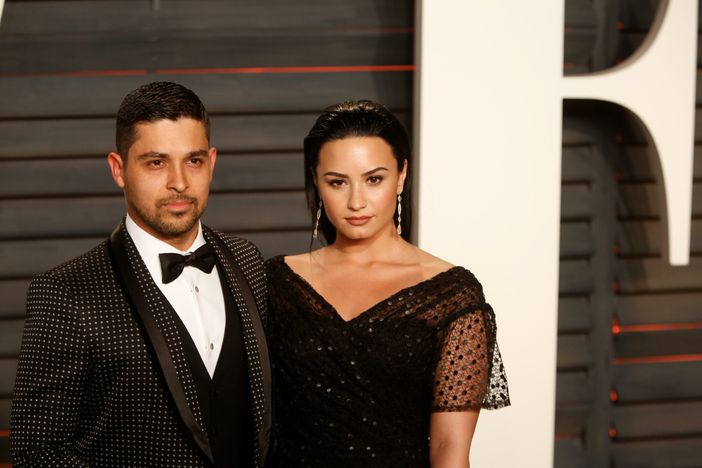 "Then we became really good friends, and he was there for me through a number of situations and breakups and whatever," she continued. "Then as I got older and we grew closer, it was like, Hey, maybe we should try this thing out. We did, and we've basically been together ever since.'"
Although there isn't a direct reference to Valderrama in the song, the ages cited were sufficient to spark online speculation among Lovatics.
One person commented: "Loved them sm as a couple and it took me quite a long time to understand why it's wrong.. love him as an actor but he def has a story w young girls."

Another added: "I knew there was an age gap but not this bad, i thought they were in their early and late 20s woah."