A million dollars wasn't enough to convince Edith Macefield to sell her family home.
Money doesn't mean much when you're older.
It doesn't mean much if you have lots of things.
Family, friends, and a happy home are what matter the most.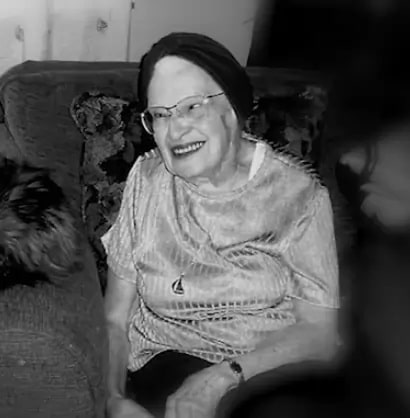 Edith Macefield said no when developers offered her a million dollars to move so they could build more places that sell stuff and offer stuff.
Macefield wanted to stay in her old home.
Some people called the move punk rock or a middle finger in the face of capitalism and its pursuit of growth in order to increase profits.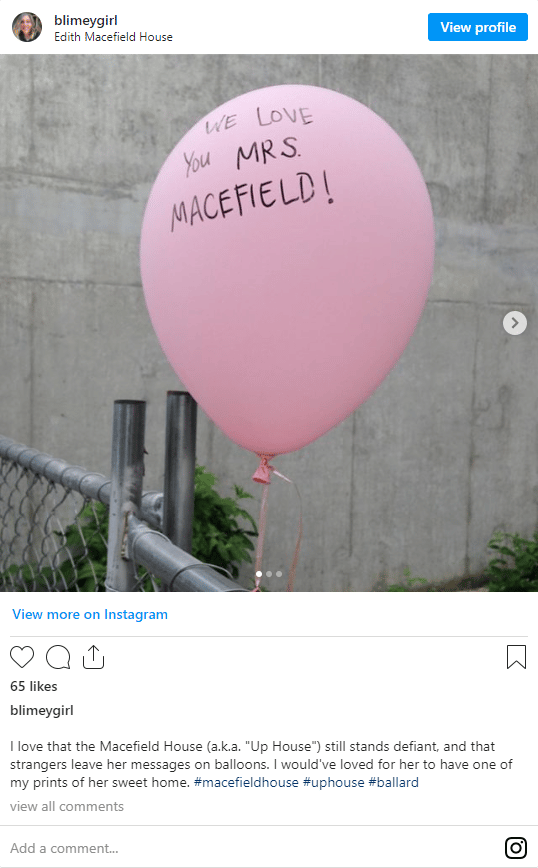 It is not known if Macefield saw it that way, but she did live her life the way she saw fit.
The army brought her to England after she told her mother she was going to college at the age of 16.
She was kicked out of the army after they realized she was under the age of 18 and toured with the Royal Army's marching band and took in war orphans after staying in England.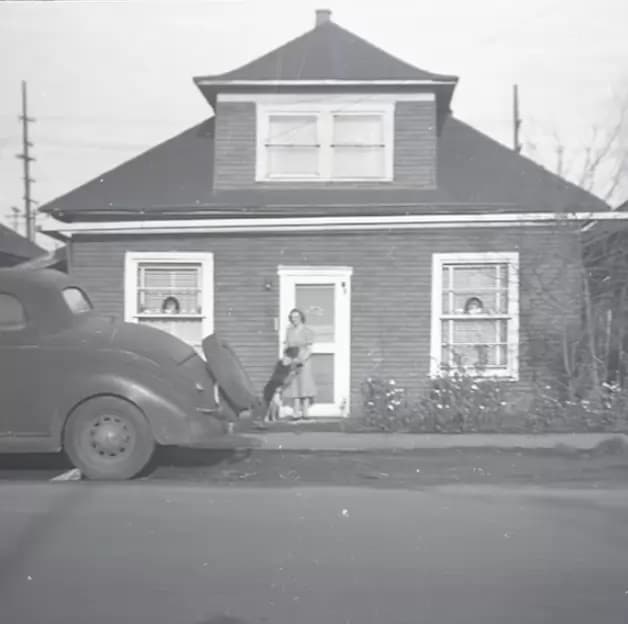 She convinced some of her friends that she was a spy.
Macefield moved to Seattle in 1952.
Macefield and the developers were in a stalemate after she refused to sell her home.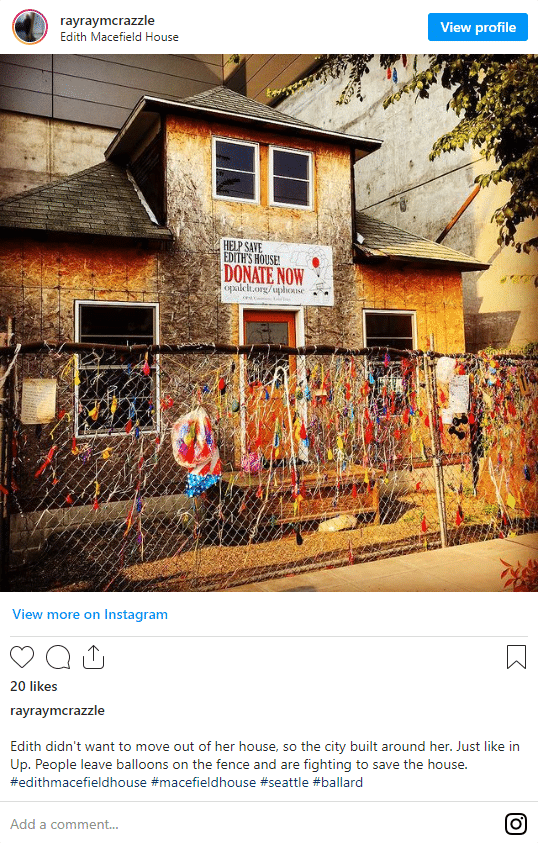 The developers built a huge office and retail complex around her house. All of 46th street was purchased except for Macefield's house.
The big grey-blocked buildings are a far cry from the rural neighborhood that used to be by the lake.
The story for the movie "Up" wasn't directly inspired by the Macefield house, but Disney Pixar did attach balloons to the house to promote the movie. Macefield's home became a local symbol for anti-development and the Fiercely Independent spirit.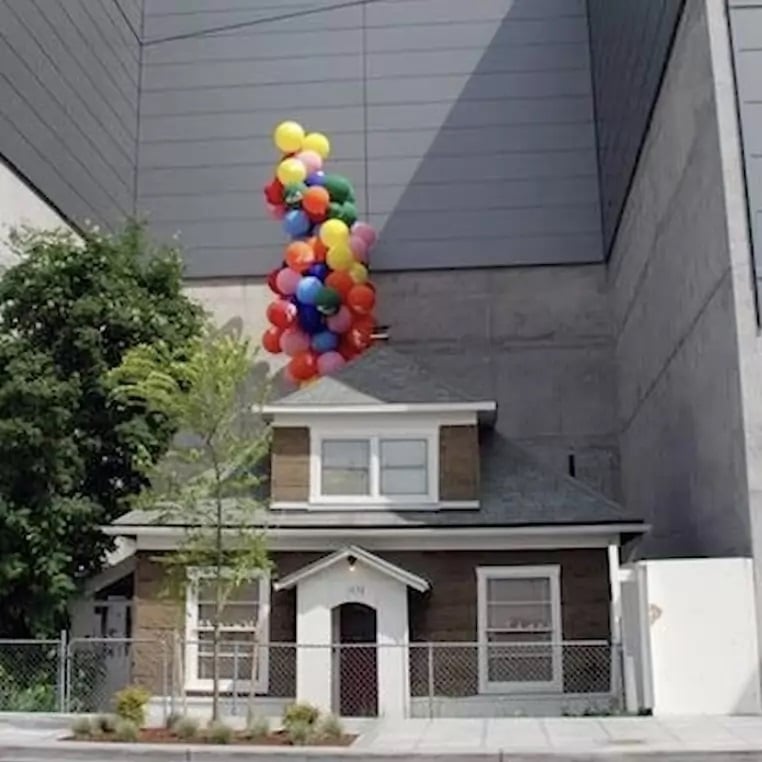 The Macefield Music Festival was named after her in honor of holding onto things that are important to you.
After Macefield died, she left the home to Barry Martin.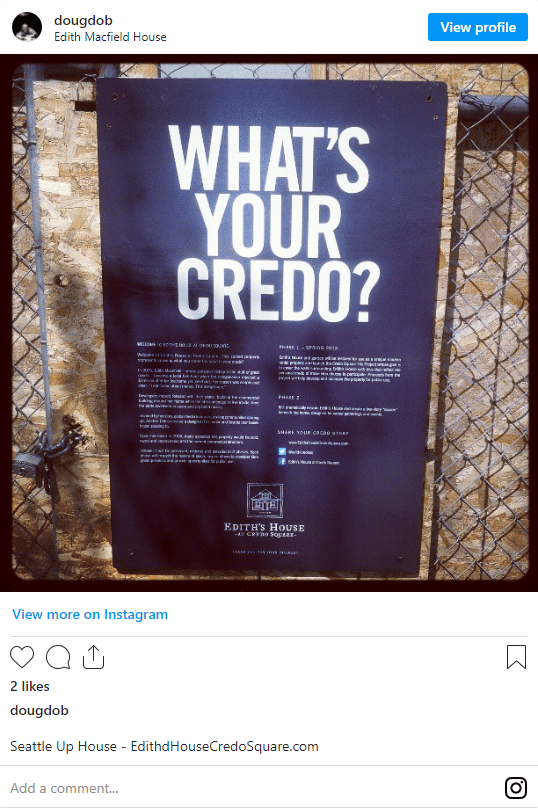 Several attempts were made by the community to save the home and keep it as a landmark after it was scheduled to be demolished.
Many people are tying balloons to the fence.
"There are always people rolling by here. They're very emotionally attached to it," Steven Raymond told Fox 13 Seattle. "I think it speaks volumes about how fast the city is changing and how people love to hold on to a little bit of magic."
The attempts to raise money to save the house failed.
The developers decided to keep the house as part of their development a decade after Macefield's death.
It seems that the home and development are in a good relationship.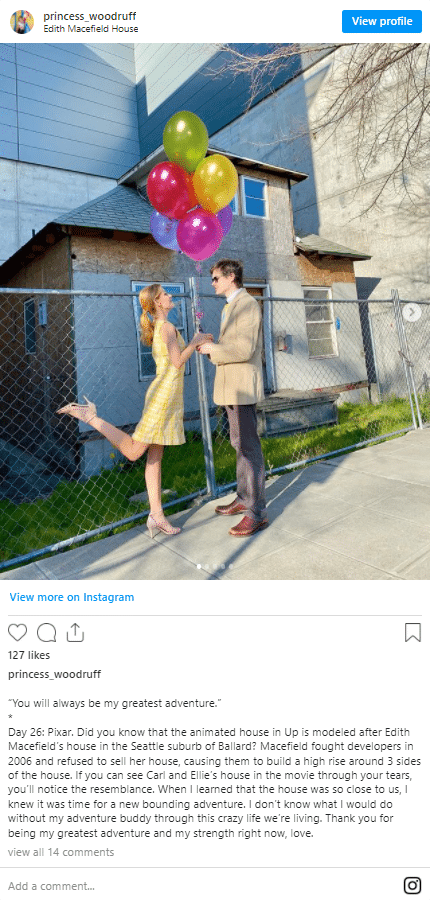 "Honestly, I think we're a lot alike," a developer once said about Macefield. " I'm stubborn and so was she. We've had some incredible arguments. She was amazingly smart. I think this illustrate's Edith's character."
The house serves as a draw to the area where people can shop and a good place to take selfies, while also bringing joy and wonder to the community.
The Macefield house is a testament to freedom, standing your ground, and the magic that still exists when the community decides it does. All you have to do is say no.