Halloween is the most wonderful time of the year. Because everything is more emotional and scary. The decoration is creepy and entertaining, and everyone likes to be completely surprised. Does anyone even hate the color Black, pumpkins, skulls, and even spider webs? This is the best type of decoration and some people also know it is the most fun part.
Check out some of these madhouses.
Here's IT.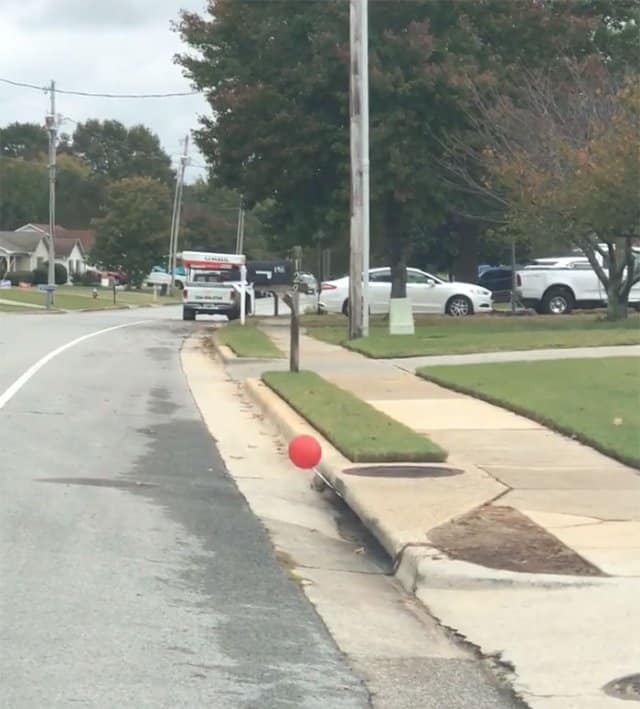 If you've seen it, you know it's a staple of the horror film industry and decoration. Red balloons are synonymous with crazy, creepy, and scary. All you have to do is throw a balloon into the gutter. Just easy!
Using the resources you own.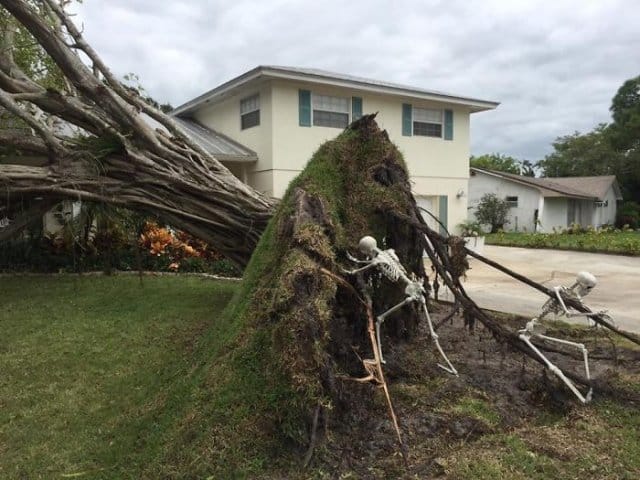 If you have a fallen tree in your garden and no one has seen or repaired it, you can also use it to decorate your Halloween home. What all do you need? Simple. Just some skeletons for knocking over the tree.
The full moon.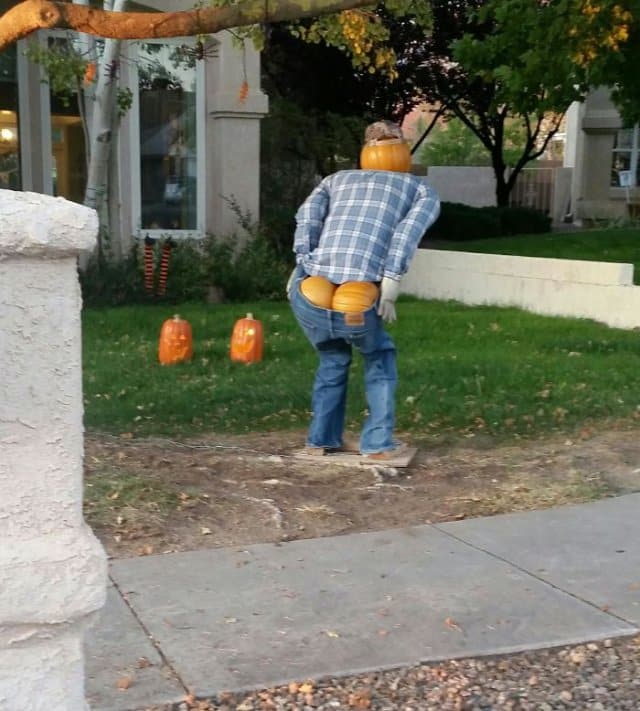 Some Halloween decorations are a way to make parents laugh. Besides, kids will love it too. Two full pumpkins and a full moon? interesting. I want to keep 10 of these in my vestibule all year round.
For the sake of the culture.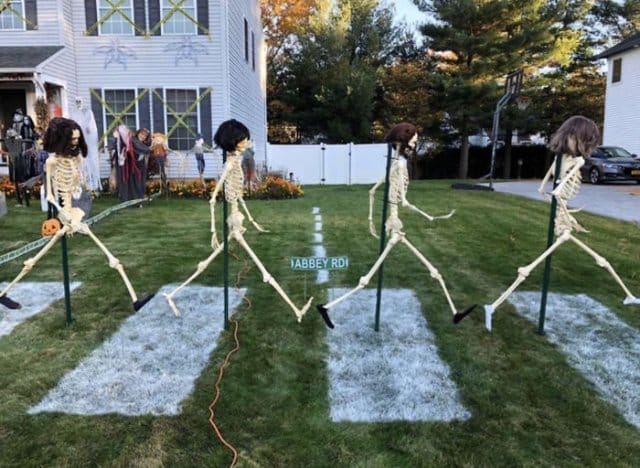 One of the Beatles' most exciting and famous images is the Beatles walking on Abbey Road. This is the most iconic type of decoration. Because everyone can quickly see what it is. Total victory!
One of the classics takes on a bar.
If you're a fan of The Simpsons, you know that Moe's is an iconic bar and place to party. Ask Homer. Dressing up a regular old bar at Moe's is one way to attract defined customers and Instagram photos.
"There's a package for you"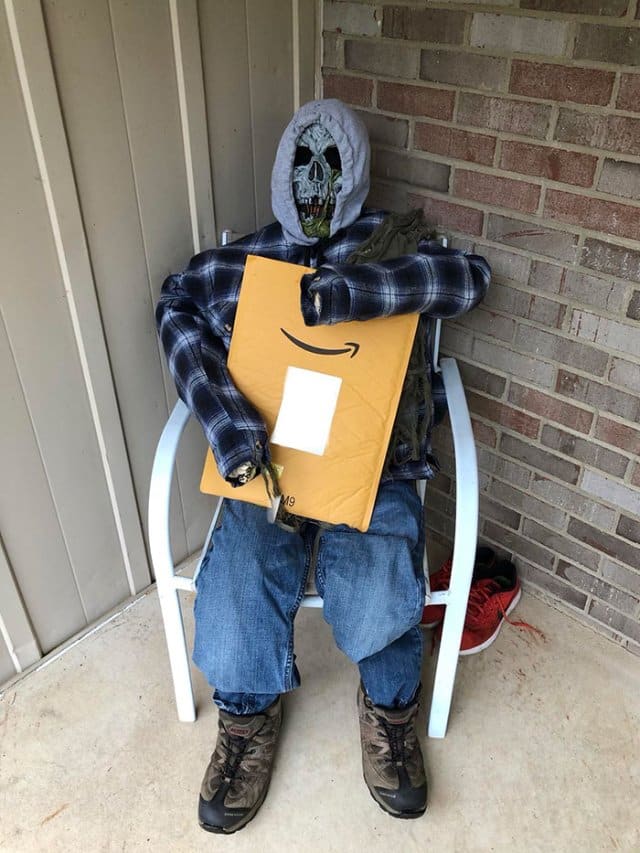 If your wife is the type of person who likes to receive parcels from Amazon every day, you can also use them to help with Halloween decorations. Throw the skeleton out with a terrifying look and paste the packet there.
A Stranger Things house.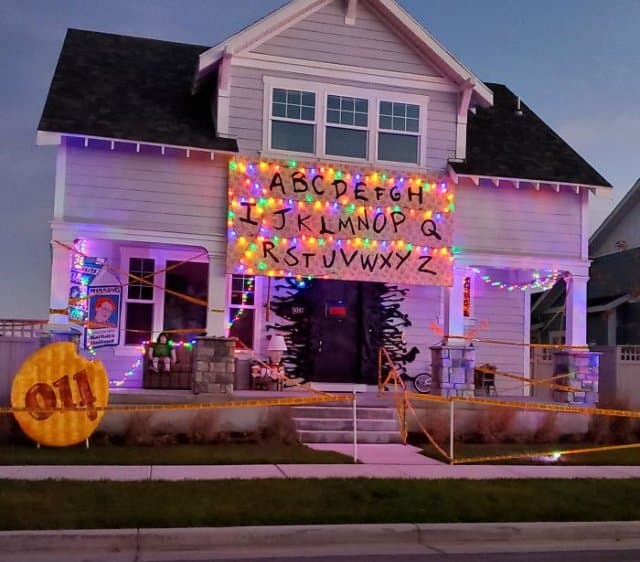 If you like Stranger Things, you will love this house. This is a complete victory for Netflix TV show fans. Everyone will want to stop and take a picture of your home, and it will be viral online!
Been about 1000 years already.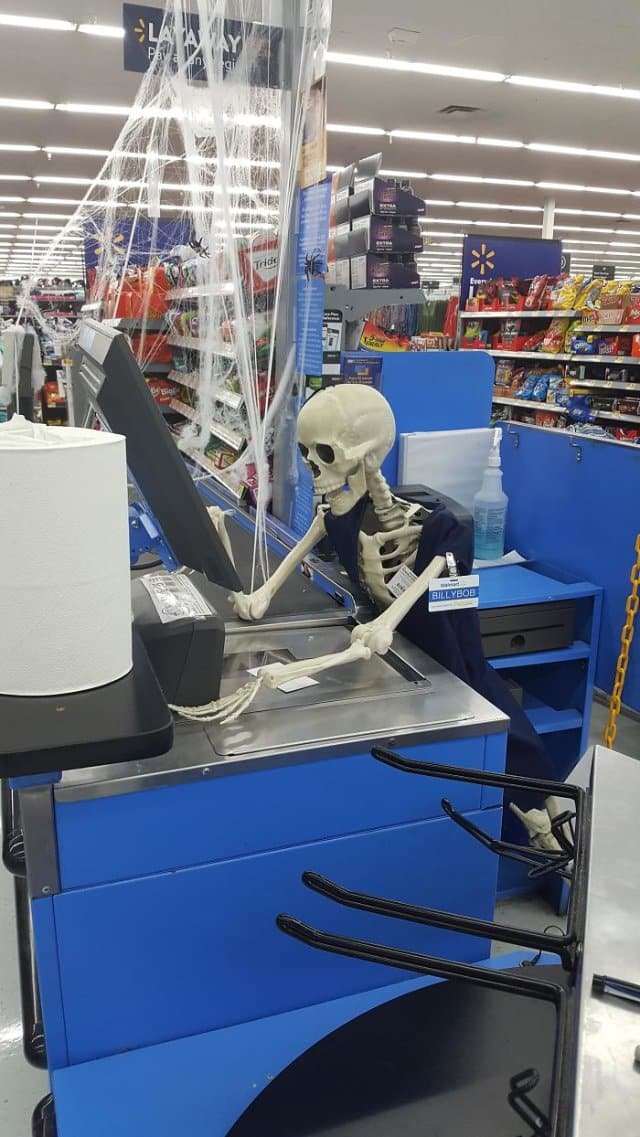 Walmart knows how to decorate a store, that's for sure. Maybe they are waiting for people to come in and put on their masks at their store. It's a joke, but nothing is as scary as a customer who is fighting you!
Gigantic spiders be better than the actual ones.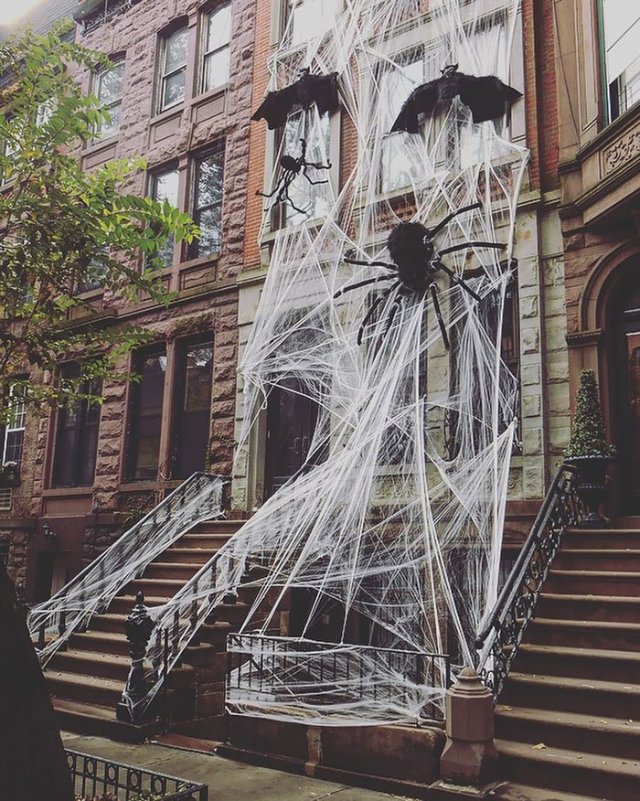 If you have a huge brownstone in your town, you should turn it into a huge spider web in front of you. Besides, you will definitely need some bags to make it work.
"We are about to storm the house!"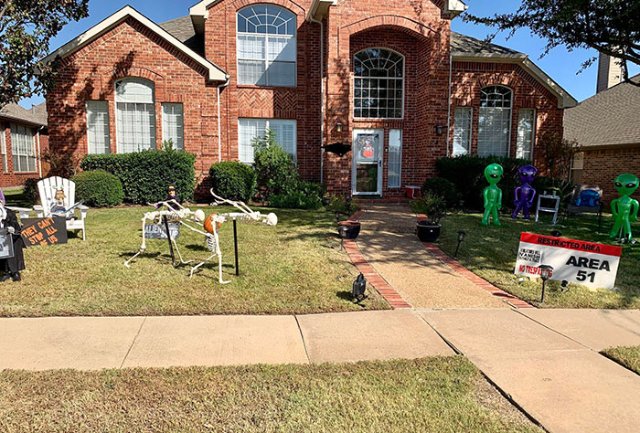 If you lose your boat to defeat Area 51, you can attack this person's house and take a shot there. But beware of police who can arrest you (or even the owner).
This is just too realistic.
If you make this man angry, you should get out of town. It turns out that he doesn't really need prisoners! You can get trapped in his garage or hit a car and bleed on his driveway.
Just imagine driving behind this person.
Drive behind this guy without paying attention and imagine hands sticking out of his car's trunk randomly. Obviously an accessory, but forgetting that Halloween is here can be scary.
Scissorhands getting on some work.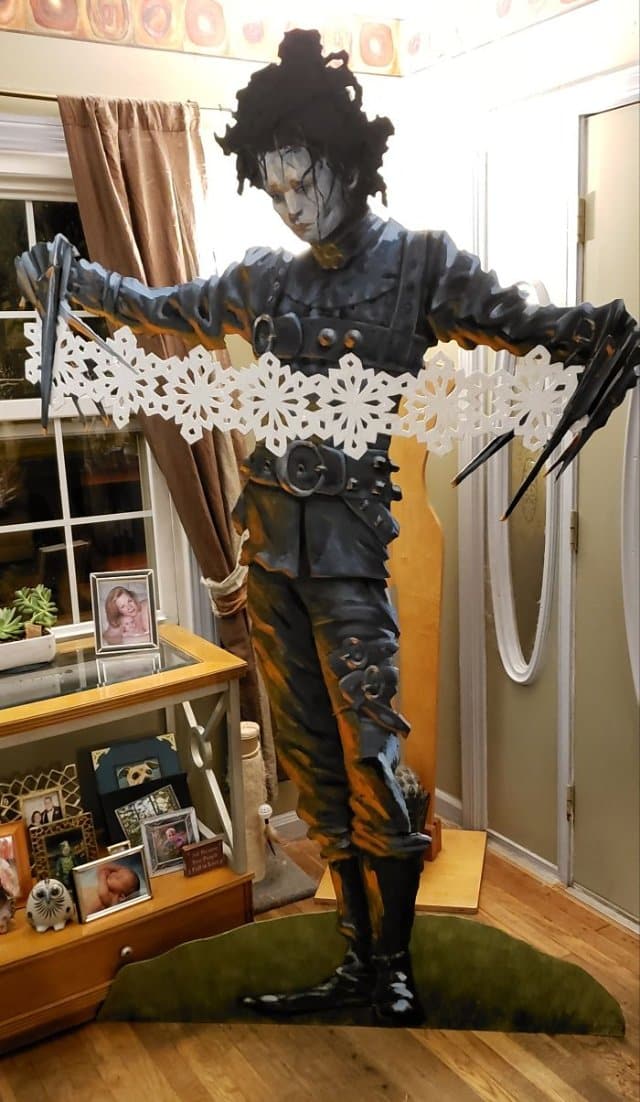 Edward has some extra time on his scissor hands because he's here getting ready for Christmas time. Who doesn't want an elaborate snowflake decoration from Mr. Scary himself?
Lesson learned well enough.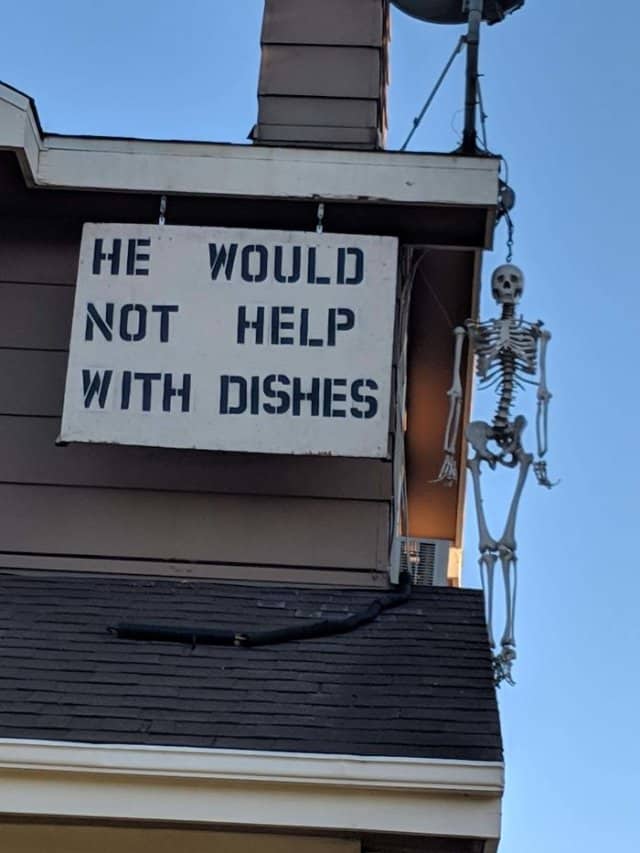 Do you want to teach your child and your husband life lessons? Hang a skeleton next to your house and tell everyone that you didn't do the housework. It's all over for them!
A popular meme comes to life.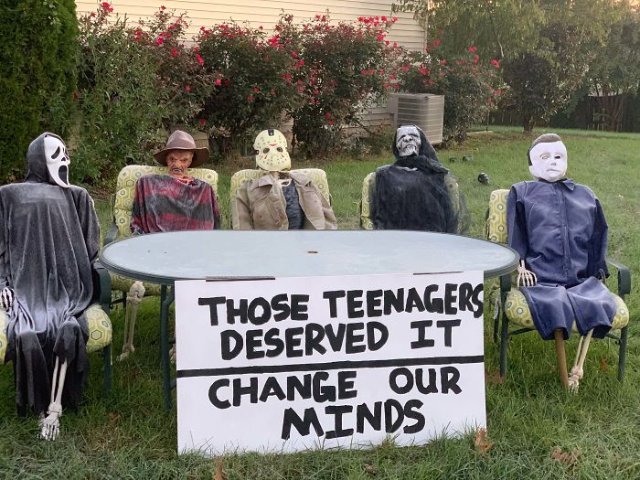 Memes are the best way to become viral and very easy to turn into a decorative piece. Therefore, this meme is directly linked to a "changing mind" culture. But it's best to use horror movie characters.