If the employees break rules, should be given clear guidelines and consequences.
It protects the company from wrongful allegations and ensures equal treatment of all employees. Win-win, right? Maybe somewhere. It's not where Alternative_Hunter34 works.
A few days ago, they made a post on the popular subreddit r/AntiWork. Talking about how their organization deals with late and sick employees, it is clear that the situation is a lose-lose.
There is a company that has ridiculous punishment policies.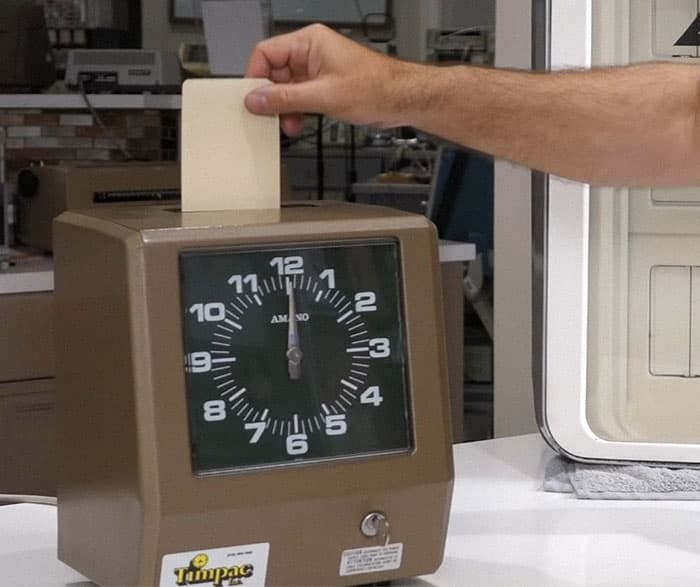 One of the employees explained how they faced exploitation.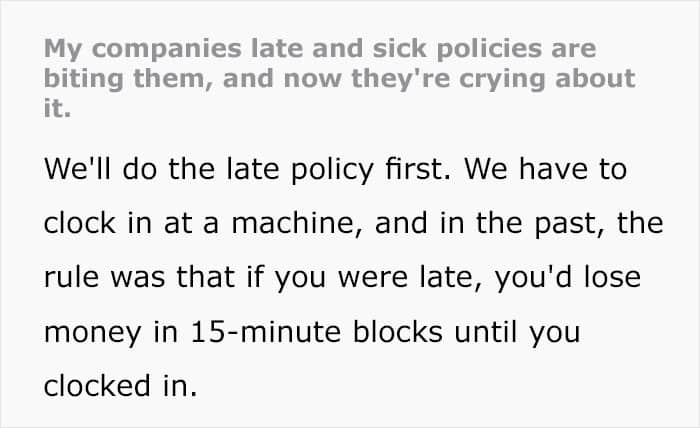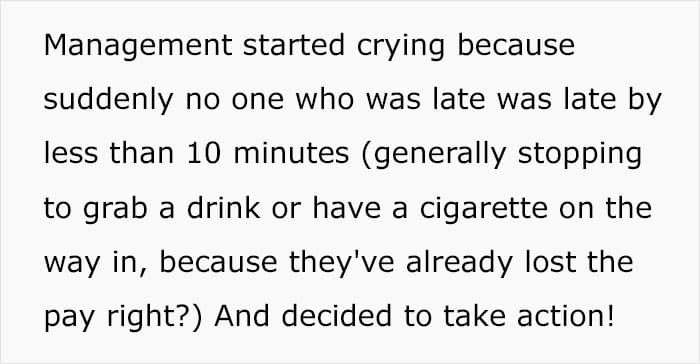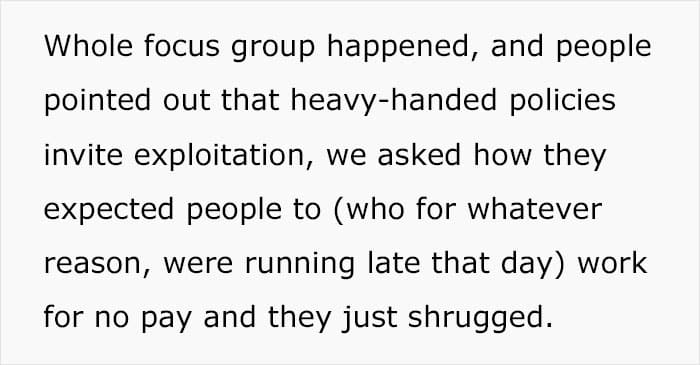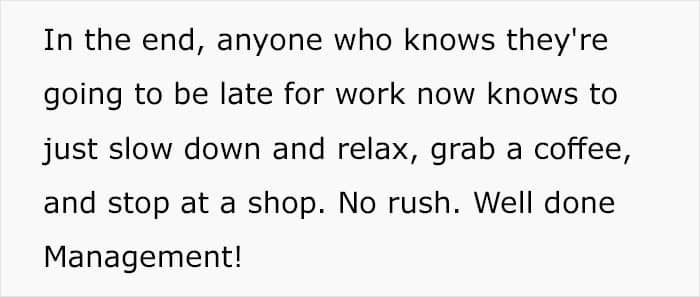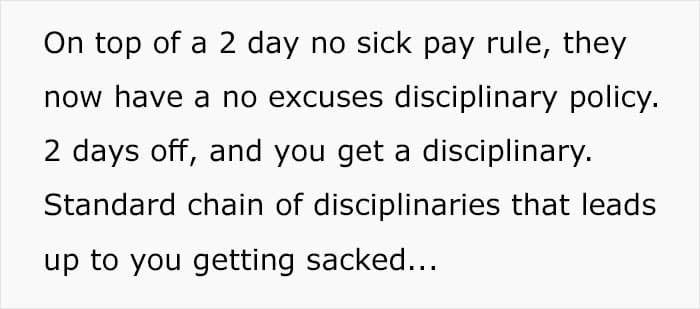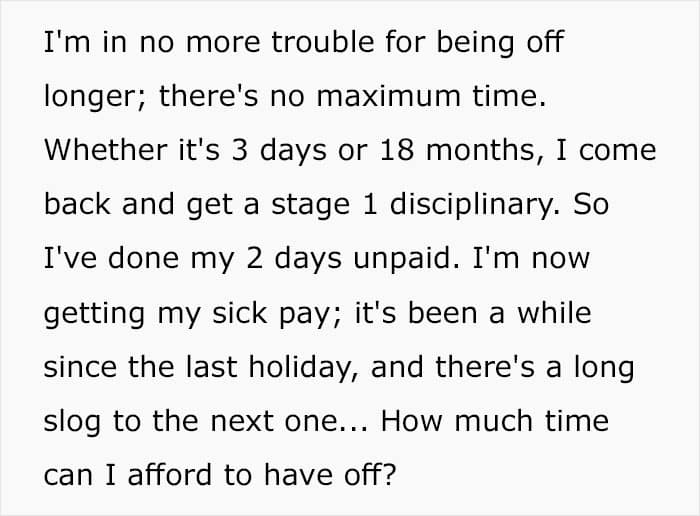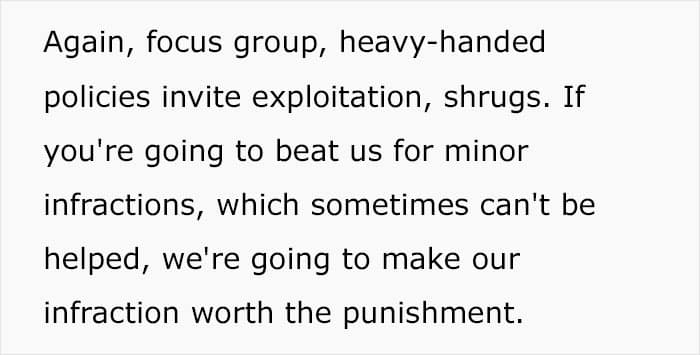 Alternative_Hunter34 was kind enough to let us know more about their work.
"At the time of leaving my previous job, nearly ten years ago, [this] company was doing well and growing steadily," Alternative_Hunter34 explained.
"They had ample job opportunities, and I walked in with ease. Essentially, I was drawn in by inertia. The path of least resistance."
The employee is happy with their job. "The job would be fine if not for the management situation. As I did post in a reply to one poster, the job is well paid. Above minimum wage by a significant degree, and we have been steadily well paid since I joined."
Alternative_Hunter34 doesn't plan on going anywhere else. "As my company well knows, they offer the best paid, entry-level, no skills jobs in a wide radius," they said. "We all moan, we all rant and rave. But most of us will be in the next day, week, and month regardless, and without breaking step. We will fight to keep the jobs we complain about should we come under redundancy or disciplinary."
The money trap is what the Redditor calls it.
"Having collected and acclimated to our wages for some time now, it would require significant changes and personal sacrifices that the majority of us, myself included, are simply unwilling to make in order to break away and accept a lower wage," they explained. "Our employers are as aware of this as we are. Therefore, we all know that until the conditions are intolerable, the majority will remain firmly in place."
Sue Bingham, the author of Creating the High-Performance Work Place: It's Not Complicated to Develop a Culture of Commitment, agrees that too often companies' HR policies are overly restrictive.
"Such policies are often convoluted and overly paternal, and attempt to control the behavior of regular people through rules designed to rein in the 'bad apples,'" Bingham, who has consulted with hundreds of company leaders on how to create high-performance workplaces over the past three decades, wrote in the Harvard Business Review.
"Although a small percentage of employees may try to take advantage of more flexible or generous policies, designing your HR policies with such people in mind isn't the answer. It won't help boost the performance of the majority of employees – employees who have the organization's best interests at heart. It will only make them feel distrusted," she said. And it sounds like what happened in our story, where people who are intelligent adults were treated like children. They retaliated after receiving that message.
"Communicate one standard of conduct that states, 'Everyone is expected to act in the best interest of the organization and his/her fellow employees as a replacement for a long list of conduct rules," Bingham said.
According to a global poll conducted by Gallup, only 15% of people are engaged in work. 85% of people are unhappy in their jobs.
Employees don't hate the company they work for as much as their boss. They join a company but often quit their manager. Sometimes it is due to the exact person. Other times it is because they have not been prepared to lead the workforce.
People think these practices are appalling and could be illegal.