Kasie Hunt, a political reporter for CNN, had her own breaking news to share on March 1 when she gave birth to her daughter on the bathroom floor.
In an Instagram post about the unplanned home birth, Hunt said that her husband, NBC News producer Matthew Mario Rivera, gave birth to their daughter, Grey Hunt Rivera, after 13 minutes of labor.
Grey's birth weight of 8 lbs. 4 oz. shows that she came into the world on her own terms.
WELCOMING HERSELF TO THE WORLD,
wrote Hunt.
My husband @mattmrivera & I are thrilled to introduce our daughter, Grey Hunt Rivera—though really, she introduced herself.

Grey was delivered by dad on the bathroom floor after 13 minutes of labor, before we even had time to dial 911, and 24 hours before she was scheduled to arrive via C section.
The photos showed mom holding baby Grey while sitting on the bathroom floor right after her dramatic entrance.
In a second picture, Rivera was by Grey's side as Hunt held her in a hospital bed.
The third and last picture is of the couple's oldest child, Mars, who is three years old, sneaking his first look at his new baby sister.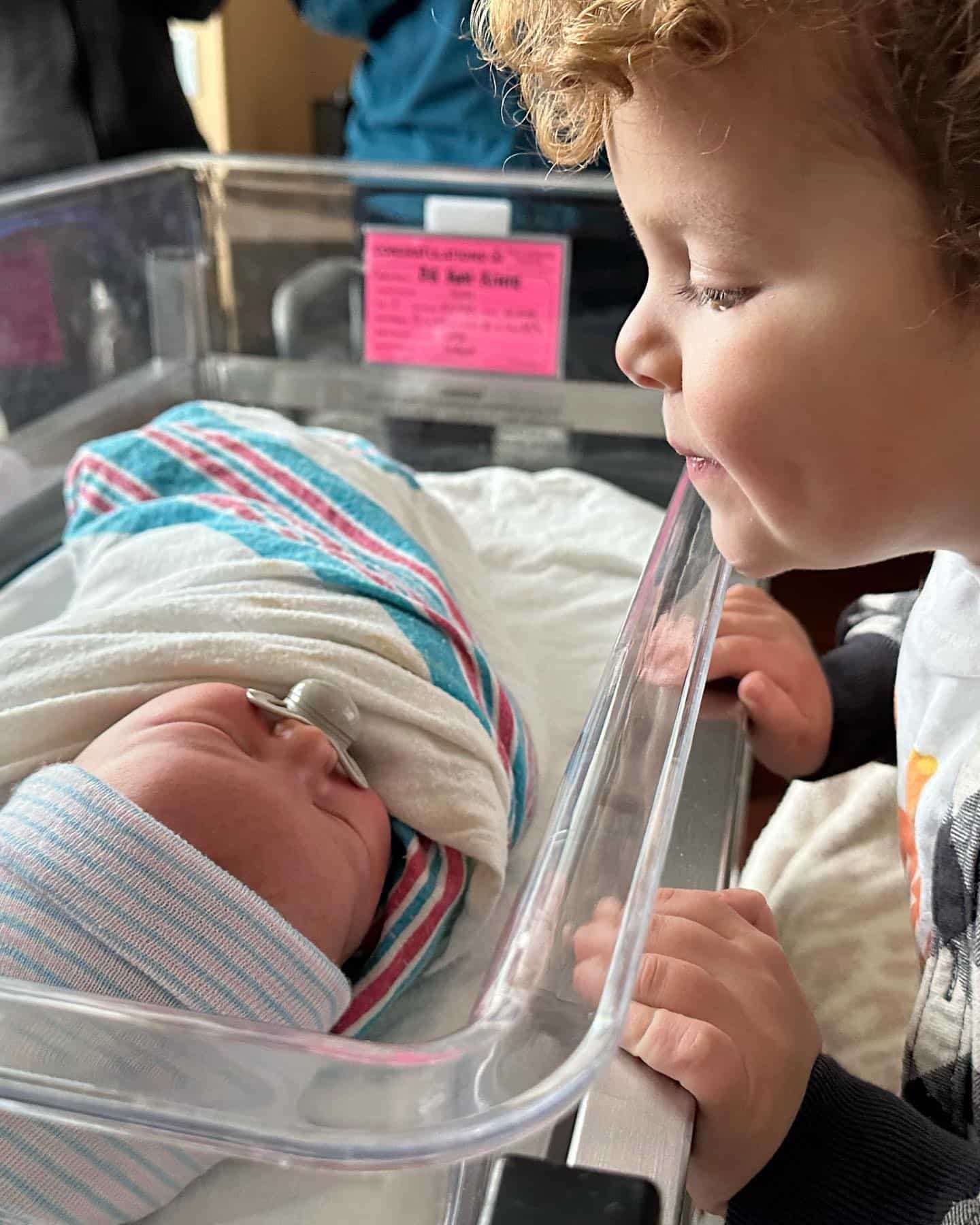 She gave a shout-out to the fire and emergency medical workers in the District of Columbia for helping.
She concluded the post with:
We are so thankful for the @dcfireandems team who talked us through the incredibly intense moments before she took her first breaths, and who arrived within minutes to bring mom and baby safely to the hospital.
Big brother Mars could not be more proud, and we couldn't be more excited for life as a family of four.
People on social media were so happy about the news that they cheered the post.
In an exclusive interview, Hunt said:
Grey is already showing us her independent streak."

We were expecting her to arrive via a scheduled C-section on Thursday morning. She had other plans!

We're so excited about life as a family of four — and reminded it's going to be that much more unpredictable!
Hunt also said in December, when she was still pregnant, that her son Mars was already excited about becoming a big brother.
For Halloween, he insisted that the baby have her own pumpkin.

When we were decorating for Christmas, he asked me to put up a stocking for 'baby sister.
Hunt met Rivera in Washington, where they both worked for NBC News. In 2017, they got married in Stanley, Virginia, at Shenandoah Woods.
In October 2021, Hunt had a benign brain tumor removed during a four-hour surgery that went well.
She found out about her diagnosis after CNN+, which has since shut down, hired her to be the first anchor for The Source with Kasie Hunt and Chief National Affairs Analyst. She was also the first person hired by CNN+.