People who watched Chris Rock's show on Netflix, are angry about the "disgusting" things he said about Will Smith.
In his first-of-its-kind live Netflix special, Selective Outrage, Chris Rock, 58, talks about the famous time he got slapped by Smith, 54, at the Oscars for making a joke about Smith's wife, Jada Pinkett Smith, 51.
Even though he's talked about it before, Chris Rock talked about the shocking event in more detail on the show, and he didn't hold back.
See Chris Rock make fun of Will Smith in the video below.
The trouble between Chris Rock and Smith began at the Oscars when Rock called Pinkett Smith "G.I. Jane" because her head was shaved.
A few seconds later, Smith walked on stage and hit Chris Rock in the face.
Then he yelled at the host, who was shocked:
Keep my wife's name out your f***ing mouth.
Smith was banned from the Oscars for 10 years because of what happened, and he also quit the Academy.
Smith has apologized for what he did, but it doesn't look like Rock has forgiven the star of "The Pursuit of Happyness" for what he did.
In his Netflix special, Rock says:
You never know who might get triggered.
You know what people say, they say, 'words hurt'.

Anybody that says words hurt has never been punched in the face.
He adds:
People are like, 'Did it hurt?' It still hurts! I got 'Summertime' ringing in my ears.
Rock also talks about Smith and Pinkett Smith's show, Red Table Talk, where Pinkett Smith talks about having an affair with another man.
The comedian says:
His wife was f***ing her son's friend. I normally would not talk about this s***…

I have no idea why two talented people would do something that f***ing lowdown.

We've all been cheated on. Everybody in here has been cheated on.

None of us has ever been interviewed by the person that cheated on us… on television. She hurt him way more than he hurt me.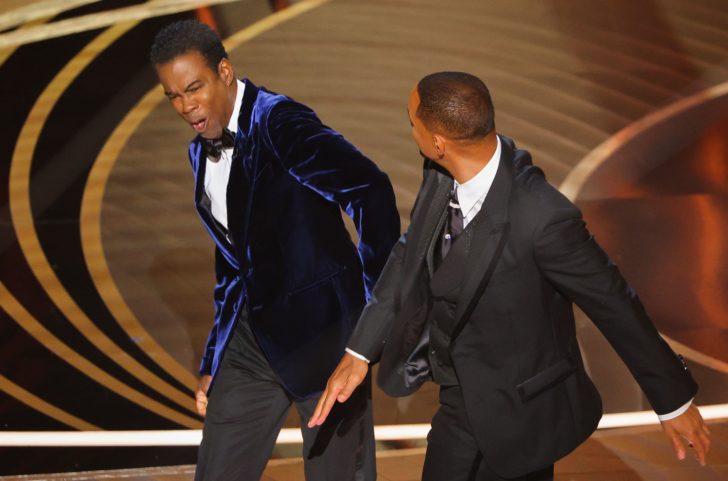 Rock also talks about Meghan Markle, the 41-year-old wife of Prince Harry, and her claims that there is racism in the royal family.
He says:
Like, who is this girl Meghan Markle?

Seems like a nice lady – just complaining. Like didn't she hit the light-skinned lottery?
He makes fun of Megan by making fun of Markle's interview with Oprah Winfrey.
They're so racist, they're so racist'.
Chris Rock then adds:
Some of that s*** she went through was not racism; it was just some in-law s***.
Many people have called Rock out on social media for his "disgusting" comments after watching his show.
Watching Chris Rock live on Netflix is disgusting and disturbing,
one person tweets.
I had no idea what I was in for. Wow.
Another adds:
Y'all gave Will Smith hell for slapping a man who publicly disrespected his wife. That man has now gone on to amplify his disrespect, humiliation and disparagement of Jada.

I'm not even a Will and Jada fan like that but Chris Rock's performance was disgusting.
While a third person says:
What's happening to comedy!!!!

It's becoming increasingly apparent that it's no longer funny. Disgusting show by Chris Rock.
Some, though, were not as upset and thought the show was funny.
One wrote:
Chris Rock gave Will Smith a hilarious response that was just what the situation called for – he slapped him back with some comedy!
A second adds:
Chris Rock's Netflix Special is genius, heartfelt and hilarious. #SelectiveOutrage.
You can now watch Chris Rock: Selective Outrage on Netflix.