President Joe Biden immediately denounced the decision, calling the punishment "unacceptable," and vowed to use all of his influence to get Griner home as quickly as possible.
"I call on Russia to release her immediately so she can be with her wife, loved ones, friends and teammates," Biden said in a statement released by the White House on Thursday.
"My administration will continue to work tirelessly and pursue every possible avenue to bring Brittney and Paul Whelan home safely as soon as possible."

In this case, Griner recently received a nine-year prison term. In addition, she received a punishment of 1 million rubles, or around $16,300. She will be given the chance to appeal.

Most likely, Griner won't complete the entire statement. Officials from the United States and Russia are reportedly arranging the exchange of prisoners for a Russian arms trader known as "The Merchant of Death."

Griner was recently convicted guilty of the allegations brought against her by a Russian tribunal. The WNBA superstar's sentence is anticipated to be made public soon.

At a subsequent hearing for her drug case, Griner apologized profusely for accidentally bringing hashish oil back in mid-February and told the Moscow courtroom of her regrets.

"I want to apologize to my teammates, my club, my fans and the city of [Yekaterinburg] for my mistake that I made and the embarrassment that I brought on them," the WNBA superstar said.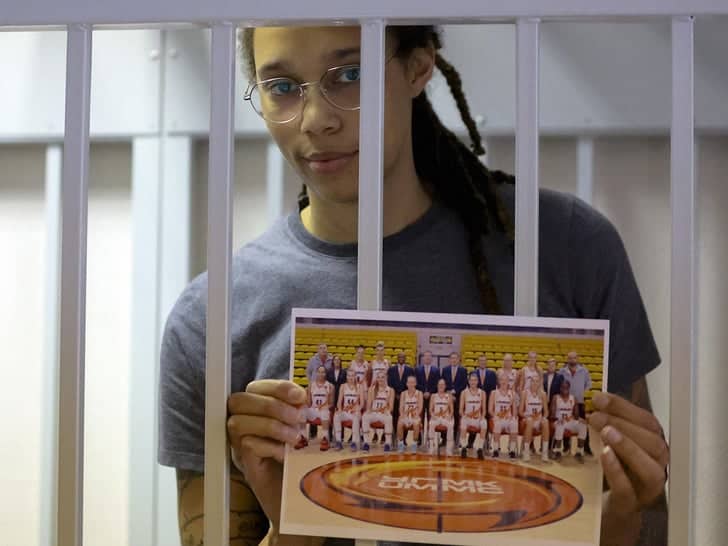 "I want to also apologize to my parents, my siblings, the Phoenix Mercury organization back at home, the amazing women of the WNBA, and my amazing spouse back at home."
Reporters from the Associated Press on the scene said that Griner, who was dressed in a grey T-shirt and dark jeans, looked to be crying while apologizing.
Later, Griner pleaded with the judge to be gentle with her when the judge eventually handed down her punishment, adding she hoped the decision "does not terminate my life."
However, according to reports from the hearing on Thursday, the prosecution contended that Griner brought the cannabis oil on purpose and asked the judge to give the 31-year-old 9.5 years in prison. They apparently also claimed that Griner deserved to pay a substantial fine.
A decision in the case is anticipated from the judge as soon as Thursday afternoon.
Griner admitted admission to the narcotics allegations brought against her last month, as previously reported. She could receive a 10-year prison sentence.
She has been unfairly jailed, according to U.S. officials, who have also acknowledged that they have made Russia a sizable trade offer in an effort to eventually bring her home.