A Ukrainian child lost his mom and was left with burns on half of his body after a Russian missile strike.
As per a report by CBS News, seven-year-old Roman was with his mom in the focal Ukrainian city of Vinnytsia when the strike hit on July 14.
At least 23 people were killed in the attack. Including his mom, Galyna Oleksiv.
Yaroslav Oleksiv talked about the moment that the missile hit in an interview with Current Time.
"The explosion threw his body and that ended up saving him," he said. "He was picked up right away and an ambulance arrived immediately."
Galina Oleksiv died in Vinnytsia on July 14 from a Russian rocket. Her son Roman is seriously injured. Doctors are now fighting for his life. Details for help: card 4149499343629059 Yaroslav Volodymyrovych Oleksiv. pic.twitter.com/EsyXigUQL8

— 🐱🌺🌼🙂 (@D3czSq) July 18, 2022
Yaroslav said that when his son was found, he told those helping him that his mother was buried in the rubble.
"All the bodies they found from this shock wave, they were all badly burned…many had their limbs ripped off. None of the bodies remained fully intact," he continued.
"The doctors said they found some fabric with some writing on it. We knew that [Roman's mother] had a T-shirt like that. … Plus, she had braces, and we could [identify her] by the braces," he said, before saying how they confirmed her death with a DNA test.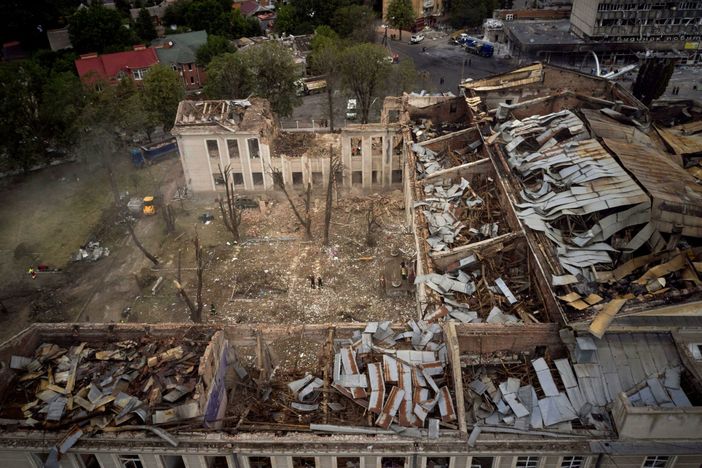 Roman has a long road to recovery after surviving the blast. According to the Medical Association of Lviv, 45% of his body is covered in external burns. He will be going to a hospital in Germany where he will get a lot of medical treatment.
"[The burns] are so deep in places that they even reach bones," the post reads per a translation. "Burn face, upper and lower limbs, airway […] a closed fracture of his left hand and several shell fractures in his skull."
The injured child was wrapped almost from head to toe in bandages as he waited for treatment.
The missile strike was condemned by President Zelenskyy as an open act of terrorism. More than 90 people were injured and at least 23 were killed.