All cats are the same, regardless of being wild or not.
When it comes to cats, we all know how common they are. Cats are all over the place and are loved all over the world. We all know what cats do. We know about their lazy and cute behavior, their arrogant and elegant attitude, and their majestic lifestyle. They are unpredictable and unique. They will give you death glares when they are super sweet. This is how they are. We all love Moody creatures. They are one of the most loved animals on the planet, they are the top choice for a pet because of their friendly nature, and they are the prettiest creatures to ever exist. You can't help yourself from falling in love with them. Cats can cast a spell on a person and make them fall in love with them. You can't move on after falling in love with a cat. You are trapped to love cats for the rest of your life.
There are many different types of cats that are equally attractive and beautiful in their own way. There are many wild cats such as lions, tigers, cheetah, lynx, caracal, and feline. Even though they all are cats, they are also very dangerous. They are a combination of both cute and scary. It's better to keep your distance from these creatures because they can cause harm to humans, and it's rare to see them. Kathy Maniscalco was able to film the family of bobcats that she found on her doorstep. It's a very rare situation and it's shocking to hear. Scroll down to hear the whole experience.
1. Here's an amazing picture of the beautiful Bobcat family.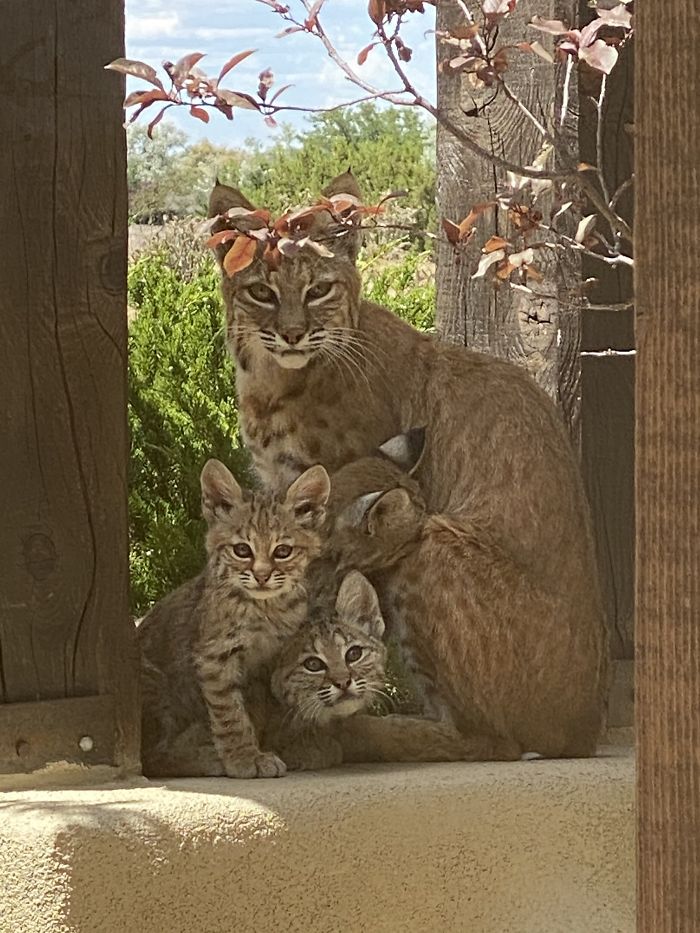 2. They look like wild lions and cute kittens at the same time.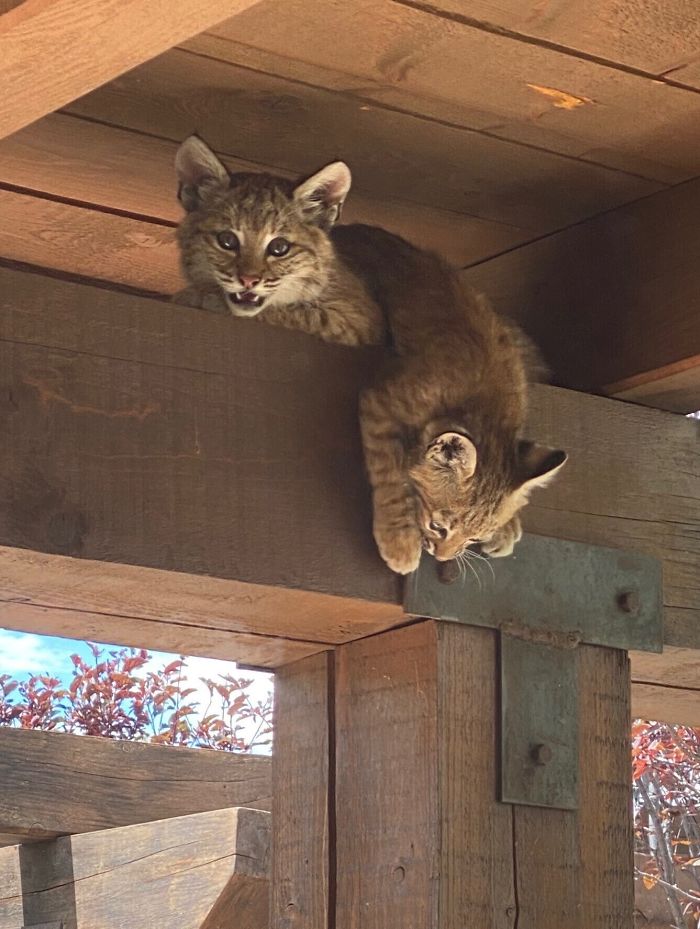 3. They're just chilling.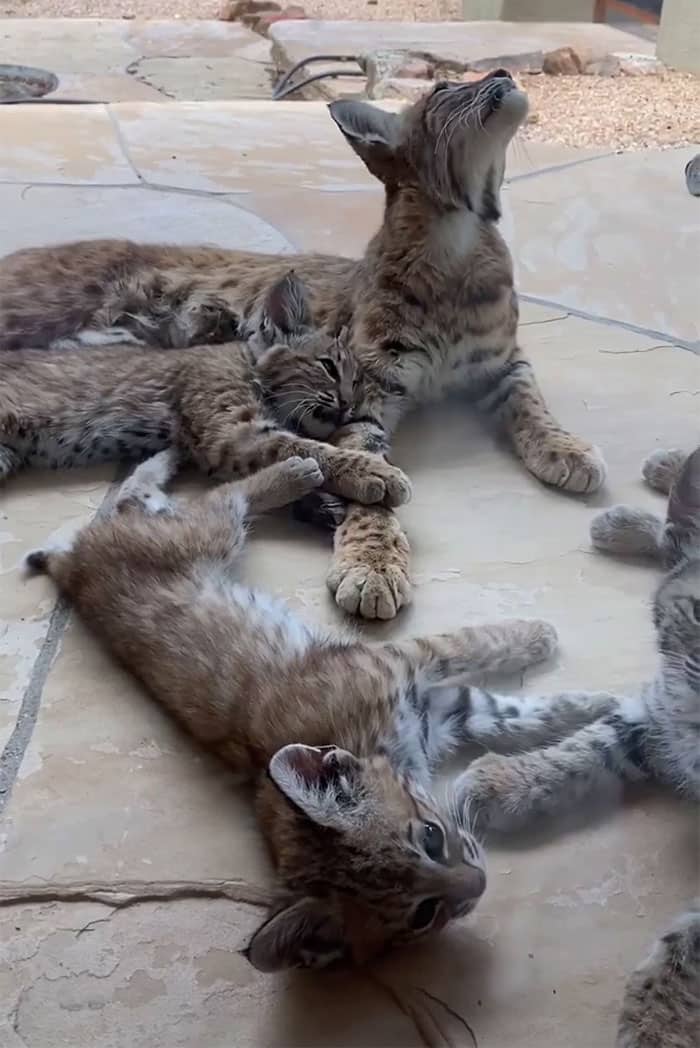 4. Now they're tired after playing the whole day.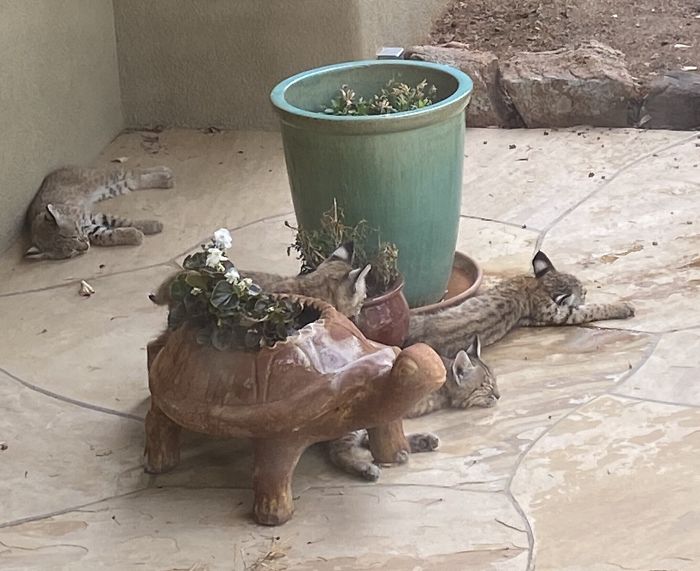 5. Here's a video of the Bobcat family captured by Katie.
Kathy posted photos and videos of a family that decided to lounge in her garden and on her front porch and play for a few hours. These images are wholesome and cute. This Bobcat and her babies are adorable. I thought I loved all cats equally, but I saw the video of the bobcats. I have a specific kind of cat that I love the most. Kathy, the owner of the house in Santa Fe, New Mexico, was shocked when she saw the mother and kittens. Imagine waking up one day and going to relax in the chair on your front porch and seeing a family of wild cats chilling there. I bet it was cute, special, and a once-in-a-lifetime kind of moment for her to experience.
Kathy said that three out of five of the baby wild cats were sitting on the wall with their mother and two of them were lounging on the porch. She said that one of the two was not afraid to go upstairs alone. Out of all the baby bobcats, that one seemed fearless and playful. The others looked exhausted like they had a hard week at work. Kathy came up with the idea of turning one of the family pictures into a painting. The artist was able to see her front porch from a window in her house where she filmed the Bobcat family. In a phone interview, Kathy talked about the playful encounter of babies of the Bobcat. Continue scrolling to read more.
6. They're indeed one of the cutest Bobcat families ever.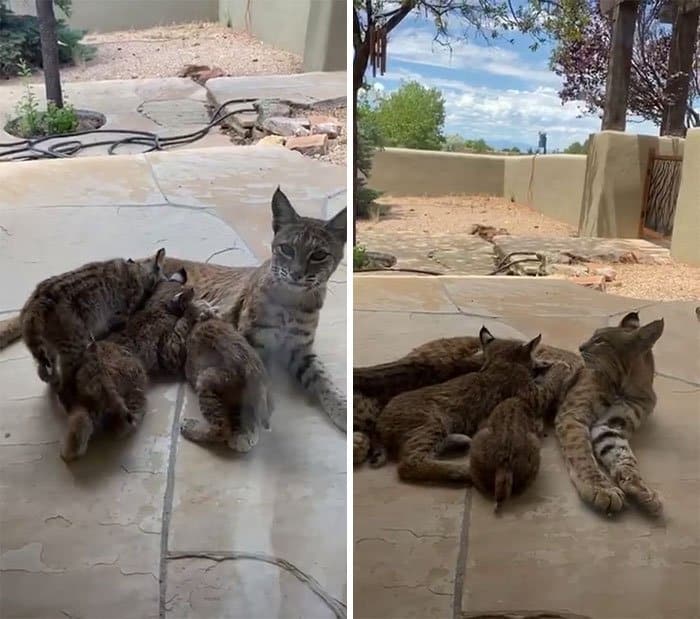 7. Such an adorable sight of them playing around.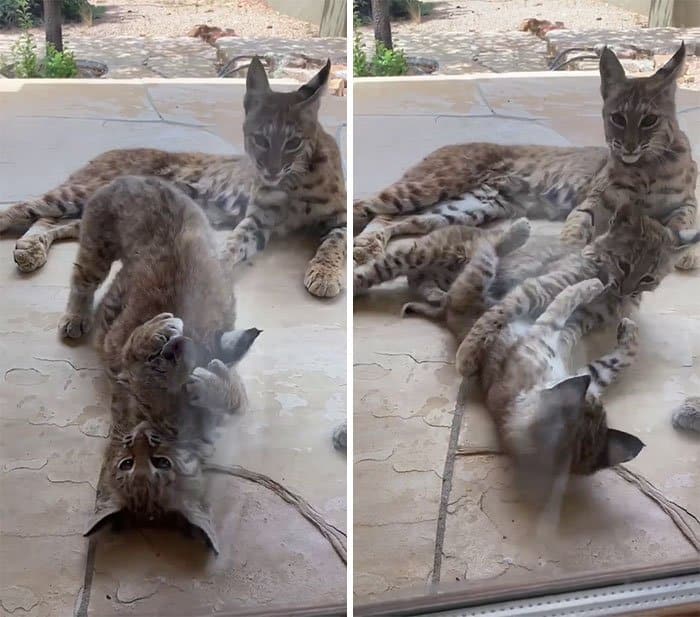 8. Now that's definitely a mama's boy.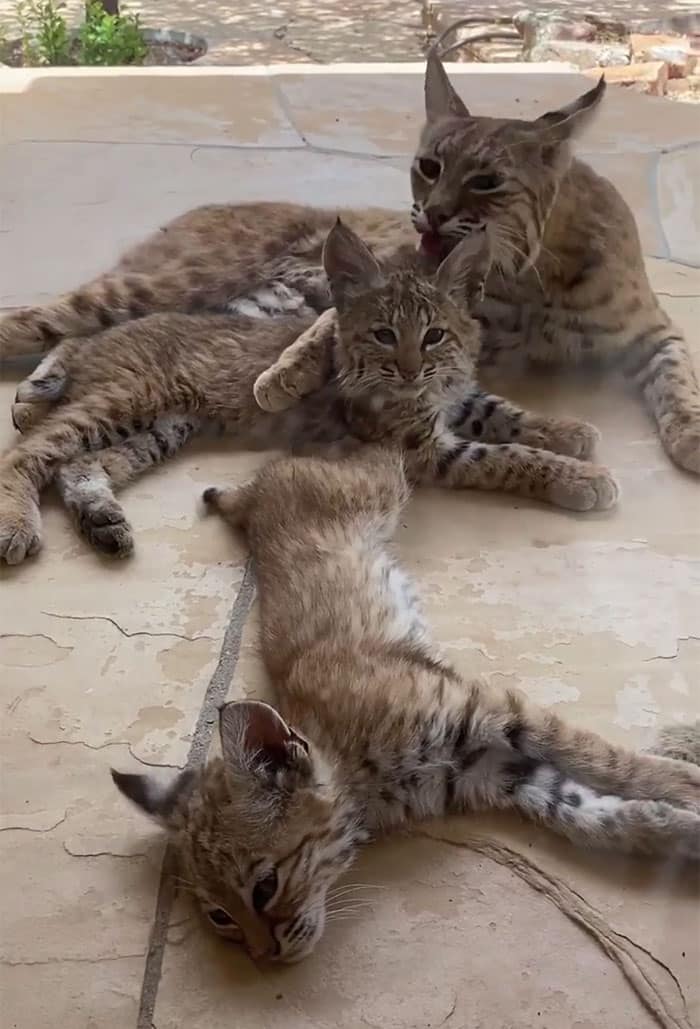 9. "Hey there, cuteness."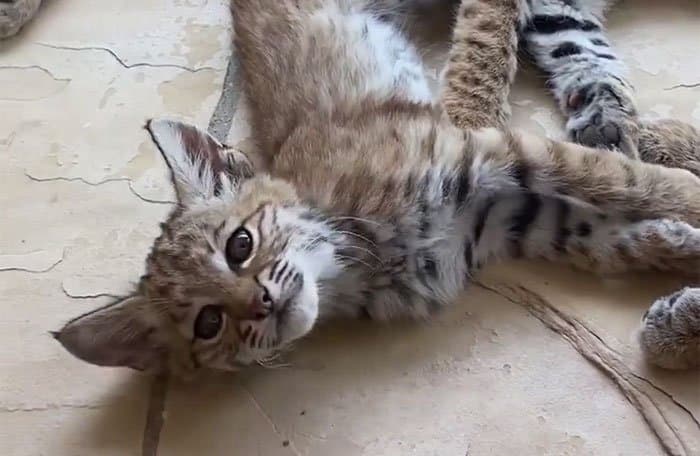 The family of the cat moved out of Kathy's house after four hours of napping, playing, and feeding. They all seemed to enjoy their stay at Kathy's house. Thousands of people on the internet fell in love with this beautiful moment that Kathy got to experience when she posted this beautifully captured scene on her social networks. Kathy got to film it and post it so other people can enjoy it too. It is a scene from a Disney movie and we are all enchanted by the cute creatures. Have you ever seen a cat? Have you ever had an experience with a wild animal?