Ben Affleck acted like a loving father when he was alone with Seraphina, the youngest of his two daughters.
On Saturday, the actor and the director went shopping at PetSmart in the West Hollywood neighborhood of Los Angeles with his daughter, who is now 13 years old.
The father of three and the teenager talked to each other as they walked the short distance from their car into the pet store. The man with three kids seemed to be very interested in the teenager.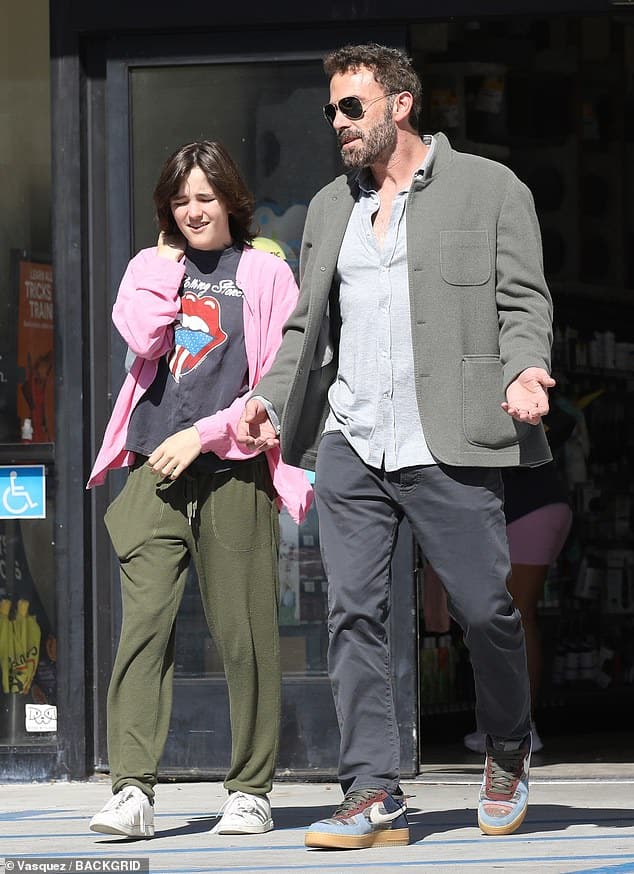 Affleck, who is 50 years old, decided to wear a gray coat over a matching dress shirt and faded black khakis because it was cold in the morning.
He also wore a pair of blue, red, and white Nike sneakers, and his dark hair was cut short and close to his head.
Also, the actor from Tender Bar wore dark sunglasses when he walked to and from his car to protect his eyes from the sun's glare.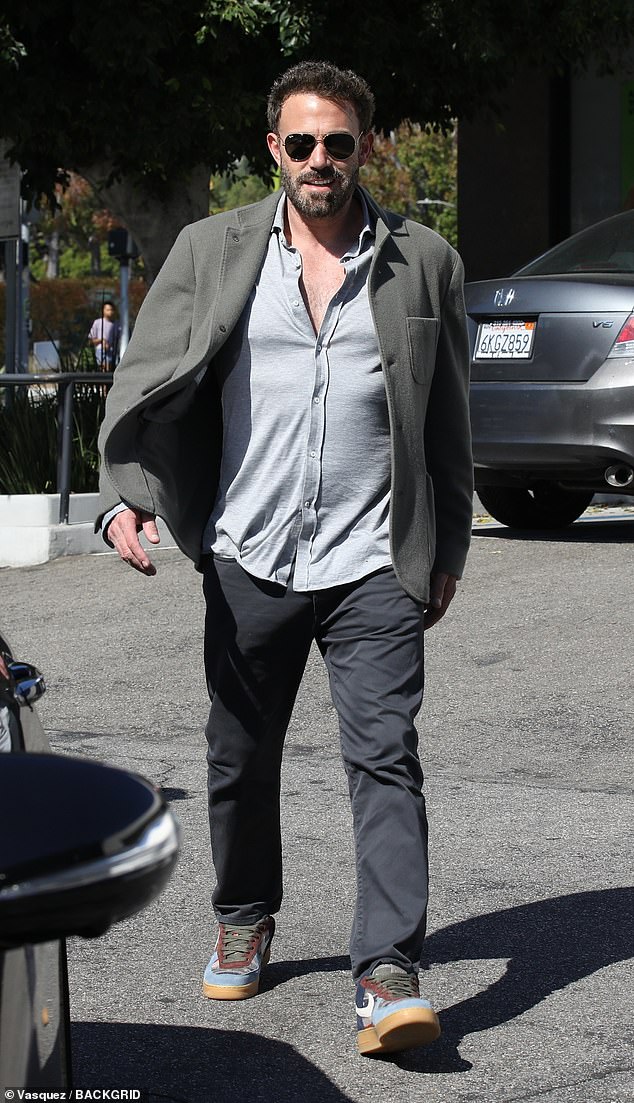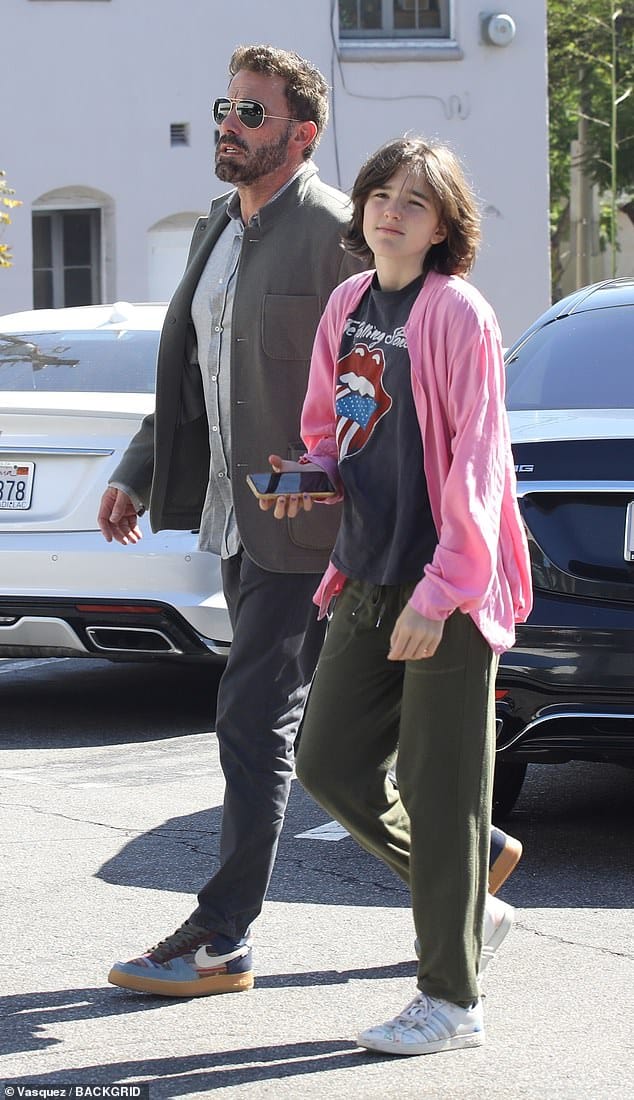 Seraphina went for a more casual and sporty style by wearing green sweatpants, a pink sweater, and an old Rolling Stones T-shirt.
She was also wearing a pair of white Adidas sneakers, and her shoulder-length brown hair was cut in a bob style with a part in the middle.
It seemed like they were just looking around because when they left, it didn't look like they had bought anything. They might have just been looking around.
Later in the afternoon, when the temperature reached the mid-70s, they probably took off their coat and sweater because it was too warm.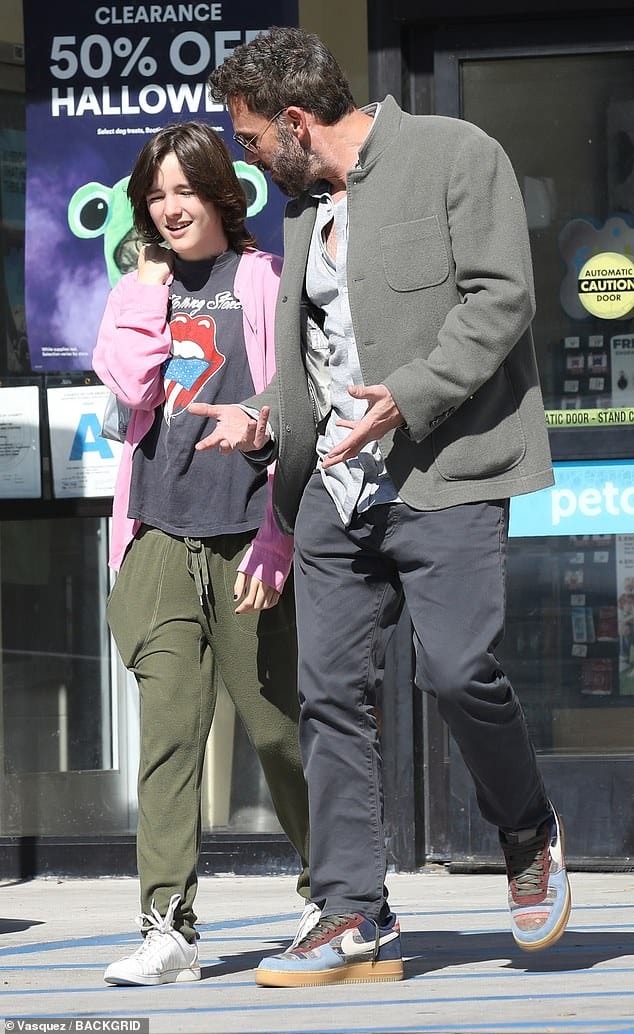 It was clear that Affleck liked spending time with his daughter because he had a big smile on his face the whole time they were out.
As Affleck and his daughter left the store without buying anything and walked back to the car where they had parked, they were seen talking to each other.
The person who wrote and starred in the movie Good Will Hunting also has a 16-year-old daughter named Violet and a 10-year-old son named Samuel. He has these kids with Jennifer Garner, who used to be his wife but left him.
He has also taken on the role of stepfather to Emme and Max, Jennifer Lopez's 14-year-old twins from her first marriage to Marc Anthony, who are the children of his new wife Jennifer Lopez.