Ana Obregon has frequently courted controversy in her 40 years in the industry. The Spanish actress is back in the spotlight after having a baby through surrogacy at the age of 68.
When rumors of her relationship with Alessandro Lecquio, the nephew of King Juan Carlos, first surfaced in the early 1990s, Obregon ignited the Spanish media. When Ana Obregon became pregnant with their son Aless, the aristocrat was still legally married to model Antonia Dell'Atte. In 2003, the actress made a sensational claim about sleeping with Real Madrid player David Beckham, who was 21 years her junior. On the other hand, the father of four has consistently denied the allegations.
'I am alive again' Ana Obregon
Surrogacy is prohibited in Spain. The socialite is currently the subject of a national media frenzy after giving birth to a baby girl via a US surrogate. Obregon can legally adopt her daughter when she returns to Spain because she was born in the United States. Ana Obregon announced the birth of her daughter on Instagram, posting a photo of herself and the baby leaving a Miami hospital. "A light filled with love entered my darkness," she wrote in Spanish. "I'll never be lonely again. I'm back to life."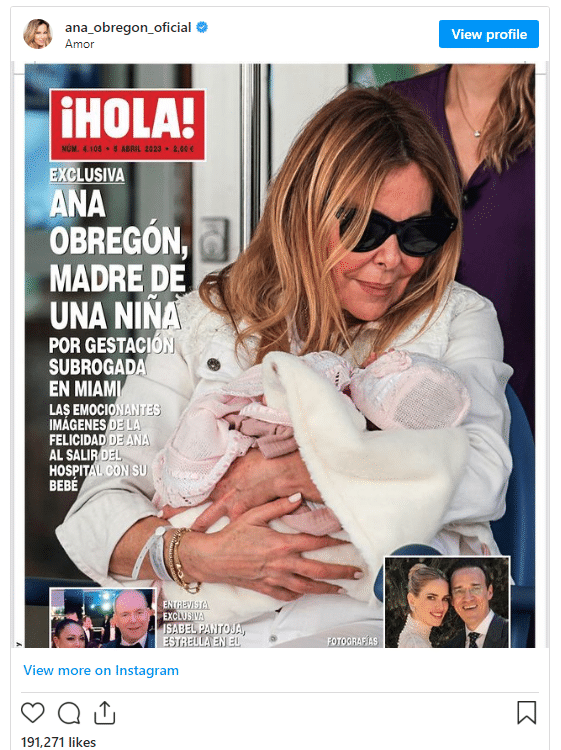 'Buying a baby is not okay'
Obregon's happy news comes three years after she tragically lost her only child, Aless, to cancer at the age of 27. Some people, however, were outraged by her decision to have a child at an age when many people retire. According to one user, "Oh my God… the poor 10 or 12-year-old girl will be left alone…. Selfishness at its finest," one person said, while another asked, "Will you buy another daughter/son so that they won't be alone in a few years?" Have you considered getting her a mother for when you're gone?" A third person stated, "Purchasing a child is not acceptable. Sorry, but no way." Another person stated, "You require the services of a psychologist. It's not a baby. Ask for help.
" A user sympathized saying, "I feel your pain, but it's not all worth it. You don't buy babies to fill a void. Grief is managed with therapy, psychologists, willing, with time, with medication if necessary, and with the love of those around you."